An indoor playground, a climbing theme park and a laser tag arena – hang out at these family-friendly play facilities with your children, ELISA CHIA suggests.
NOW BOARDING
What have we been missing out on? My kids' eyes gleamed with excitement as we entered T-Play. This indoor playground resembles an airport, complete with departure flight information, passport control and runways. There's even an aeroplane model hanging from the ceiling.
It was launched in December 2015, but my family had not visited it until the recent school holidays. My excuse: We don't live in the western part of Singapore, so HomeTeamNS Bukit Batok – where T-Play is located on the second storey – is a long drive away.
But this was definitely worth travelling to. We've been to many playgrounds, but not seen any quite like this. Its transportation theme appeals to both boys and girls, who can pretend to be having fun at an "airport". There is also a "train station".
I quickly lost sight of my children as they stepped into the multi-level play structure, recommended for preschoolers to kids aged 12 years old. With its variety of slides and tunnels, obstacle courses, trampolines and ball pits, they were kept very busy.
But I had peace of mind knowing that they would be safe. The structure looked sturdy and well-constructed, unlike some that we've seen at other indoor playgrounds. In fact, there are labels stating proudly that the play equipment is made in Sweden.
There's also a dedicated toddler zone with ageappropriate facilities, as well as an area where younger ones can play with huge building blocks and foam toys.
The T-Play team also organises fun activities for kids, from making origami boats to conducting mini science experiments. We learnt that these thematic programmes are introduced on a quarterly basis: Sea transportation (May to July), land transportation (August to October), air transportation (November to January) and human-powered transportation (February to April).
If you're looking for a venue to celebrate your kid's birthday, book its party package, which starts from $330 for 15 kids and includes three-hour use of a private room and unlimited playtime during off-peak periods.
HOW MUCH Rates range from $2 to $20, depending on age, membership and visiting hours.
FIND OUT MORE www.hometeamns.sg/t-play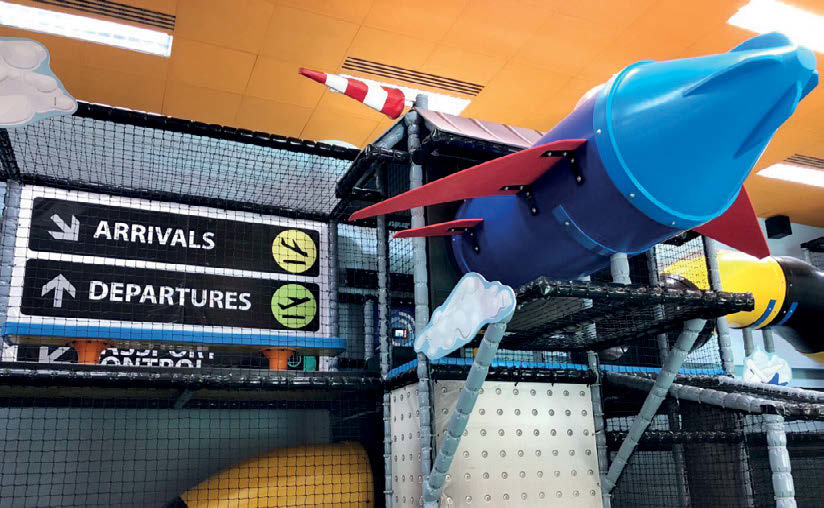 SEE YOU UP THERE
Did you know that there's a theme park in Our Tampines Hub? You won't find any roller coaster or bumper car rides here, though. What you will encounter are 19 challenging walls that are perfect for active kids.
Billed as Singapore's first indoor climbing theme park, Clip 'n Climb is awash in bright colours – a refreshing departure from the dull grey walls that you might find at other climbing centres.
There is no minimum age for climbers; they just need to weigh between 10kg and 150kg. They must also sit through a short safety briefing before they can get started.
There are 19 routes with various difficulty levels to choose from, with quirky names to boot. My 10-year-old daughter enjoyed the thrill of scaling the 8m-high walls, including Triffid, a snaking "beanstalk" inspired by fairy tale Jack and The Beanstalk. There's also Dry Ice, where climbers use "ice picks" to scale the structure.
Once a climber has reached the top of the wall or wishes to give up, she just needs to hold on to the rope, which helps her descend gently and slowly.
Of course, there's the initial fear of letting go and dropping down. But rest assured that it's safe: The walls are equipped with an automatic belay system, which eliminates the need for a human belayer.
My five-year-old son couldn't muster enough courage to climb all the way up, but still found it fun and asked to return again.
HomeTeamNS brought in this indoor climbing concept from New Zealand, where Clip 'n Climb founders started the first centre 10 years ago. There are now over 100 branches worldwide.
Be sure to wear covered shoes and comfortable sports apparel. If you're not joining your kids, you can make yourself comfortable in the waiting area, which has sofa benches and free Wi-Fi.
The team can organise a birthday celebration for your child, too. Its basic party package starts from $580 for 15 kids and includes a 90-minute climb session and three-hour use of a private room.
HOW MUCH Rates range from $18 to $25, depending on membership.
FIND OUT MORE www.hometeamns.sg/clip-n-climbhometeamns
DON'T SHOOT ME
HomeTeamNS clubhouse at Tampines is also home to the second Laser Quest arena in Singapore. The first is located at HomeTeamNS Bukit Batok.
Players have to be at least seven years old, so they can each comfortably put on a weighty combat vest and hold a laser gun.
I joined my 10-year-old daughter and her friends for a shootout session. First, there was a safety briefing, with constant reminders: Do not run.
I understood why once we were admitted to the game arena. It was almost pitch black, save for pockets of UV light reflecting on the neon- painted ramp structures and hiding areas.
Each vest is equipped with sensors on seven areas – the front, shoulder and back – and every "shot" triggers vibrations. You will be "immobilised" for a few seconds before you can fire again.
A concept from Canada, the Laser Quest at Tampines features a modern combat theme and accommodates up to 20 players per session of 10 minutes.
They can choose from 10 missions, such as fighting to be the last person standing, or forming groups to defeat opposing teams.
Every point will be recorded and reflected real time on a score screen. I was thrashed by the competitive kids – how embarrassing, but what an experience!
Celebrating your kid's birthday? You can have a laser tag party here.
Price start from $500 for 15 children, and includes three Laser Quest missions, threehour use of a party room, invitation cards and souvenirs. The package also comes with a party host who will entertain young guests with games.
HOW MUCH Rates range from $5 to $14, depending on membership and visiting day.
FIND OUT MORE www.hometeamns.sg/laser-questtampines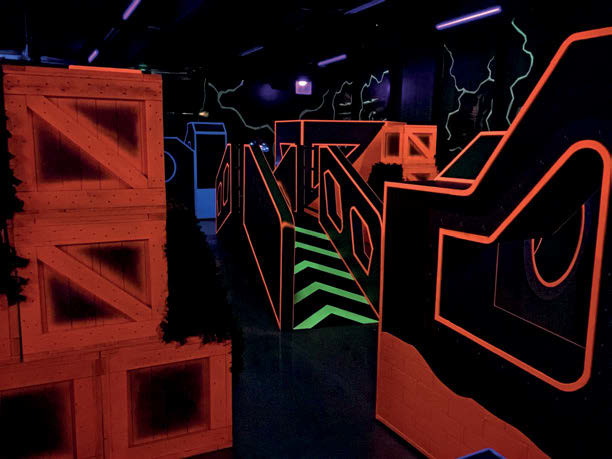 When the family is famished
You don't have to worry about getting hangry kids when you're at these play facilities. Take your brood to I Am… which has outlets at both HomeTeam NS clubhouses in Bukit Batok and Tampines.
The halal eatery prides itself on serving Dutch-inspired food. The kids will love its Fries and Mayo ($7.90), which is crispy thickcut fries drizzled with mayonnaise.
Other signature dishes include the Bitterballen ($10.90 for six meatballs) and slowbaked beef ribs, which is good for two people ($34.90). It comes with potato wedges or fries, salad and garlic bread, as well as a choice of garlic BBQ or guava flavoured sauce.
There are also Singapore-inspired dishes – we love the lamb satay burger ($17.90), which has chunks of grilled flavoursome satay and mint cucumber cumin yoghurt dressing. The cafe is also located at Haji Lane.