Join Singapore's most innovative art programme—it starts at a lorong near you..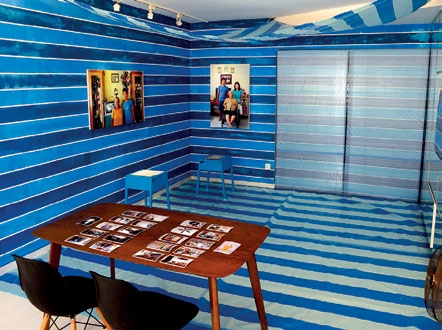 Join Singapore's most innovative art programme—it starts at a lorong near you.
Uncle Lee cracks a big toothy grin as he welcomes us into his home. The septuagenarian was feeling a little under the weather, but this wasn't going to stop him from greeting us as our group tumbled out of the lift into his HDB block in Potong Pasir. For today, the former sailor was not only a gallerist, but a muse for local artist Robert Zhao Renhui. He is the focus of Zhao's work, All The Pictures Of A Man, which now marks the entrance to his home.
Nine months ago, Uncle Lee was one of the Potong Pasir residents to be surprised by a knock on the door by the OH! Open House team. The Singaporean arts-meets-heritage programme, which has been running for seven years, wanted to host its latest tour in the idyllic kampong district of Potong Pasir. With the aim of exploring the country's cultural geography, since its launch in 2011, OH! Open House has put art into the gentrified shophouses of Tiong Bahru and toured the sparkling skyscrapers of Marina Bay. Now, they have turned their attention to the country's heartlands.
The idea for OH! Open House started with financial trader Oliver Bettin letting an artist use his spacious Niven Road shophouse as a studio. Before long, he was hosting fully fledged art exhibitions in his home. Eventually, he asked his neighbours if they would like to join him to host a larger exhibition. "We hired a few interns, applied for a few grants, talked to our artist friends, and crossed our fingers a lot," explains OH! Open House co-founder Alan Oei. "We knew that state-run museums have a tough time convincing people to pay for art exhibitions, but we thought the idea was meaningful enough for us to take a risk." The risk worked: Each OH! Open House walkabout draws about 3,000 visitors across its three-weekend run.
"I've been interested in Potong Pasir, this sleepy, stuck-in-the-'80s neighbourhood, for a while now," says Oei. "For a long time, it's almost seemed like it was a different part of the country; in a different time. We came to survey the place immediately after the 2011 elections. I think it's far more interesting now that the dust has kind of settled and you can see in Potong Pasir this stage of 'becoming.' Yet, beneath all the physical upgrading and construction is also a palpable sense of emotional transition."
Foundations of new developments grace the area, but there are still snapshots of times gone by—it's the perfect place to take stock of how far Singapore has come. The OH! Open House team invited six Singapore-based artists to rediscover the area and be inspired. The result? With HDB flats and black-and-white homes nestled side by side, Potong Pasir comprised a rich array of potential residential galleries. With that, OH! Potong Pasir was born. When homeowners agree to become gallerists for OH! Open House, they may either see a small change to their home or there could be a complete renovation of their living room—as in the case of Karen and Laurent, who exhibited Hafiz Osman's Blue Canvas Walls in their home. Osman used the blue striped tarpaulin, ubiquitous in building sites, to form a cosy nook in which people can gather together. Osman, who grew up in a kampong, also went as far as to knock on the doors of Karen and Laurent's neighbours, offering to paint their walls as well so they could also be part of the project. He then photographed the neighbours against the freshly painted wall in their homes and included the shot in his Blue Canvas Walls installation.
This is the second OH! Open House project for Osman: "Potong Pasir is a really intriguing neighbourhood and a contrasting environment to Joo Chiat. I wanted to see how I could develop my practice through the two projects." Oei adds why the scheme is such a large attraction for the artists as a whole: "Artists fundamentally make works for the public," he says. "Most of the artists were also drawn to the rich history of the neighbourhood and to the fact that these houses all pulsed with their own life. That the artists could create site-specific works that intersected with all these different agendas is a great attraction."
OH! Open House brings together art, community and people with a sense of adventure—which Uncle Lee has in bucketloads. When Zhao was given the chance to show his work in Uncle Lee's home, he realised he had struck a rich vein of material. And, rather than use the HDB as a gallery, he decided to make the owner the star. Uncle Lee hasn't changed the interior of his apartment since he took hold of the keys in 1984. It's a time capsule of life in Singapore. Born to a rich family in Indonesia, Uncle Lee came to Singapore at the age of three; his family decided to move here after his mother was robbed near their home. Having left everything behind, they had to start afresh. So from the young age of 11, Uncle Lee started working in order to contribute to the household income in whatever way he could—whether as a coolie, in a gambling den or as a sailor. Uncle Lee never spoke about what he went through, he just chose to keep all his documents and photographs tucked away in a transparent plastic folder. When he handed Zhao this folder, the artist knew this needed to become the work. Uncle Lee embodies the past and present of Singapore—and Zhao believed that both of these aspects needed to be celebrated.
OH! Potong Pasir visitors were treated to a gallery of images showing Uncle Lee looking like a rockstar on the inside of a jet; making a snowman with his friends in Switzerland; and wrapped up against the cold as his boat went into a '60s Japanese dock for repairs—the man who appeared to be living a quiet life in a HDB flat had indeed lived a life full of adventures. While Uncle Lee obviously loved the company, he was bashful about his exploits, and shyly brushed off our questions about the images, saying, "Ah, I don't remember, it was a long time ago."
And while visitors on the OH! Potong Pasir tour were looking around the resident-gallerists' homes, in the case of one art work, the home was looking right back at them; thanks to a CCTV installation called Let Sounds Go Wherever They Will Go by Tan Peiling, which captured the visitors' every move.
Singaporeans and expats are connecting with an almost forgotten area of the Little Red Dot through the art and installations on display. They are learning about the men and women who helped found Singapore, the Johor princess who once lived on its outskirts, the ancient Bidadari Cemetery and the once community football field that has now become a carpark... It truly is a case of now you see it, now you don't.
Oei talks about the future of OH! Open House: "There's so much potential to our model where people can tell their own stories of neighbourhoods—that it's not the urban planners, but us the inhabitants who make a place come alive." Visit ohopenhouse.org