Can a snowboarding company survive here? What about a pole dancing studio? Three women in their 20s tell us what it's like running a specialised business, and how they clawed their way to success.
"MY JOB TAKES UP A LOT OF TIME. I'M CONSTANTLY THINKING ABOUT WORK EVEN WHEN I'M NOT AT THE STUDIO AND NEVER TRULY FEEL LIKE I'M SWITCHED OFF FROM IT." 
Yumi was going through a dark period in her life when she took up pole dancing. It helped her put things into perspective so much that she decided to give back to the pole community here.
"I started pole dancing after my mum passed away," she says. "I didn't go into it expecting it to help me cope with my grief. But in going for classes and interacting with other people, I was able to see how they were able to stay strong even though they also had their own problems." 
"This not only made me realise that I wasn't alone, but also boosted my confidence."
So when one of her partners, a pole dancing classmate at that time, approached her to join the industry, she readily agreed. "I wanted to help other people partake in this experience because I knew how much it helped me," she explains.
Milan Pole Dance Studio opened its first studio in 2014, and second studio in 2016. On top of overseeing daily operations, Yumi also churns out creative content for the brand's social media accounts. 
The tough stuff
Yumi has a flexibile work schedule, but that doesn't mean her life is any less stressful. In fact, it's quite the opposite.
"My job takes up a lot of time. I'm constantly thinking about work even when I'm not at the studio and never truly feel like I'm switched off from it," she shares. It doesn't help that people don't always recognise her behind-the-scenes efforts.
"Some people are like: 'What's there to do for a pole dancing studio, anyway?' But that's when I know I'm doing a good job, because it means everything is running smoothly," says Yumi.
"I do everything, even cleaning toilets." She also has to ensure the finances are always in order, which can be tricky.
"One of the most important things I've learnt is that money not only keeps our business running, but also affects our decision-making process," she says. "Sometimes, it's tempting to make decisions based on emotions, but it's crucial to be realistic about what makes financial sense for the business."
"Even when it comes to stuff like designing class packages, it can be hard to choose between what I want to do, and what is best for the business. I love the business and I love the people involved, but I have to make sure I go with what is sustainable." 
The rewards
"I'm always reminded that my work isn't about me. There's a bigger picture to it and it's populated by passionate people from all walks of life— namely my partners, instructors and students. They inspire me," says Yumi.
"I love watching the progress of not just the students, but also the team. It makes me incredibly proud and is what drives me to maintain a place that does them justice."
She also finds herself beaming with pride when she encounters students who are pregnant. "Being a soon-to-be mother is really tough. And seeing them carve out time for themselves—coming all the way down just to take a class—makes me really happy."
Running the studio has been challenging since day one, but Yumi has embraced the fact that this is par for the course: "The studio turns five this year. I still feel like I'm too young to run a business, but I don't think this is something anyone can prepare for, really. It's just one of those things you dive into and learn the ropes along the way." 
YUMI'S ADVICE FOR STARTING YOUR OWN BUSINESS
"Have a good support system. Be patient, because things take time to grow. And don't be afraid of change— people and circumstances do, so learn to grow with the changes and see them as opportunities." 
"WHAT'S REWARDING ABOUT MY WORK IS GETTING MY GOALS REALISED IN MY OWN WAY. I'M IN CONTROL OF WHAT IDEAS COME TO FRUITION, AND DETERMINING HOW THEY GROW." 
There might not be any snow-capped mountains in this part of the world, but that didn't stop Daphne and her partner from setting up The Ride Side, a travel company that takes people on snowboarding and skiing trips.
"It actually started out as a passion project," she says. "The idea came about when my partner came back from a snowboarding trip and a lot of people were asking him about it. They were like, 'I want to try it out, but I don't know where to start and I don't know who to go with.'"
"We realised that people wanted someone to plan snowboarding trips for them, and we thought, 'Why not us?' During our first season in Japan in 2015, we were fully booked over six weeks by 80 guests. Our first group of guests gave us the confidence to pursue this as a business, and before we knew it, we were organising trips for 180 people the next year."
The certified snowboarding instructor shares that they currently host hundreds of people each time and are out of the country for six months every year—they spend three months in New Zealand during the middle of the year, and three months in Japan during the year-end ski season.
"Each session lasts for a week and everyone stays in a private lodge for 20 people," she says. She adds that they host 10 to 16 sessions each season and that the sessions come with a fully planned itinerary, private transport in and around the ski resort and a team of hosts to show the guests around. And if you're wondering, they cater to people of all skill levels. 
The tough stuff
The Ride Side is no doubt a very niche business here, so it's no surprise that running it comes with a number of challenges.
"We are the only company in Singapore that specialises in skiing and snowboarding tours, so we had to cultivate interest in the sport and grow the local community on our own," says Daphne. "It also took a lot of convincing for ski businesses overseas to pay attention to what we do."
"The bigger snowboarding brands would focus on countries like Japan and China and didn't think about entering the Singapore market since we're a tropical destination. It took two years of us sharing ideas and following up before they finally said 'yes' to providing market and equipment support. Of course, we also had to grow our business during that time."
Daphne shares that they also struggled with acquiring partnerships with ski resorts, but that they gradually proved themselves and now have a working relationship with major players like the Niseko Tourism Board.
She also had to make sure they were frugal with their finances, even if it meant making sacrifices.
"As a bootstrapped startup with limited capital, we knew we had to be careful with what we spend on. We kept our business expenses to the minimum, especially when travelling. We also kept business costs lean by working out of cafes, co-working spaces and even our homes," she shares.
"We didn't hire a team early on and only did so on a seasonal basis. As a small business, it was tempting to spend money on acquiring customers, but we had to be prudent. So we traded explosive growth for steady growth."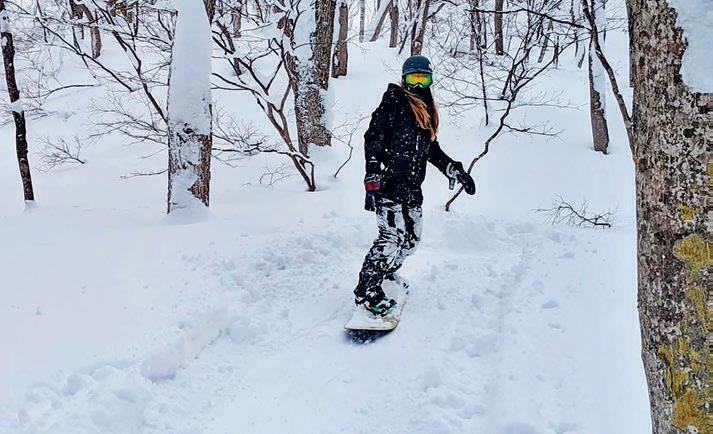 The rewards
In spite of the challenges, Daphne finds a lot of fulfillment in running her business.
"It makes me happy when I receive recognition from the very people I created the service for. For example, when we took our guests to a special spot on a mountain, they told us: 'Thank you for taking us there. We've been snowboarding for 10 years and have never been to this area,'" she says.
"And because they're pleased with our service, they go back and tell their friends about us." Their numbers have doubled every year via word of mouth alone.
"Another rewarding thing about my work is getting my goals realised in my own way. There's no hierarchy or approvals to go through for an idea to germinate," she says. "I'm entirely in control of what ideas come to fruition, and determining how they grow."
An idea she had that she's proud of? Choosing to foster a community instead of just handing out discounts to attract business.
"We organise free events because that's what we feel are lacking in Singapore. We do everything from conducting workshops on how to care for your snowboard to holding screenings of snowboarding films. We're very ready to give advice and recommendations." 
DAPHNE'S ADVICE FOR STARTING YOUR OWN BUSINESS
"You have to have a real passion for what you do! You'll feel invincible when times are good, but there will also be times when you feel overwhelmed and overworked, so loving what you do is important because that will be the only thing to keep you going through tough times. And if you're a young woman in a maledominated industry, you need to recognise your strengths and not let anyone take that away from you. Be firm and strong, even when it means subverting what men think women should be like." 
Grills, fronts, golds— whatever you call them, the dental bling industry is worth millions of dollars. Nevertheless, they can be quite hard to get in this region, and this lack in supply is what drove Hanya and her partner to establish Chez G, a jewellery brand that makes grills and other accessories with precious metals.
"We started the company because we wanted to have grills of our own. We realised they weren't readily available in Southeast Asia, so through research and trial and error, we taught ourselves how to make them," she says.
"We're known for creating personalised grills and jewellery, including rings, earrings and necklaces. We've also been taking on bridal jewellery projects and are looking to expand in that direction."
Previously a marketer with a sneaker retailer, she now runs the brand full-time and does design and craft work. She also manages its social media accounts. 
The tough stuff
"The majority of our production process is done by hand," says Hanya."First, we have to come up with the design. Then, we have to draw it out and study the technicalities required to create the end product. After deciding on the best method for crafting the piece, we execute production. This includes melting metals, hand-fabrication, setting stones and polishing."
She doesn't mind the hard work. But it doesn't help that the amount of effort she puts into her work is often underestimated.
"People don't see how dirty it gets when crafting jewellery—how metal stains mess up our hands and our space. They also don't know the actual amount of time it takes to craft a piece," she says. "Teeth grills take about two weeks to make, while other types of customised pieces take at least a month."
On top of this, running a business isn't easy. "I don't have a boss overseeing everything. I have to keep myself in check. Maintaining time management, self-discipline and patience can be quite challenging," she says.
"Also, jewellery-making involves multiple processes that are far from consistent, and unexpected production issues often arise. So I have to be calm and patient in order to overcome these problems."
And then there's juggling finances. "We've spent thousands of dollars on experimentation and buying the right equipment. If anyone wants to do business, they shouldn't be afraid of parting with money," she says. "But that doesn't mean they should spend frivolously, of course."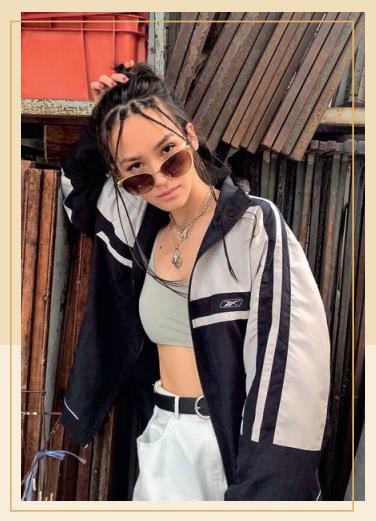 The rewards
"I love the personal relationships forged with each customer— from listening to their ideas and understanding their preferences to delivering a piece that they feel is uniquely theirs." Hanya also enjoys the flexibility this job gives her, particularly since it allows her to work from home. "I usually wake up at 8am and head out for eggs and kopi at a nearby coffee shop before heading home to do work," she shares. "I can arrange a meet-up, squeeze in a workout session, or head out at any time." "But it can be tricky as I have to stick to timelines and sometimes meet unexpected deadlines, like in the case of last-minute orders. I work until 9 to 10pm on weekdays and sometimes work on weekends as well. 
HANYA'S ADVICE FOR STARTING YOUR OWN BUSINESS
"When you're investing in your business, you're also investing in yourself, so don't be afraid to part with your money. Also, it helps tremendously to get opinions from experienced people, so don't be afraid to ask even strangers for advice along the way." 
TEXT ADORA WONG.