She may be funny, but Preeti Nair (aka @Preetipls aka 玛丽求求你) isn't joking around when it comes to her influence. Known for her razor sharp wit and fearlessly calling out bullsh*t when she sees it, Preeti gets personal about why she's doing what she's doing.
Denim jumpsuit, $92.64, ASOS. Cotton tee, $24.95, H&M. Earrings, $25, ALDO. 
"IT'S WEIRD, BECAUSE I USED TO SAY I HATE MYSELF A LOT."
That's what Preeti says when we came to the subject of body positivity.
And that's why her New Year's resolution for 2019 (her only resolution for 2019), is to stop saying that. "And I'm proud to say that I haven't said that yet! OK, maybe as a joke sometimes, but I've never actually said it and meant it… so far."
This Internet personality we've come to know and adore over the past few years didn't always enjoy this popularity. Growing up, Preeti recounts being bullied in school—from childish name-calling to mean comments about her weight and race.
"I get that we were all kids once and that we all laughed about silly things that would be considered not OK today— that, I can look past," she prefaces. "But back then, there were a handful of people who were actually out there to insult me, and went on Facebook and made memes before memes were a thing."
"But as the great Kelly Clarkson said: 'What doesn't kill you makes you stronger,'" the 25-year-old continues with a laugh. 
WHY SHE SPEAK UP
"I mean now, when I look at it, I'm like: 'That was so lame'. I can't believe I wasted tears and so many days being upset, but obviously when you're a child going through it, it's traumatising," she says.
Is that why she's so outspoken about cyberbullying and online shaming now?
"It's definitely a trigger, because you think, 'oh sh*t, I've experienced this before.' It's all too familiar."
During the time of this interview, Preeti had recently called someone out for a fat-shaming post. Long story short, the influencer had posted a picture where she was edited to look bigger, and asked her followers if they'd still love her.
"She's a friend. She's cool, we're cool," Preeti clarifies. "But the point is, fat people ARE loved. Fat people CAN BE loved. So I texted her to say that I was hurt and offended by it."
"She apologised, I thought it was sincere, and I genuinely appreciated it so much."
"It's just that, I'm pretty sure she has plus-sized girls following her, who are way younger and want to look and be like her. It's just… not right, lah. There could have been people who are hurt by it, and those people are never going to be spoken up for." 
"It's the kind of thing that, right now, a 12-year-old somewhere is probably getting bullied about in school."
But back to her own experience of being that girl.
"Growing up, I definitely felt that a lot," she recounts. "It wasn't like I wanted to look like anyone else. It was more of a 'why am I considered unattractive?', 'why is looking like me not OK?', and 'why am I not accepted as a good-looking person?'"
"I never wanted to be stick-thin or known for being super hot. More than anything else, I want to be known for being funny," Preeti pauses here, before dropping the following gem.
"But the fact is, no matter how I look, everybody is still going to call me Preeti." [Ed's note: "pretty", geddit?] 
Sequin Kimono Jacket, $138.95, ASOS. Earrings, model's own.
"BUT AS THE GREAT KELLY CLARKSON SAID: "WHAT DOESN'T KILL YOU MAKES YOU STRONGER"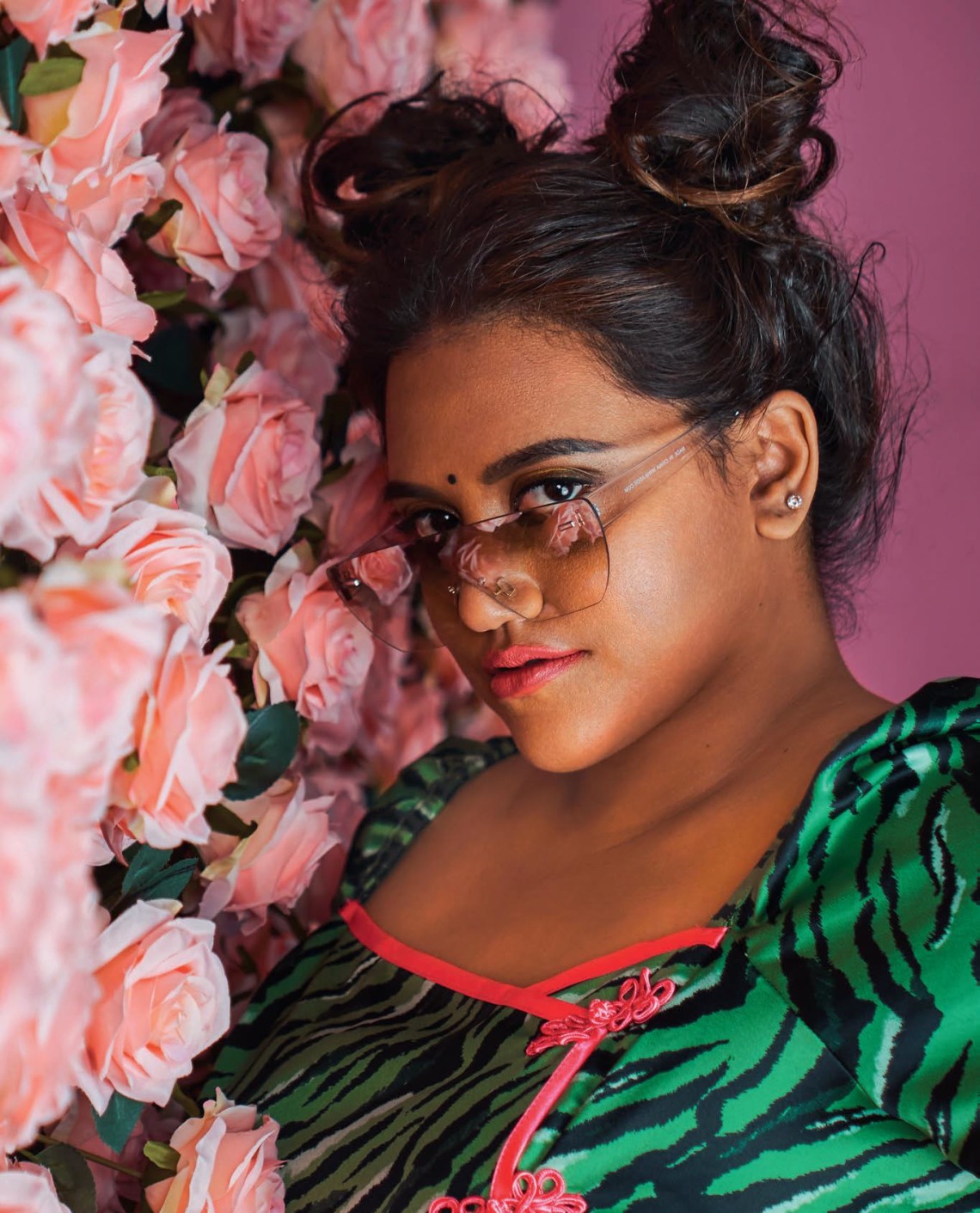 Printed dress, $70.40, ASOS. Sunglasses, stylist's own. 
FINDING HER FOOTING
But here's why you wouldn't find Preeti feeling sorry for herself, or the less-than-ideal circumstances she grew up in. She has made her peace with that, and acknowledged that she tried her hardest to make the best out of a bad situation.
"A lot of things happened in the past decade and I had to grow up way too young and way too fast. Even during polytechnic: we were all worried about exams and GPAs, but I also had a million other things to worry about, like how are we going to pay the rent? It was things that a child shouldn't have to worry about, but the circumstances were such."
Perhaps this whole rolling-with-the-punches attitude was what gave birth to that Preetipls persona—who is, according to its creator, a more exaggerated and obnoxious version of Preeti Nair.
Her claim to fame? Fashion Polis With Preetipls, a viral parody of a "fashion police" video that was done in what some might consider very bad taste.
Today, Preeti calls it a joke she got carried away with. "I just thought I had a really funny idea. I don't know what gave me the courage," she says with a small chuckle.
But on a more serious note, she wanted to critique the original video (which featured everyday Singaporeans being criticised for their fashion sense), because she would have been "so pissed" if one of her friends got fashion-policed. "So I thought, why wait till one of my friends got bullied to speak up?"
"I'm so glad I found my voice through social media and of becoming Preetipls. The content I've done so far as Preetipls has been very fulfilling. I got to address a lot of things that were really close to my heart. I got to speak up on all these things that I felt so strongly about," she adds.
"If I didn't make that one parody video, nobody would have listened to me. It's so weird."
Is there anything she's regretted though?
Not on the content front. She has a group of people whom she consults before anything goes up online, and that includes her best friend, and her brother, musician Subhas Nair.
"I would get them to look through my stuff, and they'd let me know if anything is too much, or if a joke is out of line," says Preeti. Seeing that she pokes fun at people who do things in bad taste, she is all too aware that she could unknowingly do the same too.
"The last thing I want to do is be a hypocrite," she adds. Which is why her process also involves a few rounds of rewatching before going live, and making sure that she is 100 percent OK with everything she's said. For the record, she still stands by everything that she's put out so far.
But there's one thing that she would have done differently if she had to do it all over again. And that is to be completely uncompromising on whom she shares her space with.
"Along the way, I let people into my life. Some of the friendships or relationships that I made in this industry has turned out to be pretty toxic."
"If I knew from the start that our values didn't align, I should have been like, 'OK cool' and draw a line there," she elaborates. "I'm down to have fun, but I'm not going to do it at the expense of someone else.
I'm not going to play some character and say some stuff that Preeti wouldn't say, because I need to stick by my own morals and values."
Just like some of us, Preeti initially struggled with saying no, calling it a "difficult conversation" that she didn't know how to have. But because her personal belief is that she needs to be mindful and responsible about the kind of content she puts up, she has since learnt how to politely reject requests for collaboration. 
"I find that a lot of people in this space, [when they get together to do something], it's a matter of: who can we expose next'? Who can give us the most engagement online? What should we do to trigger everybody now?" "That's the scary part of this industry that I wished I'd completely avoided from day one." 
HER PRIORITIES NOW
Given her brash online persona, it's a little bit surprising to learn that Preeti is known among her friends as "the sensitive one".
During our chat, she brought up how important it is to always put things into perspective, and how our priorities can completely change when our circumstances do.
"Which is why all of those things you see online, the pettiness, the small-mindedness of people, the things that I've come across.., that makes me so upset sometimes," Preeti says, adding that she's glad she's kept her priorities straight so far.
And what are her priorities, exactly? First, it would be family (aww) and the happiness of all her family members. 
Jumper, $48.17, ASOS. T-shirt, $24.95, H&M. Skirt and shoes, stylist's own.
MARCIANO blazer, $399, and bodysuit, $79; both GUESS. Jeans and earrings, model's own. Necklace, $29, ALDO. Belt with chain, $29.64, ASOS. 
Next, it would be her mental health and personal happiness. "That's something that, I think, I let slide way too often," she muses.
"I'm the biggest worrier I know. I'd overthink and worry about so many things. My friends would be like: 'You know what, Preeti? Just go offline. Just go to sleep."
Citing an example from just the night before, she saw some things online that were setting her off (we're guessing things got personal), but instead of responding, she put her phone down and went back to her game of Overcooked! with her friends.
"That's me focusing on me. That's me telling myself: 'You know what? This is not important. This is not worth me staying up till the middle of the night, stressing over.'"
"That's something that I'm still learning how to do; to prioritise myself."
Meanwhile, we can't help but hope she gets inspired along the way and drop another video from Preetipls, Singapore's Top Self-care Expert. We're rooting for you, we're all rooting for you! 
PHOTOGRAPHY JOEL LIM/CALIBRE PICTURES & IDEAS FASHION DIRECTION JANICE PIDDUCK STYLING GRACE LIM STYLING ASSISTANTS KELLY GOH, ANG MIN QI MAKEUP HONGLING USING TARTE COSMETICS HAIR ASH LOI/SONDER HAIR USING KEUNE HAIRCOSMETICS TEXT COMPILED BY SOPHIE HONG LOCATION 22 STORIES.