For the last 16 years, RT+Q has been creating one exquisite abode after another, never revisiting tired trends or feeling stuck in a creative rut.
For the last 16 years, RT+Q has been creating one exquisite abode after another, never revisiting tired trends or feeling stuck in a creative rut. We speak to its director, Rene Tan, to see how they did it.
It's challenging enough to balance a client's needs and expectations of a dream house with one's own creative vision – all while ensuring construction goes smoothly and the final structure looks as it should. To do that 116 times and counting is incredible, and it's one of the reasons about 80 per cent of RT+Q's business comes from building houses.
The local architectural firm's abundance of accolades should be enough to impress, collected from the Singapore Institute of Architecture and Urban Redevelopment Authority, and spanning wins such as at Malaysia's PAM Awards and the Chicago Athenaeum International Architecture Awards. Co-founder Rene Tan himself was named "Designer of the Year" at the 2016 President's Design Awards.
But the proof is in the buildings, from the lalang grassinspired zig-zagging The Capers residential development in Kuala Lumpur to the more recently completed Elliptical House near Botanic Gardens. It has never turned down a client, believ ing ever y project can be an exercise in str uctura l beauty. This democratic view explains more off beat jobs like the "smart bus stop" in front of Dhoby Ghaut MRT Station and even a tombstone, which Tan says is "just a house for the deceased". RT+Q's works are met with the same care and reverence to proportion and scale, priorities that Tan says are central to the firm's philosophy. In order to stay fresh after so many buildings, though, Tan says he relies on three things: a great team, tough clients and teaching.
"Our best works have come from the most 'difficult' clients," he admits. He doesn't necessarily mean nasty customers, but those with ambitious briefs. The Elliptical House is one such example, where the rounded spaceship-like exterior required many of the fixtures to be specially ordered, as the standard products weren't made for curved walls.
Tan and co-founding partner TK Quek also teach at local universities, and have taught at UC Berkeley, Syracuse University and the University of Hong Kong. Earlier this year, Tan and his team took a class from the Singapore University of Technology and Design to Florence to study Filippo Brunelleschi's Renaissance architecture, followed by Paris to familiarise them with the works of Le Corbusier. "We re-educate ourselves through teaching," he explains.
Of equal importance to RT+Q's success is its emphasis on counter-intuition. "Don't think like an architect" – that is Tan's mantra. "If you do, a door will look like a thousand other doors. If your first instinct is to place a painting on a white wall, chances are every other architect would have thought of the same thing. Never be afraid of putting the wrong thing in the right place. Challenge the norms," he says.
This is how RT+Q manoeuvres effortlessly through materials, unafraid to leave behind the usual steel, glass and wood blueprints to generously clad a house in warm red bricks. It defied conventional forms by using narrow cantilevered platforms to connect the rooms to the outdoors in House With Bridges in Bukit Timah. Tuned into how "the use of colour has gone out of style", the award-winning House at Watten uses sleek shapes to keep the primarily white and grey terrace house captivating.
If there's one thing Tan has learnt since starting the firm in 2003, it's to not overthink a design."Design is an intuitive thing and construction is a circumstantial experience, not a prescriptive one free from the unexpected," he says. Ultimately, what homeowners ask for is that their house be practical and economically built. "Rarely do they tell us they want a work of art; I guess that's left to us to produce." 
01 STAYING FRESH
Rene Tan (standing) says he relies on a great team, tough clients and teaching.
02, 03, 04 ALL CLIENTS WELCOMED
House With Bridges, Fennel and U-Thant Place, respectively.
DESIRABLE DWELLINGS
Two more architects who specialise in designing houses share their approaches.
01 HYLA ARCHITECTS
Sometimes it takes only a handful of projects to know if an architectural firm understands what it means to design a living space. But there are over a hundred examples of Hyla's residential flair, each one just as refreshing as the last. "We try our best no matter how small the space is or what the requirements are," reveals Han Loke Kwang, Hyla's principal architect. "We are constantly amazed at how many different ways there are to do houses, and by the details that follow."
Indeed, Hyla isn't snobby about the clients it takes on. Playing with the interiors of restrictively narrow shophouses is just as rewarding as creating original facades in the sprawling spaces of terraces and semi-detached buildings. Whatever the size of the residence, Hyla specialises in creating homes that feel roomy yet private, even for dwellings that face busy roads or close neighbours, and it achieves this with serene courtyards, sleek screens and artistic stairways – to keep the focus inwards.
Says Han: "We strive for simplicity, clarity and integrity in our designs. Whatever we put into a design must have a very good functional, contextual or spatial reason for it. We do not add anything for its own sake and, in this way, we hope our designs will stand the test of time."
Given the numerous awards the firm has picked up in its 26 years of practice, Han's ambition seems fulfilled. The most recent accolade was earned on the back of its "Room Without Roof" project, which won the 2018 INDE. Awards in the Living Space category. It was praised for concealing an external courtyard and swimming pool on the second floor of a brick and gable-roofed house at Siglap Plain.
01 BLEND AND BALANCE
Modernist concrete structure is married with warm materials like timber, water and landscaping to form a perfect balance between architecture and nature.
02 LINES OF LIGHT
The interior and exterior blend seamlessly, forming one space that flows in both directions.
02 MING ARCHITECTS
Award-winning architectural firms know more than a thing or two about outstanding designs, but even among them, Ming stands out. Understanding and delivering what a client wants is central to the work, but Ming's secret weapon is surprise.
A terrace house in Venus Road may look small and unassuming from the outside, but packs a swimming pool and doublestorey loft under its tiny envelope. The Swettenham House's interiors have custom laser-cut panels that slide and swing to conceal and reveal spaces like a walk-in wardrobe, TV wall and more. "Our clients often have a rough layout or design in mind when they come to us, but we still manage to exceed their expectations in terms of spatial requirements, functionality and aesthetics," says founder Tan Cher Ming.
Thanks to Tan's willingness to step outside his comfort zone, his team is constantly experimenting with new materials and building methods to keep things interesting. One such material is custom, long-format, handmade bricks from Italy, which they used in the Greenwood House. The introduction of any new material requires additional research to ensure it doesn't discolour or suffer from efflorescence in this hot and humid climate, but the payoff is a look that's entirely unique.
And speaking of our climate, Tan notes that "tropical modernism", an architectural style known for wide, open spaces and features that encourage more ventilation and cooling, has been popular in Singapore for the past few decades, but the trend is now shifting to contemporary home designs inspired by those found in Australia, Japan, the UK and other parts of Europe. "This engages us because we are influenced by modernist principles," he says. "But rather than getting locked into a certain style and sticking with it, we would like to be known for creating homes with a timeless, alluring quality, with beautiful spaces that evoke emotions from the homeowner not only when the house is new, but even many years later." 
03 RAISING GREENS
In the Box House, landscape is integrated into each level via the use of roof gardens.
04 INDOOR COURTYARD
To prevent a tunnel effect in a narrow site, a double volume "courtyard" was created to raise the ceiling height, thus expanding the space.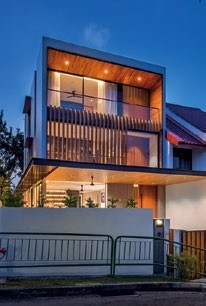 05 LIGHT SOURCE
The use of skylights combats the typical dark interiors of terrace/semidetached houses.
TEXT CHARMIAN LEONG