Let scent be your guide to with Elemental Herbology's Tailored Treatments at Hyatt Regency's Melo Spa.
THE DEAL: British brand Elemental Herbology moves traditional Chinese medicine into the mainstream with their modern-looking and natural TCM-inspired skincare creams and oils. Their formulations are based on five elements –– that's Earth, Metal, Wind, Fire, Water. Try them in the Melo spa's comforting confines at the Hyatt Regency in Shatin, where they are used in 60 and 90-minute massages and facials, and where the guest is prescribed the element that suits them best on the day of the visit. If you are looking for a tailored low-tech treatment, with plenty of pampering and relaxation, these treatments are definitely worth a try.
THE LOWDOWN: Slightly removed as it is from the city, arriving at the Hyatt Regency already feels like a breather from the everyday grind, and it's no wonder that the hotel is a well-known staycation destination. Up at the Melo spa, smiling staff await. Furnished in deep, rich brown woods and contrast cream, the area is immediately comforting. My therapist, Polly, leads me through the quiet entryway to expansive treatment rooms that feel as hotel-like as the hotel's rooms. Mine had a huge bathtub and shower overlooking Tolo Harbour below. Once I've changed into a cosy sheep's wool robe, Polly instructs me to fill in a short Elemental Herbology survey to determine which of the elements would do me most good. The result is the heady and reviving Earth oil. Before the massage begins, I'm given a warm water footbath, with frankincense and sea salt, and then it's up and onto the massage table for a full 90 minutes. Polly asks where I'd like focus and I choose back and neck. She uses steady stroking moves there to lift and pummel the skin and loosen knots, but she also moves along my back and down my legs before asking me gently to flip over. Here, she pays some attention to my stomach, moving in circular strokes, as well as my legs, shoulders and a blissful face and scalp massage. The time rushes by, and soon Polly is wafting a revitalising fire element scent and telling me to take 10 minutes before getting up to enjoy a pot of ginger tea in my own company.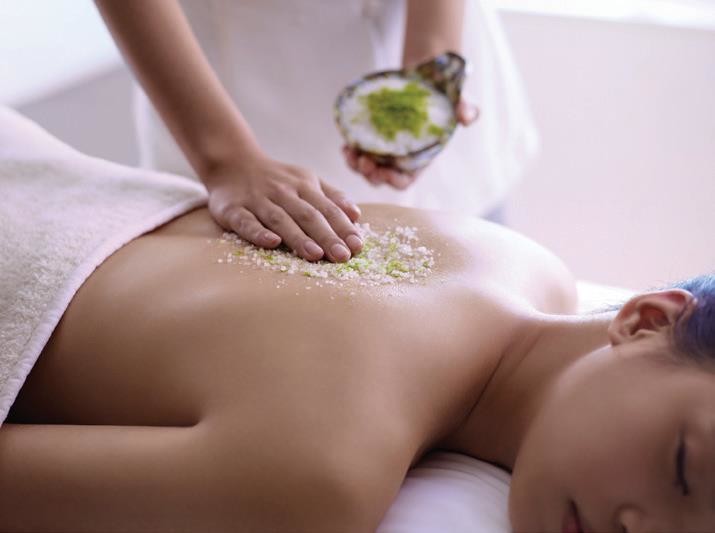 THE BENEFITS: I felt deeply relaxed and thoroughly pampered. The oils had the triple benefit of lifting my mood, scenting my skin and leaving it smooth and supple. The calming environment, good products and a truly knowledgeable therapist results in a real feeling of well-being.
THE VERDICT: This is not for you if you like lots of movement, or high-tech gadgetry. Opt in if you want a simple, good, thorough and relaxing massage heightened by intoxicatingly well-scented oils in spacious, luxurious surroundings. Everything here is conducted with utmost care, from the minute a guest walks through the doors, while the products themselves are an olfactory treat.