POLISH BUILDER SUNREEF YACHTS HAS ANOTHER HAPPY OWNER IN ANTHONY LIM, THE CHANGI SAILING CLUB COMMODORE WHO HAS EXCITING PLANS FOR HIS CUSTOM 62ft SAILING CAT ANNETTE2.
POLISH BUILDER SUNREEF YACHTS HAS ANOTHER HAPPY OWNER IN ANTHONY LIM, THE CHANGI SAILING CLUB COMMODORE WHO HAS EXCITING PLANS FOR HIS CUSTOM 62ft SAILING CAT ANNETTE2.
SUNREEF YACHTS has a second satisfied Singaporean owner in Anthony Lim, the Changi Sailing Club Commodore whose custom 62ft sailing catamaran Annette2 is the Polish shipyard's latest delivery to Asia. 
Lim, whose other toys include a Bentley GTC, welcomed the yacht to its new home at ONE˚15 Marina ahead of this year's Singapore Yacht Show, where he christened the yacht in the presence of his own family – including daughter Annette – and members of the Sunreef family including founder and President Francis Lapp. 
Looking to upgrade from his Leopard 40 catamaran, Lim selected Sunreef to build a yacht big enough to accommodate family and friends, luxurious enough to entertain business associates, and with a strong enough sailing performance to cruise and charter around Southeast Asia. 
"I'm a businessman and I like to entertain onboard. A lot of my friends are business leaders and they've 'been there, done that'. They've been to restaurants and hotels all over the world and expect a certain quality," said Lim, a passionate sailor whose first yacht was a Dufour 28 sloop. 
"I noticed with Sunreef that the quality of the finish and the attention to details are amazing. I build my own houses and restore conservation houses, so I know details. I own a Bentley so I know about attention to detail and this category of product. Sunreef exemplifies that."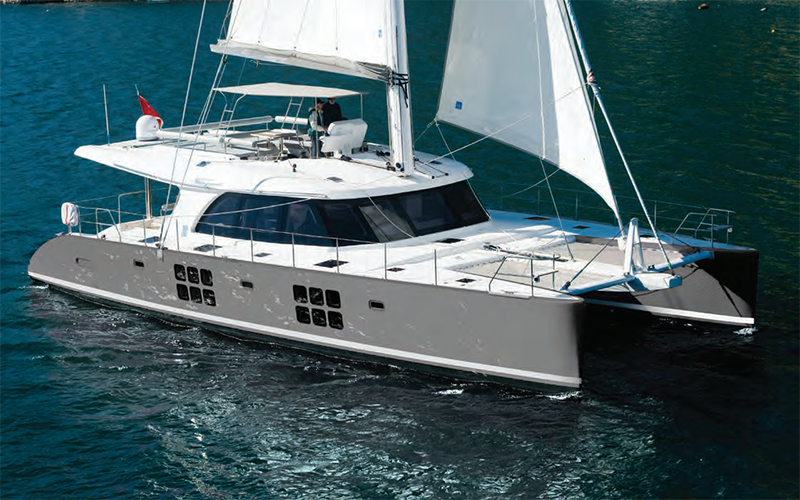 Sunreef sails on in Asia 
If Lim is happy, so is Sunreef. The shipyard has made a major impact in the yachting world since Lapp founded the company in the northern Polish port city of Gdansk in 2002, with the Frenchman focusing on large, luxurious, customised sailing catamarans. 
With the former Communist state not renowned for producing luxury yachts, it was a gamble, but one that has paid off with innovative designs, a high-end focus and a strong product range that also included power cats from 2008. 
"In 2003, we launched the Sunreef 74 Che, which was the industry's first oceangoing luxury catamaran with a flybridge," Lapp said. "We have also built some of the world's biggest luxury sailing catamarans including the Sunreef 114 Che and Sunreef 102 Double Deck Ipharra. More recently, we created the first catamaran superyacht with a folding mast."
Lech Walesa, the 1983 Nobel Peace Prize winner and President of Poland from 1990-95, plays an ambassadorial role for Sunreef – having led a revolution at the shipyard (then Lenin Shipyard) – and the 73-year-old was due to attend the Singapore Yacht Show before cancelling on doctor's advice. 
In 15 years, Sunreef has designed and built close to 100 yachts and its 450 employees are now producing 10-14 hulls a year, with the majority heavily customised and almost all aspects of the production done in-house.
"People choose Sunreef because they're experienced owners who want to take the opportunity to customise, so many owners fly over to the shipyard," Lapp said. "No two Sunreefs are ever the same."
The yard's first sale to Asia was the red-hulled Sunreef 70 Feng to China in 2013. Others followed including a grey-hulled Sunreef 60 Loft to Thailand, a blue-hulled 60 Sunreef Power to Taiwan and most notably the Sunreef Supreme 68 Sailing Eagle Wings, a huge charter success from its base at ONE˚15 Marina since starring at last year's Singapore Yacht Show.
The 68ft Eagle Wings – which boasts 300sqm of living space – exemplifies Sunreef 's ability to customise, featuring an upright piano in the saloon, a stairlift for the owners' elderly relatives and a superyacht-size garage.
The model – the first in the Supreme range – was recognised as the Best Multihull Sailing Yacht at this year's Asia Boating Awards, the fourth successive year the yard has been honoured at the regional showcase.
Second Sunreef in Singapore 
However, Lim's interest in Sunreef pre-dated the arrival of Eagle Wings. Having owned a Dufour racing cruiser, Lim had already bought into the benefits of a catamaran with his Leopard 40 and was looking to upgrade when he saw a pre-owned Sunreef 60 at a show in Singapore and "liked the space".
"As a sailor, I enjoy the wind and the performance, heeling, tacking; also, while fuel is getting expensive, the wind is still free! However, 
as you grow older, your needs change and you want to bring people onboard and expose more people to sailing," said Lim, who frequently sails with Annette (26) and his sons Byron (24), Cavell (22) and Darren (18) - note the A-B-C-D initials! 
"A lot of non-sailors find sailing monohulls quite threatening especially with the heeling, but with a catamaran it's nice as you have stability and space. I fell in love with the idea of having a catamaran. My first was a Leopard 40 and it has space and is nice, but was quite a basic yacht in terms of finishing. Also, I bought it without air-conditioning! 
"This time, I wanted a sailing-performance catamaran – and that's hard to come by – plus more space and a luxurious finish, and Sunreef had all that." 
Following up on Lim's interest, Sunreef invited him to the Pomorskie Rendez-Vous in Danske, where he sea-trialled the 60 Loft and "was amazed". 
Now fully convinced, Lim ordered a customised 62ft model with four guest cabins, which was launched in Poland in January this year and then delivered to Singapore, where it's looked after by a local Captain, one male crew and a stewardess. 
"As a family, we saw it together for the first time at the Singapore Yacht Show and they were delighted," said Lim, whose daughter Annette chose the colour scheme for the interior. 
Happy family, happy life 
Designed with sailing performance in mind and with a 9.3m beam, Annette2 is a far sleeker model than Eagle Wings, with about half the living space, but is very comfortable for a dozen or more onboard during the day and eight at night in the four guest cabins
Boarding aft, you're welcomed by a spacious teak-clad cockpit with a long sofa and fixed table aft and a starboard L-shaped sofa that's served by a foldable table.
Portside stairs lead to the flybridge, which features a dining and sunbathing area, and the main helm station. All the sails can be operated from the flybridge and Lim expressed confidence in handling the yacht in the absence of his Captain, as long as he has some family support.
"The stability is amazing and I can handle the yacht. The handling is easy and I only need two crew. It's simple to use and if my Captain is not around, I can sail it with one of my sons," Lim said.
"In a strong wind, even above 15 or 20 knots, the yacht is still stable. It really sails like a 'sweet thing'.
"One time, we were sailing at 15 knots wind and I was going close haul at more than 12 knots. That says a lot. Even a sloop sometimes doesn't go that speed. With a cat, can you imagine if I go on a reach with a 15-knot wind and put on a gennaker – wow, I would fly."
The front terrace is another place to relax and catch some sun, either on the extra-large mattresses or bow trampolines.
From the cockpit, two full-height glass doors slide past two full- height windows to offer access to the bright saloon and its elegant open galley with island kitchen counter. The saloon feels beautifully light and airy, with large windows all around and a clean white décor increasing the feeling of space and simplicity.
The cream white tone used for the ceiling and superstructure is also used for the well equipped kitchen to port and dining table to starboard. Light eucalyptus wooden panelling is used on the floor and for the cupboards, with grey cushions and blue throw pillows dressing the starboard sofa for a marine look.
The L-shaped sofa faces a retractable TV, which pops up from the forward cabinets, while aft of the main sofa is a smaller sofa. Facing that is a concealed fridge and ice-maker to keep the cool drinks within easy reach.
Starboard stairs lead to the master cabin amidships and another en-suite cabin forward, both with double beds facing six square porthole windows. On the port side, the forward guest cabin mirrors the starboard version, while the cabin amidships has a forward-facing bed and uses the day head and shower.
Aft is the main crew cabin, which occupies the equivalent space used on the starboard by the master bathroom. There's also a crew bunk in the portside forepeak, while the starboard forepeak contains a head and storage.
Lim wanted ample accommodation for guests and crew as he's looking to embark on some significant journeys with family and friends. "On a sloop, it's hard to bring a family unless they're pretty diehard sailors, but on this they can come along and also bring their friends," Lim said.
"For me, sailing on a catamaran is a very encompassing sport. I can invite my family and friends and with this Sunreef, it's like having a home on the water. At the same time, I don't sacrifice performance."
Indonesia, Myanmar, here we come
The sailing performance remains important for Lim, who has already started mapping out where he hopes to take the yacht, even if he admits he may not spend quite as much time on the yacht as he hopes.
"The yacht has a full galley, freezer, washing machine and most importantly a water maker, so we can go anywhere. I intend to take it further than Singapore, including north of Phuket to islands in Myanmar," said Lim, although his key focus is the Indonesian islands south of Singapore.
"I also want to spend a bit more time in the Riau Islands now that the Indonesia Government has opened it up, including further south to the Lingga islands. There are a lot of undiscovered islands. I sailed some of this area earlier with my Leopard, but with my Sunreef I can do a lot more."
Lim believes this group of islands – Bintan and Batam are the best known but just the northern tip – open up a whole new world of cruising options for sailors based in Singapore and elsewhere, containing areas remarkably untouched considering their proximity to the city.
"From a Singaporean perspective and as a cruising yachtsman, I think the Riau islands are really understated," Lim said.
"As an example, I sailed my Leopard to one of these islands where a Frenchman was trying to build a small hotel. He took me on his powerboat up two rivers and when we were there, the children there had never seen a modern yacht.
"When I gave them oranges and apples, they were also shocked. They had never seen an apple or an orange before! This is just one hour from Singapore. It's really undiscovered and is a place I could really spend some time."
Lim's biggest challenge now will be to find the time for these trips, although when he's not onboard, he plans to keep his yacht and crew busy catering to potential charter business in the area.
"I'm an Executive Chairman and have a management team so I don't have to be at the office all the time. I'm happy doing my business onboard my yacht, so I'll be spending a lot of time talking business and entertaining business associates. It's much better that way," Lim said.
"When I know I'm not going to use it for a while, I intend to make it available for week-long charters, primarily to the Riau Islands because I want to share the beauty of this undiscovered area.
"I'll have three full-time crew taking care of this yacht, so we're well positioned to take care of these charters."
Sunreef 62 Annette2 (2017)
Builder Sunreef Yachts (Poland)
Exterior Design Sunreef Yachts
Interior Design Sunreef Yachts
Naval Architecture Sunreef Yachts
Construction Composite
LOA 18.9m / 62ft
Beam 9.3m / 30ft 6in
Draft 1.6m / 5ft 3in
Displacement 33 tonnes / 72,750lb
Fuel Capacity 1,800 litres / 476 US gal
Fresh Water Tank 800 litres / 211 US gal
Black Water Tank 170 litres / 45 US gal
Mast Length 24.1m / 79ft
Air Draft 28.5m / 93ft 6in
Mainsail 120sqm / 1,292sqft
Genoa 70sqm / 753sqft
Gennaker 140sqm / 1,507sqft
Engines 2 x 110hp
Maximum Speed 10 knots (engines)
Cruising Speed 8 knots (engines)
Cruising Range 850 nm at 8 knots (engines)
Guest Cabins 4 for 8 people
Crew Cabins 2 for 3 people
Photos Sunreef