Meet the sparkling water maker inspiring you to make healthier choices while saving the earth and fostering world peace at the same time
You probably know Sodastream as that cool fizzy water machine your trendiest friend owns, or by its hilarious and creative April Fool's Day ads, featuring celebrities such as Paris Hilton. As the world's biggest sparkling water brand with over 100 years' experience, its home carbonation machines make drinking water fun while championing alternatives to single-use plastics. But there's more – the innovative brand promotes inclusivity right from the assembly line.
In November last year, we joined Sodastream Singapore and their Tribe Leaders – a group of trailblazing individuals who embody the brand's philosophy of healthy, stylish living – on their first-ever experiential trip to Sodastream's "Island Of Peace" factory in Israel, a facility that churns out 32,000 units of their famous sparkling water makers daily.
The "Secret Ingredient"
Located in Rahat, an hour's drive from the capital Tel Aviv and about 20km from the conflict-ridden Gaza strip, the 86,000-sqm Sodastream plant seems to spring up in the middle of the Negev Desert like a giant oasis. The factory, aptly named the "Island Of Peace", employs over 2,000 workers of different ethnicities and religions. Here, Arabs and Jews, Israelis and Palestinians and even Bedouins (nomadic groups) all work side-by-side in harmony. 
Whether they're assembling the various machine parts from the body unit to the CO2 gas cylinders, doing quality control checks or carefully packing them into boxes, the atmosphere in the workroom was lively and fun. At one point, someone blasted "Baby Shark", and workers started singing along to it. This multi-ethnic workforce is Sodastream's "secret ingredient", offering a hopeful glimpse into a more peaceful world, in a region often known for its political conflicts. 
On top of that, the long-standing brand is also breaking barriers in other ways. They've opened an assembly line in a local prison to teach prisoners new skills, and have even officially recruited a few of them. Sodastream has also created jobs for hundreds of women, particularly those from the Bedouin communities who would otherwise likely remain unemployed. At the time of writing, they're also in the process of opening a daycare centre for employees to help create work-life balance for working mums.
Fizz To Good Health
It's hard to resist the allure of fizzy soft drinks, but we all know sipping on too many sugary beverages wreaks havoc on your body, from tooth decay to increased diabetes risk. So if you're yearning for a healthier way to imbibe, their machines like the Sodastream Spirit, which won a Red Dot Award in 2017, lets you control the amount of fizz and sugar each time so that you can indulge in the bubbly beverage guilt-free. And if you find drinking water a chore or hate the flat taste of regular water, having a refreshing fizzy alternative could compel you to drink more water.
Want more taste? Get creative by adding fresh fruits or pick from Sodastream's extensive range of drink mixes that contains zero to two-thirds less sugar than regular carbonated canned drinks. And over at the brand's headquarters in Kfar Saba, Israel, they're constantly coming up with new and exciting flavours to whet your palate. We even caught a glimpse of their R&D team in action (photos were strictly prohibited). 
Saving The Earth, One Bottle At A Time
Besides encouraging healthier choices, Sodastream also empowers you to lead a more eco-conscious lifestyle. Their long-term goal? To effectively end the use of single-use plastic bottles. It leads the way with its signature clear, reusable bottles that you can carry with you to the gym, work and travels; each one can replace 2,000 disposable bottles for a family in a year (see image 6).
The Sodastream machine is also manually operated, so you don't require batteries or a power source. You can also exchange your used CO2 cylinders for new ones, while empty cylinders are shipped back to the factories to be sanitised, checked and refilled (see image 7).
Indeed, many brands want to make the world a better place, but few do it like Sodastream. During the trip, we were each given our own Sodastream My Only Bottle, a more compact version of the regular bottle. It's now our trusty travel companion, reminding us with every sip that bubbles can truly change the world.
1. A visit to the Dead Sea in Israel.
2 & 3. Factory workers laugh and chat with each other as they assemble the famous sparkling water units.
4. A "chandelier" of Sodastream bottles makes an impressive statement decor.
5. Associate Digital Editor Elizabeth Liew  meets a gigantic version of the Sodastream.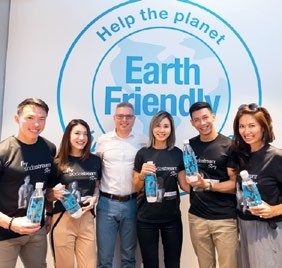 8. Tribe Leaders Daniel Chan, Sabrina Wee, Marie Choo and Phone with David Katz, General Manager at SodaStream International (third from left) and Nanz Chong-Komo, CEO of SodaStream Singapore (right).

1 Sodastream bottle = 2,000 disposable bottles each year 
Tribe Inspo
Sodastream's Tribe Leaders share their top tips for living a healthy lifestyle 
Marie Choo, 43
Dog Behaviourist and Ultra Trail Runner
• Stay hydrated. "I make my own sparkling water at home, and flavour them with fresh fruits and herbs like homegrown mint, basil, berries, and apples."
• Bask in nature. "Let the fresh air rejuvenate you. We have many nature parks and reserves that are free for exploration." 
Sabrina Wee, 31
Founder, Goya The Label
• Plan ahead. "Consider meal prepping, so you know what you put in your body, and use reusable food containers while you're at it!"
• Use your legs. "I try to walk or take public transport wherever possible to reduce my carbon footprint, and get that extra bit of movement every day."