Did you put on weight during the holiday season? Help is here.
Did you put on weight during the holiday season? Help is here.
The start of a new year is always e xciting. There's a sense of anticipation about what 2018 will bring. That said, it's important to start afresh and leave any baggage from the past year behind – and that includes dropping any extra weight you gained.
Research from Cornell University showed that people packed on an average of half a kilo during the Christmas and New Year season. Sadly, the same study also showed that it took about five months to get rid of the weight entirely. With the following tips, you can get back to your desired size much sooner.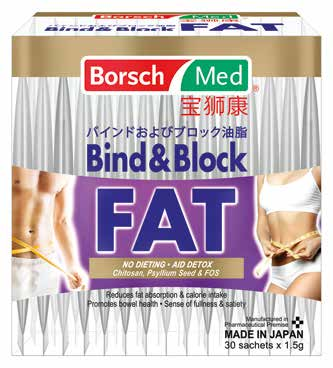 AVOID EMPTY CALORIES
The fastest way to clean up your diet is to cut out convenience foods that are high in calories and practically void of vitamins and minerals. Examples include snacks like potato chips, instant noodles and soda. Instead, add nutritious foods like vegetables, fruits, lean meat and whole grains to your daily meals. Whole, unprocessed foods are generally more filling than processed foods, so you'll end up snacking less, too.
But if you have to attend a buffet dinner or feel like you want to indulge in your favourite hawker foods, here's where Borsch Med Bind&Block FAT ($42 for 30 sachets/box; UP: $49) can help.
This weight management supplement limits the amount of calories you take in. Its active ingredient, chitosan – an indigestible fibre from shellfish – helps to prevent your body from absorbing fat. The fat is then passed out of your system naturally when you move your bowels. The mango-peach flavoured supplement also contains prebiotics, which boosts gut health and relieves constipation. To use, consume one sachet half an hour before tucking into a hearty meal.
GET MOVING
Exercise will help you burn more calories and trim down. Incorporating a workout routine into your lifestyle can be difficult after the festive season, especially if you've taken a long break from your sweat sessions. Our suggestion: start small. After work, alight one MRT stop earlier and walk home the rest of the way – even a 10-minute brisk walk counts as that's about 50 calories burned (depending on your weight). 
Also, get a fitness tracker to record the number of steps you take daily. Aim for 10,000. Many trackers have a reminder function that'll prompt you to get up and walk around every hour or so, and this will help you achieve your step goal. Once you're ready to take things up a notch, look around for workouts that you'll enjoy as that'll encourage you to commit to it.   
When you're exercising, you have to make sure your joint health is maintained. Take Borsch Med All in 1 Glucosamine plus Collagen 10,000mg with Chondroitin & Rose Hip for Joints ($45 for 21 sachets/box; UP: $62). This complete supplement improves the flexibility of your joints, repairs worn-out cartilage, and relieves joint pain and inflammation. 
The formula is backed up by research that shows that consuming both glucosamine and collagen together could speed up joint regeneration and the healing process. It comes in a powdered form to mix into your drinks.
IMPROVE YOUR SKIN 
The festive season probably took a toll on your skin, no thanks to the late nights and alcohol. If you've noticed more blemishes and pimples than usual, or just a general dullness in your complexion, these are the steps you need to take: cleanse, tone and moisturise your skin twice daily. Also drink eight glasses of water without fail as it keeps skin hydrated and flushes out toxins. Plus, catch up on sleep. Aim for at least eight solid hours, which allows your skin to rejuvenate itself naturally. 
Besides that, New Moon Inner Radiance Collagen Drink ($79 for two boxes (10 bottles x 50ml); UP: $79 per box) will come in handy. This award-winning health drink contains a whopping 13,000mg of collagen that aids in firming skin. Other star ingredients include glutathione with skin whitening properties, and antioxidant-rich maqui berry extract, which prevents ageing and also nourishes skin cells from within. For best results, drink a bottle of this fruity-flavoured drink every night before you go to bed.
All products are available islandwide at selected Watsons, Guardian, FairPrice and Unity Stores. Also available at http://www.borschmed.com. Promotional prices are valid till March 28, 2018. Terms and  conditions apply, while stocks last.