One doctor shares what it's like to work at Singapore's only public sexual health clinic – and answers some burning questions.
One doctor shares what it's like to work at Singapore's only public sexual health clinic – and answers some burning questions.
If you want to get tested or treated for sexually transmitted infections (STIs) in Singapore, there's only one place to get it done at a subsidised rate – the Department of Sexually Transmitted Infections Control (DSC) Clinic. Located in Kelantan Lane (which is in the Jalan Besar area), the building also houses a women-only clinic on level 2. Dr Coni Liu, an associate consultant at the National Skin Centre and a specialist at the DSC Clinic, tells us what a day at work is like for her, and when we should start panicking when we feel that something is wrong down there.
Your doctor is most likely from the National Skin Centre
The Department of STI Control is part of the National Skin Centre (NSC), so Dr Liu splits her time between the NSC and DSC clinics. She goes into work at NSC at 8am, and will see an average of about 20 patients before noon. The official lunch break is from 12pm to 1pm, but the doctors will usually have meetings over lunch.
Typically, she'll reach the DSC Clinic around 1:15pm, where she'll be busy with consultations till about 4:30pm.
"My primary interest when I started my medical training was dermatology. Sexual health comes under this umbrella because a lot of sexual conditions have a lot of skin signs. So all of us will rotate through the DSC Clinic as part of our training to become specialists," explains Dr Liu.
She sees 16 patients a day… or more
The DSC Clinic sees patients by appointment only, which means you have to either email, call, or fill up a form on their website (www.dsc-clinic.sg) to book a slot first. You might have to wait a while for your appointment date – since it's a public clinic, there's a long line of patients and not enough doctors. At the time of this interview, the clinic only has two consultants working in the Women's Clinic.
"We currently book 16 patients a day at the Women's Clinic – which is quite packed – and even then, the waiting time is already two weeks," says Dr Liu.
The clinic does accept walk-ins, but they will be assessed on whether they would require same-day medical attention. For walk-in patients, there's an extra $5 fee and they'll only get to see the doctor after all the appointment patients. Which brings us to our next point…
According to Dr Liu, most STIs don't actually require urgent medical attention
"Honestly, there are not many urgent STI conditions per se," says Dr Liu. So if you suspect that you've contracted an STI but have to wait days or even a couple of weeks before you get your appointment, don't panic just yet. However, if you experience abnormal vaginal discharge, fever or pain, you should seek medical attention as soon as possible. If the DSC Clinic isn't open, go to a GP or KK Hospital's A&E. In the interim, abstain from sex to prevent spreading it to someone else.
"The most dangerous STI for women would probably be pelvic inflammatory disease (PID). That's when an STI like chlamydia or gonorrhea has ascended into the womb, fallopian tubes, or ovaries. It can lead to infertility," says Dr Liu. Symptoms of PID include pain and fever.
Dr Liu finds it encouraging that more women are showing up at the clinic for a regular screening
According to Dr Liu, approximately one-third to half of the patients she sees are women in their 20s. The most common reason for visiting is to do a screening even though they're asymptomatic (not showing any symptoms).
"They see it as a normal health screening, just like how you'd check for your blood pressure or diabetes. I think that's very healthy," she says.
So, how often should we be going for a check-up? If you're still dating around, Dr Liu advises that you should go for a screening with every new partner, or after any "unexpected, high-risk, or unprotected behaviour". If you're in a monogamous relationship, she recommends doing it once a year. Why? Well, most people with chlamydia have no symptoms, and it can take years for HIV symptoms to show. And the harsh truth is, people cheat.
She knows when your partner is cheating on you
Imagine this: you're in a monogamous relationship, you go in for a screening, and find out that you have contracted an STI. How would you react?
In her line of work, Dr Liu has seen a range of responses: from denial to grief. "We have some patients who break down in our consult rooms, so we always have tissues ready. We refer them to our counsellors in this office if they need someone to talk to."
If you feel uncomfortable telling your past partners about an STI, the clinic can do it for you
If you're diagnosed with an STI like chlamydia, gonorrhea or syphilis, all of which are very infectious, the DSC Clinic will do contact tracing – the identiication and diagnosis of people who may have come into sexual contact with you. You'll be asked about your sexual partners in the last three months, and they'll be sent an appointment letter that tells them to head to the clinic for testing. You can pass them the letter personally, but if you don't want to do that, the clinic can contact them directly. Rest assured that no information on your diagnosis or sexual history will be disclosed to your partner(s) without your consent. 
And here's the awesome thing: when they come in with the contact letter, the consultation and treatment on that day will be provided free of-charge. "Our main aim is to control the spread of STIs, so we don't want cost to be a barrier for people," explains Dr Liu. 
What to expect when you visit the DSC Women's Clinic
Be prepared to spend at least an hour at the clinic.
1 First, you'll need to take a queue number and register at the counter.
2 You'll then have a doctor's consultation to address any concerns you have. You'll also be asked to provide your sexual history to determine which tests you need to go for.
3 You'll then be sent to the treatment room, where you'll do the necessary tests, including blood and urine tests and a gynaecological examination. Vagina, meet speculum.
4 After the tests, you'll be directed back to the consultation room to discuss some of your test results (you'll have to wait between two to three weeks for certain tests) and treatment, if needed.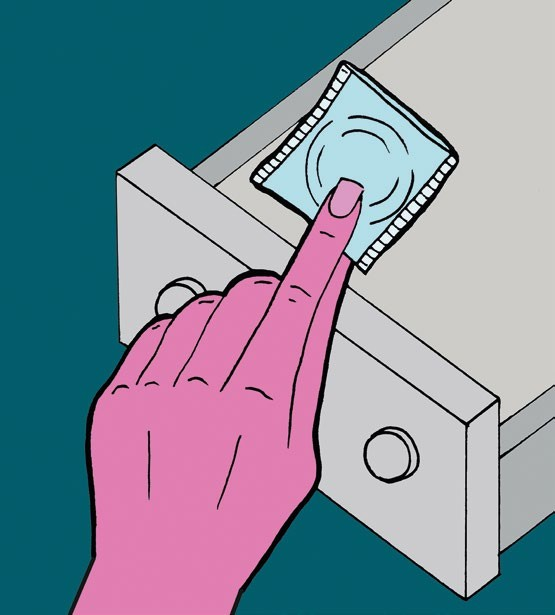 Something off with your vagina? Relax, it might not be an STI
There are non-STI causes for ulcers, lumps, tumours or discharges down there. But it's still a safe bet to head on down to the DSC Clinic if you spot any genital abnormalities, since the doctors there are also trained in dermatology.
"We can tell you whether it's an STI or another type of dermatological condition," assures Dr Liu. Do not underestimate the use of condoms. "
You should STILL use condoms, even if you're on birth control
"Do not underestimate the use of condoms," Dr Liu stresses. Condoms are more than just contraception, they're also a form of protection against STIs.
And most importantly: don't ever feel like there's something you can't show or tell your doctor
It's only natural to feel a little awkward telling a total stranger about your sexual history. And you should also know that the doctor will ask for details (i.e., the sex acts performed) to determine which tests you should go for.
But rest assured that this is completely normal. Says Dr Liu: "We're trained to run the clinic without any prejudice, and we want our patients to feel comfortable and safe with us."
"Being open is very important, because if not, we might miss some of the things that we should be screening for."
Hopefully, there'll be more than just one public sexual health clinic in the future
"More women are coming in independently for health screenings, and we have the potential to expand. Currently, we're still the only subsidised centre in Singapore for sexual health," says Dr Liu.
"Without subsidised services, cost could be barrier and that is one big problem. I think the DSC Clinic is in a very good position to encourage patients to come forward, and encourage things like HPV vaccinations at a reasonable cost." 
Illustrations Darren Ezekiel Text Sophie Hong.