TISSOT IS THE NBA'S FIRST OFFICIAL WATCH BRAND, AND ITS CHRONO XL TIMEPIECES PERFECTLY REFLECT THE FAST-PACED ACTION OF BASKETBALL GAMES.
TISSOT CHRONO XL NBA COLLECTOR SPECIAL EDITION 
The National Basketball Association or NBA, as it's popularly known, showcases the best basketballers and most exciting basketball action in the world. Tissot, the first watch brand with specially branded shot clock, has been chosen as the NBA's Official Watch.
NBA players are typically powerful on-court and stylish off it, and the new special edition Tissot Chrono XL NBA Collector is the ideal watch to celebrate this collaboration between the NBA and Tissot.
With a hardwearing 45mm PVD case made of stainless steel and leather strap crafted from the same leather as that found on Spalding basketballs used in NBA games, the Tissot Chrono XL's gorgeous black case projects an image of strength and durability.
Presented in a special box, the Tissot Chrono XL features a mineral crystal case back, which accommodates interchangeable inserts. There are 31 inserts, each with a logo, in total – one with the NBA logo and another 30 pieces for all the teams in the NBA.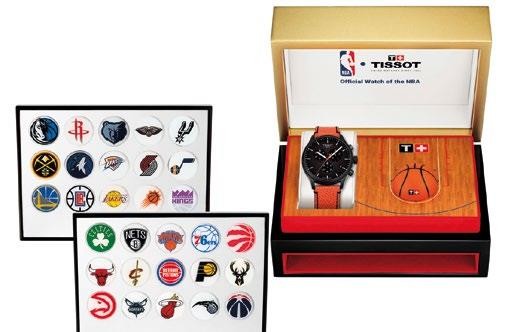 Also included is a basketball-shaped tool, which makes it easy to switch the inserts in seconds.
Aside from the "NBA" Chrono XL, there's another model which will appeal to basketball fans – the Tissot Chrono XL 3x3 Street Basketball Special Edition.
Inspired by street basketball games which are played by two teams of three players each (hence the "3x3" in its name) the watch is similarly sized as the NBA version, but it has a couple of design elements which are inspired by this exciting game.
The dial's design is modelled after the steel mesh fences that surround the street courts and the antique PVD finish of the 45mm case echoes the rough-and-tough character of street games.
Also, the International Basketball Federation's (FIBA) logo is engraved on the case back and the watch comes with two straps – a special graffiti-style filled with colour and an elegant black leather strap. 
TISSOT CHRONO XL 3X3 STREET BASKETBALL SPECIAL EDITION 
FOR MORE DETAILS, VISIT WWW.TISSOTWATCHES.COM