Thanks to his mother, the Real Yoga founder was introduced to yoga at the age of five – and he hasn't looked back since.
Thanks to his mother, the Real Yoga founder was introduced to yoga at the age of five – and he hasn't looked back since.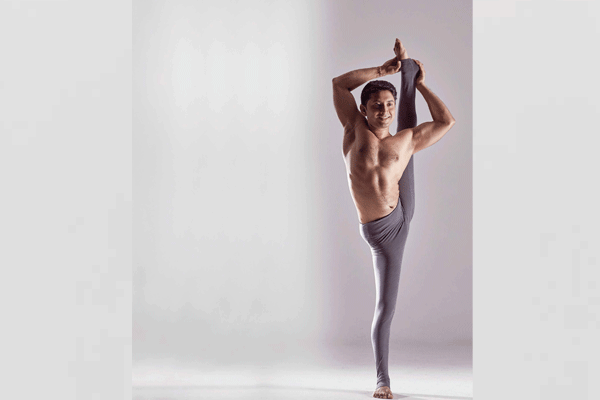 He graduated with a degree in accounting, but Master Saumik, 34, decided to pursue his passion for yoga as a full-time career instead. When he first started practising yoga as a kid, he found it challenging compared to the other sports he did. His mum, an avid yogi herself, introduced him to the age-old practice. As he got older, yoga became a channel for him to have fun and experiment with poses while also helping him find inner calm and peace.
That's when he knew he didn't want yoga to be just another hobby, but a bigger part of his life. We find out what exactly got him hooked on the practice.
● Why did you decide to start Real Yoga? Yoga is my passion. I've practised it my entire life, and have even taken part in competitions. In 2005, I took home the gold at The Yoga World Championships. After that, I was invited by a Singapore fitness chain to join them as a yoga instructor.
My teaching experience gave rise to the idea of becoming my own boss.
I felt that there was much more I could offer my students and the community as a whole if I opened my own studio.
And that is how Real Yoga was born in 2008.
● Which aspect of yoga got you hooked and why? I love and respect yoga for its humility and honesty, as well as the many principles that it advocates. Yoga is about honouring one's body, mind, and spirit. It helps you to relax and stay positive.
Practising balancing poses also helps you to gain self-awareness and better concentration, which is helpful in your daily life, too.
● What is the most challenging aspect of yoga? The most challenging part of yoga would be finding complete calmness amid all the stressors and noise we have to deal with daily. Also, I believe one is either naturally better at flexibility or strength – it's hard to equally embody both. For me, I am definitely better at strength, so it's more challenging for me to do poses that require flexibility. But I am certain that as long as you have the right mindset and practise often, you'll be able to achieve the poses in no time.
● Do you practise yoga daily? Yes.
It helps me remain limber and mobile.
I find this to be an important aspect of health and wellness, especially as you get older.
● What is your motivation for practising yoga? Overall wellness – body, mind, and spirit. I feel empty if I don't do it.
● What is your favourite pose, and why? I don't have a favourite.
I appreciate all the poses and the benefits they possess. But I work on stretching and strengthening poses more often, and I meditate daily. Even if it's just for 15 minutes, meditation is important as it helps to clear my mind.
● What is the No. 1 reason people should start learning yoga? Yoga is not just a spiritual practice, but a science that can help you to live happier and healthier. Numerous studies and Hollywood celebrities can vouch for it. They fully agree that they see a difference with this change in lifestyle.
People who practise yoga live longer, are happier and look younger.