This creative hub in Copenhagen has a co-working space, coffee shop, restaurant, concept store and hotel all under the same roof.
This creative hub in Copenhagen has a co-working space, coffee shop, restaurant, concept store and hotel all under the same roof.
Honouring a collaborative spirit according to the philosophy of Scandinavian furniture and lighting brand Menu, The Audo, which opened in May, is an inspiring hybrid space. 
Located in the old harbour district of Nordhavn, The Audo is nestled in a 1918 neo-baroque building, whose facade has been preserved by Norm Architects. The team at Menu – former CEO and current manager of The Audo Bjarne Hansen, in particular — launched this project with the objective of gathering creative minds to give life to a space that is not only the brand's headquarters and showroom, but also a meeting place for design lovers.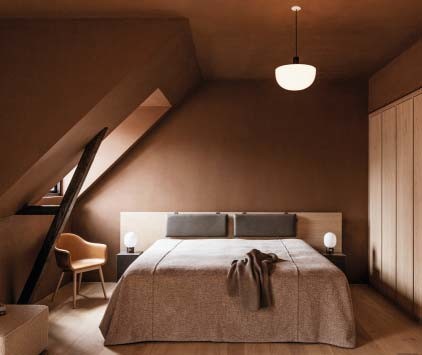 The colour scheme throughout the building is dominated by earth tones.
"It is a hub for powerful ideas, beautiful design and inspiration", says Menu's chief design and brand officer Joachim Kornbek Hansen. "Through openness, knowledge-sharing and collaboration, Menu takes a new approach to running a design business. Our move to The Audo highlights the multidisciplinary, unifying nature of design, while serving as a showcase and testing ground for our new concepts." 
Designed in collaboration with Norm Architects, and under the creative direction of Nathan Williams (co-founder of Kinfolk magazine), The Audo seems like a collector's house, where furniture, lighting and accessories by Menu, which can be experienced in an authentic and natural way, are complemented by pieces from other renowned brands such as Aiayu, August Sandgren, Dedar, Dinesen, Dux, Geberit and Kronos Ceramiche. 
The lack of bright hues focuses attention on architectural details.
Original and new elements, as well as references to industrial architecture and pure lines, make up the space. Every object or accessory can be purchased in the concept store on the ground floor. The coffee shop, bistro-style restaurant and charming outdoor patio on the same level were created to encourage interaction. On the first floor, the library houses a collection of natural materials, textiles and leathers, as well as wood and stone samples, architectural details, visual references and catalogues. 
With only 10 rooms, the boutique hotel on the upper levels displays a curated selection of products, books, ceramics and artworks by Benjamin Ewing, Bente Hansen, Nicholas Shurey and Sofia Tufvasson, among others. Its peaceful atmosphere, with soft colours, oak parquet and exposed beams, gives the feeling of being in a cosy cocoon.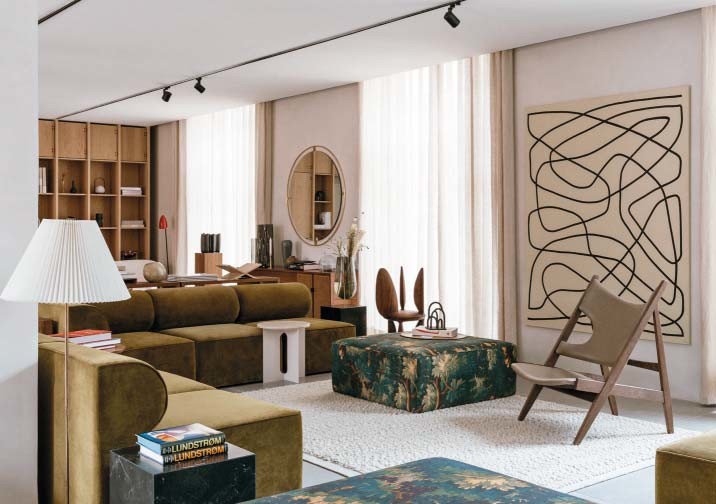 The partitions on the first floor were hacked away to create an open space.
Written on the exterior facade is a sentence in Latin from ancient Roman poet Virgil. "Ab uno disce omnes", which means "From one, learn all" inspires the name of the project. The philosophy also reflects the overall approach of focusing on collaboration. 
For Danny Feltmann Espersen, CEO of Menu, "Blurring the lines between home and work, and uniting design, business and community in one innovative, physical space under constant renewal, The Audo is an experiential, sensorial residence".
Good to know
The Audo is located close to the Osterbro district, which is full of restaurants and cafes.
The Audo is located at Arhusgade 130, 2150 København, Denmark. Visit www.theaudo.com
Photos MARIO DEPICOLZUANE & JONAS BJERRE-POULSEN