Our monthly roundup of the hottest new design products for the home.
SIMPLE & SMART
Your living space pulls multiple duties these days – it could be an office, a classroom, a gym depending on the time of day and the restriction posed by the pandemic. The new modular furniture system Smart Desk range from Japanese brand Nissin Furniture Crafters comprises simple desks that elegantly demarcate spaces. The collection is highly configurable, offering multiple lengths, storage and layout to fit your space.
Smart Desk is available from Atomi, price by request, www.atomi-jp.com. 
MIX & MATCH
Decorative tiles can easily and effectively personalise your space. The Mattonelle Margherita range by designer Nathalie du Pasquier for Mutina comprises no less than 41 different patterns in two sizes that can be mixed and matched to create anything from feature walls and accent surfaces to bespoke furniture. 
Mutina Mattonelle Margherita collection is available from Rice Fields, price by request, www.ricefleds.com. 
CLEAN & CLEAR
A stickler for food hygiene? AOX Compac O2+ may be just the thing for you. It provides clean drinking water and cleans your fruit and vegetables with its Active Oxygen Steriliser. Simply fill the bowl of fruit with water, place the air hose into the bowl and let it remove toxins and bacteria. Sleek and compact, it doesn't take up much space on your countertop!
The AOX Compac O2+ retails for $2,780 at Tangs Orchard and Vivocity. 
EDEN ON A PLATE
Botanical exuberance meets French haute couture in Passifolia, a new tableware collection from Hermes. Drawn by artist Nathalie Rolland-Huckel, Passifolia features a glorious riot of plants from all over the world. Nowhere else can one see chestnut and banana leaves intermingle or fern and hibiscus cohabit. Plates, platters and cups unfurl on the table and form landscapes conducive to contemplation. 
Hermes Passifolia collection retails from $145 at Hermes. www.hermes.com. 
FLUID LINES
Inspired by the concepts of languid seclusion and self-restoration, the organic lines of the Villa bed pedestal by OKHA are a far cry from the traditional square nightstands that one usually sees in the bedroom. Three sturdy legs support the fluid, sensual shape of the Nougat Matis Marble tabletop and the body of walnut timber, which conceals storage space. "I didn't want to do a box shape with four legs, and as soon as you change those fundamentals everything opens up," says creative director Adam Court.
The OKHA Villa bed pedestal retails from €2,510 (approximately S$4,003) www.okha.com 
EDITOR'S CHOICE: TIMBER TERRAZZO
Love wood and terrazzo? Meet Foresso's London, a collection of sheet materials composed of offcut wood chips and plaster waste bind together beautifully with coloured plaster. Sold in a 2.44m x 1.22m sheet in 24mm thickness, Foresso is suitable for all interior surfaces, including wall panels, tabletops, countertops and flooring.
Foresso London collection is available from Panelogue, price by request, www.panelogue.com. 
SMART TOILET FOR CATS
Scientists have been working on creating toilets that track our health for a while, but design experts at myKotty are on their way to beat them in making such products available in the market – for cats. Space Kotty is a futuristic smart kitty litter box that can monitor your cat's health (via its weight and bowel movement), eliminate bacteria and odours, re-order litter, and send alerts to your mobile phone. Plus no need to hide it – it is sleek enough to display in your living space.
Space Kotty is available for preorder from Kickstarter for March 2021 release, price starts from US$59 ($80), www.mykotty.com. 
TRENDING: SWING SWING
Whether installed in the sun-drenched balcony overlooking the outdoors or as the centrepiece in the living room that wows friends and family, these chairs inject a sure dose of adventure into your home. Bonus points that you don't have to move them when you need to clean the floor. 
1. Dedon Swingrest Chair, $6,265 (on sale for $2,599 while stock last), from Xtra, www.xtra.com.sg.
2. Bubble Chair, €3,995 ($6,385), from Eero Aarnio Originals, www.aarniooriginals.com.
3. Swing N.1, zł6,700 ($2,340), from Iwona Kosicka, www.kosicka.pl.
4. Kettal Bitta Swing Armchair, $5,150, from P5 Studio, www.p5studio.com.sg.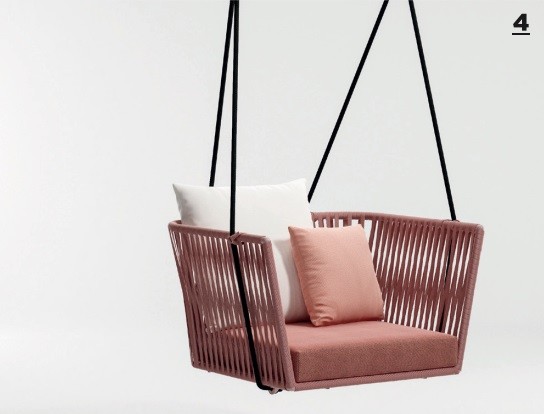 photo EERO AARNIO ORIGINALS
EXHIBITION OF THE MONTH
What: The Baoli Era: Treasures from the Tang Shipwreck Collection
When: 5 September 2020 to 10 January 2021
Where: Shanghai Museum and The Asian Civilisations Museum
Commemorating the 30th anniversary of diplomatic relations between China and Singapore, the Asian Civilisations Museum has partnered with the Shanghai Museum to present The Baoli Era: Treasures from the Tang Shipwreck Collection. While 168 artefacts from the collection are on loan to the Shanghai Museum for the exhibition, visitors can see over 900 treasures at ACM's Tang Shipwreck gallery. Admission is free for Singaporeans and Permanent Residents, and guided small-group public tours have resumed as well. 
SMALL BUT MIGHTY
Discreet lighting is now more possible than ever with the Mini, the new addition to the Line Series by Sol Luminaire. The smallest version (Line Mini 2) measures at only 33mm wide, and boasts a significant reduction of visual glare. These are also equipped with dimmable technology, so you can adjust the settings to your preference.
The Line Mini series retails from $45 at the Sol Luminaire showroom, 395 Guillemard Road. For more information, visit www. solluminaire.com.sg. 
ENGINEERED FOR ASIAN HOMES
Dyson's coveted vacuum cleaner just got 20 per cent smaller and 30 per cent lighter with Dyson Digital Slim. We go barefoot in Asian homes, and clean our compact spaces more frequently. Designed with this in mind, Dyson Digital Slim is made lighter for frequent handheld cleaning, with a shorter wand to accommodate smaller physique and no less powerful suction for that barefoot-ready cleanliness.
Dyson Digital Slim retails for $849 at www.dyson.com.sg and select Dyson Demo stores. Additional battery and charger are available to buy separately. 
CANDLE LIGHT, STAR BRIGHT
Aesop occupies a special place in modern-day lifestyle lexicon when it comes to aromatherapy, and now the brand has expanded its offering with a trio of aromatic candles named after notable ancient astronomers. Ptolemy offers green notes of cypress, cedar and vetiver; Aganice layers mimosa with cardamom and tobacco while Callippus blends frankincense and vetiver. These are, as Aesop's innovation director Kate Forbes puts it, "[N]ew aromatic blends that would engender a sense of equanimity and refuge from workaday concerns." 
The candles retail for $155 (each 300g) at Aesop signature stores and www.aesop.com. 
NEWS
Natural Beauty
Be at one with nature with Crate & Barrel's Modern Prairie collection. All the pieces in this collection feature sensuous lines, and are made of natural materials like cane, wood, and leather. The warm hues of ochre, amber and russet bring the outdoors in just in time for the fall season.
The collection retails at Crate and Barrel ION Orchard, #04-21, and www.crateandbarrel.com.sg. 
Book Smart
Last year, Cosentino Asia invited 13 architects and designers to share their wisdom in its Talks on Architecture & Beyond (TAB) series. The insights have been distilled into a book Talks on Architecture & Beyond, comprising essays, interviews and inspiring built works in Singapore. 
Contact Cosentino City Centre Singapore at 34/53 Duxton Road to get a copy, www.cosentino.com. 
Home Office Package
Office furniture brand Steelcase has teamed up with Singapore lifestyle furniture brand Commune to bring attractive, WFH-appropriate chair-and-desk packages suitable for remote workers. Prices start from $798.40. 
Visit www.thecommunelife.com/promotions/home-office-package for more information. 
SFIC Presents Creativ-Space
The Singapore Furniture Industries Council (SFIC) has launched Creativ-Space, a B2B e-sourcing and marketing platform dedicated to bringing local furniture brands to the rest of the world. Creativ-Space starts with 80 local brands and offers features like 3D Showcase, virtual pop-ups, curated editorials, as well as providing quotations, project listings and data analytics dashboard. 
Find out more at www.creativ-space.com. 
COMPACT COMFORT
"Anatra was born from my desire to play and experiment with the scale of weaving," says designer Patricia Urquiola of this new woven rope chair from Janus et Cie. Anatra Teak High Back Lounge Chair offers all the comfort and stateliness of a classic high back armchair with a more compact design ideal for smaller urban spaces. 
Anatra Teak High Back Lounge Chair retails for $5,226 (inclusive of GST) at Janus et Cie, www.janusetcie.com. 
ELEVATING THE EVERYDAY
Elevate the aesthetic of your bathroom with Axor Edge, a faucet series by French designer Jean-Marrie Massaud. He dubs it a sculpture made out of an everyday object. "A real functional piece of art that shares your intimacy for life," he says. Each faucet is crafted from a brass block and dressed with personalised finishes.
Visit www.hansgrohe.com.sg or book a visit to Hansgrohe Aquademie to find out more. 
APPROACHABLE ART 
Art can be intimidating and exclusionary, but it doesn't have to be. Online art gallery The Discerning Palette believes in making art approachable, affordable and educational. The gallery offers a playful and eclectic selection of modernist art from 20th-century European artists. The online gallery also publishes practical and encouraging information around understanding, buying and displaying art – no prior art knowledge required.
Artworks start from $246, visit www.discerningpalette.com for more information. 
A POWERFUL NOTE
Jamming out to your favourite tunes doesn't mean draining your phone battery any longer, thanks to Belkin's Soundform Elite. Both a wireless charger and speaker co-created with Devialet, it uses a patented technology to create hi-fi sound and powerful bass without the vibration, so that your phone remains steady while charging. Pair it with Alexa or Google Assistant for a hands-free experience.
The Belkin Soundform Elite Hi-Fi Smart Speaker + Wireless Charger retails for $499 at www.belkin.com/uk/p/P-G1S0001/. 
text ASIH JENIE AND MELODY BAY