Scalp Care At Its Finest
If you need a boost for limp hair, try Shiseido's Scalp Power-Shot. It aims to penetrate the scalp and address deep-rooted hair problems like thinning and hair loss. Formulated with adenosine, this scalp serum promotes blood flow to the scalp and supports healthy hair growth. It also has ingredients like carrot and sophora angustifolia root extract, said to improve hair thickness and growth. Use twice a day on dry or wet hair for best results. For even application, apply 15 pumps to different parts of the scalp and massage in with fingers.
$100 (120ml) from Shiseido outlets islandwide.
GET YOUR DESSERT FIX
Founder of La Pasteleria, Cecilia Neo, is serving up her rendition of the famous Burnt (Basque) Cheesecake. When she started selling them online, she received a steady stream of 100 orders a week, so she decided to open a physical store. At La Pasteleria, the cheesecakes are rich and creamy, but well-balanced with a light mouthfeel. You can get them in flavours like Oreo, Valrhona double chocolate, and lemony cream too. The kiosk also serves freshly baked cookies, brownies, coffee and fresh wraps.
7am-8pm daily, at #01-01 Royal Square@Novena, 103 Irrawaddy Road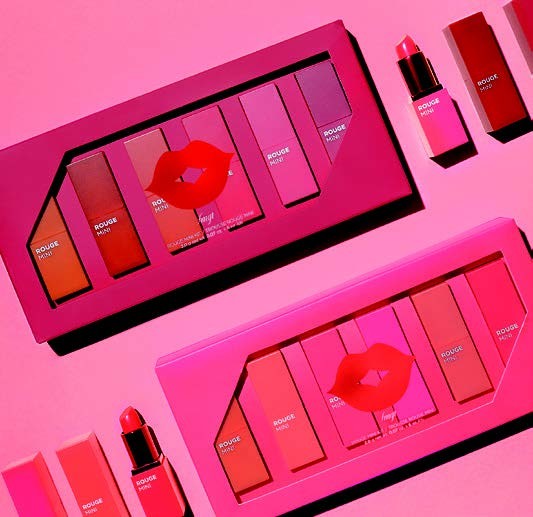 Must-have Makeup
The Face Shop has launched a new line of products labelled #fmgt, which stands for Fashion Makeup Group. Its latest release features an eyeshadow palette, lipsticks and blusher. The Mono Pop Multi Palette Signature has eyeshadows in three finishes: matte, shimmer and glitter. There are nine colours, from browns to pinks, as well as highlight and contour shades. The Mono Pop Cheek Palette Signature will keep your cheeks looking naturally rosy and glowy with its velvety powder blush formula. To finish off, go with Rouge Satin Moisture Signature lipsticks, which come in five colours and have a satin finish.
Available at all The Face Shop stores and Thefaceshop.com.sg.
Get Your Glow On
Did you know that skin's ageing process is affected by micro signals sent by molecules? Scientists at Estee Lauder have identified a specific micro-signalling molecule that promotes cell repair and anti-ageing. And they've condensed that technology into a serum: the new Advanced Night Repair Synchronised Multi-Recovery Complex. Made from yeast extract and several plant-derived ingredients, it enhances skin cell renewal and encourages collagen production. It also boasts eight hours of antioxidant protection, so skin is less prone to external irritation. For best results, use day and night, before moisturiser.
From all Estee Lauder boutiques, Sephora and on Lazada. From $25 for a 7ml bottle.
THE SAVE-YOUR-SKIN KIT
While MT Metatron is only found at dermatologists, aesthetics clinics and salons in Japan, it's available in Singapore at the brand's new flagship counter in Isetan Scotts, as well as at www.isetan.com.sg. At the counter, experienced beauty advisers offer individual consultations to help you find the right products for your skin. Be one of the first 100 customers to visit the MT Metatron counter and receive an MT Starter Kit, so you can experience the difference in your skin. The kit contains five bestsellers: MT Cleansing Gel, MT Facial Foaming Wash, MT First Step Lotion, MT Contour B Cream and, of course, its signature MT Essential Serum.
While stocks last, valid until Oct 31, 2020.