Whether cruising along the idyllic Brahmaputra River in Assam or discovering the joy of whisky in Jodhpur, Harper's BAZAAR drinks deep of new experiences in India
JUNGLE BOOK IN ASSAM 
There are many dilemmas facing today's traveller: Is my carbon footprint light enough? Are local people benefitting from my visit? Am I respecting the culture? So perhaps it wasn't so surprising, as we drive towards Kaziranga National Park, in Assam India, at 5am, that someone asks: "How will I know if my elephant is well cared for?" We'd travelled hundreds of kilometres and endured a 90-minute white-knuckled road trip to get this far before sunrise for an elephant safari through the plains. For modern day globetrotters, eco- and social consciousness plays a big part in their holiday choices. Google "should I ride an elephant" and you'll find hundreds of posts arguing the toss. We quiz our mahout relentlessly and were encouraged by the fact that, in this World Heritage Site, our female elephant only works two hours a day before the sun gets too hot.
Welcome to adventure cruising in remote India, a journey that assails your senses with fresh conundrums every day. We're sailing up the mighty Brahmaputra River like true explorers. Some 200m ahead, a wooden boat acts as our pilot. A man on the bow dips a long pole into the murky waters to ensure there is enough depth for the MV Mahabaahu to proceed. The MV Mahabaahu is one of only two ships that make the trek from Guwahati in Assam to Kaziranga National Park, a 430sqkm UNESCO World Heritage Site. There's a spa deck for Ayurvedic treatments and a small pool at the back of the ship. Best of all is the large sun deck on the top floor where you can while away your afternoons peering through binoculars at the ever-changing banks, looking for wildlife, or waving at the incredibly excited villagers. There is a single dining room and all meals are provided. Dinner is a five-course affair, and our cruise director mixes guests cunningly so everyone quickly finds like-minded companions to chat with over their meals.
The passengers have travelled all across the globe for this river experience. Landing in Kolkata, New Delhi and Mumbai respectively, everyone's about as far from India's hustle and bustle as they can get. Starting the cruise from Guwaharti, a narrow strip of land in the northwestern state of Assam, known as "The Chicken's Neck", the area is also "politically sensitive" and patrolled by the Bengal Rifles Brigade. It's home to one of India's best kept secrets—an astonishing array of wildlife such as deer, hogs, leopard cats, otters, wild boar and jackals. It's a birding paradise with eagles, buzzards and kites. It's also the last refuge of the one-horned rhino, a beast so hunted by poachers eager to please mainland China's appetite for its horn that they risk being shot on sight.
The Mahabaahu is every inch an Indian river ship. If you like cultural immersion from a visit to a local home to a performance by a dance troupe, this is for you. Every meal is local Indian cuisine, accompanied with Indian wines and the obligatory masala chai tea.  Afternoons are spent on excursions to charming villages where children greet us with "Hello" and then shyly shake hands. Other days include visits to jute mills, fishing villages and traditional Indian dancing in tea plantations. One magical evening included drinks and a bonfire on a sandbank. The evening ends with lighted candles on banana leaves which we are invited to place in the river with a wish and watch them gently make their way along the sea of black glass. But all of this is but a prelude to the main game. We've come here for safari, and after four days of these excursions, we're ready for the grand finale.
Everyone is here to catch a glimpse of the mighty Bengal Tiger. Thus, there were no complaints when the wake-up time was set at an ungodly 3.30am. Chilly at 10 degrees, we ply ourselves with hot tea, a couple of pratas and winter woolies. Mayresh Hendre, a 21-year-old former Mumbai advertising executive who gave it all up to focus on wildlife photography, is our official guide. He assures us the elephant safari is approved and that the elephants are well cared for. "Sometimes, if you drop something like your camera, the elephant will pick it up and return it to you," he maintains.
Beyond the mist, swaying grey figures emerge through the clearing. The magnificent beasts wear saddles as you mount them from a specially-constructed tower. Usually, couples ride together with a mahout and a guard, who wields an enormous shotgun loaded with blank cartridges. Our elephant brings along her three calves. And as we gently stroll through the long grass, she stops occasionally to pull some choice stems to feed her brood. Our mahout has been riding elephants since he was 12, and it is hard not to feel that there is a bond between these mighty beasts and humans.
Suddenly, there is our first sighting. A single-horned rhino is having an early morning snack in the grass. The 2,100kg rhinoceros unicorn is a solitary animal. Hunted almost to extinction, they have been saved thanks to the Indian government and UNESCOfinanced parks like Kaziranga. On our hour-long safari, we see many rhinos, along with deer, buff alo and birds. Though our mahout speaks little English, his excited finger pointing was enough to have us scurrying to our guide books to identify the next animal. And the tigers? Well, with a dozen mighty elephants and two dozen tourists ploughing through the park, perhaps they could be forgiven for remaining an enigma.
Our seven nights aboard the Mahabaahu turned out to be an extraordinary learning experience. The Brahmaputra is a fascinating river.  You'll feel like a true explorer, as there are still only a few international travellers who have ventured this far. It's a truly immersive Indian experience that shows you a different side of this magnificent country beyond the wonders of the Taj Mahal or the grand palaces in Jaipur. It shows the marvels of Mother Nature as she intended from the fertile sand banks of the river to the grand elephants in the mist. Enjoy the ride—nature's beauty won't last a lifetime.
www
.
cruisetraveller
.
com
.
au
From left to right: The MV Mahabaahu gently cruising up the Brahmaputra River. Dancing students performing in a tea plantation. A weaver taking a break. OPPOSITE: Elephant safari at Karizanga National Park. The stunning 18th century Rang Ghar— a free-standing pavilion built for kings to watch sports
A GRAND SALUTE TO JODHPUR
Rising from a hilltop that overlooks the historic city of Jodhpur, the Umaid Bhawan Palace is a sight to behold. Constructed in 1929, the majesticlooking property houses the official residence of the Maharaja of MarwarJodhpur, Gajsingh II, in one wing, while doubling up as a luxury hotel in the other. It sits on more than 26 acres of land, and in the middle of its expansive garden grounds stands a gleaming marble pagoda, its alabaster white columns forming a perfect contrast to the terracotta hues of the palace walls.
It is here, in the cool shade of the pavilion, that I find myself entranced by Jahnvi Lakhota Nandan's performance. The renowned writer, perfumer and dancer is on her feet, reciting lines that pay homage to nature and the passing of time. "The beetle, humming among sweet lotuses," a swaying Nandan coos, fingers circling an outstretched palm to symbolise the flight of the insect around the blooms, "whispers sweet words of flattery."
Melding the beauty of a poetry recital with the grace of a traditional Indian dance form, Nandan's fluid performance is hypnotising to watch. The soft clinking of the bangles on her wrists comes alive like an orchestra; the melodious tune carried by a breeze now caressing the ends of her sari. It is a pictureperfect moment, and I couldn't have asked for a better time to be part of Royal Salute's Olfactory Studio.
Organised by the prestigious brand famous for its premium range of blended Scotch whiskies, the Olfactory Studio is an unforgettable, once-in-a-lifetime tasting experience that changes perceptions of the spirit through a sensorial exploration. Whether it is sight, smell, taste or touch, every component of the Olfactory Studio has been meticulously curated by Royal Salute's Creative Advisor, Barnabé Fillion, to evoke a specific mood.
"The best things in life are blended," offers Fillion, "and I love how Royal Salute represents this beautiful art of blending." The highly sought-after nose behind fragrances from Houses such as Hermès, Comme des Garçons and Aesop, Fillion is full of ideas and proposes a stimulating mix by pairing glasses of single malt whisky with accompanying scents, cuisine, and objects of cultural significance and heft. This is also the first time he's brought Nandan on board, to add fresh perspectives to the experience. There's special meaning behind her appearance, too. "The Sanskrit word for 'blend' and 'emotion' are the same," she says.
At its core, the Olfactory Studio is about giving depth to the art of whisky tasting. "It's not just about how to drink whisky, but how one's senses and emotions can also be influenced by perfume or dance. This changes the way you taste whisky,  and there is elevation," explains Mathieu Deslandes, Head of Royal Salute.
Elevation is key to how Royal Salute presents itself—its illustrious heritage has dictated that every endeavour the brand undertakes has to be exceptional. Since its creation in 1953 by Sam Bronfman, an enterprising maestro who orchestrated a special blend of single malt whiskies for the coronation of Queen Elizabeth II, the brand has come to stand for quality. Whether classic or special edition, a flagon of Royal Salute comprises whiskies that have been aged for a minimum of 21 years, a number that references the 21-gun Salute, a centuriesold military tradition only witnessed at royal events. Each sip is a beautifully choreographed waltz of flavours and aromas, from sweet tints of vanilla to hints of masculine smokiness.
"The brand was designed to be the best when it was first created, which means there was a willingness to always be at the pinnacle of the whisky industry. We need to be the ultimate," offers Deslandes. "There must be magic to what we do."
And a special brand of magic it is too. Magic that brings guests from all around the world to the centuries-old Mehrangarh Fort, to enjoy a gala dinner under the stars in a royal courtyard filled with intricate stone carvings. Magic also to bring them to watch adrenaline-filled polo chukkas on the fields of Jodhpur. For Royal Salute, it's a fitting partnership: Polo is often referred to as the "sport of kings", so it's only natural that the brand's association with the British monarchy would lead to close ties with polo. As man and beast work in perfect harmony, the values of honour and skill that bind the sport and brand emerge like the many notes that unfurl from whisky. And who wouldn't toast to that? ■ 
From top: Royal Salute's portfolio of whiskies on display. Guests were brought on a procession up the Fort, and along the way they witnessed the sights and sounds of India, such as this one of camels OPPOSITE (from top): The impressive Mehrangarh Fort at night. The Olfactory Studio is an exploration of whisky's relationship with the senses. A fine steed on standby during the Polo Clinic, a session organised by Borwick to introduce the sport to guests. Former England Polo Team Champion and Royal Salute World Polo Ambassador Malcolm Borwick showing his prowess on the field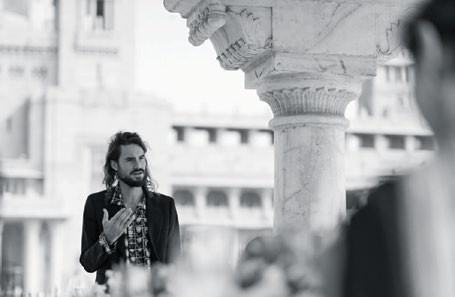 5 questions with...
BARNABÉ FILLION
The talented French perfumer talks style, storytelling and the concept of newness.
1. How have your previous experiences prepared you for your role at Royal Salute?
I think it's the idea of sharing a sensibility, which is then emphasised by an attention to detail and thinking about how you can bring out the best ideas that the brand believes in from the beginning.
2. What's your idea of style and finesse?
How do you distil them into your work? For me, the richest thing in life— and it's a bit absurd to say this— is the observation of nature. How can you represent that in a more sophisticated manner? It is not about imitation, but rather about how I can make people feel the beauty of everything that we have in discreet ways. To me, that is finesse.
3. Is storytelling a big part of your job?
It's not. It's more like painting a scene. For me, a perfume is like a landscape, and you need to give a hint that people can enter this landscape and enjoy every detail of it. This suggestion cannot be too subjective—in fact, it has to be as objective as possible, so that the people walking into this can enjoy every part of it in their own way.
4. How do you challenge yourself creatively?
I have a very blurred line separating my personal life and work. I think I'm evolving with every project that I do. And the projects are evolving according to how I've evolved in the context of my life. I also try to put less of my ego into these projects. I don't want the project to be owned by my identity, but I still try to give as much as I can to them.
5. How important is the idea of newness to you?
I think it's more about comfort. After a certain point, you can feel like you're owning a particular creative space. You might just sit there and think, "This is the spot". But I think it's necessary to put this spot outside the comfort zone. You need to always wonder and question yourself.
BY PETER LYNCH. PHOTOGRAPHY: MAYRESH HENDRE
BY GERALD TAN. PHOTOGRAPHY: COURTESY OF ROYAL SALUTE