She makes delectable snacks including gourmet marshmallows and artisanal drinks.
She makes delectable snacks including gourmet marshmallows and artisanal drinks.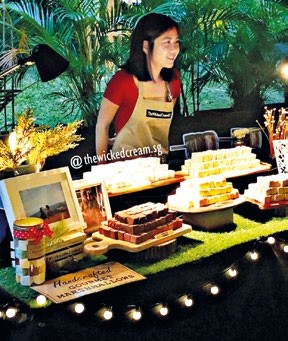 Name: Ecstee Ho Age: 33 Job: Co-founder of The Wicked Cream Co. Connect with Ecstee TheWickedCream.sg @thewickedcream.sg
How did The Wicked Cream come about?
Besides mutual love and respect, my relationship with my boyfriend is also fuelled by good food and desserts. Right from the start of the business, we made our own ice cream, marshmallows and other desserts and participated in several pop-up events. When demand for our products started to grow in late 2015, we decided to put in more effort into this business of ours and quit our jobs to run it full-time.
What goes into making gourmet marshmallows?
We make them from scratch with carefully selected ingredients. We also only make them in small batches. Every piece is hand-cut, crafted with love and made to suit local taste buds – for example, with reduced sweetness. Our creations are inspired by local flavours but we are slowly experimenting with international tastes. Some of our flavours include Sea Salt Gula Melaka, Chocolate Earl Grey and Salted Egg. We also have Mao Shan Wang Durian!
What has been your most challenging project so far?
At one of our events, we roasted marshmallows non-stop for 12 hours over two consecutive days. We also spent countless hours coming up with our latest flavour, Roasted Ice Cream S'mores. 
Five things that make her happy: "Holidays with my love, time with family and friends, bringing my dog to the dog park, good food and desserts, and seeing The Wicked Cream grow."
She knows a thing or two about interior design
"I was previously working in the design industry, and my love for interior design, architecture and the arts has never diminished."
One of her favourite destinations is Bali
"My boyfriend and I thought climbing Mount Batur would be relatively easy with rubber shoes, but it turned out otherwise!"
Images 123RF.com Text Compiled By Adora Wong.