Luxurious and comfortable in both her exterior and interior areas, the recent Absolute 62 Fly boasts attractive lines and excellent manoeuvrability.
Luxurious and comfortable in both her exterior and interior areas, the recent Absolute 62 Fly boasts attractive lines and excellent manoeuvrability.
A FEATHER IN THE CAP of the Italian boat-building community, Absolute Yachts has, since its inception in the early 2000s, succeeded in acquiring an international reputation for innovative attitude, and attention to construction, engineering and for reliability. This approach runs through the bloodstreams of the father-and-daughter management duo of Patrizia and Angelo Gobbi (former owner and founder of the Gobbi brand) who have shown the yachting world that competence and commitment are keys to success. The Gobbis, who joined Absolute Yachts' founders Marcello Bè and Sergio Maggi as shareholders, bring an invaluable contribution to the company's success.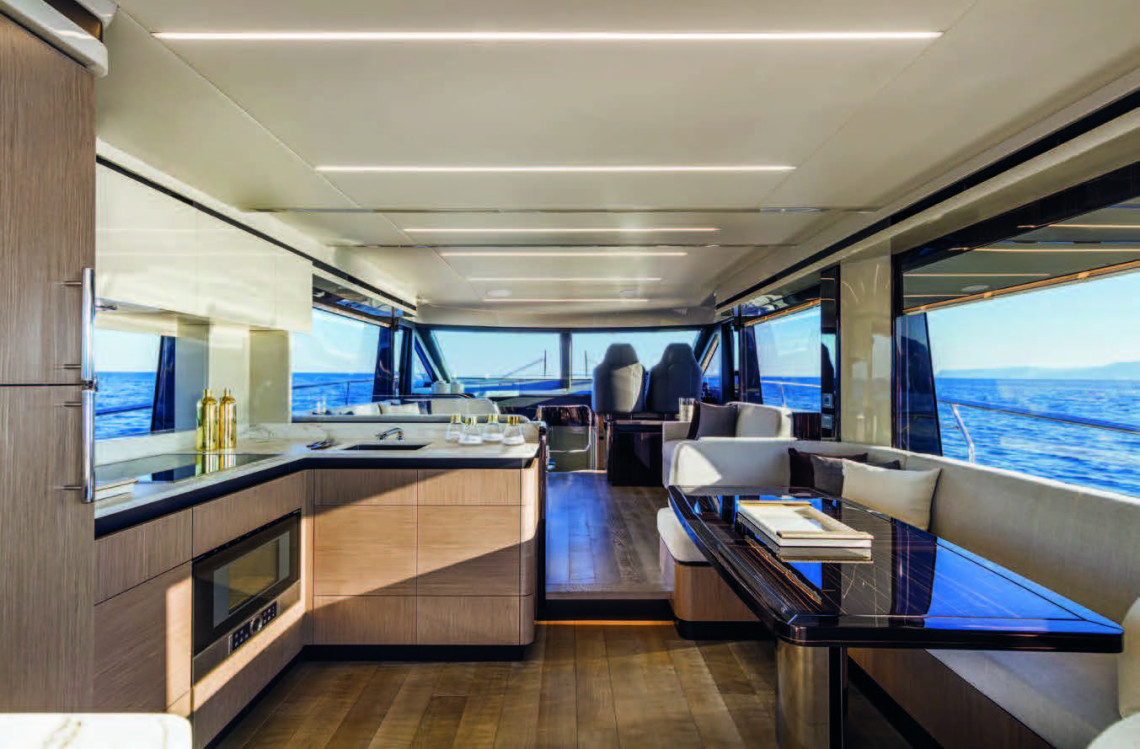 A neutral palette and open interior spaces makes the visual focus on what can be viewed from the yacht.
Nowadays, in Absolute's state-of-the-art facility in Podenzano, near Piacenza, in the Emilia-Romagna region in northern Italy, four ranges of yachts are designed and produced entirely in-house. The production includes four lines: Flybridge, Sport Line, Sport Yacht and Navetta, spanning lengths from 40 to 73 feet (approximately 12 to 22 metres). In a crowded market segment, Absolute Yachts stands out for signature yacht characteristics and value for money. Each year an average of 80 yachts leave the yard to reach the farthest corners of the world. Nine out of 10 yachts go abroad, with 40 per cent to European countries, 30 per cent to the USA, 15 per cent to the Asia-Pacific region and the rest going to Russia and the Baltic republics. 
The new entry in the Flybridge series, the 62 Fly, takes on big-name competitors in all aspects, from design to engineering, from build quality to attention to detail. This model combines comfortable and stylish interiors with streamlined exterior lines and sporty performance.
The 62 Fly's engine configuration is also noteworthy. Thanks to twin Volvo Penta IPS 950 D11 engines – each is 725-horse-power – with counter-rotating propellers, it reaches a top speed that exceeds 32 knots and has a respectable cruising speed of 25 knots, with a modest consumption of around 220 litres per hour. Yet, what actually makes the difference is not the 62 Fly's speed but its extraordinary manoeuvrability, smooth ride and utter reliability. On top of all of those elements, and reduced fuel consumption by around 30 per cent when compared to traditional engines with shaft line, the compact IPS engines allow for more liveable area volume to be available on the lower deck.
Absolute Yachts pioneered the use of IPS by installing the pod system in 2005 on the Absolute 45 STC. It was a sort of revolution in engine configuration at that time and it took a great deal of courage, as the Swedish company had only just presented IPS to the boating industry. In2006, the yard's first triple IPS engine configuration was proposed on the Absolute 56, and in 2008 a quadruple engine configuration on the 70 STY was installed. These brave approaches were and still are supported by Absolute's profound understanding of technical aspects and a close and fruitful collaboration with Volvo Penta that is not limited by convention. Over the years, Volvo has used Absolute yachts in its own engine-testing facility in Krossholmen, Sweden, as a platform for testing new engines. This was the case with a 70 STY, in which Volvo tested the new IPS 1200.
Entertaining spaces are plentiful and conducive to group gatherings.
Returning to the 62 Fly, at 18.6 metres (61 feet) and with a beam of five metres (16 feet) the 62 Fly has a bold and engaging design with well-balanced proportions and elegantly designed windows that give a dynamic, high-performance look to the yacht's profile. Once on board, I appreciate the submersible swim platform with a ladder that allows swimmers easy and safe boarding from the sea or the smooth launch of the tender that can be stored there while underway. To starboard, a couple of steps lead to the cockpit, while a cosy crew cabin with bathroom is accessed from a port-side door. This well-appointed and airy accommodation – thanks to its large window on the transom – can also serve as an additional twin-guest cabin. 
The cockpit features a dining table and a large, partially cantilevered sun pad. The flybridge overhang hides a blind curtain that can be deployed to protect guests from the sun or prying eyes when the yacht is moored stern to the dock in a marina. To port, a wet bar stays in between the outdoor area and the interior saloon. When a dividing glass sliding door is totally open, the two areas form an expanded and extremely appealing open environment. 
Each unit can be highly customised as the yard offers plenty of opportunities to adapt the look of the interior to the owner's tastes and uses, but even inside this review craft it was easy to fully appreciate the level of care and attention dedicated to design and details that were both decoratively striking as well as functional. Absolute's in-house design team did a great job. On the boat I visited, neutral tones and natural textures, coupled with glossy details, gave the interior spaces a sense of tranquillity while affirming the yacht's strong overall presence. 'Contemporary' is how I would describe the interior style, furniture shape and materials. An aft galley to the port side, finely refined and furnished, places the chef as close as possible to the dining table inside. Huge windows, which seem endless all along the saloon, offer great views, while letting plenty of natural light in. The room is airy, bright and very comfortable. The open saloon encompasses a dinette to starboard, facing the galley, and a panoramic seating area forward, with sofas on both sides and a coffee table. A TV screen pops up upon request from a cabinet behind the starboard sofa. The two-seat helm station, to the starboard side, has great visibility and a perfectly-equipped and ergonomic dashboard in carbon fibre, featuring a racy wheel, two screens in easy view of the driver, accessible engine control levers and a steering/manoeuvring joystick. From this helm station, the driver can monitor and control all information, including navigation, engine data, warnings and alarms – thanks to the Volvo Penta Electronic Vessel Control (EVC) system. A second helm post, probably the one the helmsperson most prefers in good weather, is on the fly deck, in a position that allows open views in all directions. Considering that the IPS pods enable the driver to rapidly turn the boat around its own axis, good visibility is a prerequisite for manoeuvring in total safety.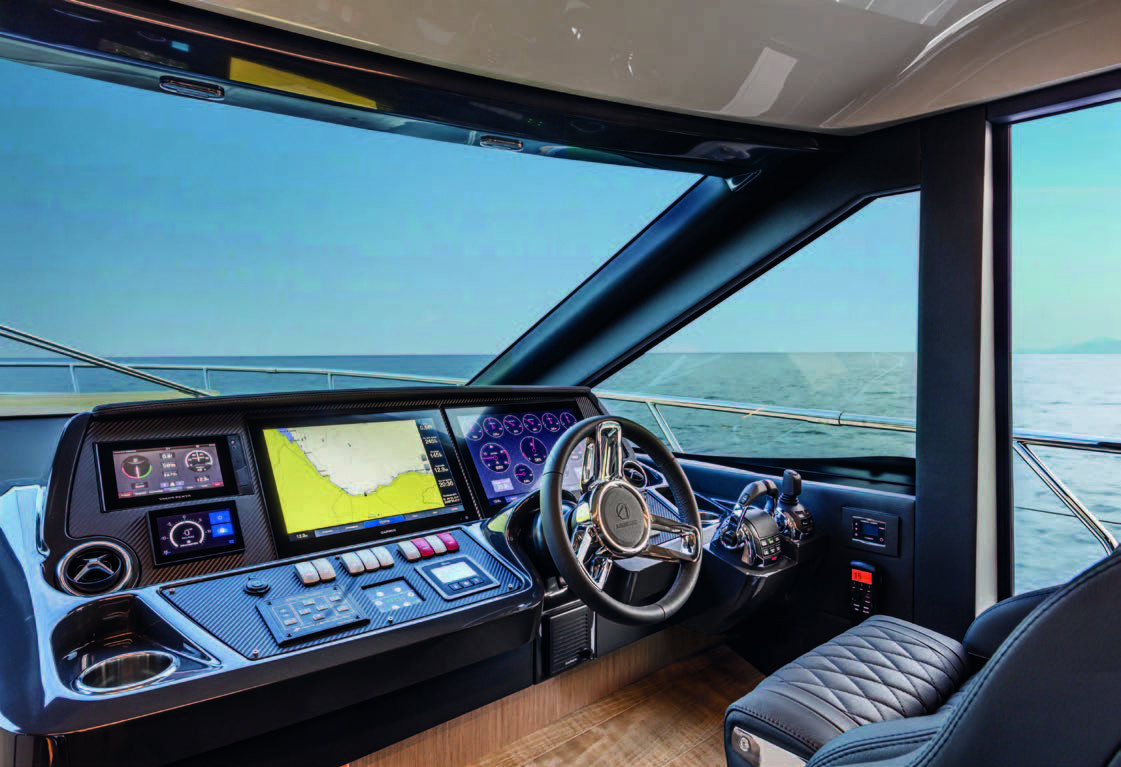 A perfect view from the helm and from cabins are all part of the 62 Fly's airy appeal.
At the saloon's forward end, a central staircase leads below deck to the night quarters. The spacious amidships master stateroom takes the lion's share among guest accommodations as it stretches across the wide hull and has large side windows. Large, well-appointed and bright, the owner's suite has a wardrobe, plenty of storage spaces, a corner to starboard in which to relax, and a desk/vanity unit to port just below its panoramic windows. Two more cabins are at guests' disposal. The larger is a VIP one, located forward with an athwart bed and a nice bathroom with shower stall – a cosy twin cabin featuring electrical sliding beds to turn them into a double. 
As I go back to the large saloon, I can't help but appreciate the brightness of this interior space that seamlessly blends with the outdoors. Outside, two large side passages run from the cockpit to the foredeck lounge, furnished with sofa and sunbeds, that can accommodate a full complement of people while leaving room to walk around. A staircase in the cockpit leads to the ultimate open space on board the 62 Fly… its flybridge deck. This is the place where owner and guests can spend relaxing hours both at anchor and underway. It provides an alfresco feeling without making you burn up under the sun – thanks to an elegantly shaped hard top with an electric sunroof that can be opened when necessary. It is equipped with a large sun lounger facing the bow and a lounge/dining area located centrally on the starboard side. A bar with grill, refrigerator and sink allows for preparation of snacks, cocktails or a quick meal. In keeping with the flexible use of all exterior areas, the rear section of the flybridge can host sunbeds or additional seating.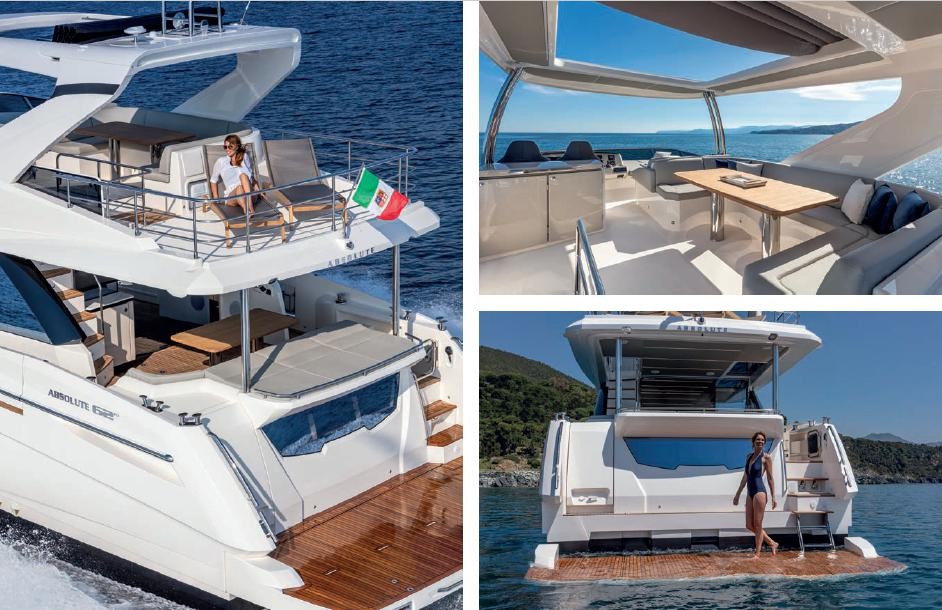 With swim platform down and sliding doors and covers open, outdoor living is made easy.
I like the 62 Fly, yet it is difficult to point out the feature or characteristics I enjoyed most. For sure the 62 Fly's huge saloon – almost 50 square metres (538 square feet) – makes this model stand out from competitors; the reliable, fuel-efficient IPS engines allow for smooth and comfortable rides and excellent handling; and a smart layout and wisely distributed storage helps keep everything in good order and at hand. There is no extraordinary or 'never seen before' feature that surprised me for its revolutionary content, yet the final result is that of a truly remarkable vessel. In my opinion, the beauty of the 62 Fly lies in a perfect balance between form and function, between comfort and technical aspects. In all, the Absolute 62 Fly is an 'absolute' delight for experienced yacht owners.
www.absoluteyachts.com