Newsflash: Make sure you're on the front line of fashion with tomboy tailoring, slouchy shapes and sporty style influences. Eye witnesses are calling it relaxed power dressing, our reporter on the ground chases the story
Newsflash: Make sure you're on the front line of fashion with tomboy tailoring, slouchy shapes and sporty style influences. Eye witnesses are calling it relaxed power dressing, our reporter on the ground chases the story
Run, Baby, Run!
Pair an oversized slouchy trench with a skinny rib knit and frayed dark-wash denim. Trench coat, $699, from Max & Co. Deep V tank, $49.90; and choker necklace, both from H&M. Denim trousers from Bimba Y Lola. Lo-top sneakers from Coach.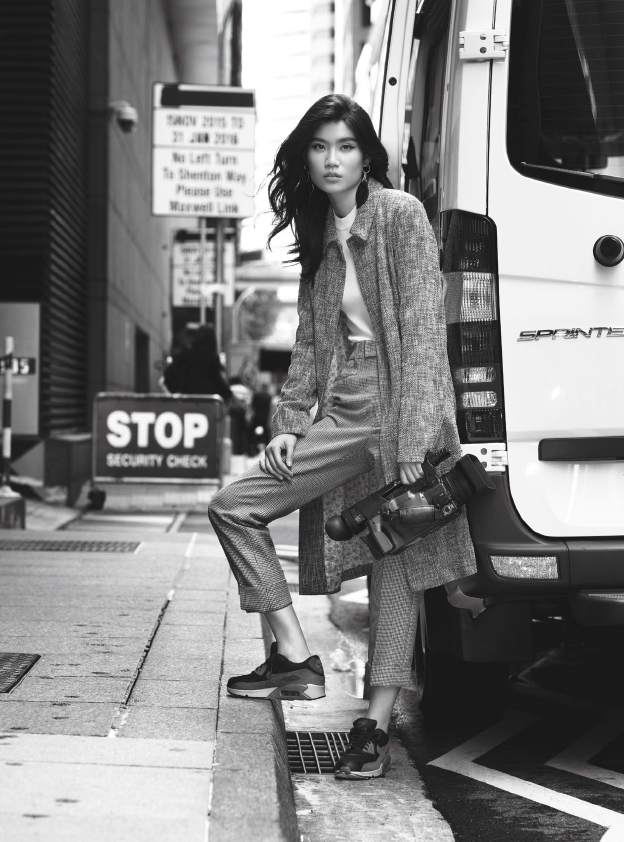 Fully Coated
Forget your regulation blazer, a lightweight, longer length coat is a fresher style option. Trench coat, $1,290, from agnès b. The Row ribbed wool top from net-a-porter. Plaid trousers from Miu Miu. Leaf drop necklace from Marni. NIKE Air Max sneakers, $179, from P.V.S.
Make The Call
Put a tomboy spin on classic tailoring with pinstripe berms. Draped blazer; and zipper blouse, $960, both from Emporio Armani. Pinstripe bermuda shorts, $420, from DKNY. Leather cuff from Hermès.
Take Five!
Get in on the action with a classic trench plus cool split-skirt pairing. Modern coat, $1,155, from Coach. Silk top, $990, from Brunello Cucinelli. Skirt from Hermés. Microphone from Audio-Technica.
Smarty Pants
Pair mismatched suiting with box fresh sneakers for the ultimate style scoop. Tweed blazer from Paul Smith. Cotton poplin shirt from Jil Sander. Trousers from Hugo Boss. Lo-top sneakers, $425, from Coach. Rose gold diamond ring from Andromeda & Co.
Overall Hero
Slouchy dungarees get a chic makeover with a sleek jacket and shirting. Dungarees from H&M. Cotton shirt from Paul Smith. Blazer, $299, from MICHAEL Michael Kors. Hi-top sneakers, $159, from PUMA. Embellished cuff, $49.90, from Charles & Keith.