It was a short but enriching journey as The Weekly attended the Sulwha Cultural Exhibition in the Korean capital
It was a short but enriching journey as The Weekly attended the Sulwha Cultural Exhibition in the Korean capital
I have been to Seoul many times, often with my K-pop-obsessed daughter who insists on stalking music agents' offices in the hope of catching a glimpse of her fave boy band. So when Korean beauty brand Sulwhasoo invited The Weekly to Seoul, not for a skincare launch but for an art exhibition, I welcomed the opportunity to discover the cultural side of a city I have associated with pretty boys, fab food and facial masks. If you are familiar with the Korean luxury skincare brand, you'll understand how intertwined Sulwhasoo is with Korean culture. Its formulas tap on the healing properties of traditional medicinal herbs such as ginseng and red pine. Jeon Jin-Soo, Vice President of Sulwhasoo Marketing Division, AmorePacific Corporation, says Sulwhasoo's philosophy of beauty is based on "ingredients and insightful formulas that have been known in the East for centuries". With a history steeped in tradition, it was a natural step for the brand to be involved with cultural activities. And taking its role seriously, Sulwhasoo became a cultural patron in 2003, organising the Sulwha Culture Club to actively promote traditional Korean culture. Year on year, its involvement grew and in 2009, the Sulwha Cultural Exhibition was launched. Jeon adds, "The exhibition serves as a bridge between the present and the future… and creates a platform that resonates across generations through communication with contemporary art, to enable harmony and balance between tradition and modernity." Hence, this year's theme "Once Upon A Time: Tale Of Crape Myrtle", was far more than a traditional reenactment of a folk story. Sulwhasoo brought together emerging Korean artists from different genres – architecture, ceramic art, sound, media – to reinterpret the love story (see top right for The Tale of Crape Myrtle). It was an apt reflection of what the brand stands for – intricately weaving the best of Asian culture with the latest in technology.
The 100 clear acrylic pipes with red acrylic tips (below) depict the red blooms of the crape myrtle flower.
The serenity of a fishing village is captured by Minseop Yoon, who uses plastic rods in her installation.
Here I am, all set to delve into the world of art at the Nemo Gallery in Seoul.
The Sulwha Cultural Exhibition is a key cultural programme for Sulwhasoo, a brand steeped in Korean tradition.
Using ginseng leaves, seeds and essence to make a wax tablet (see right for final result).
Graphic designer Dongjoo Seo's giant artwork wraps the 18 shipping container carriers which make up the Nemo Gallery.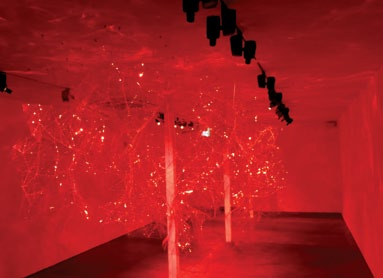 Artist Daesong Lee uses red light to symbolise both the flower and death.
The lights for squid fishing are used in this installation by Jihyun Boo.
The Tale of Crape Myrtle
This folktale is familiar even with Korean children. It tells of a story of two young people, from a seaside village, who are happily awaiting an auspicious day to get married. The village has a dreadful annual ritual – to prevent disaster from striking, a young maiden must be offered as a sacrifice to the three-headed sea serpent. As you would have it, the young girl is to be this sacrifice. Her heroic fiance is determined to fight the monster to save her and the village. He tells her that if he succeeds in defeating the serpent, he will raise a white flag on his ship; and if he fails, a red flag would be flying. Weeks pass, and after 100 days, the girl sees a red flag as the ship approaches the shore; stricken by fatigue and sorrow, she dies. And as you would have it, the young man is still alive. In his haste to return to his love, he did not realise that the white flag he had raised was smeared with the crimson blood of the serpent he had killed. He buries the girl on top of a hill, and later, strange red flowers blossom for 100 days before withering away. The villagers say it is the spirit of the girl who waited for her fiance for 100 days. Since then, they have called the crape myrtle flower baek-il-hong, which literally means "red flower for 100 days".