The latest trend in masculine dressing offers plenty of stylish ways to let loose.
The latest trend in masculine dressing offers plenty of stylish ways to let loose.
It could be the relaxing of rules of what constitutes masculine, our ever-increasing interest in other cultures, or simply the fact that the weather can get so darn warm these days. Whatever the reason, the upcoming Spring/Summer 2020 (SS20) sartorial season will bring with it plenty of flowing silhouettes. Whether it's inspired by traditional Arabic djellabas, Grecian robes or, well, your average dress, this trend is good news for those who like their clothing cool and comfortable. Here, we take a closer look at the fluid offerings of three brands.
LOEWE:
Among the brands that are going long and loose, Loewe offers a selection with the most palpable ethnic influences. Under creative director Jonathan Anderson, the brand has seen a renewed "dedication to global craft": Paired with accessories such as moccasins and moon-disc pendants at Loewe's SS20 show, the collection includes flowy tunics made of hand-embroidered cotton from Bangladesh and hand-dyed indigo cloth from Burkina Faso – as well as caftans cut from lush cashmere-suede (pictured).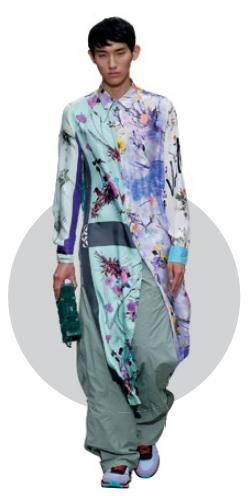 LOUIS VUITTON:
Louis Vuitton creative director Virgil Abloh might be feeling the weight of our uncertain times (who isn't?). His show notes elaborated on the meaning of "lightness": "An existential philosophy expressing a pragmatic and light-hearted – but not oblivious – approach to obstacles and negative impact. Also: a term used for the lightweight, transparent or buoyant garments in the Louis Vuitton SS20 men's collection." We feel buoyed by pieces such as this floral, silk-twill long shirt, which was paired with sporty trousers and shoes.
FENDI:
In a gardening-themed show held at the Villa Reale in Milan, heavier workwear-inspired pieces such as overalls balanced out breezy ensembles made for strolling amid greenery on a sunny day. The floaty ensemble seen here is the work of an unusual collaborator for Fendi – the Italian lm director and producer Luca Guadagnino. He created the cheerfully earthy grid pattern, while the long shirt with side splits was inspired by the traditional robes worn in Ethiopia – where Guadagnino spent his childhood.