Anouska Tamony's home is an exotic blend of East and West that draws upon her Eurasian heritage, childhood influences and sojourns around the world.
Anouska Tamony's home is an exotic blend of East and West that draws upon her Eurasian heritage, childhood influences and sojourns around the world. 
For Anouska Tamony, founder and creative director of award-winning London-based boutique interior design studio, Anouska Tamony Designs, interior design was a hobby that she never seriously considered as a career until her involvement in a Guantanamo Bay case made her realise that the emotional intensity of human rights law was not for her.
After retraining at KLC School of Design while working part-time in a London firm, she set up her own studio that specialises in creating bespoke homes for private clients. 
When it came to designing her own home, a late Victorian property in Dulwich, in south London, Anouska looked to her Asian roots. The bold use of colours combined with a playful mix of patterns can be attributed to her maternal grandmother, a Singaporean-Chinese couture seamstress who designed wedding dresses for royalty and wealthy magnates. 
"My poh poh 's colourful studio was where I fell in love with exotic patterns and vibrant textiles that captured my imagination, inspiring me to incorporate pattern and pizzazz into my designs," says Anouska. 
Her master bedroom is like a jewel of the orient, with a burnt orange, turquoise and magenta palette that is sumptuous,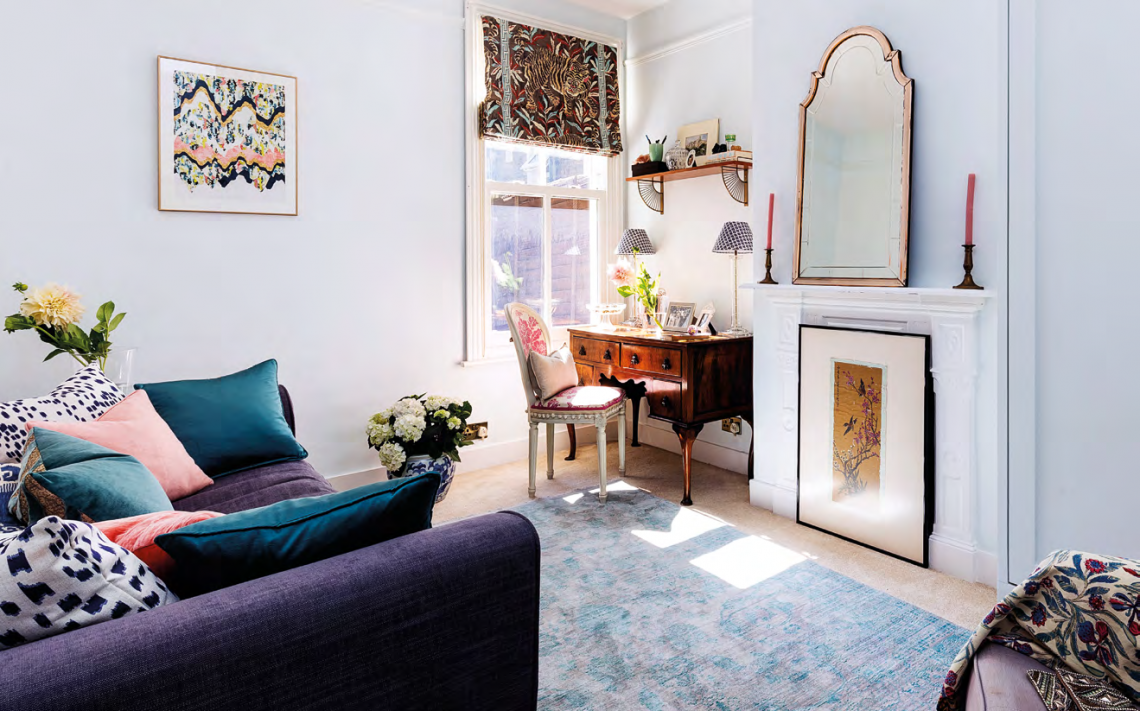 The clean lines of the kitchen evoke a relaxed feel, and are a nod to industrial and Moroccan styles. A copper tap provides a contrast against the backdrop of blues and whites.  
zesty and sophisticated. In the bathroom, Anouska kept the colour scheme to a more subdued cobalt blue with yellow and golden accents, and introduced dramatic prints in the wallpaper, blinds and floor tiles. The outdoor dining terrace showcases more multicoloured prints using vintage textiles from India. It exudes a wild bohemian vibe that is evocative of sunnier climes. 
Anouska's home is where she surrounds herself with a curated treasure trove of souvenirs collected from her travels. The Berber rug in the living room was sourced from a Marrakech souk (market) and the lacquer screen was a Malaccan antiques-market find. The Chinese silk painting in the study came from yet another antiques market in Hong Kong. 
Other elements, such as the Moroccan kitchen tiles and a 1920s' Korean persimmon wood chest and Danish rosewood chest in the master bedroom, reflect their countries of origins and this cultural fusion gives the home an eclectic quality.  
As Anouska shares the home with her partner, Scott, it was important to strike a balance between their individual tastes. "Scott is an avowed fan of Art Deco and oriental pieces. It was thanks to him th at I've grown fond of design classics such as Hans Wegner's Wishbone chair and Qing dynasty chairs," she reveals. "I suppose this was how we ended up with an interesting mix of Deco and Mid-Century, feminine and masculine, bold colour and pastel tones." 
When refurbishing a period property such as this, Anouska believes that it is important to respect the unique architectural features and detailing by taking a slightly more sympathetic approach. "This could mean reinstating cornicing that has been pulled down or restoring original 
This floral arrangement brings out the jungle chic of the bathroom. A simple shower area provides an appropriate counterpoint to the rest of the space. 
fireplaces to their former glory," she explains. The joy and woe is that you never know what you might discover, so her advice is to "allocate some of the budget to unforeseen discoveries and allow for flexibility in the final design".
Anouska's home is not just a reflection of her personality and her passion for interior design, but also a way of keeping her poh poh 's artistic spirit, kindness and positivity alive. 
"These are traits that inspire me more than ever now that I have followed in her footsteps and started my own creative business," she says. 
WHERE TO GO
Anouska Tamony, www.anouskatamony.com 
text LYNN TAN photos ANOUSKA TAMONY