THEY HAVE THE LOOKS AND STREET CRED.
THEY HAVE THE LOOKS AND STREET CRED. BEYOND THAT, THEY'RE MULTI- TALENTED, HAVING CONQUERED THE RED CARPET AND TAKEN OWNERSHIP OF SOCIAL MEDIA. THEY ACT,   HOST, SING, DIRECT AND PRODUCE. IN THIS CELEBRITIES' EDITION, HER WORLD PRESENTS A TALENT-STACKED LIST WHO ARE MAKING THEIR MARK IN SINGAPORE, CHINA, TAIWAN AND INDIA.
"The Beijing-based actor has three new dramas coming up.IG following: 353,000"
1 LAWRENCE WONG 32, ACTOR
What are you busy with now? I'm currently in Johor Bahru, in the midst of filming The Ferryman – Legends of Nanyang. It airs next year on iQiyi, China's largest television streaming site. I play a 24-year-old who can see spirits, helping them get their grievances sorted. It's my first time playing a supernatural role so I'm really stoked. I was also just named as the first international ambassador of iQiyi. My main role is promoting the streaming service to the regional audience. I've also completed two more Chinese dramas by iQiyi that are airing next year – One Boat One World, and Love and Passion. I play a ship commander in One Boat One World. I filmed about 90 per cent of it on a ship, travelling between Japan and China for three months. Thankfully... I didn't get seasick!
You are based in...
Beijing... mainly for acting. I have a home in Singapore and some relatives living in Malaysia. I came back to Singapore in January for Chinese New Year, and I wanted to return to China before starting filming for The Ferryman – Legends of Nanyang. With Covid-19, I couldn't return and I haven't been back since. I have a cat. Thankfully, I have nice colleagues who're helping me take care of it. I just got a new place in Singapore and I'm renovating it. It's been extra tough since I can't head over to check out the renovation process. I hope to get it done ASAP!
You're a regional star now. Is Hollywood calling?
Before Yanxi Palace, I was kinda like a dark horse. No one ever thought that I'd make it big, I guess. I've gone to several Hollywood castings in Los Angeles. I didn't get the roles, but I'm not too disappointed. I guess it means I'll just focus on my career in the region!
If there's something you'd change about yourself?
I was an "ah beng" when I was younger! I was a very difficult student. Looking back, I wish I didn't give my parents (who've always been very supportive) and teachers such a hard time. I wish I had been a better student. After working in the industry for a while, I've come to realise the importance of being in touch with my family and friends.
"Wool jacket, knit sweater, Gucci Opposite: Wool coat, cotton shirt, nylon pants, and leather bag, Coach"
I WAS KINDA LIKE A DARK HORSE. NO ONE EVER THOUGHT THAT I'D MAKE IT BIG, I GUESS.
"Wool jacket, knit sweater, denim pants, and canvas and leather sneakers, GucciI"
I DIDN'T GET THE (HOLLYWOOD) ROLES BUT I'M NOT TOO DISAPPOINTED.
"Wool coat, cotton shirt, nylon pants, leather bag, and canvas and leather sneakers, Coachimage"
"He released his first EP and is working on The Benzi Project, a Youtube series. IG following: 209,000"
2 BENJAMIN KHENG 29, MUSICIAN
These days, Benjamin Kheng is feeling on top of the world. In June, hereleased his debut EP, A Sea That Never Stops – a series of six self-written songs comprising soul stirring ballads and funky synth-pop beats. And the 29-year old artiste is currently busy with The Benzi Project, a Youtube series. It satirises social issues in Singapore and packages serious messages into humorous episodes.
This year, he proposed to his fiancee, actress and host Naomi Yeo, after dating for over a year. The pair met through work. "It was the scariest sh*t I'd ever done. Especially the moment when I realised that it's a thing you should only do once in your life,"
Benjamin gushes.Benjamin admits he's more grown-up now. The singer-songwriter notes that he's also no longer as insecure and rash as he used to be. "When I was younger, I dealt with criticism very badly. I even threatened to quit," he shares. "But these days, I welcome criticism. I'm way less anxious now – life's too massive and I shouldn't be worrying about my image that much." 
"Jacket, T-shirt and jeans, Moncler x Fragment"
LIFE'S TOO MASSIVE AND I SHOULDN'T BE WORRYING ABOUT MY IMAGE THAT MUCH.
"He acted in many blockbuster TVB dramas, and next year he will star as the lead in a local series. IG following: 78,100"
Blazer, Cos
3 ALAN WAN 33, ACTOR
What's your upcoming drama La Prawn Park all about?
It's a local production that follows the lives and challenges of a group of office workers who run a prawn park, and they're trying to keep the park from closing in six months. The show, which will air next year, is about the downturn this year. Some of the underlying themes are: keeping a business alive, and trying to retain employees during the bad times.
What made you move from Hong Kong to Singapore?
I got my first supporting role as a wealthy bad boy in the local drama, Faculty, in 2017. Two years later, I fell in love with the scene here. I'm ready to take on new challenges, focusing on acting (in English). This year, I got the male lead, a first for me, in a local production – In Love by Numbers, an English-language rom-com that's screening on me Watch. I play an anti-social tech-geek in this one!
How did you get into acting?
My mother "pushed" me and signed me up for a (talent) challenge search when I was 21. I never even thought of acting as a career then. It's partly because of my parents... they've supported me in pretty much anything I want to do.
"The actor will be starring in two new dramas this year. IG following: 8,466"
4 THAVANESAN 28, ACTOR
A familiar face on local Tamil channel Vasantham, Thavanesan has been in multiple dramas and hosting productions. This year, he's juggling two big projects: playing the lead role in the channel's Romeo and Juliet, and hosting Taalaam, a bilingual television programme featuring activities and events organised by the various Indian ethnic organisations in Singapore.
In December, fans will see him in yet another drama – Kavasam (Shield), a medical thriller, where he plays the leading man. He's currently in the midst of filming.
He says: "The drama started out as a pilot project initiative by Vasantham, and it ended up being voted in by the public to be converted into a full-fledged television series."
Despite breaking into the local acting scene as the lead for the long-running television show Vettai: The Force, it took a while for Thavanesan to develop in the character he plays.
"I used to depend a lot on the opinions of my directors to gauge my own performance," the 30-year-old admits. "It caused me to feel distant from the character I was playing. Now, I review my performance based on my knowledge of the character before seeking external validation."
"Coat, scarf, pants and sneakers, Coach Grooming Angel Gwee using YSL & L'Oreal Professionnel"
"He interviews some of the biggest sports stars on this planet. IG following: 44,600"
5 EDWARD RUSSELL 31, HOST AND FOX SPORTS PRESENTER
How has the year been for you?
It's been a strange year, hasn't it? Now live sport is back up and running, work is particularly hectic, with full seasons all crammed in about six months. I'm in the studio pretty much every day. Besides Fox Sports, I've got a couple of new lifestyle shows in the pipeline, so it's full steam ahead for the rest of 2020!
You were born in London, and lived in many cities. How did you end up in Singapore?
After graduating from university (my family relocated to Perth later), I wanted to travel. I got into modelling, moving to a new city every few months. I decided to settle here... I used to spend a lot of time in Singapore as a kid when my Dad was working in this city. I've always wanted to be a journalist, but the moment I got in front of the camera as a model, things started to snowball from there.
Who are the biggest sports stars you've met?
This year, I interviewed tennis stars Roger Federer and Rafael Nadal, and they're two of the nicest guys. They always have plenty of time to sit down for a chat. They're insightful and incredibly entertaining.
"Blazer, shirt and pants, Burberry. All accessories, subject's own"
"He's the star in a new drama about hackers. IG following: 228,000"
6 DESMOND TAN 34, ACTOR
Tell us about your new drama that's airing early next year.
The title of the series is CTRL. It's about manipulation in the world of hackers. This is an interesting role as it involves the complex manipulation sequence, usage of technology and constant transition between the reality and virtual world.
You participated in the recording of the song, The Light. Tell us more.
The Light is a beautiful and powerful song – one that shines light and hope during the gloomy and uncertain start of the year. I'm grateful to be part of this meaningful "battle song", to rally Singaporeans and cheer those on the frontline battling the outbreak. When I recently listened to the song again, it still gives me that positive vibe and encouragement, just like the first time.
What's the most meaningful thing you've learnt this year?
The real challenge was to re-learn and re-adjust to life without a hectic schedule. The big realisation for me: All these years, my world revolved around work, and it has always been the main priority. The stay-home period made me rethink the true meaning of life. I learnt to focus more on my loved ones, especially after seeing the fragility of life.
I LEARNT TO FOCUS MORE ON MY LOVED ONES, ESPECIALLY AFTER SEEING THE FRAGILITY OF LIFE.
"He's the school dropout who made good, and he's starring in a new TV series. IG following: 7,950"
7 SHAWN THIA 25, ACTOR
What have you been up to in recent months?
I've been busy with a number of projects during Phase 2. I finished two short films – Stay Home Neighbour on Viddsee, and a Mandarin comedy series for meWatch. I'm working on a new Channel 5 drama till October. I'm particularly excited, as it'll be the first long form that I'm be taking on (this year) after Titoudao ended last December.
Tell us something that we don't know about Shawn Thia.
I'm still figuring out who I am as a person. I've never taken the conventional path in life. I dropped out of school to work at 15. I enlisted in the army at 16.5 years old! My first onscreen project was in 2016. I started out doing commercials, and tried to move into short films and dramas. I gave myself a year to make it in showbiz. But 2017 was such a difficult year that I took a hiatus and got a full-time job in the marine offshore sector. During this time, I took on small projects. It was only in 2019 that I decided to take a leap of faith to act full-time.
Your challenges this year? I hope virtual meetings won't be the new norm.
I'm believer of being physically present. I'm still struggling with Zoom and Google Hangout. I enjoyed the Circuit Breaker... I watched films that I haven't had the time to indulge in. The only issue was food. I ate almost the same thing every day. I probably won't be eating char siew rice anymore this year. And I learnt that... I'm a horrible cook.
"Blazer and shirt, CelineGroomingEunice Wong WY, using M.A.C Cosmetics & Hanz de Fuko"
I'M STILL FIGURING OUT WHO I AM AS A PERSON. I'VE NEVER TAKEN THE CONVENTIONAL PATH IN LIFE.
 
"He's taking the Taiwanese entertainment scene by storm, and fans can look forward to his next album. IG following: 351,000"
8 FENG ZE 31, SINGER-SONGWRITER AND HOST
Are you working on any new music this year?
I'm hoping to work on a new album this year end, following up from my previous one...it has been a year since. This time, I hope to explore new musical concepts and bring new sounds to the table.
You have been in the scene for seven years. How have you grown in recent years?
I've evolved since starting my record label, Reason Brothers, with my partner Waii Hoong. I began to delve deeper into the music industry... how the whole business works, from making a song, doing a video, getting it to the market, and connecting with the audience. On a personal level, I've become more grounded and calm. In the process of managing a company, we've faced many challenges, and we got through them by solving the problems creatively.
How's living in Taiwan?
It's similar to Singapore. Being in Taiwan makes me more independent as I run my own errands. I come back home every three to six months... I miss my family and friends the most.
Are you living your childhood dream?
My dream was to be a drummer or actor. But I chose singing as I have the strongest passion for it. I wish I had started music much earlier... I could've been more proficient in playing the piano or any instrument.
"He's winning fans over with his music and he's set to appear in his first English drama next year. IG following: 84,000"
9 GAVIN TEO 26, MUSICIAN AND ACTOR
Who knew that musician-actor Gavin Teo had such a ripped bod until he bared it all in his first lead role this year in the popular Mandarin swim drama Victory Lap on MeWatch? And let's just say his shirtless selfies on Instagram have drawn as much praise as the vocals he lent to the show's soundtrack.
And we'll be seeing more of him. The Noontalk artiste is now busy filming his first local English drama that will air next year. His claim to fame was joining Channel U's 2013 talent-scouting competition, Hey Gorgeous, where he was one of the Top 12 finalists. His boy-next-door appeal and musical talent opened the door to acting. He credits what he has achieved to his family.
"I wouldn't be here if they hadn't urged me to go on Hey Gorgeous!" says the youngest of three siblings.
Although the acting gigs came pouring in after the competition, music was never far from his mind. This year, fans saw the self-taught guitarist performing on several segments of Noontalk's Covid-19 entertainment series, Let's Get Live, on social media.
And he's taking his music career to the next level. "I'm actually doing a bit of 'homework' now with the audio engineers at Noontalk and on set," he reveals.
"I want to produce tracks for films in the future, so I'm always ready to learn as much as I can."
"Jacket, T-shirt and jeans, Celine Grooming Alison Tay, using M.A.C Cosmetics & Kevin.Murphy"
"This funny guy wants you to take him seriously for his craft, and he's up for his next TV drama. IG following: 24,400"
10 JAI KISHAN 26, ACTOR
It' not a chore to be funny as long as you're making people feel something, says popular local comedian Jai Kishan, who stars in the slapstick videos on local Youtube channel Wah! Banana. "For me, it's a joy to know that people enjoy the content I put out!"
This year, Kishan was cast in his second TV role on meWatch's Khloe, a 10-episode drama that revolves around a ruthless influencer's bid to take down another influencer. On the show, he plays a disenchanted journalist who is faced with the challenge of conforming to society's norms.
"It's my biggest project so far. For the first time, I get to play a 'serious' role," the 26-year-old tells Her World. "I've been waiting for an opportunity like this for so long!"
Kishan is known as the funny, ironic and endearing dude ever since he started acting five years ago. And he's a natural. On screen, his exaggerated reactions and oblivious demeanour can be compared to the work of Hollywood comedy actor Steve Carrell.
He jests: "I pride myself in being able to command a room of people with my...well, charm (heh). They can always hear me from a mile away."
And one casting director heard him loud and clear. Kishan was offered his first acting gig five years ago in the drama Tanglin, after spending five years behind the camera in film production. "I went for it, got the role and quit school – I was that sure of making a career out of acting." At Her World's photoshoot, the fun-loving actor was bursting with energy, as he entertained the four-man crew with his jokes – and antics.
Kishan reveals that he was inspired by the cult teen show Hannah Montana. "My 16-year-old self was so inspired by how she (Hannah) could lead her daily life while doing what she loves," he explains, half-laughing. 
"So I wrote a movie script to star in it myself, and even tried to get a production company to shoot it for me."
Didn't happen", he deadpans.
Going from slapstick comedies to serious dramas can be a challenge for the comedian-actor. But he says that it's just part of the journey to reach his end goal. 
Of his ambition, he says with much conviction: "I want to star in a feature film or be a part of a Netflix production in the near future." 
He adds: "I want to have honest and serious conversations with people in the room... and I want to be taken seriously. So that's something I'll be working on."
"Jacket and pants, Moncler. Socks and sneakers, subject's own Grooming Alison Tay, using M.A.C Cosmetics & Kevin.Murphy"
I WANT TO HAVE HONEST AND SERIOUS CONVERSATIONS WITH PEOPLE IN THE ROOM.
"The fresh-faced theatre actor has landed his first lead role in a drama. IG following: 15,000"
11 AARON KHALED 32, ACTOR
He's a multi-hyphenate in the talent department. He's an accomplished musician who plays the violin and piano. He sings, and he's comfortable in both TV and stage productions. One could say that Aaron Khaled has come full circle after scoring his first lead role in a long-form television drama this year. "I've wanted to do something like this ever since I got a small role in Code of Law in 2012," he says of his role as Louis Shelley in Kin, a drama that airs on Channel 5.Next year, you can catch Aaron in two new stage productions by Wild Rice Singapore, and the Singapore Repertory Theatre. Aaron says humility and perseverance got him this far. At one point, he was faced with a dilemma of wanting to try out TV acting, but his heavy theatre involvement made him doubt his ability to transition smoothly. "Now I want to keep the momentum going. It's important to keep a balance. Work is important, but so is your mental health," he says.
"Turtleneck, Onitsuka Tiger"
"The veteran actor will star in a Tamil-language soap opera, following his latest role in a crime show. IG following: 19,200"
12 JAMES KUMAR 37, ACTOR
Vasantham actor James Kumar plays a frosty and solemn police officer (Deva) in his most recent endeavour, Arivaan, a Tamil crime show on meWatch. Off screen, he's really quite the cool guy.
"I'm currently shooting Azhagiya Tamil Magal Season Two, and I'm working on producing some music!" says James, who wrote the soundtrack for Arivaan.
For the past nine years, he has acted in multiple local dramas; his breakout role was in 2011 Tamil drama Vettai 2 with E-Vasantham Mediacorp. Many will also recognise him as Dr Arjun from Channel 5 drama Tanglin, which was his first English-language role.
But James is still working towards his goal – directing. "Acting came out of the blue," he says. "My first love is still filmmaking – it's the main reason why I pursued a career in media." 
He adds: "My dream is to run a production house. I want to create short films, TV serials and even edutainment pieces. In five years, I hope to have found a way to combine all my favourite things as I create – photography, videography, storytelling, music and culture."
"Trench coat, pants and shoes, Coach. Shirt and spectacles, subject's own. Grooming Angel Gwee using YSL & L'Oreal Professionnet"
MY FIRST LOVE IS STILL FILMMAKING...MY DREAM IS TO RUN A PRODUCTION HOUSE.
"He moved to Los Angeles to focus on his creative growth, and he's working on new music. IG following: 43,000"
13 NATHANIEL HO 35, SINGER-SONGWRITER AND ACTOR
You went back to school at 35. Tell us more.
I moved to Los Angeles (LA) last year to study music production. It was an investment for my creative growth as an artist. The move to LA seemed like the perfect way to reset and reconnect with my own needs. It has proven to be one of the best decisions that I've made in recent years. 
What inspired the move? 
I left Singapore at a stage in my life where I was unhappy and burnt out. On top of filming commitments, being in the F&B business at that time took a toll on my health. I knew it was time to take a step back and focus on myself and things that made me happy. I needed space to be away from expectations, and focus on learning and growing. I'm definitely feeling a lot happier, more alive and re-energised these days.
Your recent endeavours...
I'm now on an Optional Practical Training period that lets me work in LA for a year. On music, I intend to focus on the songwriting and production aspect of things, with a goal to complete 50 fully produced songs next year, to build up a big enough personal catalogue for placements and publishing. I'm excited to see what the new year brings.
I'M DEFINITELY FEELING A LOT HAPPIER, MORE ALIVE AND RE-ENERGISED THESE DAYS.
"He's the street busker who became a recording artiste. IG following: 8,078"
14 JASON YU 26, SINGER-SONGWRITER
Tell us more about your new single and the inspiration behind it.
I recently released my latest single, Now I Know, on Spotify. It's a song about realisation, loss and regret. It was inspired by a personal relationship, which I was trying to move on from. I was penning my thoughts, frustrations, everything that I felt. As I filled the pages of my notebook with lyrics, the melody for the ballad just fell in place.
How has busking shaped you as a performer?
Busking gave me a reason to polish my act, build a more extensive repertoire, and learn how to engage with my audience in-between songs. I never got serious with my music until I started busking. I released my first single, Hearts Release, in 2018, which has 7,000 streams on Spotify. I've loved music since young, and I always knew it was something I wanted to do. I have a piano at home, and access to the Internet and music from a young age. These things let me explore my interest.
Who inspires you?
My dad. My parents didn't come from very well-to-do families. He's the sole breadwinner of the household. He worked his way from the bottom. Through hard work, he has managed to make something out of nothing. I can only hope to do the same.
"Wool oversized turtleneck sweater, and wool coat. Fendi"
"He's starring in the new adaptation of Wattpad's top-selling romance novel. IG following: 6,890"
15 AARON MOSSADEG 28, ACTOR
While he has landed on major television roles in dramas Faculty and Tanglin, actor Aaron Mossadeg says that searching for the right roles has been quite a journey.
"It's all about throwing your ego aside and putting yourself out there," says the Singapore actor. "It has put a lot of things in perspective for me."
Soon, you can catch Aaron in the six-episode series, Slow Dancing, the first print-to-screen collaboration between online story platform Wattpad and Mediacorp. The romance series is based on the highest-selling Wattpad novel of the same title. This year, the Eurasian actor also appeared on Channel 5's Kin, as a goofy kind-hearted character. While actors are sometimes typecast because of their physical appearance, Aaron, who happens to be a certified personal trainer, says his 1.72m physique has cost him some roles. "It's understandable, but to be fair, it also helped me land other roles too," says the younger of two siblings. 
"Top and pants, Cos. Sneakers, Onitsuka Tiger"
IT'S ALL ABOUT THROWING YOUR EGO ASIDE AND PUTTING YOURSELF OUT THERE.
"He's working on a ground-breaking role in a new supernatural show. IG following: 150,000"
16 SHANE POW 29, ACTOR
Anything new that you're working on?
It's called Mister Flower, also starring Elvin Ng, Rui En, and more. This drama is pretty interesting and unlike anything I've done before. The premise revolves around Rui En, a ghost who needs to complete 100 tasks before she can be reincarnated. I play a male chauvinist who looks down on women. But as Rui En takes over my body, I begin to realise things from a female's perspective, slowly changing my attitude in life. In the first few episodes, she'll be acting as me. We needed to discuss how we were going to portray this character together. That's something new that viewers can look forward to.
You run a F&B business, how do you manage your time?
I've developed this two-hour rule habit if I needed to (unwind) read, exercise or handle my business. It helps to eliminate unproductive time spent on the phone, for example, and more time with loved ones, and metime.
How have you grown over the years?
I've became more responsible. I used to procrastinate, leaving things undone. As an actor, I've became more detailed... It allows me to see things differently, and add more depth to the characters that I'm portraying.
"Viscose sweater, poplin shirt, wool trousers, wool long coat, and leather boots. Bottega Veneta. Grooming Alison Tay, using M.A.C Cosmetics & Kevin.Murphy"
I'VE BECOME MORE DETAILED...IT ALLOWS ME TO SEE THINGS DIFFERENTLY.
"He is Singapore's youngest – and hottest rapper, and he's dropping his new track. IG following: 85,000"
17 YUNG RAJA 24, RAPPER
He's young, fresh and a talented lyricist. Yung Raja, born Rajid Ahamed, is Singapore's hottest rapper. His lyrics are poetic, and his brand of rap is a harmonious mix of slow and rapid beats, punctuated with Tamil phrases that reflect his roots. The 24-year-old has so far released seven singles, with streams amassing to more than a million on Spotify and Youtube.
His most popular hit, Mustafa (2018), has more than two million streams, followed by Mad Blessings (2019), which has over a million streams.
Last year, Yung Raja signed up with Universal Music Group's new label division Def Jam SEA, and he hosted Yo! MTV Raps alongside Los Angeles-based DJ Kim Lee.
And you'll be hearing more tunes from this talented local boy.
What's on your to-do list?
I have a couple of projects lined up next year, and I'm excited that I'm releasing a new song too! Recently, I feel that some of the projects I've been taking have pushed me to explore different sounds...and I'm really loving it!
A good performer is...
I'd like to define it by how much good you create for the world. The metric I use is joy. If I can create art that fulfils that (joy), I'd consider myself to have succeeded. Having said that, the other qualities are being hard-working, disciplined and mindful, if you want to succeed.
What's your musical inspiration?
My family is one of the inspirations. Then, I look to other things like success, sometimes relationships, and the good things that come my way. My rap is kinda like a journal, I'll always touch on these topics (although differently) in all of my songs. I do want to move on to bigger themes like social responsibilities and current affairs.
Name a rapper you'd like to work with.
It's gotta be Drake. I really look up to the way he creates art. He has a team who has been there with him since Day One... he's producing hit after hit. I really admire that working relationship he has with his team.
"Cotton T-shirt, nylon bomber jacket, cotton oversized hoodie, and denim shorts, Moschino. Everything else, subject's own"
"He's the lead in a short film directed by fellow actor Pierre Png. IG following: 19,600"
18 JOEL CHOO 26, ACTOR
He gets compared to his famous dad – veteran actor Choo Houren. But Joel Choo doesn't mind. "It's quite amusing, but I don't take offence at all," says the 26-year-old says. "It's not a bad thing to be recognised because of my father. But I think my journey as an actor is rather separate from my role as his son."
Recently, the young actor was cast as the male lead in Fresh Takes 2, a 47-minute short film directed by local actor Pierre Png.
"It was my first time working with him (Pierre) so that was really cool," Joel, who was nominated as Best Newcomer at the 2019 Star Awards for his work in A Million Dollar Dream, enthuses. "I'm a fan of his work and to be starring in his directorial debut is really an honour."
Joel, who appeared in the historical English drama series Titoudao this year, has hit a new kind of popularity on Tiktok and Instagram, where he has 19.6K followers on both channels. He's entertaining, wowing his fans with his wicked sense of humour and singing.
Yep, Joel was a vocalist and guitarist of an indie rock band.
"When I'm free, I enjoy recording song covers...I post them on Instagram," says the music lover. "Other than that, I like editing video parodies and posting them on Tiktok.
"Blazer and shirt, Fendi"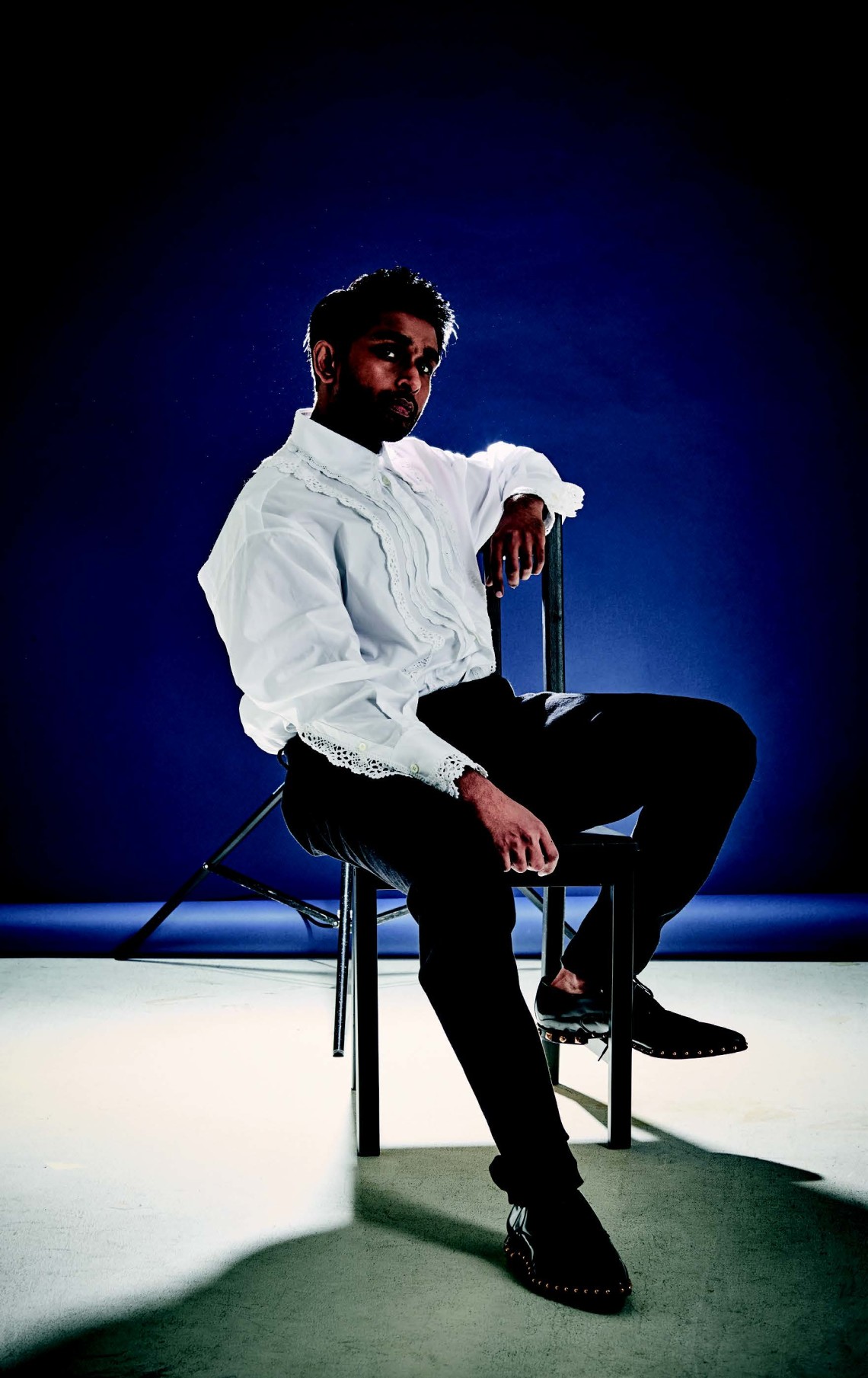 "He's the prized export who's taking Kollywood by storm. IG following: 36,400"
19 SHABIR ALAM29, FILM COMPOSER, SINGER-SONGWRITER
What are you busy with now?
I got quite a few things. The Lockdown EP comprising four songs will be out later this year. I've written, sung and composed all the songs. The EP aims to document the human condition during a pandemic. I've also written a socio-political song titled Korokoro. My seventh Indian feature film, Sinam, is also being completed. It's a cop thriller featuring one of Tamil cinema's leading actors, Arun Vijay, and we're now in post production.
How do you juggle so many things?
I've always been working remotely to a certain degree, as I work in two industries, Singapore and India. All I need is a laptop and headphones, and I can start writing a song or scoring music for a scene. I work on the go... when I'm waiting for my flight. I finish songs in a four-hour flight.
How's the scene in India?
It's more schedule-oriented in Singapore, and we tend to know what's coming next. This is just one of the cultural differences between working in India and Singapore. Fans in India are very loving, and they celebrate you if they like your work. Local fans are a little shy to show their affection publicly, but they stick with you through thick and thin.
"Cotton and lace shirt, corduroy trousers, and leather shoes with studs, Dolce & Gabbana Grooming Alison Tay, using M.A.C Cosmetics & Kevin.Murphy"
 ALL I NEED IS A LAPTOP AND HEADPHONES, AND I CAN START WRITING A SONG OR SCORING MUSIC.
"Not only is he starring in a new drama, he's releasing a new music album. IG following: 105,000"
20 AYDEN SNG 27, ACTOR
Acting wasn't on the cards for Ayden Sng until two years ago when he was cast in the local feature film, The Playbook, directed by hosting maestro Bryan Wong.
"It (acting) turned out to be very fulfilling," he says. "It's not so much of me wanting to be an actor, but more about not having any regrets. No way was I going to regret skipping out." 
The artiste is currently filming a new drama, Recipe of Life. This time, he's also producing a music single that will be featured as one of the soundtracks for the show. Ayden was an erhu player with the Singapore National Youth Chinese Orchestra. He also plays the violin and piano. And he's is prepping for an erhu instrumental album to be released at the end of the year.
In Recipe of Life, Ayden stars alongside veteran actress Chen Liping, who is his onscreen mum. This year, Ayden took on the male lead in Loving You, a Chinese-language drama produced by Mediacorp. "There was a lot of pressure to do well. It was my debut lead role, and I knew my performance would determine the likelihood of me getting more lead roles in the future," says the Raffles Institution alumni and Duke University graduate.
Even though he's all fired up and ready to take his acting career further, Ayden is pragmatic on what he needs to do stay relevant.
"You have to know how to solve real-world problems, like knowing the right people or having capital to produce your own content," he states. "You also have to be willing to entertain your audience through new media like Youtube skits and Tiktok videos."
He gives an example how one may spend up to six months filming a production only to end up with very little views. He explains: "You can look good and hone your craft well, but capturing an audience is key to your growth as an actor."
He adds, eloquently: "Your aspirations as an actor? It's a pipe dream until you put yourself out there and meet the right people too".
"Jacket, knit top, pants and shoes, Valentino"
IT'S NOT SO MUCH OF ME WANTING TO BE AN ACTOR, BUT MORE ABOUT NOT HAVING ANY REGRETS.
Photography Micky Wong, assisted by Kok SingCreative Direction Windy Aulia Styling Colin Sim Hair Kay Tuan/Centro Hair Salon Makeup Sharman Yee