Determined to veer off the tourist trail in Peru, intrepid traveller Karen Tee takes the road less travelled in the Sacred Valley to get to Machu Picchu.
I've dreamt of visiting Machu Picchu since I was a child. Pictures of this ancientcitadel – the masterpiece of 15th-century Inca civilisation – in Peru that I saw in the pages of National Geographic magazines were so real to me, I'd sometimes have vivid dreams of climbing the steep stone steps and exploring the complex.
But it seems that the pathto Machu Picchu is laid with tourist traps. Many travellerstake a multi-day trek along a portion of the Inca trail that leads to Machu Picchu, but it has become so crowded that permits often sell out months in advance. Alternatively, affluent globetrotters pay top dollar to get there via a luxury trainand put up in posh villas, practically bubble-wrapped in a cocoon of comfort.
Either way didn't seem authentic to me. So my eyes lit up when my friend, Claire Betts, who also happens to be my favourite South American travel expert at A2A Journeys, suggested an alternative – a "choose your own adventure" lodge-to lodge journey in the Sacred Valley – arranged by a local company called Mountain Lodges of Peru. This 95km stretch of the picturesque Andean mountains is the land the ancient Inca civilisation claimed dominion over, and is still dotted with small towns and farms predominantly inhabited by the indigenous Quechua people.
Unlike a typical bus tour with a fixed itinerary, this offers daily options for either a hike in the mountains or a cultural activity such as visiting the workshops of local master weavers, with group sizes kept to about 15 people. It also features stopovers in quaint valley villages such as Ollantaytambo and Urubamba, and visits to lesser-known Inca sites and artisanal markets. Oh, there's no need to huddle in campsites when night falls; we will stay in different boutique lodges every night as we go around the Sacred Valley, each stop getting us closer to Machu Picchu, which we will visit on our final day. The lodges offer plenty of creature comforts ranging from private hot tubs, to spa services and even three-course dinners. Sold!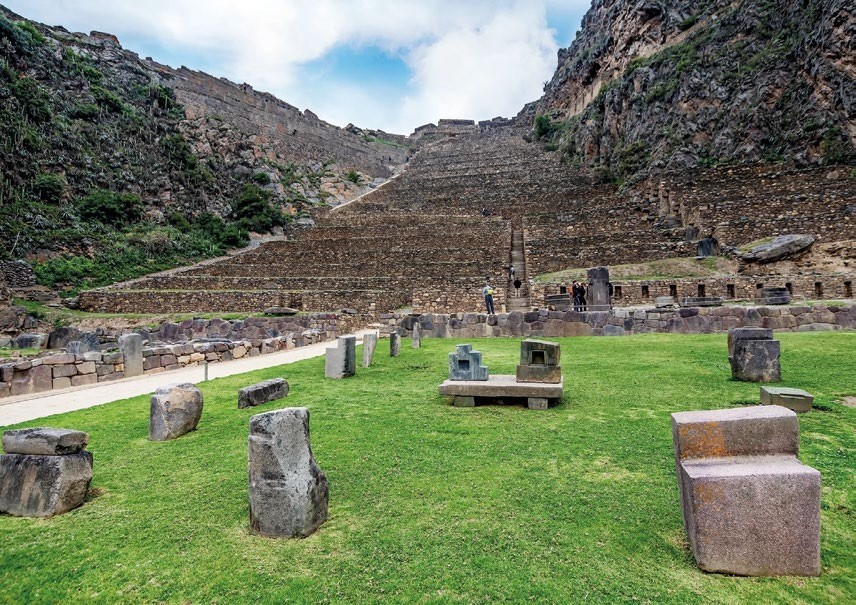 The Inca ruins of Ollantaytambo – from a distance, they appear to be shaped like a llama.
Llamas wander freely at many of the Sacred Valley ruins, like this one at Sacsayhuaman, Cusco.
"Stone walls built in Inca times still stand at Sacsayhuaman."
GETTING ACCLIMATISED IN CUSCO
After a one-hour flight from Peru's capital city, Lima, here I am, gasping for air like a fish out of water in Cusco – which stands at a vertiginous 3,400m above sea level.
This bustling town in the Sacred Valley is the historic capital of the Inca civilisation and the starting point for my five-day, fournight adventure. It is worth spending a few nights here to acclimatise at a leisurely pace – a short hike to the nearby Sacsayhuaman, an Inca fortress on a hill, is a good way to gauge how well you are coping with the altitude.
Cusco itself is a charming, cobblestone paved travellers' haven with plenty of Peruvian restaurants, markets and shops to explore. It takes me about one-and-a-half days of walking around at a snail's crawl to get my lungs accustomed to the thinner air, even with the aid of prescribed altitude sickness medicine. I wake up feeling much more energetic on our second morning, all ready to depart for our Sacred Valley adventure.
"Guinea pig is a local delicacy. This one is  fresh out of a stone oven at Pisac market."
"Cusco has many charming artisanal shops to explore."
4 days
TO MACHU PICCHU: A VERY LOCAL MARKET
At our first stop, we are immediately plunged into the colourful chaos of a traditional Andean handicraft market in the town of Pisac. Our guide Wilfredo singles out unique items such as hand-knitted headbands and small pouches made from vintage wool blankets, and shows us how to distinguish between mass-produced and hand woven textiles.
I learn that he is of Quechua heritage, a direct descendant of the Incas, and grew up selling musical instruments at this market with his mother. No wonder he has struck up such a good rapport with the local sellers, who have no qualms digging into their stash to give us the first pick of their good stuff. I emerge from the bazaar gleefully clutching my treasures, glad that I don't have to lug a backpack around on this trip.
Walking rapidly along, Wilfredo leads us down an alleyway to a cul de sac just in time to see a man pull a small brown creature with rodent-like features out of a stone oven. Its tiny teeth still visible, I realise it is a guinea pig, a local delicacy, just as a faint aroma reminiscent of roast pork hits me. I chicken out and decline a sample taste, settling instead for a vegetarian empanada. (Although I do find out on another day that guinea pig tastes somewhat like pork.) 
"A different view of the Sacsayhuaman Inca ruins."
"Andean handicrafts brighten up the lobby of the Huacahuasi Lodge."
"The market at Cusco is bustling with activity."
3 days
TO GO: LUXURY LODGING, ANDEAN-STYLE
 After a day of hiking in Ancasmarca to view the ruins of Inca warehouses used to store grain and produce, I am glad to arrive at Huacahuasi Lodge, where we will stay for the night.
 Perched at the top of the hill, the angular glass-walled structure cuts a striking silhouette against the craggy mountain peaks and herds of llamas and alpacas grazing peacefully by the roadside.
The staff, many of whom are from the local Huacahuasi community, line up to greet us in traditional costumes. Just like Lamay Lodge, where we stayed the night before, the communal spaces here, such as the dining hall and lobby, are decorated with cheerful Andean tapestries, ceramics and flowers. With the temperature dropping close to 0 deg C as the sun sets, I am grateful for a pre-dinner soak in the hot tub on my private terrace.
Isnag a pre-bedtime massage – the therapist masterfully relaxes the sore knots in my legs from two days of hiking. Good to know: Lodges here all offer a similar standard of Andean hospitality and luxury. Bliss.
Your Peru Need-to-know
GETTING THERE: To get from Singapore to Lima, the capital of Peru, fly to Los Angeles or New York in the United States, or to Spain or Amsterdam first. From there, you have a range of connections to Peru. Allot about 30 hours for flight time. From Peru, hop onto a connecting flight to the city of Cusco, the hub for travel in the Sacred Valley.
VISAS: Singapore passport holders don't need tourist visas.
MONEY: Bring US dollars to exchange for local currency, the Peruvian nuevo sol, at money changers (cambios) in Lima or Cusco. There are ATMs, but be wary of commission charges and withdrawal limits.
SAFETY: Peru is generally safe, but in touristy areas, heed the usual precautions to prevent petty theft such as pickpocketing and bag snatching.
COPING WITH THE HIGH ALTITUDE: As altitudes range from 2,400m at Machu Picchu to 3,400m in Cusco, you are likely to feel a little light-headed. Before your trip, consult a doctor to get a prescription for altitude sickness pills like Diamox. In Peru, the local remedy is coca leaf tea – this is commonly available at hotels and restaurants.
COST: The 5D/4N trip with Mountain Lodges of Peru costs US$1,899-US$2,500 (S$2,608-S$3,430) a person, depending on the dates. Travel agency A2A Journeys (www. a2asafaris.com/ journeys/home) can arrange for flights, accommodation and other logistics before and after the trip.
"The writer taking a hike along the Royal Inca Trail, which was built to be broad enough for a carriage to carry the Inca kings."
"Machu Picchu, the jewel of Inca civilisation, was abandoned at around the time of the Spanish conquest and only rediscovered in 1911 by American explorer Hiram Bingham."
1 day
TO GO: WORKING HARD FOR THE VIEW
The Sacred Valley hosts a wealth of Inca and preInca archaeological sites, including the remnants of walls, roads and buildings that people still use and even build over today. But it also has beautifully preserved historical structures that rival the architectural genius of Machu Picchu, such as the Ollantaytambo fortress.
We embark breathlessly on a sunrise climb up a mountain on the other side of the valley. Silver, another of our accompanying guides, picks up a twig to sketch out an outline of a llama in the dirt, showing us how the fortress and terraces of Ollantaytambo were built in the shape of this camelid, which the Incas regarded as a sacred animal. I am blown away by the ancient, precise lines and structures carved into the face of the mountain.
From here, we catch a train that will get us to Aguas Calientes, the base for visits to Machu Picchu.
The Big Day Arrives!
It is finally time for me to visit Machu Picchu. My partner and I slip away to explore the complex ourselves, at our own leisure. By then, we've spent enough time in the region to appreciate the mysterious beauty of this site. Unlike the other towns in the Sacred Valley that were sacked and destroyed by Spanish conquistadors centuries ago, Machu Picchu was mysteriously abandoned – some say concealed from Spanish eyes – until American historian and explorer Hiram Bingham rediscovered it in 1911. We notice how signifi cant sections of the citadel were built with much more care and expertise than other sites we had visited previously. The rocks are polished to a smooth gleam, and some walls are sculpted to form sinuous curves – the work of master architects.
The overlook at the Guardhouse, which offers the iconic bird's eye panoramic view of the entire site as well as the mountain Huayna Picchu in the background, is ground zero for snap-happy travellers. But even though it is buzzing with activity, all of that melts into white noise as I stare at the remains of what most academics believe was once a royal estate, nestled in a valley between two mountains and surrounded by a jungle. I marvel at the strategic genius of the Incas who chose this exact location, knowing they could make it "disappear" should the need ever arise – it was used for about 80 years before they apparently had to abandon it to prevent it from being discovered.
But what really captivates me is the opportunity to enter and explore this sprawling complex. Unlike many other archaeological sites which are cordoned off  with barriers and ropes, here, I get to wander into the temples and buildings, getting close enough to touch the stone walls and laze on the terraces and plazas. There aren't many English signs; it is amazing that at one of the world's top bucket-list destinations, I still have the opportunity to wander and let my imagination fill the gaps.
We find a secluded section of the complex to sit and ponder this enigmatic civilisation. I think back to a shaman reading I had two days earlier. As the medicine man shuffled a pile of coca leaves to see messages in the leaf patterns, I felt the sudden urge to ask via a translator: "Am I following the right path?" He picked up a handful of leaves, stared at them deeply before looking at me, and uttering an emphatic "Yes".
I still don't know if I was referring to the route I'd been taking for this trip, or perhaps a deeper, existential query had bubbled out of me. But while sitting in the shadow of that ancient wonder, I can tell you that the shaman gave me the perfect answer. Was Machu Picchu worth the long trip? Absolutely.
5 Must-dos in the Sacred Valley
1. Kiss a llama (or alpaca)
Most camelids spit or kick, but Dominga, the lovely pet llama roaming the large garden at Mountain Lodge's Lamay Lodge, the first lodge we stay at on this trip, will tolerate a "kiss" if you approach very slowly.
2. Chug a Sacred Valley pint
Cerveceria del Valle, the first microbrewery in the Sacred Valley, offers a thirst quenching selection of handcrafted brews on tap, ranging from IPA to saison and sour beers.
3. Mountain bike along the Urubamba river
This scenic route takes you through a quaint town, along private train tracks (for Insta-worthy photographs), and ends at the Cerveceria del Valle brewery for a welldeserved drink. Sacred Wheels will sort you out. The route, although rocky at times, is mostly flat, so the ride is fairly breezy, even at an altitude of about 2,800m.
4. Feast on fine Andean cuisine
Peruvian superstar chef Virgilio Martinez's restaurant Mil in the Sacred Valley shines the spotlight on the ancestral cuisine of the Andes. Its dishes are cooked only with ingredients that can grow at the Sacred Valley's high altitude. Central, his modern Peruvian restaurant in Lima's Barranco district, is ranked the top restaurant in Latin America on the World's 50 Best list and he has been featured in the popular Netflix series, Chef's Table.
5. Support local weavers
Watch expert weavers of this dying trade at work at textile centre Awanacancha and support their centuries-old craft by buying a piece or two as a souvenir. Pro tip: Machine-made textiles tend to be made from brighter, almost neon-hued threads; the handmade stuff is made from yarns dyed with natural pigments, so their colours tend to be deeper in tone.
TEXT KAREN TEE PHOTOS OF KAREN TEE & ROASTED GUINEA PIG KAREN TEE PHOTO OF HUACAHUASI LODGE MOUNTAIN LODGES OF PERU OTHER PHOTOS 123RF