Singapore is arguably the world's most expensive city* to live in.
Singapore is arguably the world's most expensive city* to live in. (In good years, we're No. 2.) But is living in another city that much more affordable? Yes and no, depending on what you use for comparison. (Nothing beats a $4 bowl of laksa, and maybe you've considered things like jobs and the weather, but not the cost of public transport, movie tickets and apartments.)  Clara How  speaks with residents and expats in cities in Asia and Europe to get a reality check about money matters. So you decide: What's the real cost of making that move?
*According to surveys such as those by the Economist Intelligence Unit.  All prices in this story have been converted to Singapore dollars.
 Singapore 
 Amsterdam 
 Hong Kong 
 Seoul 
 Nicosia 
 Oslo 
 Paris 
Oslo
Lan Le Phuong
31 | Adviser at a book council 
In Norway, you're expected to start working part-time at 16, move out at 18, and start paying rent from 19. Because of this, Norwegians tend to have a higher sense of financial literacy. Banks also do a good job of keeping us in the know – the position of financial advisers doesn't even exist in Norway. We take care of our finances on our own, and you would have an accountant only if you're rich or have a business.
As someone who went to university in Singapore and worked there for a couple of years, I do think that rent in Oslo is comparable to Singapore. Oslo, however, offers higher pay – if you have a tertiary education, you can expect to earn a starting salary of $33,000 before tax. I work as an adviser to the Norwegian equivalent of a book council, and earn $75,000 before taxes. Typically, I save 20-30 per cent, with the rest going to food, entertainment (like concerts) and rent.
Because salaries are high, it's fairly easy to save in Norway – one of the most common moneysaving options is a housing savings plan for young people, which lets you put aside a certain amount of money every year (and claim tax deductions) when you're between 18 and 34 years old. There's also a pension fund that requires your employer to pay a minimum of 2 per cent of your monthly salary to the fund (12 per cent for civil servants). Plus, there's a strong culture of having meals at home, because a mid-range restaurant would probably set you back $40. If my workplace doesn't offer me free lunch, I would pack a lunch box. Eating out is considered a special treat.
Cost of a Heineken
$13.80 for a pint of domestic beer in a pub (we don't tend to drink imported beer).
Cost of public transport
$123 for a 30-day bus, tram and metro ticket. (Companies like Uber and Grab are not legally permitted here.)
Cost of a movie ticket
$19-$27 on weekdays, $30 on weekends.
Average cost of weekday lunch from a sandwich shop
Most people eat at their workplace cafeterias, usually for between $11 and $20.
Average rent for a onebedroom apartment in the city
$1,945
Cost of petrol
From $2.70 a litre.
The famous "Scream" painting can be found at the Munch Museum in Oslo.
Amsterdam
Siti Jaffar-Kloof
35 | Stay-at-home mum
I 'm a Singaporean who has lived in Holland for 10 years; I studied for my masters in international law here, then married my Dutch boyfriend and stayed on. I have to say that Singapore is crazy expensive compared with here. My husband, our two children and I live just 30 minutes outside Amsterdam, in a three-storey terrace house that cost us $390,000.
That said, income tax is steep at 40 per cent, and GST is 21 per cent. However, the government channels the money to welfare safety nets. For example, if you lose your job, the government will look at your work history and build up a fund (possibly up to 60 or 70 per cent of your previous income) to tide you over until you get another job.
The spending culture is different. People may say the Dutch are stingy, but they're just practical. In general, people don't care about branded goods – they just buy what they need, and you don't get gifts if it's not a special occasion.
Shopping at second-hand stores is the norm, and there isn't even a credit card culture. People pay with debit cards and focus on saving, but they spend on experiences. Many take short trips, and for two months in summer, everyone takes long vacations – the whole country grinds to a halt.
Cost of a Heineken $1.50 from a supermarket.
Heineken is a Dutch beer, so it's really cheap. It's around $4.50 at a cafe.
Cost of public transport
The bus and metro start at $3, even for just one stop. Cabs are super expensive.
Cost of a movie ticket
$17.20 for weekdays and weekends.
Average cost of weekday lunch at a sandwich store
A sandwich to go would be around $9, but a sandwich and a drink at a cafe would be between $12.50 and $15.70.
Average rent for a one-bedroom apartment in the city
Living in the city itself would cost $4,000-$6,000. But if you live outside the city centre, you can own a villa with a huge lawn for a million Singapore dollars.
Cost of petrol
From $2.40 a litre. (A small Japanese car costs $80,000.)
In summer, Dutch families love to travel for long periods.
Hong Kong
Magdalene Wong
27 | Lawyer
As someone who lived in Britain for 11 years, I have to say thatHong Kong is more expensive to live in than London. I'm a trainee solicitor, and I've met trainees from other countries who've had to ask the firm for a bigger allowance. The main expense culprits are food and accommodation.
When the property market rises, the price of everything goes up. I earn $5,794 a month, and a small subdivided flat not too far from my workplace would take up a third of my salary. That's a lot, considering that I earn more than the average person in Hong Kong. A fresh graduate would earn only $2,107$2,634.
We tend to focus more on investments than savings. People start watching the stock market when they are in university. The mindset is that we would never be able to afford a house if we rely solely on savings, so some financial risk needs to be taken.
Most people here are foodies, so a large portion of our money is spent on eating out. And we keep up with Instagram-famous cafes or Michelinstarred restaurants. People also like to wear branded goods, even from an early age. I work in the commercial district – where the banks and law firms are – and people here tend to dress in luxury brands from head to toe. I do buy branded items, but I prefer to get them when they're on sale.
Cost of a Heineken
$10.50 at a cafe.
Cost of public transport
90 cents to $3.50 for buses, $5 if you take the MTR across the harbour. (A taxi ride starts at $4.40, which is cheaper than Uber.)
Cost of a movie ticket
$17.60-$21 on weekdays and weekends.
Average cost of weekday lunch at a sandwich shop
$17.60 at places like Pret A Manger.
Average rent for a one-bedroom apartment in the city
$3,205
Cost of petrol
From $3 a litre. (People tend not to drive here because parking is so expensive. Renting carpark space can cost $526.70 a month. Buying permanent parking space in a building can cost $175,570.) 
Rent? Expensive. Food? Cheap.
Seoul
MJ
25 | Banker
Honestly, everything is just too expensive in Seoul. The truth is that millennials don't focus on saving, because they don't see a point. For a start, there's an unemployment problem because not many jobs are available. I was lucky to land a job as a banker, with a monthly salary in the range of $2,000-$3,000, which is considered good.
In my industry, and for some of the larger companies, they offer a quarterly bonus, which I put into savings. However, a lot of the smaller companies don't offer this, which makes saving even more challenging. Rent can come up to $1,000 for a really small one-room flat. As a result, most Koreans live with their parents, and they also give money to their parents once they start working.
The country has a system of enforced savings, where a certain percentage of your salary gets put into a pension for the future (the higher your salary, the greater the percentage). Because saving is such a challenge, people tend to rely on the pension – but the reality is that it isn't enough to survive on after you retire. That's why there's a culture of children financially supporting their parents. Assuming that the parents have their own house, the pension might be enough to sustain them. If not, there's no way it will be enough.
I still live with my parents, so most of my money goes on food, shopping, dating (we often go to baseball games, which cost $15 a ticket) and taxis. Food is expensive here too, with a restaurant meal for two costing at least $50. What's more, Korean culture is such that we believe everyone must eat together. So at work, we don't bring our own lunches – we are expected to go out and eat, which only costs more money. I also spend $130 a month just on coffee.
Cost of a Heineken
$3.60 from a convenience store.
Cost of public transport
About $2.45 for a bus or train ticket. (Taxi fares are on a par with Singapore's.) Cost of a movie ticket $15 on weekdays and weekends.
Average cost of weekday lunch at a sandwich store
$13
Average rent for a one-bedroom apartment in the city
 $2,800 for a flat that's about 60-90 sq m.
Cost of petrol
Different petrol stations charge different prices, so I have an app that shows me how much each kiosk charges. On average, I'd say it's approximately $60 for a tank of diesel.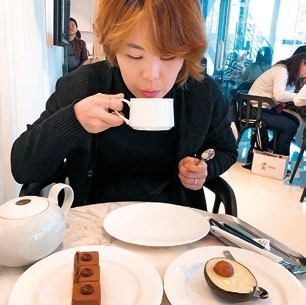 South Korea's coffee and cafe culture is costly.
Singapore
Germaine Lim
34 | Communications manager
I admit to having a shopping problem. There have been times when I've made three online purchases in one night – my weaknesses are clothes and makeup. I'm also a huge foodie, and wining and dining is a big part of my Friday nights and weekends. Dinners can cost between $70 and $150, and taking a Grab home would cost $30 once you factor in the midnight surcharge. Part of the problem is that I don't have any financial obligations, as I'm unmarried and still living with my parents. I don't feel the incentive to save up for a flat as I enjoy living at home, and there's no push factor.
That said, I have felt a change in my mindset over the past six months. As I get older and the window of opportunity to have children gets smaller, I realise that no one will look after me when I'm old. So while I still indulge in my first-world comforts, I now try to curb my spending and make little changes where I can to my lifestyle. For example, from Monday to Thursday, I keep my spending to a minimum. I eat at food courts or the nearby kopitiam, take the train, and usually head home after work. In the past, I would immediately take a taxi if I was carrying something heavy, but now I try to take public transport.
I earn between $7,000 and $8,000. Out of this, $350 goes to insurance and enforced savings plans. I give 6 per cent to my mother. Sadly, I only save another 6 per cent, thanks to my extravagant shopping – that's even less than our GST! Some months, when I feel I'm not saving enough, I immediately transfer some money to another account that isn't linked to an ATM card – which means that I have to go in person to a bank to withdraw the money. But it's not working as well as I'd like – every three or four months, I wind up at the bank, shamefaced!
As for my friends and their spending patterns, it's a mixed bag. Some friends spend as freely as me, but others pack leftovers for dinner, so they spend just $7 on two meals. I guess it all comes down to your priorities. I love makeup because it makes me happy, so I'm willing to spend on it.
Cost of a Heineken
$10-$16 at a cafe.
Cost of public transport Between
77 cents and $2 for buses and the MRT.
Cost of a movie ticket
$8.50 on weekdays, $13 on weekends.
Average cost of weekday lunch at a sandwich shop
$10
Average rent for a one-bedroom apartment in the city
Minimum of $2,500 in central Singapore.
Cost of petrol
$2.20 to $2.80 a litre.
Paris
Chloe Rannou
26 | Actress
Parisians my age prefer to live in the now when it comes to money. The priority is to pay for rent and food, and people prefer travelling over saving. Well-paying jobs, unsurprisingly, depend on your industry or your qualifications, but I would say that most jobs would pay you the legal minimum wage, which is $2,348.
Other than rent and food, young people in Paris spend on cultural events like festivals, theatre or concerts. When I talk to my friends, we don't think about buying our own place – we don't even know if banks would be open to lending us money. When I need money and don't have it, I ask my parents or my friends for help. Right now, I'm living with a roommate, but am saving up because I will be moving in with my boyfriend in a couple of months.
Paris is an exhausting city to live in. It has a lot of people, you hear the constant noise of car horns, and every day when you take the subway or bus to work, you're practically glued to the person next to you. So most Parisians take short trips out of the city almost every weekend. They go to other cities to visit their parents or their friends – the train makes it really easy to head south, to places like Toulouse or Marseille, for just two days. Many Parisians also try to make one or two long trips to another country each year.
Cost of a Heineken
$9.40 at a cafe.
Cost of public transport
$3.13 for a single bus or tram trip. For $109.70 you can travel all over the network, which extends beyond Paris.
Cost of a movie ticket
$15.70 on weekdays and weekends.
Average cost of weekday lunch at a sandwich shop
$23.50
Average rent for a one-bedroom apartment in the city
$1,864
Cost of petrol
From $2.48 a litre.
Paris in springtime is worth everything.
Nicosia
Evelyn Ioannou
26 | Lawyer
We're a little obsessed with our cars in Cyprus; people would rather drive than walk. If you have a family of five, it's very likely that you have five cars. Traffic jams are a huge problem here, and you can see cars parked anywhere there's room. I'm currently driving a second-hand Nissan, which cost me $7,834. Typically, people get their own car when they're between 25 and 27 years old.
People around my age would earn a gross average of $2,037$2,350 a month, but there's a mismatch between the cost of living and what we get paid. Because of the global financial crisis and a rent bubble in Cyprus, the standard of living is higher than it used to be. Not so long ago, things were much more affordable. Parents of children today would be more likely to try to cultivate a savings habit because of the current financial situation.
I believe in the importance of savings: I earn between $2,350 and $3,134 a month, and aim to save $780. I believe it's important to have cash for emergencies, but this isn't the norm; many millennials here would rather spend the money on travelling, or buy a certain thing or experience. It's about what you prioritise. For me, I'd rather save up a nest egg, so I still live with my parents.
Cost of a Heineken
$3.70-$6.30 at a cafe.
Cost of public transport
Maximum of $6.27 for a bus ticket – we don't have a train system in Cyprus.
Cost of a movie ticket
$14, but people prefer to go to the theatre, which could cost $15.70-$23.50. It's the same price for weekends and weekdays.
Average cost of weekday lunch at a sandwich shop
$6.27 from a bakery.
Average rent for a one-bedroom apartment in the city
$850
Cost of petrol
From $2 a litre.
Hardly anyone uses taxis as they're expensive.
PHOTOS OF PLACES 123RF