No matter where you're headed this summer season, beauty will still be your final destination with these travel and skincare tips from Neutrogena.
No matter where you're headed this summer season, beauty will still be your final destination with these travel and skincare tips from Neutrogena.

If your idea of heaven is somewhere that feels like you've set your air-conditioner to 16°C, your perfect summer escape is probably an escape… from summer. Lucky for you, June doesn't have to mean hot, tropical weather – a visit to Northern Europe isn't likely to make you sweat this time of the year, and don't forget, there is an entire hemisphere that's making like Queen Elsa and living it up in winter. But while heading to cooler climes can easily trick you into thinking you've got great skin in the bag, drastic temperature jumps can wreak havoc on your skin. So don't forget to add these to your regular routine!
1  A GOOD SUNBLOCK
Summer means more hours of daylight, so even though it might feel chilly in Finland, sun protection is still a must. Meanwhile, if you're heading down south for some winter sports, sunscreen is also essential because fresh snow reflects plenty of UV rays, making it possible to get sunburn, even when it's cold out. Protect yourself with a daily sunscreen like Neutrogena Ultra Sheer Moisture. It has a light texture that won't feel heavy on the skin and ingredients that gently moisturise the skin.
2 A MOISTURISING BOOST
In a cold climate, you might be tempted to slather on the thickest cream you can afford. But don't just think in terms of rich creams – you can opt for an effective water-based gel too. That's because the lighter water-soluble ingredients can penetrate deeper into the skin, while a heavy, predominantly oil-based cream tends to work on the surface layers, which can leave skin underneath insufficiently moisturised. Try the Neutrogena Hydro Boost Water Gel, which features a 12-hour Progressive Release System for all-day hydration.
For your lips and hands
You might get away with not moisturising your lips or hands in Singapore, but you definitely don't want to show chapped skin in any of your Instagram shots. Slip these into your carry-on to keep peeling lips and cracked cuticles at bay. The Norwegian formula worked for fishermen in the harsh cold; so it'll work for you!
For cold nights
As winter can make skin more sensitive, pack a night moisturiser that's hydrating but mild, like the Neutrogena Hydro Boost Night Concentrate Sleeping Pack. Put it on and wake up to soft skin in the morning.
For the summer-loving sort, a beach trip is just inevitable. The combination of sand, sea and glorious sun is like chicken soup for your soul. But even though lazy days spent sipping coconuts and baking in the sun sounds like a certain recipe for happiness, it can also cook up trouble for your skin.
Too much sun exposure can not only result in the ultimate beach buzzkill (sunburn!), it can also spell trouble for your skin in the long term – think dehydration, freckles and even skin cancer. Protecting your skin doesn't have to be a chore, though. Here's how you can stay sun-smart, while having a blast at the same time. Bonus: you will still get a killer tan.
1 WEAR A HAT
The floppier, the better, as it will provide essential cover from the sun, particularly for the delicate skin on your face.
2 REAPPLY YOUR SUN PROTECTION
Regardless of whether or not your sunscreen is water-resistant, it doesn't have the ability to last all day. "Waterproof" or "water-resistant" labels simply mean that the product has the ability to continue to be effective for a certain period after being exposed to water. But if you're going to be out in the sun for long periods, you'll still need to reapply. Reapplying conventional sunblock to wet skin can leave streaks, so opt for a mist that sprays on easily, like Neutrogena Ultra Sheer Wet Skin Sunblock Body Mist.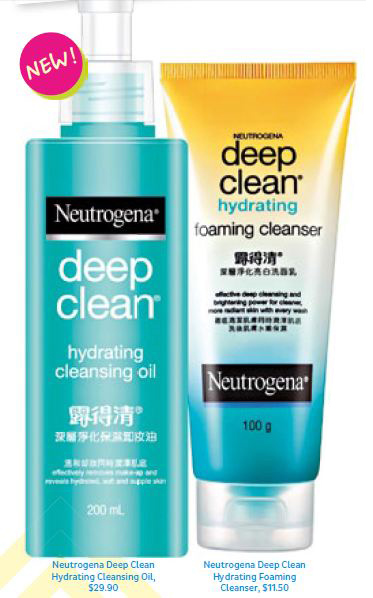 3 HEAD OUT EARLY
Being the early bird defi nitely has its perks. First, enjoying the beach in the early morning means you get to avoid the sun when it's at its noon-time peak. Second, not only will you escape the heat, the beach will be less crowded too. Third, with all that extra time between 11am and 3pm, you can schedule some other fun activities – like a trip to the spa. Win!
4 HYDRATE WELL
Sun exposure causes the skin to lose moisture, which can cause dry, flaky skin. It's important to hydrate, not just by drinking water, but also by treating your skin to soothing after-sun care. On top of moisturising well, skip the exfoliator – you're better off scrubbing the dead skin cells off all at once after your holiday is over – and opt for a hydrating cleanse with Neutrogena Deep Clean Hydrating Cleansing Oil and Foaming Cleanser.
Are you applying your sunscreen right?

Improper application of sunscreen might mean you're not getting the amount of protection stated on the label. Here's how to get it right.
+Many sunscreen agents take time to be absorbed and activated, so you should apply sunscreen at least 20 minutes before heading out under the sun.
+According to The Skin Cancer Foundation (skincancer.org), the SPF stated on the bottle requires 2mg of sunscreen per cm of skin. That's about a shot glass of sunscreen for your body and a $0.20 coin for your face.
Your favourite TV show is The Carrie Diaries and your idea of a good time involves the classic combination of food, shopping and friends. Yup, you're a city girl through and through, but who ever said it was a bad thing? When it comes to your version of a holiday, it doesn't matter if you're headed to New York, Seoul or Tokyo; you're ready to take all the bright lights, late-night shopping and satisfying suppers a bustling metropolis can offer. But don't get complacent just because you hail from an urban jungle – it still pays to prep yourself with these travel must-haves.
1 MAPS AND TRANSPORT GUIDES
Unless you're a repeat visitor to a familiar city, this one's a must. What are the best ways around town? On foot? Tram? Train? How affordable is a taxi? It's also helpful to orient yourself with your destination before you touch down, not just once you've lost your way. By taking a look at the city map beforehand, you can avoid mishaps like taking the wrong train, or getting cheated when your taxi driver decides to take you on a "tour" through the outskirts of town.
2 BASIC FIRST AID
Imagine the unfortunate happens and you fall sick. In that case, struggling to communicate your desire for paracetamol to a foreign pharmacist is just one of those things you don't want to have to deal with. Instead, prep yourself with the basics before you take off – painkillers, diarrhoea pills and flu medication are the essentials. If you're not a good flyer, some travel sickness pills are also a wise investment.
3 BEAUTY MULTI-TASKERS
We know full-size bottles can be a drag, which is why it's tempting to stuff your toiletry pouch with skincare samples and call it a day. But just like how it doesn't pay to use generic hotel shampoo, your skin won't thank you for blitzing it with a barrage of different products each day. To save on space, take multi-tasking products with you instead, like Neutrogena Clinical Multi-Protect UV Fluid, which works as a sunscreen, but also has whitening properties so you don't have to pack a serum. Similarly, the Deep Clean Brightening Cleansing Oil and Foaming Cleanser both contain brightening ingredients for healthy, radiant skin that will glow in all your travel selfies.
Hint:
To access Google Maps offline, pre-load the area you want first, then type "OK Maps" into the search bar to save. It works better than a screenshot because you'll be able to zoom in for more detail, even when you're not connected.
For the adventureseeking girl, the great outdoors is always calling her name. Hiking in Nepal, the Australian outback, an African safari – all of it appeals to your sense of wanderlust. Given that experiencing the beauty of the world is your number one priority, taking care of yourself might not be as high on your list. But why shouldn't it be?
Chances are, you'll say it takes too much time or effort, but the truth is it doesn't take as much work as you'd imagine to make positive long-term differences to your skin. Just a few simple tweaks to your routine will work wonders to keep your skin looking as youthful as that thrill-loving heart!
1 USE SUNSCREEN ALL OVER
Thanks to your active lifestyle, you've got muscle mass that will keep your body looking fit and young for a long while. But what's the point if you aren't going to take care of your skin too? Spending hours in the sun doesn't just cause freckles. According to a paper published by the International Agency for Research on Cancer, "Most of the studies show positive associations between risk for melanoma and a history of sunburn."
For broad spectrum protection against UVA and UVB radiation, look for the SPF and PA plus signs, which designate protection against UVB and UVA rays, respectively. Offering stabilised protection with HelioplexTM, Neutrogena Ultra Sheer Dry-Touch Sunblock has a lightweight, matte finish that's sweat-proof and resists rubbing.
Neutrogena Ultra Sheer Dry-Touch SPF50+ PA+++, $22.30
2 PACK A MOISTURISER WITH SPF
We know that it doesn't seem
important to moisturise when you're sweating it out, but it is! Skin
that's too dry tends to overproduce sebum, and the increased oiliness
can cause pimples. A lightweight, easily absorbed gel moisturiser like
Neutrogena Hydro Boost Gel SPF30 PA+++ is great for hydrating without
leaving the skin feeling heavy or clogged. Plus, it has sunscreen
properties to help protect your skin. You'll still have to reapply your
sunblock if you plan on spending more than two hours in the sun, but at
least that's one less step you'll have to deal with in the morning.
Neutrogena Hydro Boost Gel SPF30 PA++, $27.71
Pack these!
Pick up this hassle-free travel kit for effortless packing! It includes Clean & Clear Deep Action Daily Pore Cleanser (50g), Neutrogena Ultra Sheer Dry Touch SPF50 (15ml) and Listerine Total Care (80ml) for all your travel needs.