FRESHLY SPROUTED FRENCH CAFE AND CONCEPT STORE IN TIONG BAHRU.
FRESHLY SPROUTED FRENCH CAFE AND CONCEPT STORE IN TIONG BAHRU.
You would think that Tiong Bahru couldn't get cooler than it already is but, et voila, it can. French cafe and concept store Merci Marcel has recently opened for business, imparting a refreshing dose of joie de vivre to the creative enclave.
By day, folks can stream in for an espresso or a leisurely brunch; by night, it turns into a brasserie serving a tapas-style dinner menu of French plates created for sharing, such as marinated crab rillettes ($18), tarte flambee ($24) and pork tenderloin ($24). As a concept store, Merci Marcel retails a hand-selected range of artisanal gourmet food, fine drinks, art and lifestyle products. It specially champions small, independent brands from Singapore and Europe – coffee is locally roasted by Tiong Hoe Specialty Coffee, adorable illustrated sweets from Le chocolat des Francais, and chic eyewear from Parisian brand Izipizi.
Motifs of the brand – the straw boater in its logo and menu artwork – were inspired by the impressionist paintings Boating by Edouard Manet (1874) and Luncheon of the Boating Party by Pierre-Auguste Renoir (1881). Merci Marcel also wants to emulate the spirit evoked by the famous paintings – a modern personality who enjoys the good life, and also supports independent brands.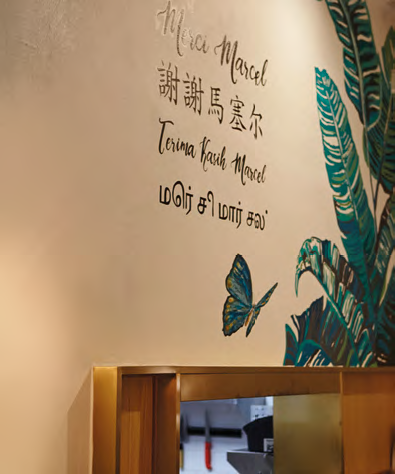 Merci Marcel's interior design was conceptualised by Lim Siew Hui of Hui Designs. Drawing inspiration from Parisian restaurants in the districts of Le Marais and Montmartre, she wanted to infuse their cosy vibe with the local and tropical. The interior palette is a vivid, citrus tone, accented by the lush, verdant suspended plants and rattan chairs.
Don't think that Merci Marcel is just French in name, though. Prints of the pendant lights hanging over the bar counter are by Parisian atelier Antoinette Poisson, and the fresh flowers on each table are prepared by Aude Giraud from Ask a French Flowers, a Paristrained Singapore-based floral designer.
If you, like me, find yourself pining for a taste of Paris every now and then, Merci Marcel is beckoning from its quaint venue in Tiong Bahru.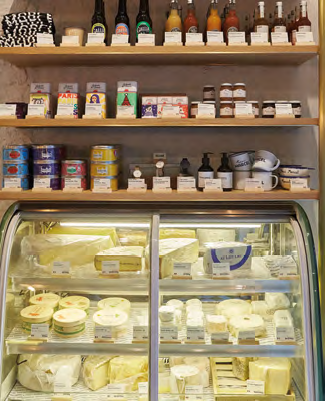 (OPPOSITE) TOP
Pendant lamps made from prints by Parisian paper studio Antoinette Poisson.
MIDDLE
The Mix of 5 cheese platter ($36) serves an assortment of farm cheeses with baguette slices.
BOTTOM

British artist Rick Smith painted a mural with the words "Merci Marcel" in our island's four official languages.
TOP
Fresh table flowers by Ask a French flowers.
TOP, MIDDLE
The gourmet corner stocks a wide range of foodstuffs from fruit juices, jams, and iced teas to chocolates that are created by small producers.
ABOVE
Gracing the entrance are canvas artworks depicting Lee Kuan Yew and Charles de Gaulle, Singapore and France's most famous leaders, created by Singaporebased French artist Gabriel Dufourcq.
MERCI MARCEL IS LOCATED AT #01-68, 56 ENG HOON STREET.
art direction NONIE CHEN photos VERNON WONG & MERCI MARCEL.