Treat your loved ones – or yourself! – to these fabulous snacks at 313@somerset.
Treat your loved ones – or yourself! – to these fabulous snacks at 313@somerset.

Churro 101 #B3-49
Traditionally, churros are dipped in thick, melted Spanish chocolate. Churro 101, on the other hand, does it differently – and boy are its filled churros delectable! Made from scratch in-house, the churros here boast luscious fillings such as chocolate ($4.50), milk custard ($4.50), dark chocolate ($5.40) and Korean-inspired cream cheese ($4.70).
Chocolate Origin #B3-10A
It's the season for sharing, so bring home a decadent dark-chocolate cake ($36) from Chocolate Origin in a limited-edition box, and dole out the calories!
Dinata #B3-42
For a taste – literally – of another culture, try a Portuguese King Cake ($25). This traditional sweet bread has nuts, candied fruit and a fava bean, thought to render the finder luck and prosperity!
Oyoge Taiyaki #B3-43
Relish the flavours of Japan with a Croissant Taiyaki ($4.80), made with the finest refined butter from France, or a Mochi Taiyaki ($3). Grab a box of six (croissant/ mochi) and you'll also get a free chocolate Santa.
Starbucks #02-38/39
The snowman-style Chocolate & Vanilla Cream Puff Stacks ($4.50), decadent Sticky Ginger Date Pudding ($6.50) and plenty more mouth-watering sweets at Starbucks are sure to get you into the mood.
Hvala Waffle Bar #B3-50
A jar cake (from $5.90) makes for a unique gift. Get one of the premade ones or customise a jar – choose from a wide range of flavours and toppings (you get to pick two of the latter).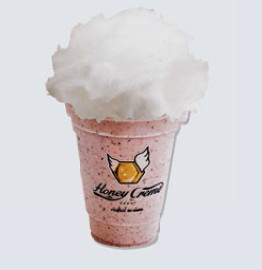 Honey Creme #01-37
Good news for fans of Honey Creme: it now serves up yummy milkshakes ($5.50 to $6.90) – soft-serve ice cream and chunks of fresh fruit blended into a smooth, rich shake and topped with organic cotton candy.