What are some of the hottest things to know, eat and splurge on? Here are TAN MIN YAN's favourites.
What are some of the hottest things to know, eat and splurge on? Here are TAN MIN YAN's favourites.

HANG OUT AT: 25 Degrees Burger One of America's most popular burger joints will be setting up shop at the new Hotel G this month.
What makes a good burger joint? In the case of American mainstay 25 Degrees Burger – named after the temperature difference between a medium-rare and well-done burger – it's a tried-andtested formula that's earned fans among the A-list celebrity clientele frequenting its flagship branch at The Hollywood Roosevelt Hotel in Los Angeles.
All four existing outlets (three in America and one in Bangkok) use ingredients like primegrade ground sirloin made from US Angus beef, and free-range chicken. The restaurants themselves are decked out in swanky "Old Hollywood glamour" with leather booth seats and dark-wood wall panelling.
Its first Singapore outpost, set to open mid-January, will stick closely to these specifications. Admittedly, gourmet burger joints are nothing new here, given Singapore's knack for importing "of-the-moment" concepts like New York institution Burger Joint and the now-defunct Meatliquor Sin. In comparison, with its small burger menu (only four main choices, although it does offer a build-your-own option), 25 Degrees Burger seems almost quaint in both concept and set-up.
But perhaps that is the intention. To do away with the frills and the fuss, and go back to basics. Whether it will survive Singapore diners' short attention span remains to be seen, but in the meantime, we anticipate that there will be much to enjoy. Chef Sylvain Royer, who took the American franchise to Bangkok, suggests treating yourself to the signature "Number One" burger, a hefty 200g, USA Angus beef burger with caramelised onions, crescenza and gorgonzola cheeses, bacon and Thousand Island dressing. He also recommends the alcoholic milkshake Night Owl, a decadent treat with Kahlua, chocolate liqueur and vanilla ice cream. What's not to like?
KNOW: F&B trends for 2017
Industry experts give their best shot at predicting this year's hottest crazes. You read it here first.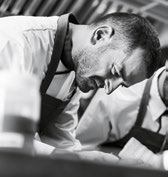 Dining experiences that are more personalised than ever. "Customers will be seeking out personalised experiences, where they're more involved in the stories behind their meals – and there may be more dining concepts catering to this." – Beppe de Vito, restaurateur-chef of The Il Lido Group.
More good food at reasonable prices. "This will be a tough year for the F&B industry due to the recession – customer retention and recognition will be more important than ever. Therefore, I foresee more casual restaurants with friendly service, serving good-quality food at reasonable prices." – Otto Weibel, director of Otto's Deli Fresh.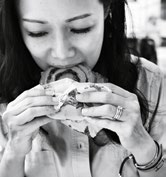 Gourmet vending machines could appear around town. "Singaporeans are time-starved. Couple this with a growing passion for gourmet food and an international trend of vending machines selling unexpected food items, and we might just see gourmet vending machines in Singapore this year. Imagine buying half-bottles of champagne and dinner-party portions of jamon iberico on the go!" – Tan Su-Lyn, co-founder and CEO of The Ate Group.
EAT: Three meals to indulge in
You just got your bonus and it's the start of the new year. You deserve it.

Sunday Vintage Brunch at Equinox Restaurant (www.swissotel.com/hotels/ singapore-stamford/dining/ equinox-restaurant) The obvious highlights of Equinox's Sunday Vintage Brunch ($168 a person, including alcohol) are the spectacular skyline view, and the free flow of Moet & Chandon Grand Vintage 2006 champagne. Food-wise, there's a great spread of the usual brunch suspects like fresh seafood (three types of oysters, Boston lobster and sashimi), roasted rib Angus beef, and a selection of specials that changes weekly.
Dim Sum Lunch at Wan Hao Chinese Restaurant (www.singaporemarriott.com/restaurant/wan-haochinese- restaurant) The newly revamped menu at Wan Hao now features a mix of familiar Cantonese classics and modernised dishes, prepared with less salt, sugar and oil.
Executive Chinese chef Brian Wong's penchant for using less-traditional ingredients like black truffle and iberico pork and employing modern cooking techniques also means that a meal here is a little fancier than your run-ofthe- mill dining experience. Expect decadent dishes like Stewed Bird's Nest with Egg White, Crab Meat and Superior Soup ($68), and the Deep Fried Prawn with Black Truffle Mayonnaise and Broccoli (left, $35).
Dinner at Chef's Table (www.chefstable.sg) "Experimental" and "adventurous" are the defining characteristics of the cooking philosophy of chef Stephan Zoisl and creative partner Lorenz Raich here. You are presented with a list of 28 ingredients and asked to cross out whatever you don't want, then you leave it to the kitchen to conjure up magic using the rest – which, in my case, meant dishes like cod with parsley risotto, Okinawa spinach, lobster bisque and jamon; and duck breast with grains, shallots, chanterelle mushrooms and nasturtium. It's a delicious and interactive experience made all the more memorable by the open-concept kitchen, which lets guests wander in freely to find out more about their food. From $98 a person for four courses.
DINNER AT CHEF'S TABLE IS A DELICIOUS EXPERIENCE, MADE ALL THE MORE MEMORABLE BY THE OPENCONCEPT KITCHEN WHICH LETS GUESTS WANDER IN TO FIND OUT ABOUT THEIR FOOD.