Out of the brutal gauntlet that is the HWM and HardwareZone.com testing labs, only the worthy are bestowed with the coveted Editor's Choice. Herein lies the best products and innovations of 2018.
Out of the brutal gauntlet that is the HWM and HardwareZone.com testing labs, only the worthy are bestowed with the coveted Editor's Choice. Herein lies the best products and innovations of 2018.
BEST OF COMPUTING
BEST COLOR OFFICE PRINTER
EPSON WORKFORCE PRO WFC5790
After days of testing, we believe that the Epson WorkForce Pro WF-C5790, a color inkjet printer, is the best sub-$600 printer to get for office use. The WF-C5790 uses Epson's Replaceable Ink Pack System (RIPS), which basically consists of four packets of ink (the usual cyan, magenta, yellow, and black colors) capable of printing up to 3,000 pages in black-and-white and 3,000 pages in color.
At 24ipm, the WF-C5790 prints fast too. In fact, it prints faster than both the Brother MFC-L3770CDW and HP LaserJet Pro M281fdw in both simplex and duplex modes.
Print quality-wise, the WF-C5790 will also give laser printers a run for their money. We found both printed documents and photos to look sharp and vibrant, with gradations well handled.
NOMINEES
Brother MFC-L3770CDW • Epson WorkForce Pro WF-C5790 • HP Color LaserJet Pro M281fdw
PICTURES EPSON, D-LINK, INTEL, WD
BEST MESH NETWORKING SYSTEM
D-LINK COVR 2202
The D-Link Covr-2202 easily takes this category thanks to its great performance, ease of use, and overall feature set. Performance was outstanding across all of our tests, whether as a single unit or in a mesh network. Its speeds were higher and also more consistent across all tested ranges when compared to its rivals. And since the nodes are paired right out of the box, setup was a breeze. Although it doesn't have the rich features of some of its rivals, it checks the basics such as guest networking and parental controls more comprehensively.
NOMINEES
D-Link Covr-2202 • Netgear Orbi RBK20 • TP-Link Deco M9 Plus • Synology MR2200ac
BEST SOLID STATE DRIVE
WD BLACK NVME SSD
The acquisition of SanDisk has turned Western Digital into a flash storage powerhouse. Despite utilizing slower TLC memory, the WD Black NVMe SSD turned in a very commendable performance in our tests. Not only is it fast, Western Digital also offers a 5-year long warranty, which matches any other high-end SSD in the market. And that's not all, the drive even comes with a handy drive monitoring utility and a copy of Acronis True Image that makes it easy for users to clone their drives and backup their systems. It may not be the outright speed champ, but it's as fast as Samsung most of the time and is far more affordable, making it a great all-around choice for most people looking to upgrade to a high performance SSD drive that doesn't hurt the wallet.
NOMINEES
ADATA XPG SX8200 Pro • Samsung SSD 970 Pro • WD Black NVMe SSD 
BEST DESKTOP CPU
INTEL CORE I99900K
The Intel Core i9-9900K is a potent answer to the Ryzen 7 2700X. While AMD's processor may still offer better value for money, Intel's chip comes ahead on sheer performance alone. In addition to better multi threaded performance than the Ryzen 7 2700X, it also boasts stronger gaming performance, effectively giving consumers the best of both worlds. In other words, it has what it takes to appeal to both serious gamers and content creators. Gamers in particular will appreciate the Core i9-9900K's ability to boost up to 5.0GHz for a single core, especially since games still tend to be more sensitive to clock speeds. The chip also uses solder TIM this time around, which is more efficient compared to previous Coffee Lake CPUs.
NOMINEES
AMD Ryzen 2700X • Intel Core i9-9900K 
BEST GAMING GRAPHICS CARD
ASUS ROG STRIX GEFORCE RTX 2080 TI GAMING OC
This was a hard choice, but the ASUS card ultimately inched ahead because of its performance in areas that really matter, such as cooling. Its excellent thermal performance was miles ahead of the competition. The MSI GeForce RTX 2080 Ti Lightning Z may have had higher factory overclocks, but the performance differential between the two cards was rather minuscule. At the end of the day, the ASUS offers a selection of features that is more useful to a wider audience, such as fan profile BIOS switch and additional RGB and fan headers.
NOMINEES
ASUS ROG Strix GeForce RTX 2080 Ti • GALAX GeForce RTX 2080 Ti Hall of Fame • MSI GeForce RTX 2080 Ti Lightning Z • Palit GeForce RTX 2080 Ti GamingPro OC • Zotac Gaming GeForce RTX 2080 Ti AMP Extreme Core
BEST MOTHERBOARD
GIGABYTE Z390 AORUS XTREME
The Gigabyte Z390 Aorus Xtreme just screams quality. From its tank-like construction to its beefy, finned VRM heatsinks, the board just feels like an excellent product that's armed to the teeth with useful features. There are thoughtful inclusions like the front USB connector that supports fast charging, in addition to a convenient one-touch OC button and two Thunderbolt 3 ports. The plethora of fan headers and temperature and flow sensors also means that you have plenty of tools to get a custom liquid-cooling setup going, which will pair nicely with the board's strong overclocking capabilities. It also has additional power connectors for both the CPU and graphics cards to better support high overclocks.
NOMINEES
ASRock Z390 Taichi Ultimate • ASUS ROG Maximus XI Extreme  • Gigabyte Z390 Aorus Xtreme • MSI MEG Z390 Godlike 
BEST MONO OFFICE PRINTER
CANON IMAGECLASS MF269DW
The Canon imageCLASS MF269dw is a very fast mono laser printer with a print speed of up to 28ppm. It also has a 50-sheet duplex auto document feeder (ADF) that we like a lot because it supports automatic duplex scanning.
The operation panel, which has both an LCD screen and tactile buttons, can be tilted so users can adjust the angle to have a better view of the controls. We also like that we can create a shortcut key for favorite scan settings, like save destination and file type. Scans can also be sent over email or saved to a shared folder for easy retrieval later.
NOMINEES
Canon imageCLASS MF269dw • Epson EcoTank M2140
PICTURES AORUS,BROTHER, CANON, GIGABYTE, HP,  SAMSUNG
BEST ULTRAPORTABLE NOTEBOOK
HP SPECTRE X360
After poring over performance charts, comparing dimensions and weights, a winner emerged and that was the HP Spectre X360.
It has a bold and edgy design with angled sides and gold accents, and it is one of the notebooks to come with both USB-C Thunderbolt 3 and USB 3.0 USB-A ports. It even has a microSD card slot to help transfer data out of phone/camera memory cards. It doesn't end there. Some interesting features that it has include a built-in screen privacy filter that can be activated with a single press of a button, and a kill-switch for the web camera that gives users a peace of mind. Battery life is also very respectable - especially if you consider that this is a convertible notebook that really feels like a regular ultrabook in terms of portability.
NOMINEES
Acer Swift 5 • ASUS ZenBook S UX391 • Dell XPS 13 • HP Spectre X360 • Lenovo Yoga C930 • LG gram 13 • Microsoft Surface Pro 6 • Razer Blade Stealth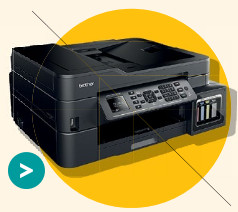 BEST AIO HOME PRINTER
BROTHER MFCT910DW
Among the three printers we've tested, the Brother MFC-T910DW offers the best balance of features and performance. As a reminder, this is an ink tank printer, which means refills are easy and you can quickly check ink levels from the front. Also, each refill set can last for up to 6,500 pages in black and 5,000 pages in color.
More importantly, the Brother MFC-T910DW gets our vote because it was able to handle the majority of the tasks we've thrown at it. The other advantage the T910DW has is that it supports automatic two-sided printing.
NOMINEES
Brother MFC-T910DW • Canon Pixma G4010 • Epson EcoTank L5190 a G4010
BEST PORTABLE EXTERNAL DRIVE
SAMSUNG PORTABLE EXTERNAL SSD X5
The Samsung Portable SSD X5 was the winner mostly because of its stunning performance. It might not have the best sequential read and write speeds, but it was extremely adept at handling smaller data sizes and high queue depths. This makes it the strongest all-round performer. Sure, you can argue that it is  pricey but the old adage of you get what you pay for is very true here. Not only is the Portable SSD X5 fast, it is also fairly compact, shock-resistant, and comes with optional password protection with hardware AES 256-bit encryption for security.
NOMINEES
G-Drive Mobile Pro SSD • SanDisk Portable Extreme SSD • Samsung Portable SSD X5 • Seagate Fast SSD 
BEST OF CONSUMER ELECTRONICS
BEST PREMIUM HEADPHONES
HIFIMAN SUSVARA
On first impressions at least, it's tempting to dismiss the Hifiman Susvara. It's very expensive - obscenely so - and the build quality isn't the best. Even though it uses premium materials like aluminum and wood, it feels somewhat flimsy when compared to its rivals. And then there is its insane power requirements. The Susvara is woefully insensitive and so it requires a very powerful and often equally expensive amplifier - to run. However, if you get past all that, put it on, and play some music, you will see why the Susvara is so highly rated. You'll start to appreciate its astronomical price tag. It might not have the best bass or the sweetest highs, but no other single pair of headphones does everything as well as the Susvara does, and that's a rare feat. No other headphones is as tonally correct and balanced, and no other headphones combines hard-hitting bass with luscious mids and sparkly highs. If your wallet is fat enough, the Susvara will transport you to headphones heaven.
NOMINEES
Abyss Phi-1266 • Audeze MX4 • Final D8000 • Hifiman Susvara • Kennerton Thror • Meze Empyrean • MrSpeakers Ether 2 
PICTURES HIFIMAN, RHA, SONY
BEST 4K TV
SONY BRAVIA A9F
The Samsung Q9F QLED TV is the brightest TV of the trio, and is great if you watch a lot of HDR content. The LG Signature W8 and Sony Bravia OLED TVs trump the Q9F in picture quality, and both OLED TVs work with Dolby Vision content.
However, our vote went to the Bravia A9F. Like the LG W8, the Sony A9F's wide color gamut performance is excellent, covering nearly 100% of the DCI-P3 uv space. While its color volume can't reach the heights of the Samsung Q9F, it's better than the LG W8. We also observed fewer instances of "banding" on the A9F than the LG W8.
We were also impressed by Sony's Acoustic Surface tech and think that Sony has nicely balanced design and practicality with the A9F.
NOMINEES
LG Signature W8 OLED TV • Samsung Q9F QLED TV • Sony Bravia A9F OLED TV
BEST HOME THEATER PROJECTOR
SONY VPLVW270ES
Featuring a 1,500-lumen brightness, Sony's VPL-VW270ES produces images using native 4K SXRD panels. However, being true 4K isn't the only reason why the VPL-VW270ES is the winner.
Its images are sharper, cleaner, and resolves more details. Motionflow works well to reduce blur, it supports HDR10, as well as 3D playback, a feature that's increasingly missing in 4K TVs.
Finally, the VPL-VW270ES is a heavy but well-put-together piece of kit. It's equipped with a 2.06x motorized zoom lens with lens shift function as well as two HDMI ports that play nice with 4K/60fps content. And with a 1.36:1 to 2.16:1 throw ratio, you just need 3 meters between the projector and screen to get a 100-inch image.
NOMINEES
BenQ W11000H • Sony VPL-VW270ES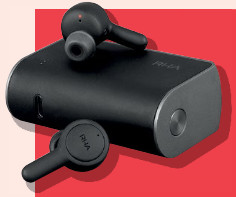 BEST TRUE WIRELESS EARBUDS
RHA TRUECONNECT
With true wireless earbuds, the biggest issue always revolves around connectivity. The RHA TrueConnect served us one of the best true wireless experiences to date, with dropouts the exception than the norm. Its full-bodied sound delivery makes listening a pleasure no matter the genre, and the earbuds manages to provide the sense of excitement we look out for on faster moving tracks. Battery life is alsogreatconsidering the case brings the total listening time up to 25 hours on the go, and it also has a handy quick-charge feature.
NOMINEES
B&O Play E8 • Bose Soundsport Free • JBL Free • Jabra Elite 65t • Plantronics BackBeat Fit 3100 • RHA TrueConnect • Samsung Gear Icon X (2018) • Sony WF-SP700N • Yevo Labs Yevo 1 
BEST SMARTWATCH
SAMSUNG GALAXY WATCH
There's a lot to like about the Samsung Galaxy Watch. Among all the smartwatches reviewed in this shootout, its repertoire of features on a single device is matched only by the Apple Watch Series 4. And rightly so. If you're an Apple user, we would still recommend the Apple Watch as the best smartwatch for you, as it will be the only device capable of bringing out the best user experience within the Apple iOS ecosystem.
However, there is no denying the strides Samsung has made in smartwatch development. Barring that one EKG functionality of the Apple Watch Series 4 (which comes with its own operational caveats), the Samsung Galaxy Watch is more durable (MIL-STD-810 certification), much longer lasting (up to 5 days on average), more affordable (starting at $398), and has greater device compatibility than the Apple Watch, which ultimately makes it the better overall smartwatch in our books.
NOMINEES
Apple Watch Series 4 • Casio ProTrekWSD-F30 • Fitbit Versa • Garmin fenix 5SPlus • HuaweiWatch GT • Samsung Galaxy Watch
BEST WIRELESS NECKBAND HEADPHONES
PLANTRONICS BACKBEAT GO 410
Plantronics' BackBeat Go 410 fought off strong competition from the likes of RHA and 1-More by basically turning in the best sound overall. Whether it's crisp highs or rumbling lows you're looking for, the BackBeat Go 410 delivers. This is one pair of headphones that works well regardless of the genre of music you're listening to. The fact that it uses the latest Bluetooth 5.0 tech, comes with active noise-canceling, and has a good battery life of eight hours with a fast charging feature are further icing on the top. Sure, it's the most expensive pair of the group, but in this case, the quality of performance and all the added features you get easily justify the cost. Meanwhile, RHA's MA390 Wireless is a great value option if you can live without the frills and advantages of the Plantronics BackBeat Go 410.
NOMINEES
1-More Triple driver BT• Audio Technica ANC40BT • Beats X Jabra Elite 45e • Plantronics BackBeat Go 410 • RHA MA390 Wireless • Sony WI-C600N
PICTURES PLANTRONICS, SAMSUNG, SONY
BEST FULL-FRAME MIRRORLESS INTERCHANGEABLE LENS CAMERA
SONY A7 III
It's curious to think of Sony having a historical advantage over DSLR heavy weights Nikon and Canon in terms of cameras, but that's where we find ourselves with the Alpha series. Sony has a much wider range of native full-frame lenses for the A7 series for now, and the series as a whole is just more mature too. With the A7 III, you get dual card slots, 4K recording without pixel binning, excellent in-body IS and autofocus that's both fast and accurate. That's especially evident when you take face detect performance into account. Ironically, battery life is now a strong suit for the A7 III too, as Sony has managed to fit in a larger battery in a form factor that's not much larger than the competition. All this at a lower price makes the Sony A7 III an easy winner.
NOMINEES
Canon EOSR • Nikon Z6 • Sony A7 III
BEST OF COMMUNICATIONS & SERVICES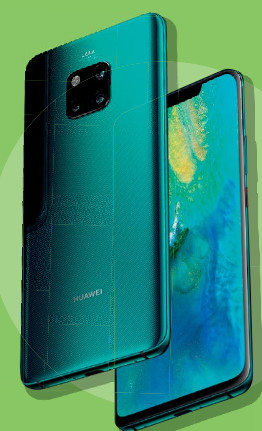 BEST SMARTPHONE
HUAWEI MATE 20 PRO
In past years, Huawei's Achilles' heel has been their weak performance, but that's no longer the case, as the Kirin 980 is superior to Samsung's Exynos 9810 and just as capable as Qualcomm's latest Snapdragon 845 processor.
Huawei has also shown that they won't just push iterative upgrades either, and there's something very likable about that. They could have easily taken the P20 Pro's already excellent triple rear camera and stuck it in the Mate 20 Pro, but instead, redesigned a new, and very useful, ultra-wide angle lens. The result is a highly versatile camera kit suitable for practically any situation with great clarity.
Huawei improved its own fast charging standards too. The Mate 20 Pro's 40W charging and 15W wireless-charging is far faster than anything else out there.
Huawei has been threatening Apple and Samsung's smartphone dominance for years, and this time, it's no longer just a threat.
NOMINEES
Apple iPhone XS Max • ASUS ROG Phone • Google Pixel 3 XL • Huawei Mate 20 Pro • LG G7+ ThinQ • Oppo Find X • OnePlus 6T • Razer Phone 2 • Samsung Galaxy Note9 • Sony Xperia XZ2 Premium
PICTURES ASUS, APPLE, HUAWEI 
BEST MOBILE CHIP
APPLE A12 BIONIC
Apple wins this category for the third year in a row with the A12 Bionic inside the iPhone XS, XS Max, and XR easily the most powerful processor of the year. The A12 Bionic packs a hexa-core CPU (two performance cores + four efficiency cores), a quad-core GPU, as well as a 'next-generation' octa-core neural engine (up from dual-core on last year's A11 Bionic) that handles all the machine learning and AI tasks. The added power of that neural engine allowed it to process 5 trillion operations per second, a huge leap compared to the A11 Bionic's 600 billion.
NOMINEES
• Apple A12Bionic (represented by Apple iPhone XS Max) • Huawei Hi-Silicon Kirin 980 (represented by Huawei Mate 20 Pro) • Qualcomm Snapdragon 845(represented by many phones) • Samsung ExynosOcta 9810 (represented by Samsung Galaxy Note9) 
BEST VALUE SMARTPHONE
ASUS ZENFONE MAX PRO M2
The ASUS ZenFone Max Pro M2 punches well above its weight with an attractive 'Wave Design' that looks, feels, and handles like a much more expensive device. Its large Full HD display, mid-range Qualcomm Snapdragon 660 processor, and huge 5,000mAh battery all also exceed what you normally expect at this price range. To seal the deal, the Max Pro M2 also runs on stock Android, providing a clean and lightweight user experience.
NOMINEES
ASUS ZenFone Max Pro M2 • Huawei Nova 3i • Nokia 6.1 Plus • Xiaomi Mi A2 
BEST OF GAMING
BEST GAMING HEADSET
ALIENWARE AW988
After nearly a decade since their last headset, Alienware returns with a product that simply blows past skeptical expectations. Its robust build is matched to supremely comfortable ear pads and cushioning, and the rich bass tone makes it perfect for the everyday gamer. You don't have to baby it, you don't have to excessively tinker with it, and once it's on – oh, you'll be going on and on.
NOMINEES
ASUS ROG Strix Fusion 700 • Alienware Wireless Gaming Headset (AW988) • Razer Nari Ultimate • SteelSeries Arctis Pro Wireless Headset
BEST GAMING MONITOR
ACER PREDATOR X27
Quite frankly, from a performance standpoint you really can't go wrong with either monitor. Both panels have equivalent HDR performance and professional-level colour accuracy. But the Predator X27 comes with better factory calibration right out of the box, with the ROG monitor requiring a little more manual fiddling to get the best out of it. We also thought the Predator X27 has a nicer overall design (even its bezels are thinner than the ROG's), and were pleasantly surprised to find that it even comes with a light hood - something normally seen in high-end professional monitors. Perhaps more crucially, and the push factor that swung our votes towards the X27, was its price tag - which made it an unbeatable value offering than the ROG Swift.
NOMINEES
ASUS ROG SwiftPG27UQ • Acer Predator X27 
PICTURES ACER, ALIENWARE, ASUS, SONY INTERACTIVE ENTERTAINMENT, RAZER
BEST GAMING NOTEBOOK
RAZER BLADE 15
The Razer Blade 15 is Razer's most refined laptop yet. Compared to the competition, the Blade offers few compromises, boasting a sleek and light design, good performance and battery life, and probably the best build quality of the lot. Its slim bezels also mean that it is more compact than your usual 15.6-inch laptop, and the 144Hz display is nice and bright. The large glass precision trackpad also helps it stand out from the crowd, and it is among the best available now. Better still, this is also one of the few gaming laptops that will blend in in the board room, and the minimalist design gives it an added touch of class.
NOMINEES
Alienware m15 • Gigabyte Aero 15X • HP Omen 15 MSI GS65 Stealth Thin Razer Blade 15
BEST GAMING SMARTPHONE
ASUS ROG PHONE
How much different could a gaming smartphone be? We saw the hardware overclocking and we saw the software optimization, but what we did not expect was the design considerations and innovations that ASUS brought to the table. It demonstrated serious thought and investment behind it, and playing on it genuinely enriched some mobile games. Now if only more games took advantage of it. Diablo Immortal and The Elder Scrolls: Blades, anyone?
NOMINEES
ASUS ROG Phone • Huawei Mate 20X • Razer Phone 2 
GAME OF THE YEAR
GOD OF WAR
God of War revitalized an action-adventure series with lovingly crafted characters, performances, and gameplay moments. That it succeeded without ignoring its past, and without bowing to prevalent monetization trends, speaks volumes about the force of vision behind the project. Treasure this today, for its the sort of game that'll feel increasingly rare in the years to come…boy.
NOMINEES
Assassin's Creed Odyssey • Dragon Ball FighterZ • God of War • Marvel's Spider-Man • Red Dead Redemption 2 
INNOVATION AWARD WINNERS
APPLE WATCH SERIES 4
With each passing year, the Apple Watch gets more focused, more polished, and more refined. The latest Apple Watch gets a minor redesign with a larger but flatter case. It doesn't sound like much, but it vastly changes the way the watch wears and looks on your wrist. It's also faster and has more features, the most noteworthy of which is its ability to generate ECG reports. Granted, this feature is only available in the US for now, but it should be coming to the rest of the world soon.
CREATIVE SUPER XFI HEADPHONE HOLOGRAPHY
Like great inventions, Super X-Fi Headphone Holography is something you need to experience to understand. Creative has managed to do something incredible by personalizing the way headphones play sound to perfectly match the individual make-up of our ears. By doing so, they're able to use your personal head-related transfer function to give you a cinematic audio experience that's independent of source. It doesn't work with all tracks, and the database of supported headphones definitely needs to grow, but when it does work, the result is magical. That it comes at a relatively cheap price is just a bonus.
NVIDIA GEFORCE RTX 2080 TI
The NVIDIA GeForce RTX 2080 Ti is one of the most expensive consumer graphics cards NVIDIA has released in a while, but what makes it novel is the new Turing architecture with built-in ray tracing technology. Ray tracing normally requires immense computational power, which is why it's been restricted mostly to the post-production stages of a movie, where filmmakers can take their time to render scenes and take advantage of render farms. But with Turing, NVIDIA could pave the way for a new generation of games that can generate these types of photorealistic scenes in real-time.
GOOGLE NIGHT SIGHT
Google's Night Sight on Pixel phones is a clear example of computational photography done right. It is designed to improve photos taken with lighting between 3 and 0.3 lux with just a single camera and no LED flash. Sure, traditional cameras can capture and merge multiple frames too, but do they have hardware and software smarts to adjust for shaking hands, intelligently fill in colors, and tone-map at the same time? All these combine to enable Night Sight's most amazing feature: the ability to "illuminate" scenes that are seemingly nearly pitch black. Try it and you will be amazed.
PICTURES APPLE, CREATIVE, GOOGLE, NVIDIA
Text by Team HWM  Art Difiection Ashruddin Sani