Apple's best smartwatch yet.
Apple's best smartwatch yet.
Don't let looks fool you, the new Apple Watch Series 4 might look the same as last year's model but it has numerous improvements that have a big impact on how the watch wears and functions. One of the most significant changes is that the case is bigger and so is the display. The two case sizes available are now 44mm and 40mm - 2mm larger than their predecessors. The display is larger and stretches closer to the edges of the case, resulting in less conspicuous bezels, which makes the display look more dramatic. 
But don't for a moment think that these new watches are bulkier. Though the case and display are larger, the thickness of the case has been reduced from 11.4mm to 10.7mm. It might not sound like much, but the overall volume of the two new Series 4 model is actually less than its predecessor. On the wrist, the difference is surprisingly pronounced. Series 4 watches have better proportions and sit closer to the wrist, which makes them more comfortable to wear. 
The Series 4 watch displays are also actually over 30% larger than their predecessors and have a number of important implications. To begin, it makes the watches a lot more legible. Email and messages, in particular, are a lot easier to read. On top of that, the increase in real estate has allowed Apple to design two new watch faces that are exclusive to the Series 4 watches. Called Infograph and Infograph Modular, these watch faces can display up to eight complications, allowing wearers to keep track of more of the stuff that they care about. 
Also new in Series 4 is the haptic Digital Crown and louder speakers. The Digital Crown now offers haptic feedback which makes it much more pleasant and intuitive to use especially if you are scrolling through a long list of items. Louder speakers don't sound like much but they are extremely useful for the new Walkie- Talkie feature in watchOS 5, Siri, or even simply tapping on the Mickey Mouse watch face for the time.
On the inside, Series 4 is powered by Apple's newest 64-bit S4 processor, which Apple claims offers up to twice the performance of the S3 processor in Apple Watch Series 3. There's a new wireless chip called the W3 too, which supports Bluetooth 5.0 for quicker wireless transfers and also improves power consumption. Thanks to the new S4 processor, Series 4 watches do feel faster and more responsive, but since Series 3 was no slouch either, the difference between the two isn't night and day. 
Series 4 also comes with improved sensors. The accelerometers and gyroscope are now more sensitive and can detect double the dynamic range. This allows it to detect whenever the wearer has a serious fall. And when it does, it can call for help by automatically notifying emergency services with your location. This is a nifty feature to have and I think it will be well appreciated by the elderly, especially those who live alone. 
Talking about sensors, the last big improvement to the Series 4 watches comes in the form of new electrical heart rate sensors built into the case back and the Digital Crown. Together, they allow the Series 4 watches to take an electrocardiogram using the ECG app. Unfortunately, this feature won't be available at launch as it requires regulatory approval from the relevant health authorities. That said, Apple is working on getting the necessary approval but they cannot confirm when the feature will be enabled. 
Battery life is fairly good. I'm not a particularly heavy user so I found myself left with about 50% to 60% battery after a day. If I'm feeling adventurous, I could probably get another day out of it. Using cellular data, however, is a huge drain on battery life so use judiciously. In short, Series 4 will still require nightly charging to get the best out of it. 
Series 4 is evolutionary rather than revolutionary. Series 3 represented a big step forward for the Apple Watch thanks to cellular connectivity but Series 4 takes what's good about the Series 3 and makes it even better. It is faster, more powerful, more comfortable to wear, easier to read, and has numerous new features that improve the wearing experience. These qualities make it not only the best Apple Watch yet but also very easily one of the best smartwatches in the market today.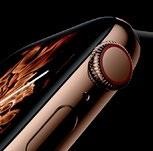 The Digital Crown now vibrates when you scroll through lists. 
The new Infograph watch face is exclusive to Series 4 and can display up to 8 complications simultaneously. 
CONCLUSION 
Easily one of the best smartwatches you can buy today. 
PICTURES APPLE