The problem with wireless in-ear headphones is working out what to do with them when they're not in use.
You could put them back in their carrying case, but that just becomes one more thing to rummage through your bag for. With neckband headphones, the band keeps them around your neck at all times – ready to go whenever you are. 
• 1 More Triple Driver BT
• Audio Technica ANC40BT
• Beats X
• Jabra Elite 45e
• RHA MA390 Wireless
1MORE TRIPLE DRIVER BT
1More has been on our radar for quite a while now, with their quad-driver in-ear headphones impressing us greatly at last year's CanJam. Now, they've taken the three-driver design and taken them wireless. The overall design aesthetic remains consistent with 1More's offerings so far—aerospace grade metal contrasted against black silicone—giving it a modern, flashy look that's bound to stand out from the crowd.
We like that 1More opted for slightly larger buttons on the neckband. They're raised up just enough to be easily accessed and provide solid tactile feedback when pressed, making it easy to use without glancing. The headphones boast a battery life of seven hours, with a handy fast charging feature that gets you three hours of use from just 10 minutes of charging.
While supporting the usual audio codecs, the 1More Triple Driver BT also supports Sony's LDAC, which enables higher transmissions speeds than regular Bluetooth when used with an LDAC-enabled player. It also comes with Environmental Noise Cancellation (ENC) technology so you can take and make quality calls even if you're in a noisy, crowded environment.
Moving on to our audio testing, the Triple Driver BT definitely impressed as it exhibited good naturalness with Leny Andrade's Maiden voyage. Leny's vocals are rendered with a nice warmth and good detail – you can even hear her quick breaths in between verses as she prepares to move on from one line to the next, subtle cues that make it feel like you're watching live.
A recording of Diana Krall's Temptation showed that this headphone definitely was a strong performer in the lower ranges too. There's a strong bass component in this piece, and the Triple Driver BT delivers it nicely, with good body and punch. There's good imaging to be had too, as you can close your eyes and almost see Krall performing – slightly off center with the drums to her left and the strings to her right.
Finishing off with the faster moving You Give Me Something by Jamiroquai, we thought the headphones did quite well with electronic music too, picking out the synth effects well and adequately surrounding you with sound. The delivery was punchy, and there was definitely enough pace to get you moving. All in, an impressive performance.
(+) Neckband controls are easy to activate.
(-) Slightly on the large side.
The USB-C charging port is hidden in the front of the neckband.
The raised power button is easy to activate just by feel.
AT A GLANCE
BATTERY LIFE 7 hours
CHARGING TIME 1 hour
WEIGHT 42.5g
DRIVERS Two dual balanced, one dynamic
BLUETOOTH VERSION 4.2
PRICE $199
AUDIO TECHNICA ANC40BT
Audio Technica's ANC40BT have perhaps the blockiest design of the group, with two rather large blocks on either end of the headphone. The neckband is flexible enough to stretch around most necks, but isn't the most comfortable as the rubbery material offers little padding. The earbuds themselves are accented with a small silver Audio Technica logo on the outside of each bud, giving the entire set a slightly futuristic look.
We found these a little uncomfortable as the base is a bit larger than normal and the provided ear tips didn't improve the fit. As such, the active noise canceling function didn't quite give these headphones an advantage over the others, but at least the sound signature wasn't drastically changed with it activated.
Controls are housed on the left block. While the slider to enable noise canceling is large and easy to activate, the other playback controls are rather small and tightly bunched together, making them difficult to make out via feel. We actually found ourselves sliding the band to the front so we could visually see what we were trying to activate, defeating the purpose of having these controls to begin with.
In our audio testing, we found the lower mid to bass region to be quite lacking with this headset. Beauty in the World by Macy Gray has a nice inviting bass beat that takes you through the piece, and this is lacking with this headset. Macy's backup singers are clapping throughout this piece, but with these headphones the clapping seems to just lack that bit of naturalness.
Next up, we listened to Festival Te Deum by the Choir of Westminster Abbey, and on this piece we thought the imaging was lacking as it felt like we were in a recording studio instead of an expansive cathedral. The headphone does manage to provide separation between the multiple layers of voices, but the atmosphere of this particular piece is lost.
Moving to a recording of Old Love from Eric Clapton's Unplugged album gave the headphone a chance to shine. It seems to do well with vocals and highs, as Clapton's vocals are quite nicely handled. The mids and low highs seem to be a stronger region too, as the headphone renders Clapton's guitar and the piano work of Chuck Leavell well.
(+) Comes with noise canceling capabilities.
(-) Hard to get a good fit because the base for each earbud is too large.
This switch activates noise canceling.
Controls on the inside of the left neckband are a little too small to activate by feel.
AT A GLANCE
BATTERY LIFE 8 hours (with Bluetooth and noise-canceling activated)
CHARGING TIME 3 hours
WEIGHT 35g
DRIVERS 13.5mm drivers
BLUETOOTH VERSION 3.0
PRICE $198
BEATS X
Advertised as being "Fit for your life", the Beats X is a smart looking headphone. They're deliberately minimalist, and carry the Apple touch in the form of magnets in each earbud to keep them together when not in use. They also come with silicone pocket-sized carrying case, but this is a little too small so you'll probably find excess neckband sticking out.
Pairing is a really simple affair, and if you're using an iPhone you'll even get a pop-up from the headphones that you click to complete the connection thanks to the included W1 chip. Charging is of course done via Lightning, and Fast Fuel has been implemented in the headphone, so a five-minute charge will give you two hours of playback (a full charge takes 45 minutes).
There's of course an in-line remote for basic playback controls on the left, and these offer nice feedback while housing the in-line microphone beneath. The power button sits separately on the right band. All in, the headphone just works from a design standpoint. The neckband material is soft enough to fit comfortably around your neck, while the earbuds fit well enough to offer good passive noise isolation.
In terms of audio, Beats X represent a marked change away from the usual Beats sound signature, as there's no longer the overly heavy bass emphasis, but rather an emphasis on mids and highs instead. For example, on a recording of the acoustic version Layla by Eric Clapton, we thought the headphone did a good job picking out Clapton's lead guitar, but also his backing singers and the percussion instruments in the piece.
Moving on to a rock classic, Sweet Child O' Mine by Guns N' Roses gave the headphone a chance to show off its lower mid-range. The headphone does a decent job with the guitar solo, delivering it with plenty of energy, but we felt the bass was a little too thin for our liking for this particular piece.
Unsurprisingly, faster pieces work well with the Beats X too, as evidenced from a recording of Little L by Jamiroquai. The headphone shows great sense of pace with this piece, and handles the myriad of digital synth effects well. Importantly, there's a good verve to the piece that makes you want to get moving.
(+) Very fast charging.
(-) Bass can be too dry.
The headphones have a dedicated pop-up when pairing with an iPhone.
The headphones use a USB-C port for charging.
AT A GLANCE
BATTERY LIFE 8 hours
CHARGING TIME 45 minutes
WEIGHT N/A
DRIVERS N/A
BLUETOOTH VERSION N/A
PRICE $198
JABRA ELITE 45E
The Jabra Elite 45e has a utilitarian design seems to suggest it fits best in the office, but the IP54-rated design means it can just as easily go anywhere with you without fear of dust and water. It's one of the lightest in this shootout, and so is certainly easy to bring around. This too has magnets in both earbuds to keep them from flapping around your neck when not in use.
The neckband isn't rigid enough though, making it prone to curling up on itself. Given that Jabra doesn't include a carrying case with the set, this means that you're likely to find it tangled in a mess if you put it straight in your bag.
Given Jabra's background in creating headsets for mobile, it's almost a given that the Elite 45e features easy support for voice assistants on your phone. As such, there's a dedicated button (and microphone) so you can get things done with voice commands on the go. On that note, the Elite 45e uses a 2-microphone technology to filter ambient noise from your calls, so that's something to consider if making calls from your headset is of high importance.
We have to say we found ourselves a little disappointed by the audio performance given Jabra's recent track record. The highs and mids don't quite have the crispness they need so guitars and percussion instruments don't sing out like they should. On a recording of the live version of Hotel California by The Eagles for example, there wasn't enough clarity to do justice to the guitar work, and you certainly couldn't feel the energy of the crowd.
Moving on to Sara K's If I could sing the Blues, we thought Sara's vocals were nice and haunting, but the headphones couldn't quite capture the depth in the piece. Compared to Sara, the rest of the instruments seem too withdrawn, taking away from the piece somewhat.
Finishing off with the fast-moving Like a G6 by Fareast Movement, we thought the Elite 45e did a decent job conveying the pace of this piece, but again was let down by the lack of body in the bass regions. This track has a heavy booming bass that gets you grooving, but the Elite 45e just can't quite deliver.
(+) Good support for virtual assistants.
(-) There's a dedicated button for the microphone.
The control unit is quite long, making it easier to reach.
There's a dedicated button for the microphone.
AT A GLANCE
BATTERY LIFE 8 hours
CHARGING TIME 2 hours
WEIGHT 25.95g
DRIVERS 12.4mm drivers
BLUETOOTH VERSION Bluetooth 5.0
PRICE $168
RHA MA390 WIRELESS
Coming in at just $128, the RHA MA390 Wireless is easily the cheapest headphone of the bunch, but that's no indication of their quality at all. The buds are engineered from aluminum for better noise isolation, and the headphones of course comes with spare tips of different sizes so you can find the best fit. These fit us really well and offered the best passive noise isolation of the group.
The MA390 Wireless features IPX4 sweat/splash protection and uses USB-C for charging. It comes with a three-button universal in-line microphone, and is certified for aptX for better wireless streaming. The inline remote seems to be just long enough to fit the needed controls, but these are a little stiff and will take some effort to activate.
We're not the greatest fans of how fat and round the ends of the neckbands are, as that seems to take away from the sleekness of the entire design, but they do seem to help hold the headphones in place. As with the Beats X headphones above, the earbuds of the MA390 Wireless also contain magnets to hold them together, keeping everything neat and tidy.
Surprisingly, the MA390 Wireless turned in the best audio performance of the group. It's capable of nice mids and impactful upper bass notes, as evidenced when listening to a recording of Bohemian Rhapsody by Queen. This piece also gave the headset a chance to show off its stereo imaging capabilities, and this was especially evident in the bridge when the song assaults you with its chorus.
Like a G6 by Fareast Movement gave the MA390 Wireless a chance to show it does well with faster moving tracks too. It doesn't have as full a bass as the 1More, but there's still enough weight to be felt. There's plenty of energy in the delivery to get you moving too.
We ended off our testing with The Eagles' Hotel California, and on this piece we felt the highs on the MA390 Wireless weren't as crisp as we'd like, as the headphone turned in a slightly darker rendition than expected. It does well to provide separation between the crowd, the main vocals, and the guitar work though, making for quite an immersive listen.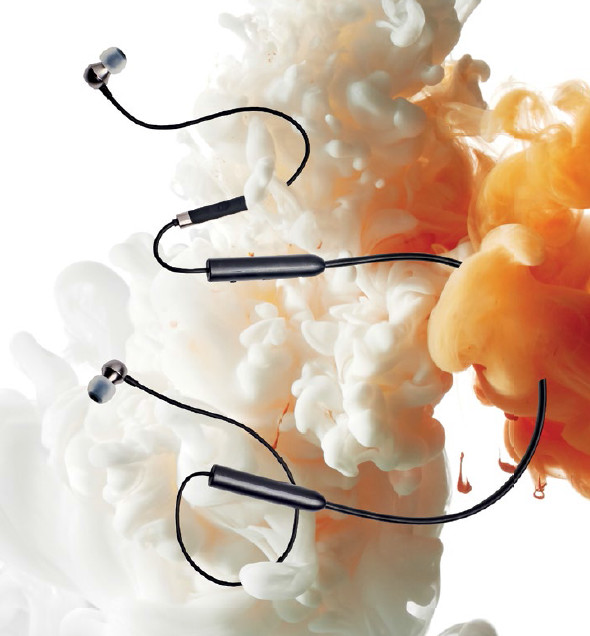 (+) Nice robust sound.
(-) Sound signature is a little too dark.
Magnets in the earbuds hold them together when not in use.
Tiny lettering below each earbud indicates which side it's supposed to be for.
AT A GLANCE
BATTERY LIFE 8 hours
CHARGING TIME 2 hours
WEIGHT 24g
DRIVERS RHA model 130.8 dynamic driver
BLUETOOTH VERSION Bluetooth 4.1
PRICE $128
THE BEST WIRELESS EARBUDS IS… RHA MA390 WIRELESS
It's not often that a product outperforms its price point, but that's very much the case here. The RHA MA390 Wireless easily provided the best sound while coming in a good $70 cheaper than more expensive options. It didn't have the best highs or the heaviest bass, but easily provided the best clarity and imaging of the group, while delivering full-bodied sound that the rest just couldn't match. Eight hours battery life is good enough for a full day out. The fact that they're IPX4 sweat and water resistant and offer aptX streaming are nice pluses too. All in, you get great sound with a bunch of extra features at a price that easily beats its competitors – and that's why the RHA MA390 wireless is hands down the winner of this shootout.
By Marcus Wong Photography by Veronica Tay Art Direction & Digital imaging by Ashruddin Sani Picture (ABSTRACT PAINT) 123RF