While circuit breaker, lockdown and other various movement control restrictions begin to lift, life as we know it will likely not simply revert back to how it was in a blink of an eye.
THE PERFECT HOME OFFICE
This one's made for multi-taskers. If you're looking to get the most efficient setup going and stay productive throughout the day, you'll like the recommendations below.
01 The CalDigit TS3
The CalDigit TS3 Plus is without a doubt one of the best Thunderbolt 3 docks on the market right now. It's small, compact, and can sit either horizontally or vertically. In addition, its selection of 15 ports is one of the most comprehensive you can get to-day, including a handy SD card reader, five USB-A 3.0 ports and two USB-C ports, one DisplayPort output, and a dedicated Gigabit Ethernet port. The Thunderbolt 3 ports allow for daisy-chaining of Thunderbolt 3 devices, and there is support for up to dual 4K 60Hz displays, or a single 5K monitor.
It'll also provide up to 85W of power to your laptop, more than enough for any Ultra-book today, including the MacBook Pro. And while many Thunderbolt 3 docks only work with either Mac or PC, the TS3 Plus is compatible with both platforms.
PRICE: $364
02 Logitech MX Master 3
The Logitech MX Master 3 is an excellent mouse for general use and productivity, fea-turing an ergonomic design that's supposed to relieve pressure on your wrist and plenty of buttons and scroll wheels to help you make quick work of Excel sheets. Its 4,000 DPI Darkfield sensor will track on any sur-face, including wood and glass, so you can use it on your desk without a mousepad.
Finally, the Logitech Flow feature lets you control up to three computers using a single mouse, and you can even copy and paste text and transfer files between computers. Whichever way you slice it, this mouse is pretty much a multi-taskers dream.
PRICE: $169
03 Cooler Master MP510 XL
While this is technically a gaming mousepad, the Cooler Master MP510 performs ad-mirably for work as well. Its stealthy design lacks much of the ostentatious branding of many gaming products, and the Cooler Master logo is tastefully etched into the top corner (it does glow in the dark though).
It comes with stitched edges, which protects against fraying, but my favourite feature is the durable, splash-proof Cordura fabric. Liquids are easily wiped off, so you won't have to worry about small accidents ruining your mousepad. Measuring 900 x 400 x 3mm, the MP510 will provide a quality surface for both your mouse and keyboard.
PRICE: $49
04 Dell UltraSharp 34 Curved USB-C Monitor (U3419W)
Your monitor is probably one of the most impor-tant elements of your workstation, and it can be really frustrating working with a small screen.
The Dell UltraSharp U3419W has no such prob-lems, featuring an expansive 34-inch screen with a 21:9 aspect ratio. The 1900R curvature helps make working with such a large screen slightly more comfortable, and the crisp 3,440 x 1,440-pixel resolution means everything should look nice and sharp.
It can connect to your laptop via USB-C and it'll even supply up to 90W of power. In addition, helpful picture-in-picture and picture-by-picture modes let you view content from two different sources at the same time.
PRICE: $1,348
05 Logitech C920S
The shift to working from home has meant that every-one is now scrambling to procure a decent webcam for some virtual face time with their colleagues. The Log-itech C920S offers 1080p video calling at 30fps, which should be plenty sharp. There is built-in HD auto-fo-cus and light correction as well, so you won't look too sickly if your room lighting isn't ideal. It also supports stereo sound with most popular video apps, so you don't have to scurry to buy a standalone microphone. Best of all, there's an integrated privacy cover. When you're done using it, you can just fold the cover down and stay safe from prying eyes.
PRICE: $185
THE TINY FOOTPRINT
Not everyone has the luxury of a big desk. But even if you're forced to work from a tiny desk at home, there's no reason why you can't still have a killer workstation.
06 Samsung Space Monitor (S27R750Q)
A monitor stand is one of those pesky things that can eat up a lot of valuable real estate on your desk. The Samsung Space Monitor uses a nifty clamp-type stand to free up more space on your table. The stand lets you pull the monitor forward, or push it flat against the wall to instantly reclaim table space.
The S27R750Q has a 27-inch 2,560 x 1,440-pixel panel, which is plenty sharp and has enough resolution for a wider work-space to minimise scrolling and zooming. There are nifty fea-tures for cable management to keep the clutter off your desk, and if you feel so inclined, the monitor works well for gaming too, boasting a 144Hz refresh rate.
PRICE: $548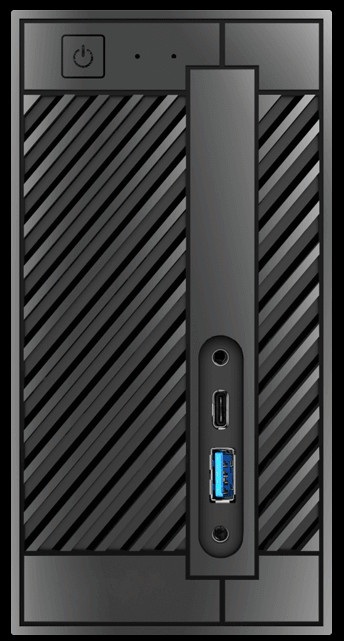 07 Aftershock Vision Mini
Desktop PCs are generally large and bulky, but not all of them have to be. The Aftershock Vision Mini is a super tiny work PC, perfect if you don't want to work off your laptop but have no room for a more traditional tower chassis.
It can be equipped with up to an AMD Ryzen 5 3400G or Intel Core i7-9700 processor, so there's something for a range of budgets. Measuring a mere 155 x 155 x 80mm, it should fit easily on even the smallest of desks and easily hide behind your monitor
PRICE: FROM $399
08 Logitech G304
First announced in 2018, the Logitech G304 re-mains one of the most reliable wireless mice available today. If you're pressed for space, the last thing you want is the hassle of additional ca-bles or charging docks. The G304 offers excellent tracking, flawless wireless performance and runs off a single AA battery, so you can simply swap it out whenever you need to. Not that you'll find yourself doing that often though – battery life on this mouse is absolutely phenomenal.
PRICE: $79
09 Bluelounge Soba
Cable management plays a big part in making your setup look good, and this is even more important if you're work-ing with just a small area. After all, an uncluttered work area is the first step toward an uncluttered mind.
The Bluelounge Soba is a smart cable management solution that bundles up to three cables in its tubing. A conven-ient mechanism called the Vortex zipper automatically closes up the tubing once the zipper passes, sealing the cables inside. Finally, there are three plastic mounting caps along the length of the Soba, so you can easily route your cables where you need them to go, such as under your desk or along the wall.
PRICE: $49.30
10 Keychron K2 Wireless Mechanical Keyboard
The Keychron K2 Wireless Mechanical Keyboard offers a more compact footprint while retaining most of the functionality of a full-sized keyboard, such as the function row and arrow keys. The K2 can be used in either Bluetooth mode or with a cable, and it will work with more than just your PC, with support for smart-phones and iPad as well. You can connect it wirelessly to up to three devices at once, and switch between screens quickly using Fn + 1/2/3.
According to Keychron, the K2 can last up to 72 hours on its 4,000mAh battery, which translates to three full days of typing. It is available with a range of switches as well, and you can pick between Gateron Blues, Browns, and Reds.
PRICE: $129
THE RGB OVERLOAD!
Work aside, there are the gamers who now have more time on their hands than ever. This is the perfect opportunity to create something truly stunning with your setup, and what bet-ter way to do that than with RGB lighting, long a staple of some of the most impressive gaming battle stations around.
11 Razer Goliathus Extended Chroma
A mousepad is usually the most low-tech thing on any desk, but the Razer Goliathus Extended Chro-ma is ringed by LEDs, capable of displaying the full spectrum of 16.8 million colours. It can even change colour according to in-game events and be synced with other Chroma-compatible gear.
At its core, it is a cloth pad featuring a micro-tex-tured cloth surface that offers a balance between control and speed. Measuring 920 x 294mm, this pad will offer plenty of room for both your keyboard and mouse.
With a choice of Black, Quartz Pink, and Mer cury White, you can also pick it up in a colour that match-es the rest of your gear.
PRICE: $89.90
12 Glorious Model O
The Glorious Model O is one of the best gaming mice to come out in 2019. Fea-turing a flawless 12,000DPI PMW 3360 optical sensor and an incredibly light weight of just 67g, it utilises a comfort-able, ambidextrous shape (even if the side buttons are only on the left side), making it suitable for a wide range of grip styles.
Its RGB lighting is one of the most impressive around, with light rails run-ning down both sides of the mouse, and brilliant LEDs shining through its per-forated shell. And if you've got smaller hands, Glorious also sells a Model O-.
PRICE: $99
13 Hexgears Gemini Dusk
The Hexgears Gemini Dusk me-chanical keyboard comes with many thoughtful features includ-ing a machined all-metal case, PBT doubleshot keycaps, and hot-swap switch sockets. PBT keycaps are far more resistant to shine than ABS, while hot-swap sockets are convenient for changing switches on-the-fly (you can get it in Kailh Box White, Box Brown, or Box Red switches).
It features dual USB-C ports and a modern magnetic angle adjust-ment bar instead of keyboard feet. But best of all, its LED lights are simply brilliant. The entire frame is ringed by LEDs, and the shine-through legends show off the per-key lighting and animations.
PRICE: $159.99

14 Logitech G560 LightSync PC gaming speakers
The Logitech G560 LightSync lets you extend your game world beyond the monitor with support for cus-tom lighting effects and animations in specific games, such as CS: GO, Dota 2, Fortnite, Grand Theft Auto V, and more. It even has also an audio visualiser feature that lets it respond to music. Lower volume produc-es a soft breathing effect, while louder beats result in stronger pulses.
This is a 2.1 setup, and the included down-firing sub-woofer should give you pounding bass and a more immersive gaming experience. If you don't want to deal with the hassle of wires, they can be paired with your PC via Bluetooth as well.om prying eyes.
PRICE: $329
15 Philips Hue Play
The Philips Hue Play light bar attaches to your monitor, making for some very impressive am-bient lighting, an excellent complement for any gaming PC. What's more, they can also be synced with Razer's Chroma lighting system for some synchronised lighting effects.
There's also a decent amount of compatibility with existing PC hardware, and you'll be able to use Hue Play together with stuff from brands like MSI, Thermaltake, and Lian Li.
PRICE: $397
(Hue Play bundle. 2-pack base kit + Hue Bridge + Hue Play Ligh t Extension) 
THE MONOCHROMATIC
Moving to the other end of spectrum, there are some of us who just want a clean, minimalist setup. Few things satisfy that criteria more than good ol' black-and-white gear, and it's an easy way to make your desk look like something out of a zen retreat.
16 NZXT H210
The NZXT H210 is the smallest case in NZXT's iconic H Series. It features the same clean, angular lines and minimalist design, and it won't take up much space on your desk either. With a USB 3.1 (Gen 2) Type-C port on the front I/O, it's also easy to connect modern smartphones and devices to your PC.
The H210 is nothing if not modern, featuring also NZXT's signature cable management bar on the interior and a power supply shroud to help conceal messy cables. A tempered glass window sits on the side, allowing you to show off your hardware.
PRICE: $145
17 Cooler Master MM710
While the Cooler Master MM710 may be targeted at gam-ers, it lacks any RGB lighting, and the matte white model and matching cable is a good fit for any minimalist setup. It is a featherweight at just 53g, so you'll be poised to jump into game after work if you feel so inclined. It is equipped with a 16,000DPI PMW 3389 optical sensor, which offers flawless track-ing.
With its soft, flexible cable and compact design, it is nothing if not simple and su-premely functional.
PRICE: $79
18 Glorious XXL Extended
The Glorious XXL Extended gaming mousepad measures 910 x 460mm, large enough to support both your keyboard and mouse. Available in white with black stitched etches and a discreet Glorious PC Gaming Race logo in the bo ttom right corner, it'll look right at home in any monochromatic workstation.
These pads are on the slower side, prioritising control over glide, but they offer consistent, reliable tracking over their entire length. And if you're worried about a white pad getting dirty quickly, they're also machine-washable.
PRICE: $79
19 Happy Hacking Keyboard Professional Hybrid
The HHKB Professional Hybrid in White offers a super com-pact, unique layout that lends itself to high-speed, efficient typing. While you'll have to get used to using certain short-cuts and the loss of arrow and function keys, it's a joy to use after you adapt to it.
This particular model has wired USB-C and Bluetooth con-nection, a full set of PBT keycaps (including the space bar) for shine resistance, plus Topre capacitive switches that provide deliciously smooth and tactile key presses unlike any other switch on the market.
PRICE: US$281
20 Audioengine A2+ Wireless Speaker System
The Audioengine A2+ Wire-less is the latest iteration of the company's smallest 2.0 desktop speaker system. Bluetooth 5.0 connectivity makes it easy to connect to mobile devices or your desktop, and it supports both aptX and AAC, the two major wireless audio codecs.
The speakers are equipped with a Qualcomm CSR8670 SoC that can handle PCM music of up to 16-bit/48kHz. With RCA outputs at the back, the A2+ Wireless can function as an external DAC too and output music to something like a headphone amplifier. Available in a Hi-Gloss White finish, they make a striking addition to any desk.
PRICE: $469
THE VALUE-FOR-MONEY
What if you're on a budget? Maybe all you need is a setup that just works, and you don't want to invest too much into a temporary arrangement. We've got you covered too.
21 PRISM+ F270i
If you're looking for an affordable mon-itor, local company PRISM+ has plenty of options. The 27-inch F270i features a 1,920 x 1,080-pixel IPS dis-play, a 1ms time, and a 165Hz refresh rate. It's framed by slim bezels on all sides too, mak-ing for a sleeker look and more immersive viewing experience. However, its stand offers few adjustment options, and you won't be able to adjust it for height.
PRICE: $359
22 Razer Viper Mini
The Razer Viper Mini is one of the most capable and affordable gaming mice on the market right now. It boasts an 8,500DPI PMW 3359 optical sensor, soft and flexible Speedflex cable, and a nimble 61g weight. Like the original Viper, it achieves its light weight without the need of a perforated shell, which means it's ever so slightly more comfortable to hold and won't alienate anyone who, you know, can't stand having holes in stuff.
For the price, it also comes with customisable RGB lighting and a neat underglow effect, which the big-ger Viper doesn't even have, making it quite the steal.
PRICE: $63.90
23 Tecware Phantom 87 SE RGB Mechanical Keyboard
A surprisingly feature-rich for a keyboard at this price point, with fully customisable per-key RGB backlighting and 18 different lighting presets. The Phantom 87 SE also comes with a custom logo plate below the Home cluster and a new font that amplifies the LEDs for a more eye-catching display.
Hot-swappable Outemu sockets will let you replace switches on your own (from a choice of Outemu Blue, Brown, or Red switches). However, do note that Cherry MX switches are not support-ed. The keycaps are doubleshot ABS, so there's no concern about the legends fading over time, and the floating key design makes the entire keyboard easier to keep clean.
PRICE: $59
24 Logitech C270
When the Circuit Breaker measures were first announced, webcams were among the first things to fly off the shelves. It was almost impossible to find one, much less a decent unit that would let your colleagues confer with you properly. That said, the Logitech C270 supports 720p video calling at 30fps, which should be sufficient for most pur-poses. With a 60° field-of-view, a single built-in microphone, and the ability to adjust to various lighting conditions, it comes with a pretty decent kit as well.
PRICE: $69.20
25 Razer Kraken X
The Razer Kraken X is a solid, budget gaming headset, featuring a lightweight 250g chassis and support for 7.1-channel virtual surround sound. The ear cups are plush memory foam, while the headband is padded to make it more comfortable to wear over long hours. It also has a flexible microphone with a cardioid pattern to pick up your voice more clearly while suppress-ing background noise from the back and sides.
There's cross-platform compatibility too, so you can use it with your PC, Mac, Xbox One, PS4, Nintendo Switch, or even your phone, and comes in Classic Black, Console, or Mercury White.
PRICE: $69.90
PHOTO LOGITECH
PHOTOS CALDIGIT, LOGITECH, DELL, COOLER MASTER
PHOTOS SAMSUNG, AFTERSHOCK, LOGITECH,BLUELOUNGE,KEYCHRON
PHOTOS RAZER, GLORIOUS, LOGITECH, HEXGEARS,PHILPIS
PHOTOS NZXT, COOLER MASTER, GLORIOUS,HHKB,AUDIOENGINE
PHOTOS PRISM, LOGITECH, RAZER,TECWARE