Smartwatches have taken on a life of their own, diverging from the path of smartphones.
Smartwatches have taken on a life of their own, diverging from the path of smartphones. It's every player for themselves, with proprietary hardware and software. In fact, there isn't a single Wear OS smartwatch in our list this year.
Apple Watch Series 5
Fitbit Versa 2
Garmin Venu
Huawei Watch Gt 2
Samsung Galaxy Watch Active 2 
Apple Watch Series 5 is largely similar to last year's model, but small updates affect the product in very profound ways. Case design and dimensions haven't changed, and neither has the size of the display. However, the display now stays on permanently; achieved using an LTpO (low-temperature polycrystalline oxide) OLED with special controllers and light sensors so that refresh rates can be adjusted from as high as 60Hz to as low as 1Hz.
This is a big deal because it now means you can glance at your watch without having to do that exaggerated raising of your wrist action.
When the display does go to sleep, it doesn't just show a generic watch face like some other smartwatches. It actually shows a dimmed version of the watch face you selected and customised. Some complications (like Date and Activity) will also show, but some others that require constant updating (like the new Noise and compass app) will go to sleep.
There's also an option to mask sensitive information like your calendar appointments, mail and messages from being displayed. You can also turn the display offentirely in rest mode like older Apple Watches if you want.
Does the always-on display hurt battery life? In my experience, yes. I have about 35% to 40% of battery left after about 11 hours of use, slightly less than the 55% that the older Series 4 used to have in the same amount of time. regardless, the Series 5 will still need a daily charge, the only watch here with such a requirement.
Readers thinking of getting the more expensive and more capable cellular version will also be happy to know that there will be wider support for international emergency calling. This means the cellular Series 5 watch can call emergency services in over 150 countries even if you don't have a cellular plan, a potential lifesaver for emergencies when travelling.
New to watchOS 6 are two health apps called Noise and cycle Tracking. One uses the watch's built-in microphone to measure sound levels and warns you if things get too loud which might damage your hearing. The latter is a menstrual cycle tracker. Apple Watch Series 5 will also have EcG capabilities, and this time, which this time works right out of the box because it's already approved by the Health Sciences Authority.
Another good thing is that prices are unchanged from last year, so the Apple Watch Series 5 starts at $599 for the basic 40mm GpS-only model in aluminium.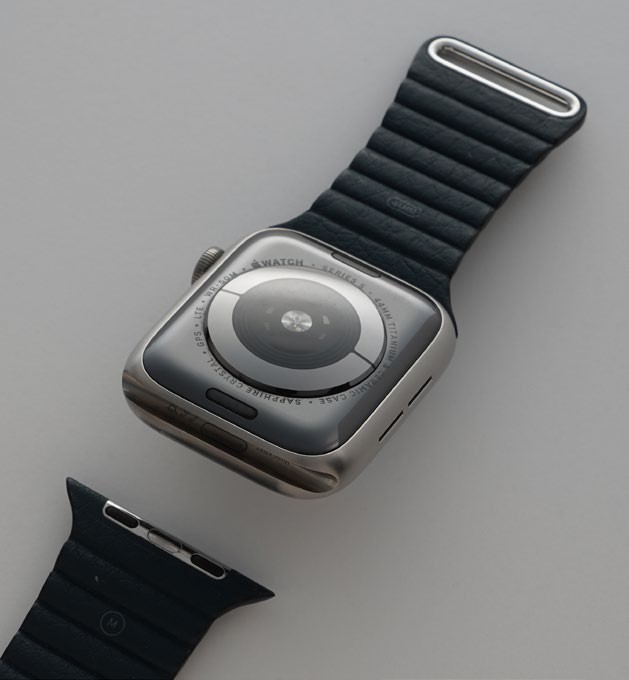 Apple Watch bands and customisation options is among the best out there.
Like last year's model, you can touch the digital crown to generate ECG readings, and this time, it workds right out of the box.
AT A GLANCE
DISPLAY
LTPO OLED
BATTERY LIFE
Up to 18 hours
DIMENSIONS
40 x 34 x 10.74 mm, 30.8g (40mm) 44 x 38 x 10.74 mm, 36.5g (44mm)
PRICE
From $599 (40mm), $648 (44mm) 
FITBIT VERSA 2
AT A GLANCE
DISPLAY
1.4-inch AMOLED 300 x 300 pixels
BATTERY LIFE
Up to 6 days
DIMENSIONS
25.07 x 25.07 x 12 mm
PRICE
$318
The only other square watch in our shootout that's often referred to as an Apple Watch Lite. The Versa 2 may not look it at a glance, but sports many major upgrades, and equally as many caveats. reviewing the Versa 2 is like a 'two steps forward, one step back' situation.
First things first, the sensor in the Versa 2 is pretty much still the same as in the Versa, for which I have no complaints. It was, and still is one of the most consistently accurate wrist-based heart rate monitors I've tried so far. It has all-day tracking, extended battery life that actually lasts up to five days, improved sleep tracking (though I personally still don't know what to do with this metric). However, there is no built-in GpS, so the watch can't be used on its own.
The Versa 2 has a slightly larger screen (1.4-inches vs. 1.34-inches), though that's honestly not noticeable due to the presence of huge, chunky bezels. However, it does feature an AMOLED screen that's really bright and sharp. The Versa 2 also has an always-on display like the Apple Watch Series 5 that you can toggle on and off, though expect to knock its 5-day battery down to about 3 days if you do enable it. Still, that's longer than what the Apple Watch can achieve.
The watch has a built-in mic and Alexa integration, but no speaker. So you can dictate message replies or ask Alexa questions, but can't actually hold a speakerphone call like the Huawei Watch GT 2, and you'll need to read all of Alexa's replies in text.
The Versa 2 is a fitness smartwatch that comes close to the Samsung and Apple in terms of customisations. I especially loved the animated Bitmoji watchfaces. However, you can only load and store a single watchface at anyone time, so you can't switch on the fly. A future OS update (Fitbit OS 4.1) is supposed to increase this number to 5, but not at the time of this review.
The watch has built-in memory to store local songs (around 300), which is great, and it now has Spotify preinstalled, which is also great, but the Spotify app on the watch simply acts as a remote. You can neither stream from the watch, nor download your playlist to the watch.
Fitbit has now extended Fitbit pay to all variants of the Versa 2, which is great, but it's still going to be a limited feature in Singapore, as only two banks (UOB and OCBC) are supported; I have neither.
Quick release bands are depressed into the case, so they're actually pretty hard to dig out.
Same heart rate sensor as the original Versa, but packs improved sleep tracking and battery life.
SAMSUNG GALAXY WATCH ACTIVE 2 (44MM)
Last year, the Samsung Galaxy Watch won this shootout and was crowned our best smartwatch of 2018. Since then, Samsung has launched the Active variant and updated it to the Active 2, but I think both still aren't real successor's to the original Galaxy Watch.
The Galaxy Watch Active 2 is really a minor upgrade to the Watch Active, chiefly being the addition of an EcG feature, making it the only other smartwatch here outside of the Apple Watch S5 (and S4) to have it. However, the EcG functionality is not enabled at time of review.
The Active 2 does have an upgraded heart rate sensor with double the photodiodes. In my testing, it is more precise and now fully works even in the thick of a workout; the Galaxy Watch had trouble keeping up when my wrist got really sweaty. It's also the best wearand-forget smartwatch as it auto-detects the most types of workouts, even treadmill and eliptical machines.
Unfortunately, despite being the second generation 'sport' smartwatch, the Active 2 still doesn't do VO2 Max readings natively.
The design of the Active 2 is identical to the Active, though it now comes in a larger 44mm size with a 1.4-inch Super AMOLED display. It's definitely lighter than the chunky Galaxy Watch, but I much prefer Garmin Venu's design.
Samsung is appeasing fans by introducing a digital rotating bezel on the Active 2, though it's not a selling point anymore as the original Active is getting the same feature via software update.
Battery performance has taken a big hit though. Even the larger 44mm Active 2 barely lasts me 3 days, compared to an easy week on the Galaxy Watch. While it's definitely still more than the Apple Watch S5, it was the lowest among the Android smartwatches.
Speaking of, unless you're using a Samsung phone, setup feels like installing hardware on a Windows pc. Not only do you need the Samsung Health app to sync watch data, you need a separate Galaxy Wearable app to manage the watch, and the Wearable app itself requires two additional watch plugin and background service apps to run properly.
There's nothing inherently wrong about the Active 2. It's the only one that can match Apple on specs with LTE, ECG, and NFC payment that's widely accepted. However, without that huge bettery life advantage, its proposition isn't as compelling as before. Alas, its fitness offerings doesn't match its Active moniker either.
The Galaxy Watch Active 2 has both improved heart rate sensors and ECG capabilities.
The Active 2 also has a built-in speaker that can provide workout prompts or independent handsfree calls (LTE version).
AND THE BEST SMARTWATCH IS....
APPLE WATCH SERIES 5.
AT A GLANCE
DISPLAY
1.4-inch Super AMOLED, 360 x 360 pixles
BATTERY LIFE
3+ days
DIMENSIONS
44 x 44 x 10.9 mm, 42g (stainless steel) / 30g (aluminium)
PRICE
From $498 (44mm) 
LAST YEAR'S BATCH of smartwatches saw fitness wearables get serious about staking claim to your wrist with better displays and improved smart functionality beyond basic notifications. This year, smartwatches strike back with a greater fitness focus for more serious atheletes such as VO2 Max as well as niche health tracking like menstrual cycles for women. Apple included medical-grade ECG functionality last year, and this year Samsung joined the fray. However, if you're looking for a full package, the Apple Watch in its 5th generation has the most polished user experience of the lot. It's admittedly pricey and is still the only watch that requires daily charging, but while everyone else is figuring things out, every feature, function and design of the Apple Watch Series 5 is usable right out of the box. It has the largest app ecosystem and the widest after-market customisation options out there. If you have an Apple iPhone, there really is no other better option. And if you have an Android, it's really a toss up and that's one of the problems picking them too. There is no longer a definitive Android smartwatch. Fitbit and Huawei are both affordable; the Versa 2 has a better UI, the Watch GT 2 better battery. Samsung's a better smartwatch, but sacrifices battery life and its health features aren't fully functional yet.