Experience True Cinema c Sound with the latest Samsung Harman Kardon HW-Q90R Soundbar.
Soundbars of today have become as important for a home as any essential appliances. So, it's only natural to keep an eye out for one that not only delivers amazingly diverse soundscapes, but also enhances other aspects of home living too.
With that said, here's a suggestion – Samsung's latest addition to its soundbar family, the Samsung Harman Kardon HW-Q90R.
BRING THE CINEMA HOME
Packing 17 up, front, side and rear-firing speakers, this sleek 7.1.4-channel piece is by no means ordinary. The ".4" at the end isn't for decoration, either. It refers to the additional up-firing ports on the speakers which help to produce realistic overhead audio, creating unparalleled, multi-dimensional sound right in your living room.
FEEL LIKE YOU ARE PART OF THE SCENE
The HW-Q90R has Dolby Atmos® and DTS:X™ support, plus Samsung's Adaptive Sound technology. By reading frequency signals, the software analyses, adjusts and optimises sound output for maximum effect.
What does this mean? Simply put, users will hear everything as if they were there! Watching a National Geographic documentary? Listen to the cascading waterfall crash down in tandem with David Attenborough's dulcet tones. Or perhaps you're checking out Food Network - let the sound of sizzling steak transport you right into the kitchen studio.
There's more. Ever turned down the TV because everyone was asleep, then realised you couldn't hear the dialogue and had to rely on subtitles? With the HW-Q90R soundbar, you'll never have to repeat the experience.
Instead of reducing overall output, the soundbar's algorithm lowers the background audio while enhancing voice clarity, ensuring that you can enjoy the dialogue at a comfortable volume for everyone else.
TRANSFORM YOUR GAMING EXPERIENCE WITH DIRECTIONAL SOUND
The HW-Q90R also sports Game Mode*, which automatically detects when a console game is being played and optimises audio for maximum impact.
Star Wars Battlefront II is known to be a crowd favorite with its incredible soundscape.  Together with the HW-Q90R's Game Mode, the immersive sound from the 17 speakers transports you right into the seat of an X-wing fighter and elevates your gameplay to the next level.
Another key feature of Game Mode is the crosstalk algorithm, which accurately simulates sound from various directions, making for a more realistic and enjoyable gaming experience.
EASY AND SMART CONNECTIVITY
While immersion is a staple for soundbars, connectivity is crucial too. The HW-Q90R works seamlessly with smart devices* and should fit right into your smart home ecosystem. Also, there's no need to connect it manually - the soundbar does that automatically on startup. As the cherry on top, the HW-Q90R also comes with the One Master Remote Control*, and supports Bixby Voice Assistant*, allowing users to play music and more with a single command or button push.
The HW-Q90R is a perfect fit for audiophiles who want to go straight to the heavyweights. It's not just a heavy hitter, but a versatile one too a testament to the Samsung Harman Kardon name and its promise of audio excellence.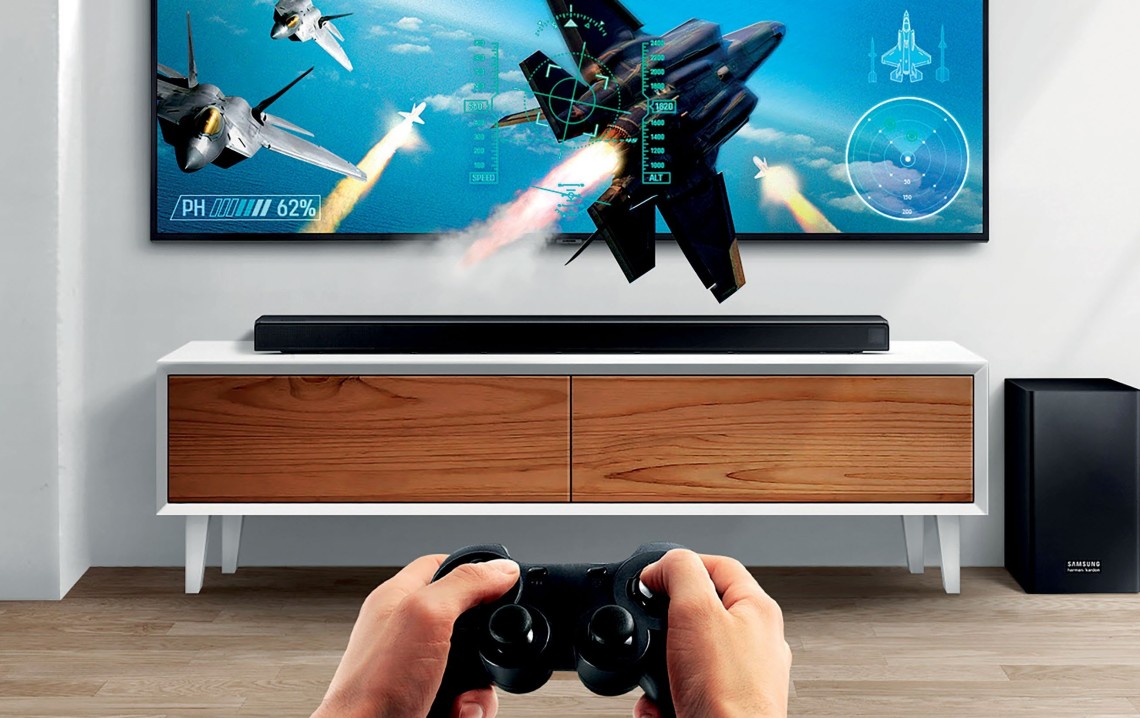 Visit http://bit.ly/HW-Q90R for more details.
*Detailed disclaimers apply.