FiiO M7 review By Marcus Wong
The FiiO M7 is a High Resolution Audio (HRA) player with a touch screen that costs just $329. Despite the low price, it comes with a 3.2-inch touch display that has a resolution of 800 x 480 pixels, a dual-core Samsung Exynos 7270 processor, and a Sabre ESS 9018Q2C DAC chip for speedy conversion of audio. It also comes with Bluetooth 4.2, support for aptX-HD, aptX and even Sony's LDAC format, thus allowing for quality streaming of High Resolution Audio (HRA) files. On that note, the M7 supports playback of APE, WAV, FLAC, AIF, DSD, M4A, WMA, OGG, AAC, ALAC and MP3 files, so it's safe to say your music library should be covered.
The M7 comes in a total of four colors – black, blue, red and silver. It measures just 109 x 52 x 13mm and weighs just 116g, so should easily fit into your pocket if you're on the go. It comes with just 2GB internal memory, but has a standard microSD slot for easy expansion.
The M7 is very smartly designed, with just four physical buttons (including the power button) on the player. Volume control is via a scroll wheel on the left of the player, and this is clicked for more accurate control. You can even disable the buttons when the screen is locked, so you won't accidentally skip tracks when your player runs against something else in your pocket.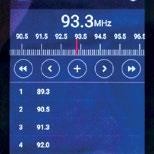 FiiO's bringing the radio back with its FM-tuner
Touch input is also well implemented with this DAP, letting you easily browse through your music collection or go through the settings on the player. There are two global shortcut gestures too – slide your finger up from the bottom left corner of the screen to go back a step. Slide it up from the bottom right, and you jump back to the main page. Simple, and effective.
Now despite being Android-based, there are no options that allow you to download additional apps, so you'll have to root the DAP or find some creative workaround, but then the lack of Wi-Fi support probably means it won't be worth your effort. 
As a bare bones DAP, it's good that FiiO's own music player gets the job done without much fuss. Browse via Album, Artist, or Genre with a couple of taps, and swipe up and down to easily scroll through your files.
The M7 comes with an in-built FM tuner too that uses your headphone cable as an antenna to get live radio on the go. This works surprisingly well, though we do wonder if they'd be able to offer an antennae accessory that went into the 3.5mm audio jack so you'd be able to continue using your wireless headphones. 88.3 Jia FM listeners may be disappointed to hear that we weren't able to pick up stations below the 89.0MHz band, but otherwise the M7 was able to receive all other local Singapore stations fairly easily (and clearly).
All in, the M7 is a handsome-looking DAP that easily fits in your palm without having to sacrifice functionality or ports to do so.
We tested the M7 with a variety of headphones, both wired and wireless, and the DAP powered them all nicely. There were no issues with streaming to wireless headphones, and having LDAC s was a nice plus. This particular feature was tested with the Sony MDR-1000X, and they sounded better than ever.
Touch input is well implemented with this DAP.
It also impressed us by delivering good detail with all the headphones we paired it with in our testing. We started off with Sweet Child O' Mine by Guns N' Roses, and got an energetic rendering of this classic track, with the guitars in the piece ringing out nicely.
Moving on to a jazz standard in Call Me Irresponsible by Michael Buble gave the M7 a chance to show off its ability to image the lower spectrum as it picked out the bass guitar and the saxophones in the piece quite easily, providing the perfect backdrop to Buble's vocals.
We then slowed things down by moving to a recording of Spanish Harlem by Rebecca Pidgeon, and found that the player did a great job providing a sense of atmosphere to the piece, rendering Pidgeon's haunting vocals well forward of the backing instruments while providing enough clarity to make out the shakers behind.
Finishing off with Hotel California by The Eagles, we were impressed by the detail the player was able to render, and with its stereo imaging capabilities. You feel like you're right there in the crowd, with the band playing in front of you. We'd say the player creates a medium-sized soundstage that's great for live recordings.
CONCLUSION
A DAP that provides you quality sound by paring everything down to the essentials, and that's not necessarily a bad thing.
AT A GLANCE
PROCESSOR Dual-core Samsung Exynos 7270
DAC ARCHITECTURE ESS 9018Q2C DAC
INTERNAL STORAGE 2GB internal storage; support for up to 512GB microSD
BATTERY 1880mAh
DIMENSIONS 109 x 52 x 13mm
WEIGHT 116g
PRICE $329
PICTURES FIIO