Huawei Nova 7 SE.
The Huawei Nova 7 SE is a pretty phone with a similar design language to the flagship P40 series, though it differs in colour choices. The rear - although feeling plastic to the touch - is quite smudge-free.
Over headlining features such as an AI-based quad-camera system and 5G-compatibility, the mid-range Nova 7 SE also has 40W fast-charging when its peers usually come with slower or no fast-charge capabilities. Of course, being a 2020 release means the Nova 7 SE runs on Huawei Mobile Services (HMS) instead of Google Mobile Services (GMS).
The Nova 7 SE handles as nicely as its flagship brethren. Perks and flaws are alike - from its grippy sides (good) to its raised camera housing (not so good). The one difference is the bezels around the display, which is slightly less refined than the P40's, but it also cuts down on accidental touch input.
The Nova 7 SE packs a 6.5-inch LTPS LCD display at 2,400 x 1,080 pixels resolution, working out to a pixel density of about 404ppi. It has 96% coverage of NTSC Wide Colour Gamut and HDR10 support, making it compatible with some HDR videos. It offers good colourisation and sharpness.
The device does run on Android 10, cloaked beneath Huawei's EMUI 10.1 reskin. That's the same interface as its flagship brethren, so little things like gesture control and colour palettes are all par for the course.
What stood out is the near-flagship fluidity of using the Nova 7 SE. It's a little odd considering mid-range devices tend to have minor delays or differences that are not noticeable unless you're gunning to expose them. The Nova 7 SE, however, has none of those hang-ups. If you weren't told it's a mid-range device, you wouldn't be able to tell from its performance outside of gaming.
The Nova 7 SE aces in its lift-to-wake display and nearly flawless fingerprint and facial recognition unlocking. Even in a dark room with no lights, the facial recognition feature has no issues granting access. If you can look past its user interface and the lack of GMS, the Nova 7 SE is relatively fuss-free to use compared to many other devices out there - not just mid-range rivals.
A headlining feature of the Nova 7 SE is generous imaging capabilities for its tier. The device's AI Quad Camera System offers up to four rear cameras at the back, starting with a 64MP main lens, an 8MP ultra-wide-angle lens, a 2MP bokeh lens, and a 2MP macro lens. This covers nearly all shooting scenarios, except for long-range shooting where the primary camera doubles up with 10x digital zoom.
The main camera offers surprisingly high-quality performance. It may not have the best contrast handling, but it aces in capturing colour and details, with very little noise even under the shade. The same can't be said for its ultra-wide-angle lens; it's sharp enough, but the level of detail and colours vibrancy takes a hit. We also found the macro lens to be rather excellent, even if it's not easily accessible from the camera's user interface.
With its Kirin 820 5G processor, the Nova 7 SE performs comparably to the Samsung Galaxy S10+, a flagship device from 2019. Huawei has included a reasonably generous 4,000mAh battery, giving us a reasonable 12+ hours of battery life in our tests. We think it's fair given its near flagship-tier performance. What we liked was the Nova 7 SE's 40W Huawei SuperCharge and its compatible fast-charging adapter in the box. It took less than 60 minutes to go from zero to a full battery.
Going by the technicalities, the Huawei Nova 7 SE is one of the best mid-range smartphones you can get. At $528, it's also great value for money compared to the Vivo V19 ($599) and Sony Xperia 10 II ($569). What makes this phone harder to judge is the lack of Google Mobile Services.
Personally, it would have been a toss-up between the Huawei Nova 7 SE and the Vivo V19. Unfortunately, the convenience of GMS for $70-odd dollars more would be why I'd pick the V19 instead.
Still, don't let my nitpicking stop you from getting the Nova 7 SE. Huawei has been closing the gap between its HMS offerings and GMS, and Huawei's AppGallery is actually quite serviceable today.
The AI Quad Camera System's main camera offers surprisingly high-quality performance.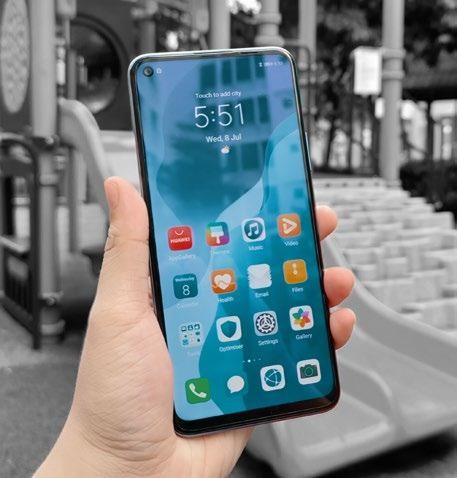 Being a 2020 release meant the Nova 7 SE runs on Huawei Mobile Services (HMS), on top of the lack of Google Mobile Services (GMS) compatibility.
AT A GLANCE
PROCESSOR
Huawei Kirin 820 5G
DISPLAY
6.5-inches, 2,400 x 1,080 pixels, LTPS LCD
CAMERA
64MP main, f/1.8 8MP ultra-wide angle, f/2.4 2MP bokeh, f/2.4 2MP macro, f/2.4
STORAGE
128GB, expandable up to 256GB
PRICE
$528
A single SIM slot with Huawei's Nano Memory slot sits on the Huawei Nova 7 SE's card tray.
The rear - which feels plastic to the touch is quite smudge-free if you compare it to P40 devices.
CONCLUSION
ONE OF THE BEST MID-RANGE PHONES AROUND…IF YOU'RE NOT TOO ADDICTED TO GOOGLE MAPS OR YOUTUBE.
PICTURES HUAWEI