The annual HWM+HardwareZone.com Tech Awards serves to honour the very best in tech brands, products and services.
WINNER
LG C9 OLED 4K TV
NOMINEES:
• LG C9 OLED 4K TV
• Samsung Q900R QLED 8K TV
• Sony A9G OLED 4K TV
BEST 4K TV
For 4K, you can't go wrong with any of LG's 2019 OLED TVs. But if we were to choose one, the LG C9 gets our nod because it offers terrific performance at a very reasonable price.
For a start, the LG C9 possesses all the hallmarks of a great OLED TV — perfect blacks, infinite contrast, great viewing angles and near-instant response times.
While not an 8K TV, the C9 is equipped with no fewer than four HDMI 2.1 ports and supports HDMI eARC. The latter means it can do lossless Atmos or DTS:X passthrough via Dolby TrueHD or DTS-HD Master Audio respectively to an external receiver.
The C9 plays nice with HDR10, Dolby Vision and HLG formats. With a typical HDR peak brightness of around 750 nits, it offers very good HDR performance overall. That said, this isn't the brightest TV we've test to date — if you're super into HDR or need a TV that performs well under high ambient lighting, there are brighter options (e.g., Samsung's QLED TVs).
Gamers will love the C9 for its very low 13ms input lag. Better yet, it supports both VRR (Variable Refresh Rate) and ALLM (Auto Low Latency Mode). In fact, a G-Sync update that arrived in late 2019 means that the C9 is one of the very few TVs today that will work well with not just recent Xbox One consoles but also systems that use an NVIDIA GeForce graphics card.
The best thing about the C9 is its price. Other than build quality, speaker and design, there's not much that separates the C9 from its most expensive OLED siblings. For the most part, they offer the same picture quality. Versus the other TVs, its value at the 65-inch class is unmatched.
WINNER
Samsung Q900R QLED 8K TV
BEST 8K TV
If you need a very big screen and 8K resolution, the Samsung Q900R QLED 8K TV is the one to get.
The Q900R's greatest strength is its extremely high brightness, which means the picture will look good whether you're using it in a bright family room or in a dark man cave. If you watch a lot of HDR content, this increased brightness can only be a good thing as it enhances realism.
Like Samsung's flagship QLED TVs in the past few years, the Q900R offers a class-leading local dimming performance. Coupled with an Ultra Viewing Angle tech that solves past QLEDs' narrow viewing angle problem, this is the most OLEDlike (in terms of black levels) Samsung TV we've tested to date.
The Q900R also sports a very low input lag, FreeSync/VRR support and excellent motion handling. One minor gripe we've is that while there's an HDMI 2.1 port on the One Connect box, there's no eARC support.
Samsung's QLED TVs, including the Q900R, also support Apple's AirPlay 2 and are the first TVs to offer the new Apple TV app. LG has announced that its 2019 TVs will be getting the Apple TV app soon.
Strange as it may sound but we think that the Q900R offers good value for the money — especially for the 75-inch and above segment. At S$17K, the 75-inch 8K Q900R costs about the same as the 77-inch LG C9, which is a 4K TV, which costs more. And versus the S$60K 88-inch LG Z9, which is the only 8K OLED TV that LG sells here, the 82-inch Q900R, which costs S$30K, looks like a bargain.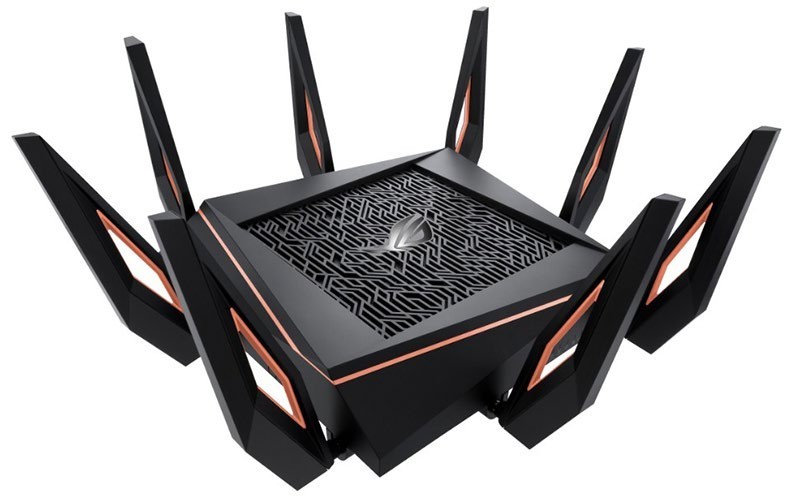 WINNER
The ASUS ROG GT-AX11000
NOMINEES:
• ASUS ROG Rapture GT-AX11000
• Netgear Nighthawk AX12 (RAX200)
• TP-Link Archer AX11000
BEST WI-FI 6 ROUTER
The ASUS ROG GT-AX11000  is the winner of this category for its blend of performance, features, and price. From our results, it may not be the outright performance champion, but its data transfer speeds, both download and upload, were still very decent across all ranges. To better understand the test results, the test routers are planted in the living room, while the compatible Wi-Fi 6 capable notebook was used as the client device to test the file transfer throughput at different locations within a typical apartment.
What's most impressive about the ROG GT-11AX11000 router is its suite of features. Gamers can look forward to features like Game Radar and data prioritization, whereas other features like DFS (dynamic frequency selection), real-time traffic monitor, and remote management via the ASUS Router app, makes it easy for users to manage and optimise their connection. Parents will also be happy to know that the ROG GT-AX11000 has robust parental control settings.
And while the ROG GTAX11000 is a pricey router, we feel that it's reasonably-priced when compared to its rivals. All in all, it's comfortably the best tri-band AX11000-class Wi-Fi 6 router you can buy today.
WINNER
The AMD Ryzen 9 3900X
NOMINEES:
• AMD Ryzen 9 3900X
• Intel Core i9-9900KS
BEST DESKTOP CPU
The AMD Ryzen 9 3900X  delivers in all the key areas, serving up excellent multithreaded performance and very respectable gaming numbers. In games, the AMD chip still lags behind at 1080p, but that difference-soon becomes inconsequential as you ramp up the resolution to 1440p and 4K. Single-threaded performance isn't that far behind the Intel Core i9-9900KS either, while it remains miles ahead in terms of heavily threaded workloads. Granted, we're comparing a 12-core chip against an 8-core one, but these are both high-end chips from their respective brands, and the Core i9-9900KS is currently Intel's top mainstream offering. They're both technically mainstream chips, and AMD simply offers more in terms of multi-threaded performance for this market segment.
Whichever way you cut it, the Ryzen 9 3900X is the more compelling option. And when you take into consideration its price, which sits at US$499 to Intel's US$599, the choice becomes pretty clear. What's more, the Core i9-9900KS is really just a top-binned Core i9-9900K, so it doesn't bring anything particularly new to the table.
WINNER
The Gigabyte X570 Aorus Xtreme
NOMINEES:
• ASRock X570 Taichi
• ASUS ROG Crosshair VIII Formula
• Gigabyte X570 Aorus Xtreme
• MSI MEG X570 Godlike
BEST MOTHERBOARD
The Gigabyte X570 Aorus Xtreme is quite clearly a cut above the rest here, boasting premium features like a true 16-phase VRM design, onboard 10G Ethernet, and passive cooling for the PCH that does away with noise entirely. The VRM implementation and passive chipset cooling are things that no other X570 board has, so the Aorus Xtreme is entirely unique in this respect.
The MSI board is too pricey, while the ASUS motherboard lacks meaningful differentiation from the Hero (Wi-Fi). The ASRock board is a decent alternative if you're on a tighter budget, but it doesn't really compare in terms of usability and features. I'm not saying you shouldn't buy the ASUS ROG Crosshair VIII Formula or MSI MEG X570 Godlike though. The ASUS board will still serve you well if you want to try liquid-cooling your VRM and prize bells-and-whistles like the configurable OLED display. Similarly, the Godlike motherboard places a strong focus on aesthetics and will be a good fit for someone who can utilize its bundled 10G and M.2 expansion cards. 
But if you're just looking for a solid board that will give you the most utility, there's no beating the overall proposition of the Gigabyte X570 Aorus Xtreme.
WINNER
ASUS ROG Strix GeForce RTX2080S A8G Gaming card
NOMINEES:
• ASUS ROG Strix GeForce RTX 2080S A8G Gaming
• EVGA GeForce RTX 2080 Super XC Ultra, Overclocked
• GALAX GeForce RTX 2080 Super EX 1-click OC
• Gigabyte GeForce RTX 2080 Super Gaming OC
• MSI GeForce RTX 2080 Super Gaming X Trio
• Palit GeForce RTX 2080 Super White GameRock
• Zotac Gaming GeForce RTX 2080 Super Triple Fan BEST GAMING
GRAPHICS CARD ASUS ROG Strix GeForce
RTX2080S A8G Gaming card ultimately came ahead because of its strong performance in areas that really matter, such as cooling. Cooling is the one area where there's an obvious and measurable difference between the cards, so ASUS scores big points here. On top of that, it comes with several value-added features to help it stand out, such as additional RGB and fan headers. The card also features a BIOS switch to change fan profiles and a toggle button to instantly switch off its LEDs. Overclocking performance may be lacklustre, but no one else did well either, and it seems unfair to assign too much weight to overclocking performance given the possible variances between samples. The biggest drawback is its price. At S$1,499, it's significantly more expensive than even the MSI GeForce RTX 2080 Super Gaming X Trio, which costs S$1,288. Still, the fact remains that this is the best performing card and the one with the richest feature set.
WINNER
Aftershock Vapor 15 Pro
NOMINEES:
• Acer Predator Triton 500
• Aftershock Vapor 15 Pro
• Alienware m15 R2
• Aorus 15 XA
• ASUS ROG Zephyrus S GX502
• HP Omen 15
• Lenovo Legion Y740
• Razer Blade 15
BEST GAMING NOTEBOOK
It's amazing how much has been packed into this laptop without driving up the price. At S$2,799, the Aftershock Vapor 15 Pro makes hardly any sacrifices and is fully capable of competing toe-to-toe with laptops that cost nearly a thousand dollars more. If you liked the Razer Blade 15 but thought it too pricey, the Vapor 15 Pro will make you very, very happy. The two laptops look really similar, and the Vapor 15 Pro even offers additional features like a mechanical keyboard and SD card reader. It also has slightly better port placement with the Thunderbolt 3 and HDMI ports located at the rear. More importantly, it's a lot lighter, weighing just 1.87kg to the Blade's 2.15kg.
In a nutshell, the Vapor 15 Pro is light, has a long-lasting 94Wh  take any modern game you throw at it, and it'll do so without outputting a ton of heat and noise. As a result, it handily beats the rest of the competition and is quite simply the best gaming notebook you can get today.
WINNER
Sekiro: Shadows Die Twice
NOMINEES:
• Borderlands 3
• Devil May Cry 5
• Resident Evil 2 Remake
• Sekiro: Shadows Die Twice
• Total War: Three Kingdoms
GAME OF THE YEAR
Most gamers would have a screen-smashing, controllertossing relationship with this title, just like they would for Dark Souls or Bloodborne. Yet, while I find myself part of this demographic, I have to admit there's just something about From Software's gritty, Japanese-inspired adventure that keeps me coming back for more (deaths). Is it the stunning, graceful beauty of the landscapes? The unrestrictive sandbox nature of the gameplay? Or is it something even more primal yet; the simple satisfaction and sense of achievement that comes with beating a difficult opponent? 
Perhaps it's all three, but there's no doubt that Sekiro is an amazing game through and through because of it. Try (and die) as you might, it's certainly a marvellous throwback to a time when we gamers were really "in it to win it", so to speak.
WINNER
The PIXMA Ink Efficient G7070
NOMINEES:
• Brother DCP-L3551CDW
• Canon G7070
• HP OfficeJet Pro 9020
BEST SOHO PRINTER
Canon launched the PIXMA Ink Efficient G7070 recently with added productivity features such as automatic two-sided printing, massive paper feeding capacity, large document automatic document feeder, and full network compatibility. Besides network printing capabilities, it could print from various mobile devices through wireless printing.
With its fairly small footprint, the Canon PIXMA Ink Efficient G7070 was still able to handle most print, scan, and copy demands we threw at it. 
While it was the slowest to print in this group of printers, the results for both the text and image quality were very good and accurate with little colour saturation or bleeding.
One really good feature is the low running cost. The high print volume coupled with the lowest costing replacement cartridges made this the most cost-efficient model tested. Being able to physically see ink levels made it easy to judge when you needed to buy more.
WINNER
Samsung Galaxy Fold
INNOVATION AWARD
The Samsung Galaxy Fold was one of the most important phone launches of 2019. It's a landmark phone, not just for Samsung but for the entire phone industry. Granted, it got off to a rocky start, but Samsung should be commended for swiftly taking action and correcting its course. More importantly, the Galaxy Fold will be remembered in history as being the first mass-market foldable phone, selling at least 400,000 units and that's an impressive achievement.
It's also a showpiece, not just for foldable display technology, but what's possible if price was of no concern and all the latest in mobile and display technology were crammed into one phone. In short, it's a glimpse into the future. It's still early days yet for foldable displays and foldable phones but if foldable phones do take off in the near future, we all have the Galaxy Fold to thank.
WINNER
Samsung Galaxy Note10+
NOMINEES:
• Apple iPhone 11 Pro Max
• ASUS ROG Phone II
• Google Pixel 4XL
• Huawei Mate 30 Pro
• Samsung Galaxy Note10+
BEST SMARTPHONE
This year, the best overall smartphone goes to the Samsung Galaxy Note10+ because it has a feature set that other phones struggle to match. Overall, we feel it's the strongest all-rounder phone, is thoughtfully designed, brimming with features and performance and even quite competitively priced.
Its 6.8-inch AMOLED display is expansive, sharp, vibrant, and just downright gorgeous. You can't help but be amazed the first time you lay eyes on it. Its cameras get new feature capabilities focused on improving video shooting performance such as Live Focus Video, Zoomin Mic, and enhanced screen recording capabilities such as PiP.
Powered by Samsung's Exynos 9825 processor, the Note10+ also offers good general performance. The S Pen is as useful as ever and continues to be one of the defining features of Samsung's Note series. It also makes it one of the rare few phones to come with an integrated stylus whose functionality improves year- on-year.
WINNER
HP Spectre x360 13
NOMINEES:
• Acer Swift 5
• ASUS ZenBook 14 UX434
• Dell XPS 13 2-in-1
• HP Spectre X360 13
• Lenovo Yoga S940
• LG gram 14
• Microsoft Surface Pro 7
• Razer Blade Stealth (Late 2019)
BEST ULTRAPORTABLE NOTEBOOK
This year saw the release of many seriously competent notebooks. Many were thoughtful, some offered good value of money, a couple were downright beautiful, but there could only be one winner and it is the HP Spectre x360 13.
The Spectre x360 13 won because it does a lot of things right. To begin, the design is fantastic. And because it is a convertible, it's versatile too. It has an edgy, angular look that has become a signature of the brand and it is really compact. The display is brilliant and has really small bezels. Usually, a compact design means trading off some ports, but the Spectre has just about all the ports you could want from an ultraportable notebook – two USB-C Thunderbolt 3 ports and even a full-size USB-A port. Finally, another thing that it does really well is its battery life. In our tests, we found that it lasts considerably longer than its rivals. Really, its only glaring faults were its below-average graphics performance and its tiny trackpad. Overall, the Spectre x360 13 is the best ultraportable notebook at the point of publishing this article.
WINNER
ASUS ZenBook Pro Duo
INNOVATION AWARD
Massive advances in cellular and wireless connectivity means mobile computing is now more important than ever. Certainly, apart from phones, notebooks have seen the biggest changes and improvements in terms of form factor and design. Hybrid form factor notebooks such as convertible and detachable notebooks are more popular than ever and have helped people become more productive. And now, it seems like we are on the cusp of a new era of notebooks thanks to the ASUS ZenBook Pro Duo UX581, which features not one but two displays.
To be fair, dual display notebooks are not entirely new but the ZenBook Pro Duo UX581 deserves accolades for being the most refined and thoughtful dual display notebook that we have seen yet. Most importantly, it overcomes the issue of a second display just for the sake of it. On the ZenBook Pro Duo UX581, the second display, called the ScreenPad Plus, is 14 inches large and shares the same horizontal pixel count as the main display so that content flows seamless from one display to the next. ASUS has even gone to the trouble of ensuring it has a matte display and that it's placed as close to the main display as possible and at a fixed angle so that users' eyes can glance at the two displays easily. In short, the two displays isn't just a gimmick, it really works and, in the right hands, can be really helpful.
WINNER
Bose Headphones 700
NOMINEES:
• Beyerdynamic Lagoon ANC
• Bose Headphones 700
• Jabra Elite 85h
• JBL Live 650BT
• Master & Dynamic MW65
• Plantronics Backbeat Go 810
BEST NOISE-CANCELLING HEADPHONES
The Bose Headphones 700 represents a new approach to noise-cancelling by Bose, with a fresh new design and an improved noise-cancelling system. These offer slightly better noise-cancelling than the QuietComfort 35 II and let you control the amount of ambient noise that comes in so you can still retain awareness of your surroundings. Being able to switch between two devices without having to go through the pairing process is nice too, as is the shift to using USB-C for charging.
However, there the improvement in noise-cancellation isn't enough to dethrone the Sony WH1000XM3, which is still the quietest headphone we have used. And in terms of outright sound quality, the Bose Headphone 700 is trumped by the Beyerdynamic Lagoon ANC and Master & Dynamic MW65.  That said, even though the Bose Headphones 700 may not be the best in any one area, it is strong in all of them and is the best all-round option. It offers good noise-cancellation, a comfortable fit, and very decent sound quality. For these reasons, it is our best noise-cancelling headphones of 2019 and for Tech Awards 2020.
WINNER
HP Colour Laser Jet Pro MFP M479fdw
NOMINEES:
• HP Colour LaserJet Pro MFP M479fdw
• Epson WF-C579R
• Canon MF746C
• Brother MFC-L8690CDW
BEST WORKGROUP OFFICE PRINTER
A laser-based printer, the HP Colour LaserJet Pro MFP M479fdw is of fairly standard size and weight for office deployment, which means it does take up space so it's less suitable for those with small offices. One of its highlight features is the 4-inch LCD touch display. The screen was large enough to have a QWERTY keyboard on it. The menus are also straightforward and can be easily navigated.
We also liked the Wi-Fi connectivity options offered. It was one of the few tested that had 5GHz connectivity with no problems detecting our wireless networks in the test lab (as opposed to some of the contenders that could only latch on to the 2.4GHz network). It can print in full colour or monochrome at close to the stated 30 pages per minute and can auto-scan two-sided documents, thanks to its auto-document feeder.
We liked the speed of the printer, with the HP Colour LaserJet Pro MFP M479fdw being the fastest printers we tested. It was the fastest to print the first page and also our test document set. It was easily the fastest we tested and the results were not lacking in any way.
WINNER
Apple Watch Series 5
NOMINEES:
• Apple Watch Series 5
• Fitbit Versa 2
• Garmin Venu
• Huawei Watch GT 2
• Samsung Galaxy Watch Active 2
BEST SMART WATCH
Last year's contenders saw fitness wearables get serious with better displays and improved smart functionality. This year smartwatches strike back with a greater fitness focus for serious athletes such as VO2 Max being normalised. We also get many more health features from nice-to-haves such as menstrual cycle monitoring to medical-grade ECG expanding beyond the Apple Watch. 
However, from the perspective of getting a full package, the Apple Watch Series 5 gets a clear, decisive victory. It's admittedly pricey and is the only modern smartwatch that requires daily charging, but while the competition is figuring things out, every function, feature and design element of the Apple Watch Series 5 is usable right out of the box. It has the most polished user interface of the lot. It also has the largest app ecosystem and the widest after-market customisation options too. For Apple users, there is no better option.
WINNER
Sony WF-1000XM3
NOMINEES:
• Apple AirPods Pro
• Audio-Technica ATH-CKS5TW
• Creative Outlier Gold
• JBL Reflect Flow
• Klipsch T5 True Wireless
• Master & Dynamic MW07 Plus
• PaMu Slide
• Plantronics BackBeat Pro 5100
• Sennheiser Momentum True Wireless
• Sony WF-1000XM3
BEST TRUE WIRELESS EARBUDS
The Sony WF-1000XM3 is easily the best true wireless headphone for most people. To begin, its active noise-cancellation is so good that it puts some full-size active noise-cancelling headphones to shame.
Excellent noise-cancellation aside, it also sounds great. Its clarity and resolution are impressive for a wireless audio device and its impactful, fullbodied sound belies the fact that it's a tiny wireless earbud. Its comfortably one of, if not the best sounding true wireless earbuds in the market right now.
Finally, Sony has made meaningful updates to the companion app, so this gives you the ability to customise the earbuds. Whether it's adjusting the level of ambient noise you hear, or what controls go to which earbud, that can all be set in the app to your liking, so you can personalise your experience. With all this said, it's easy to see why it's our pick for best true wireless earbud of 2019 and our winner in this category for Tech Awards 2020.
WINNER
Samsung Micro-LED Display Technology
INNOVATION AWARD
Can you have your cake and eat it? Samsung seems to have found the way with TVs with micro-LED technology. It's a new display technology that claims to have all of the benefits of traditional OLEDs (inky blacks and high contrast levels) with none of the drawbacks (image burn-in and inadequate brightness for vidid HDR content).
Very briefly, micro-LEDs are so-called because it uses tiny LEDs to create images. And because each LED has its own RGB sub-pixels and can generate its own light (much like OLED), there's no need for backlights like traditional LEDs. This means deep blacks and uniform lighting across the entire display. And because they are LEDs, they can get bright, which makes them great for HDR content and more flexible in homes that can get very bright during the day. Finally, because micro-LEDs are inorganic, they can have a long lifespan (up to 100,000 hours) and there's no risk of burn-in. The latter is perhaps OLED's greatest shortcoming. The poster boy for microLED display technology that's currently available for commercial and residential use is Samsung's The Wall Luxury, which uses multiple micro-LED panels to create a screen that can range from 73 inch, all the way to 292 inches. Unfortunately, micro-LED remains difficult to manufacture, hence its high price. But it's a promising piece of technology that could have a great impact on not just TVs but all kinds of displays.
WINNER
Samsung ISOCELL Bright HMX mobile image sensor
INNOVATION AWARD
Phones today are not just communication devices, they are also cameras. Which is why brands work so hard at ensuring their phones take brilliant pictures. Doing this requires great camera sensors and Samsung has just provided ammunition to phone makers in the form of its ISOCELL Bright HMX mobile image sensor.
It's a sensor that takes photos at mind-boggling 108-megapixels and has a large sensor size of 1/1.33-inch. Its sheer size allows it to take photos, especially in low-light conditions. But size aside, it also has pixel-binning technologies that enable it to combine its tiny pixels to create a larger one to take bright, albeit lower resolution photos. This should mean better photos especially in challenging lighting conditions – a problem that plagues all smartphones because of their tiny sensors. Not only do you get detailed photos, but you could potentially crop in and still get very usable images without resorting to telephoto mode.
The first phones to use Samsung's ISOCELL Bright HMX are already in the market and they seem to be capable of taking some really impressive photos. First out is Xiaomi's Mi Note 10 Pro, and Samsung's very own Galaxy S20 Ultra is hitting the shelves next month.
More are expected to come throughout the rest of the year so 2020 could very well turn out to be a landmark year for mobile phone photography, spearheaded by Samsung's game-changing mobile sensor.