LED lighting and gaming keyboards go together like noobs and tears. In the past, LED lighting was mostly for show. Today's gaming keyboards can be programmed to light up individual keys or only keys when certain conditions are met.
LED lighting and gaming keyboards go together like noobs and tears. In the past, LED lighting was mostly for show. Today's gaming keyboards can be programmed to light up individual keys or only keys when certain conditions are met.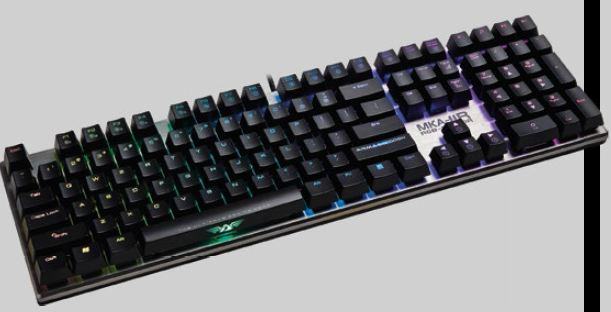 ARMAGEDDON RGB RAPTOR MKA-11
The Armageddon RGB Raptor MKA-11 is an industrial-style mechanical keyboard with the key switches attached directly to an exposed aluminum plate. Below the plate, a glossy, black plastic layer forms the base of the unit. Underneath, two small feet let you change the angle of the keyboard. The MKA-11 doesn't have any dedicated macro keys but you do get some media control keys in the top right corner above the number pad.
The switches on the MKA-11 are Kailh clones of Cherry MX switches, rated for the same 50 million keystrokes. Kailh switches are made in China, while Cherry switches are made in Germany, but otherwise seem functionally identical. There are reports of Kailh switches not being as consistent as Cherry switches in terms of actuation force and distance, but I experienced no such issues with this keyboard. My review set is equipped with Kailh blues, and in usage, the switches feel functionally identical to Cherry MX Blues. Obviously I haven't been able to put them through 50 million keystrokes to see if they hold up, but I've no complaints so far. One thing that's nice about Kailh switches is that the stems are compatible with keycaps made for Cherry switches, so you can easily switch to a custom set if you want. The default keycaps have a shallow curve to them, but are otherwise fairly standard. The keyboard has full N-key rollover and anti-ghosting, so you'll have no problems with dropped input.
LED lighting on the keyboard can be controlled through software or by using the Fn key + F1 - F11 to cycle through the eleven various effects (F12 turns the lighting off). The lights aren't as bright as the lighting we've seen on other keyboards but they're sufficient.
Macro recording can't be done on the fly and has to be set up through Armageddon's software. The software lets you set up profiles for each game, and you can then record macros and assign them to different keys. Every key can be programmed, except for the four media keys in the top right – which is a bit frustrating as their position makes them perfect macro candidates.
+Dedicated media control keys. Choice of Kailh switches.
-No on-the-fly macro recording. No dedicated macro keys.
COOLER MASTER MASTERKEYS PRO L
Cooler Master's new Masterkeys Pro keyboard line comes in two variations: L and S. The Pro L is a full-sized keyboard, while the Pro S is a tenkeyless option. In addition to a numberpad, the Pro L also gets four additional profile switching keys in the top right corner. Both keyboards use a simple, matte black two-part plastic frame, with a steel plate inside for stability. The plate is painted white to better reflect the LED lighting. On the bottom of the keyboard, two flip out plastic feet let you adjust the typing angle. The keyboards connect through a detachable braided micro-USB cable, which is nice since you can replace it if it gets damaged.
Both keyboards are available in Cherry MX Brown, Red or Blue switches and use standard Cherry MX stems. On all three versions, the switch housing is transparent, which helps the LED lighting shine through. Cooler Master has also redesigned the PCB with smaller cutouts to let the LEDs sit snugly against the switches. This results in much brighter and more uniform backlighting. In fact, the Masterkeys Pro L is probably the brightest keyboard in our shootout. The keyboard also has full N-key rollover and anti-ghosting.
Inside the keyboard, a 32-bit ARM Cortex M3 72MHz processor and 512KB of memory are included for storing and playing back custom macros, which can be programmed on the fly without the need for any software. The ARM processor also controls the keyboards lighting options. By default, pressing FN and F4 will cycle through various patterns and modes, including wave, static and reactive effects as well as some silly options like being able to play Snake on the keyboard with the arrow keys. In most modes, you can control the color using FN and F1, F2 and F3, which represent the red, green and blue channels respectively. You can mix and match these levels to create pretty much any color. You can also create your own per-key pattern. In this mode, the FN key will light up in the currently selected color, and you then tap any keys you want in that color.
While the keyboards don't require any software to use, Cooler Master does provide software for users who prefer an easy-to-use GUI to customize their macros or lighting options.
+Removable micro-USB cable. Bright LED backlighting. Full features without software installation.
-No dedicated media or macro keys.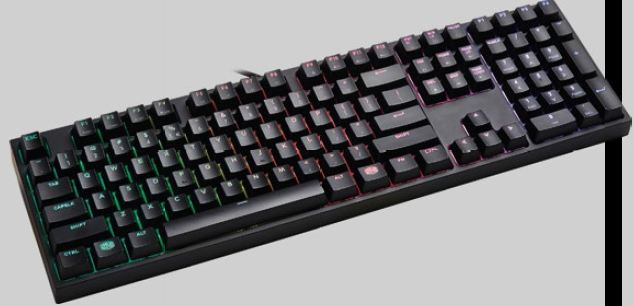 CORSAIR K95 RGB
The Corsair K95 RGB is a massive keyboard with a detachable wrist rest and a whopping 18 dedicated 'G' macro keys on the left-side. Like the Armageddon MKA-11 and Razer BlackWidow X, the K95 has an industrial design with the keys attached directly to an aircraft-grade black anodized aluminum plate. The metal construction is rock solid and looks great, while the soft-touch, textured wrist rest is comfortable and practical. If I have one complaint, it's that the 'G' macro keys sit on a plastic extension connected to the aluminum plate which doesn't look as nice and makes the keys feel different too.
At the top right of the keyboard, you also get dedicated media keys and a volume wheel. Small rubber feet on the base of the keyboard let you adjust the typing angle. A small BIOS switch on the back lets you choose between 1ms, 2ms, 4ms, and 8ms polling rate, but there's really no need to set it to anything but 1ms.
The keyboard uses Cherry MX switches in a choice of Red or Brown and uses standard stems and keycaps that can be easily replaced with a custom set. Like the Cooler Master Masterkeys Pro, the switch housing is transparent, which helps the LED light shine through. The keyboard has 122-key rollover and anti-ghosting.LED lighting on the K95 RGB is nice and bright and can be programmed to glow in any color. Each key can be individual programmed to display a different color. You can also add effects, such as changing the key color when pressed. The usual wave, ripple, and breathe effects are also available. Lighting is controlled through an onboard 32-bit ARM processor.
On top of the 18 G keys, the keyboard also has three M profile keys that you can switch between, giving you a total of 108 programmable commands. Macros can be recorded on the fly with the MR button, but you'll need the Corsair Utility Engine software installed to do so.
+Removable wrist rest. 18 macro keys. Dedicated media keys.
-Pretty expensive. Large footprint.
LOGITECH G810 ORION SPECTRUM
The G810 Orion Spectrum is a compact mechanical keyboard with a simple black plastic housing that is matte on the top and glossy on the sides. Inside there's a steel plate for stability. The G810 makes good use of available space with dedicated media controls at the top right, which includes a volume scroll wheel. On the bottom of the keyboard, two feet let you adjust the typing angle between 0, 4, and 8 degrees.
The G810 uses Logitech's Romer-G switches, which are made in Japan by Omron, and are rated for 70 million keystrokes, making them more durable than both Cherry and Kailh switches. The switches are non-clicky and have a low 45g actuation force (the same as Cherry MX Browns and Reds) and a very light tactile bump. The switch has a short actuation point of 1.5mm (MX Browns are 2mm) and travel from actuation point to bottoming out is also quite short – I estimate total travel to be about 3mm. Compared to MX Browns, the Romer-G switches feel a little softer, almost like Browns with dampening rings. The keyboard features 26-key roxllover and anti-ghosting.
Romer-G switches use a unique stem, so unfortunately the keycaps aren't easily replaceable. On the plus side, the default keycaps feel fairly standard, with a comfortable sculpted curve.
The G810 runs on Logitech's Gaming Software, which you can use to easily reprogram certain keys, link games to custom profiles and play with the keyboard's full RGB backlighting. The software will automatically scan your system for installed games and create profiles for them. The G810 doesn't have dedicated macro keys, but with Logitech's software you can program macros or key commands and bind them to F1 through F12 instead.
Lighting can be configured on a per-key basis, or you can opt for patterns such as a rainbow wave that passes along the keyboard. You can also have the keys change color when you tap them. Customization isn't quite as deep as what you get with Steelseries, Razer or Roccat, but most of the basics are there.
RAZER BLACKWIDOW X CHROMA
The Razer BlackWidow X Chroma is Razer's newest mechanical keyboard and is basically a stripped down version of its existing BlackWidow Chroma. The main difference is the lack of a plastic faceplate covering the keyboard. Instead, you get an exposed military-grade metal top plate (which is also found inside other Razer BlackWidow keyboards) with the switches attached directly to it. It's a look that's also favored by Corsair and Armageddon. Razer has also removed the macro keys from the left-side of the keyboard, resulting in a slightly smaller footprint. Unlike some of the other BlackWidow keyboards, there are no USB or audio ports on the X Chroma.
The BlackWidow X Chroma is only available in Razer's Razer Green switch, which is built for Razer by Kailh. It's a tactile, clicky switch that feels very similar to Kailh or Cherry MX Blues. The only difference – and it's a small one – is a marginally higher actuation point. According to Razer, Razer Switches are rated for 60 million keystrokes, 10 million more than either Cherry or Kailh's own switches. Unlike most custom switches, Razer switch stems are actually compatible with Cherry stems, however, the bottom row uses non-standard sizing, so it's not easy to find a full set of custom keycaps. Razer has also ditched its custom letter font on the X Chroma, in favor of a more normal, easier-to-read one. One complaint I have with the default keycaps is that they pick up fingerprint oil and smudges very easily, so you're frequently having to clean them.
As with all of Razer's peripherals, you'll need to install and sign up for a Razer Synapse 2.0 account. This saves all of your settings in the Cloud, so you can take your keyboard with you, plug it into a new computer, load up Synapse and have all of your macros and lighting options still be there. Synapse has great lighting options with a comprehensive and easy-to-use configuration menu that lets you set up per-key illumination or whole keyboard lighting options. You can also use Synapse to program macros, alternatively, on the fly macro recording is also available.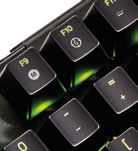 ROCCAT RYOS MK FX
The Roccat Ryos MK FX is a huge keyboard that is built entirely from matte black plastic but feels solid and looks great with its micro-dot glossy pattern – it also has one of the thickest braided USB cables I've ever seen. Like Roccat's other Ryos keyboards, the MK FX has a large, un-removable wrist rest, which might be an annoyance to those with limited desk space, but personally, I found it comfortable and well-positioned. The wrist rest itself has three 'thumbster' buttons that sit just below the spacebar. The positioning of these macro buttons means they can be hit with minimal effort, unlike the macro buttons commonly found on the left side of most gaming keyboards – speaking of which, you get five of those too. At the top left corner, the Ryos MK FX has headphone and microphone ports. On the bottom, two flip out rubber feet let you adjust the typing angle.
The MK FX uses Cherry MX Brown switches with standard stems and transparent switches. Unfortunately there's no option for Red or Blue switches.
The MK FX uses two on-board 32-bit ARM Cortex processors, one to control lighting and one to control macros. You also get 2MB of onboard memory to store all of your configurations, as well as full N-key rollover and anti-ghosting. You'll need to install Roccat's Swarm software to control the lighting. Inside Swarm, you'll find AlienFX, which was created in collaboration with Alienware. AlienFX is one of the most comprehensive lighting software we've seen, with in-depth customizable per-key lighting and a variety of whole keyboard effects. The lighting itself is bright and uniform
.One other feature worth mentioning is Roccat's Easy-Shift[+] key, which replaces the caps-lock key. This key lets you assign secondary functions to any other key (including the three thumbster keys and five macro keys), effectively letting you double up the amount of macros and commands you can store. Holding down the Easy-Shift[+]key while simultaneously hitting another key activates any secondary function you've assigned. If you want the caps-lock to function normally, you can create a Windows profile for when you're not gaming, or remap Easy-Shift[+] to another key.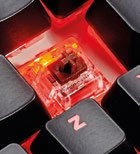 STEELSERIES APEX M800
The Apex M800 is Steelseries' first completely new mechanical keyboard since the legendary 7G. The keyboard isn't the most attractive out there with its utilitarian matte-black plastic build but it does the job. On the underside, instead of flip out feet, the M800 has two removable rubber feet – you get a pair of short ones pre-installed, and a longer pair in the box. Along the left side of the keyboard, you get six macro keys. The layout is fairly standard, except for an unusually large space bar. On the back there's two USB 2.0 ports, but their position makes them somewhat awkward to use.
The M800 uses a completely new type of mechanical switch that Steelseries has custom designed in collaboration with Kailh. The QS1 switch is designed for low-profile operation and uses a square plunger and a small spring with enough space in the middle for an LED. The low-profile design is obvious from the get-go. The keycaps are about half the size of standard mechanical keyboard keycaps, and the switch itself only has 3mm of travel. The actuation and reset point are also really short at 1.5mm. The actuation force is 45g – the same as Cherry MX Red and Brown switches. The switch itself is linear and almost completely silent. In usage, it feels like an MX Red switch, but softer, like Red's with a dampening ring. They actually feel like linear versions of Logitech's Romer-G switches. The QS1 switches are rated for 60 million clicks, which is 10 million more than Cherry switches. Due to the low-profile keys and custom switch, you won't be able to easily replace the keycaps on the M800.
LED lighting can be controlled through the keyboard itself or through the M800's SteelSeries Engine 3software. Each key's LED can be customized, and the software comes with a range of pre-set patterns and illuminations. I'm quite fond of the default lighting pattern, where keys glow blue when they're pressed before fading back to orange, which makes the keyboard look like a heatmap. The lighting itself is bright and even, and the range of customization is on par with anything else out there. Macro recording is also done through the software, and is easy to use, with options for multiple inputs, delays and other shortcuts.
TT ESPORTS POSEIDON Z RGB
The TT eSports Poseidon Z is a compact mechanical keyboard with a simple matte black, plastic build. The keys are mounted onto a steel plate for extra stability, and the plate itself is finished in a reflective, glittery coating that helps reflect the LED lighting. The keyboard doesn't have any dedicated media or macro keys, so the Function keys double up as media controls, while the Insert row is used to store macros (and to activate N-key rollover). There's also an on/off arrow switch in the top right corner that activates gaming mode, which makes the macro keys usable, and also turns the Windows key into another control key.
Under the keys, the Poseidon Z uses Kailh mechanical switches, the Chinese clones of German Cherry MX switches. Unlike the transparent switch housing used on Cherry's RGB switches, the Kailh switch has the LED built into the top of the switch. This results in the lighting not being quite as bright or uniform as Cherry switches (we also saw this with the Armageddon MKA-11). According to Kailh, their switches are rated for 50 million key strokes, which is exactly the same as Cherry switches, but it remains to be seen if they'll actually hold up for that long. The Poseidon Z is available in either Blue or Brown switches, both of which are tactile. Unfortunately, there's no option for the linear and very popular Red switch, which is unusual for a gaming keyboard.
Thermaltake uses an NXP LPC11U3 micro controller inside the Poseidon Z, which combines a 32-bit ARM Cortex M0 core with a 16-bit LED controller. The keyboard requires installation of TT eSports' Poseidon Z RGB software to control the lights, as without it, it will just shine a monotonous red color. Once installed, lighting is easy to configure and the software gives you full control over the color of each key, as well as a number of animations and effects. The backlighting isn't quite as bright as others we've seen, but it's sufficient. With the software installed, you can also record macros on-the-fly by pressing Fn + F9. Overall, while the Poseidon Z RGB doesn't offer a whole lot in terms of features, it gets the job done, and it's also much cheaper than our other keyboards.
AND THE BEST RGBMECHANICAL GAMINGKEYBOARD IS 
ROCCAT RYOS MK FX
The Roccat Ryos MK FX offers the most features out of all of our mechanical keyboards, while keeping things affordable. While its non-removable wrist rest may make it unsuitable for those with limited desk space, it is both comfortable and practical. We loved the thumbster macro keys, which are much easier and quicker to hit than the awkwardly positioned macro keys on most keyboards. We also liked the EasyShift[+] key and the LED lighting and macro customization provided by Roccat's Swarm software.
Standard Cherry MX switches and stems also means proven reliability and easily replaceable keycaps, should you want a custom set. The only negative thing worth noting is a lack of switch choices. If you like MX Browns, the Ryos MK FX should be your first choice, but if you prefer other Cherry switches, you can opt for the Roccat MK Pro (which lacks RGB lighting but available in Cherry MX Red, Brown, Black and Blue).