your guide to luxury Travel & Wellness
HONG KONG, CHINA
LEVITATE

Experience the Lightness of Hong Kong's First Family Wellness Spa
LOCATED AT SHOP B, Level 2, 11 Shum Wan Road, Levitate is a welcome addition to the spa scene on the South Side of Hong Kong island.
The brainchild of Joey and Gordon Hui, chairman of Sunseeker Asia, Levitate aims to transform people of all ages to a relaxed state. The inspiration for the spa came from the joy of parenting their 21-month-old daughter victoria and the desire to enable families to enjoy a spa visit together. Levitate's approach is to 'Revive' by rejuvenating and recharging, 'Reflow' by enhancing circulation and creativity, and to be 'Reborn' with an elevated feeling.
The two-storey, 3,800sqft spa features a lofty entrance, expansive French doors and windows combined with muted tones, which let the spirit soar and lull the senses in preparation for the therapeutic treatments.
A first for Hong Kong, Levitate offers massages by professional therapists for babies aged two to 18 months. A growing trend, baby massage is beneficial to both infants and parents and is one of the best ways for them to bond. Besides helping babies sleep better, the affectionate touch and rhythmic movements improve their circulation. parents are also encouraged to learn baby massage techniques from the therapists so they can pamper their babies at home to promote their overall wellness.
Adults can indulge in an array of restorative spa treatments, including reflexology, facials, hot stone and bespoke massages with aroma oils custom blended to suit individual needs. Using only the best products from premium beauty brands such as organic pharmacy, Aromatherapy Associates and RK Beauty, treatments at Levitate leave one with an elevated state of mind and lightness of being.
Levitate Shop B Level 2 11 Shum Wan Road Aberdeen, Hong Kong Tel: (852) 2997 2787 Fax: (852) 2997 2719 Email: info@levitate.com.hk; booking@levitate.com.hk www.levitate.com.hk
BODYWIZE DAY SPA • YOGA • FITNESS
THE MULTI-AWARD-WINNING wellness group Bodywize Wellness relocated to two new locations in Causeway Bay, hong Kong. In one of the most stylish shopping areas, both locations showcase very different facets of Bodywize in offering healing therapies and wellness practices, while adhering to the group's initial core value: Wellness…as a way of life.
Retreat by Bodywize, with its subtle art deco and spacious area, is a perfect spiritual and wellness destination in the centre of the city. Begin your beauty journey with a walk along the promenade, bathe in the natural sunlight that shines through the window and immerse yourself in the leisurely atmosphere. The sanctuary offers a full range of spa facilities dedicated to every individual client, from classic to advanced-tech treatments, such as 'The red Carpet Treat (Biotox)', which won the 'medi-Spa Treatment of the Year' at the AsiaSpa Awards 2015. It gives the same results as Botox, but without any injections and is non-invasive.
Bodywize Yoga & Fitness, the newly located 3,000sqft studio, offers Bodywize Air therapy, yoga and body conditioning classes, and presents a unique fusion of fitness and yoga workshops. At Bodywize, classes are filled with fun and laughter, contributing not only to one's spiritual growth and group awareness, but also to overall happiness. The newly launched half-day journey, retreat Wellness, and the full-day journey, Bodywize retreat Day, are designed to encourage hectic urban dwellers to integrate wellness and tranquillity back into their lifestyle.
Bodywize Wellness has recently collaborated with mango Tree Causeway Bay to create a wellness menu. This healthy menu is on offer exclusively at Bodywize until June 30, 2016.
Retreat by Bodywize 1F, Cubus, 1 Hoi Ping Road, Causeway Bay, Hong Kong Tel: (852) 2111 1656 Email: dayspa@bodywize.com.hk
MACAU, CHINA
ZENSA SPA AT STUDIO CITY
NEW TO MACAO'S cotai strip is the renowned Zensa spa in studio city, a luxurious paradise housing 13 luxury treatment rooms as well as state-of-the-art spa facilities like vitality pools, saunas, steam and snow rooms – all designed for those looking to relax, re-energise, replenish, hydrate or ease muscle tension. In this contemporary and sophisticated haven, guests can choose from an exquisite range of massages, facial and body treatments, featuring natural products and exceptional techniques by skilled therapists.
Not to be missed is the Zensa Indulgence – an authentic healing method that combines dry body brushing, exfoliation and restoring raindrop massage techniques. the retreat also stimulates lymphatic drainage to further ease muscle tension – goals that make up Zensa spa's Living spa concept, which looks at simulating, balancing and continuing practice at home.
With mother's Day and Father's Day coming up, mums can now enjoy the miracle of youth with a 90-minute age-defying spa Journey (moP1200) composing of a Rejuvenating Rose Pampering massage and a Rose Renewing Facial treatment; while dads can indulge in the Father's Retreat of an Uplifting body massage and Refining Facial treatment. they can also receive a free haircut at the Beauty salon with purchases of moP880 or more alongside a 20 per cent off retail products after treatments. If you want to show even more of your love, throw in a chitosan mask or Brightening facial mask for the price of just moP150 when you purchase either offer.
Zensa Spa 3/F Star Tower Studio City Macau, China Tel: (853) 8865 1888 Email: zensaspa@sc-macau.com www.studiocity-macau.com
NHA TRANG, VIETNAM

FUSION RESORT NHA TRANG
You'll Love the All-inclusive Spa!

STRETCHING OVER 13.6 hectares along the coastline of Cam ranh
Peninsula, Fusion resort Nha Trang is an intimate resort with wide-open
spaces and inclusive experiences for families, couples and individuals.
Overlooking the azure ocean are 72 suites and villas, all with custom-designed suspended bathtubs, unique modern design and an all-inclusive spa concept to ensure total relaxation. What sets Fusion resort Nha Trang apart is its unique spa and wellness concept, with all spa treatments included each day. Starting from May 15, 2016 Maia Spa at Fusion resort Nha Trang introduces an enhanced therapy selection beginning with MaiaVeda treatments, which take inspiration from the ancient healing practice of Ayurveda, blended with comfort and sophistication. MaiaVeda treatments have been carefully crafted to balance the three doshas and their elemental connections of fire, wood, earth, water and metal, through the fusion of massage techniques, movement practices and product ingredients. guest experience will also be elevated by the energetic movement of a brief and focused tai chi sequence.
The complimentary gourmet breakfast is served any time and any place. guests can enjoy breakfast in the privacy of their own suite or villa, at the resort's infinity pool or on the beach at any time of the day. Flavoursome healthy cuisine is served at Fresh, the all-day dining restaurant, while Zen, a relaxed beachfront bar, is the perfect place to enjoy infused cocktails, juices and tapas with stunning views.
FUSION RESORT NHA TRANG Nguyen Tat Thanh Boulevard Cam Hai Dong, Cam Lam Khanh Hoa, Vietnam Tel: (84) 58 3989 777 Email: reservations@fusionresortnhatrang.com www.fusionresortnhatrang.com
HOI AN, VIETNAM

ALMANITY HOI AN

Escape Holiday
SiTuATEd juST A stone's throw away from the uNESCO-listed Hoi An Ancient Town, Almanity Hoi An Resort and Spa, featuring 145 boutiques rooms, is the perfect location to explore the picturesque area. At Almanity, guests enjoy a complimentary daily 90-minutes Spa journey during their stay at the My Chi Spa, which is the largest spa in Vietnam.
Starting from VNd 6,490,000++ / per room / 2 nights (uSd305++)
• Two nights' stay in My Mind and free upgrade to pool view or My Spirit Deluxe Room (subject to room availability).
• Daily buffet breakfast and a 90-minute Spa Journey per person per day.
• One special set dinner including sparkling wine.
• Round trip airport transfer and welcome drink upon arrival.
• Free late checkout till 4pm (subject to availability).
• Other terms and conditions apply and cannot be used in conjunction with other promotions.
• Rate excludes service charge and tax fee.
• Valid until October 31 2016.
Almanity Hoi An 326 Ly Thuong Kiet Street Ward Tan An, Hoi An City Quang Nam Province, Vietnam Tel: (84) 510 3666 888 Fax: (84) 510 3666 110 Email: reservation@almanityhoian.com www.almanityhoian.com
BALI, INDONESIA
DALA SPA
Discover Age-old Indonesian Beauty Rituals.
DaLa in ancient Sanskrit means 'leaf'. as a child of Mother nature,
the leaf is a symbol of the eternal cycle of life and man's quest for
vitality.
At DaLa Spa, our skincare concept is simple: if you can eat it, you
can apply it! We use only the freshest local ingredients in our menu of
age-old indonesian beauty rituals. as asia's Best Boutique Hotel Spa,
our award-winning status is further proof that nature is always right.
Designed as an opulent wellness facility where personal indulgence takes on a whole new meaning, DaLa Spa offers an array of packages tailored to the needs of couples, children and spa connoisseurs alike, and is currently available at three beautiful locations in Bali: Villa de daun, alaya Resort Kuta and alaya Resort Ubud. through subtle lighting and soothing blends of essential oils, the spas take guests on a sensory journey in a relaxing setting.
This august, a new DaLa Spa will open at alaya Resort Jembawan, a sanctuary inspired by the holistic teachings of ayurveda. the age-old wisdom is realised in the spa's therapeutic menu and its rich interior design. it encompasses treatment rooms for wet and dry therapies, along with steam boxes, a crystal light bed and thai massage room. an indian doctor presides over this unique wellness facility to conduct pre-treatment consultations and suggest integrated health programmes. DaLa Spa's menu places great emphasis on balancing all areas of life and helping the body call upon its own energy to heal. Open daily from 9am to 9pm.
DaLa Spa at Villa de daun Jalan Raya Legian 123B, Kuta, Bali 80361 Indonesia Tel: (62) 361 756 276 DaLa Spa at Alaya Resort Kuta Jalan Kartika Plaza Gang Puspa Ayu No. 99 Kuta, Bali 80361 Indonesia Tel: (62) 361 755 380 DaLa Spa at Alaya Resort Ubud Jalan Hanoman Ubud, Bali 80571, Indonesia Tel: (62) 361 972 200 Email: experience@dalaspa.com www.dalaspa.com
LANGKAWI, MALAYSIA

IRIDIUM SPA AT THE ST. REGIS LANGKAWI

THE OPENING OF The St. regis Langkawi on april 6, 2016 marks the debut of the Iridium Spa concept in malaysia, with a menu highlighting authentic malay, Indian and Chinese heritage wellness traditions.
Wrapped within a cocoon of waters cascading over the windows of the treatment rooms, the Iridium Spa at the St. regis Langkawi offers guests a rare and refined wellness experience, by indulging the senses, soothing the body and revitalising the spirit. the new spa boasts eight all-suite treatment rooms, including two couples' suites and two relaxation areas known as the Iridium rooms.
Promising a rejuvenating journey, the spa has curated a selection of heritage wellness treatments from around the world. It proffers the Iridium ritual of time for individuals and couples. time-based rituals, which include a foot prelude, bespoke massage, personalised skin care and bath ritual, are seamlessly crafted to meet the guest's elemental needs and preferences. a selection of power treatments is offered for those with less time. each treatment and package starts with a refined foot ritual, and concludes with the signature herbal tea of the day.
The Iridium Spa also introduces its most coveted signature treatment: the malaya – a masterpiece journey lasting two to three hours, encompassing ancient malaysian heritage beauty traditions to cleanse, exfoliate, re-energise, tone and revitalise the skin.
Facials featuring products by german luxury brand Babor are tailored for guests' specific needs. the signature facial is the golden Babor Sea Creation treatment, with exclusive active ingredients from the depths of the sea. guests will benefit from a serum applied with a tiger conch, followed by a cream massaged into the skin with heated obsidian stones and cool coral stones. two intensive action face massages then follow, leaving guests feeling energised and their skin looking firmer, smoother and more youthful.
The St. Regis Langkawi Jalan Pantai Beringin 07000 Pulau Langkawi Kedah, Malaysia Tel: (604) 960 6666 Fax: (604) 960 6777 Email: stregis.langkawi@stregis.com www.stregis.com/langkawi
KOH LANTA, THAILAND
PIMALAI RESORT & SPA

PIMALAI RESORT AND SPA is a romantic, spiritual and natural sanctuary where the rainforest meets the sea. this uniqueness is not only limited to the spa operation, but embraces the essence of the entire resort, which are both embedded in nature. Verdant tropical gardens abound throughout with stunning villa accommodations located against the backdrop of the jungle with all its flora and fauna, yet still allowing for commanding breathtaking views across the bay. the resort has been designed thoughtfully to blend in with its natural environment as evident from the tasteful exterior and interior architecture.
Behind the spectacular hilltop resort lobby, set in a lush sloping valley, lies the Pimalai spa, where the zephyr breezes bring flashes of light fragrance to the small walled treatment rooms, each named after a local flower. Built in the shape of traditional thai village huts, the attractive small straw-roofed salas blend totally with the natural beauty of the jungle, providing a natural sanctuary for mind, body and soul.
Each sala has been designed with nature at heart, and fashioned with stones, native wood, bamboo, iron, ropes and ceramics. an aim of the Pimalai spa is to bring the guest's mind and body into harmony with nature. the Pimalai spa is a haven for peace, relaxation and tranquillity, which tantalises all senses and enables guests to benefit and enjoy inner peace and well-being. serenity is sublime.
Pimalai Resort & Spa 99 Moo 5, Ba Kan Tiang Beach Koh Lanta, Krabi 81150, Thailand Tel: (66) 2 320 5500 Fax: (66) 2 320 5503 E-mail: reservation@pimalai.com www.pimalai.com
KOH SAMUI, THAILAND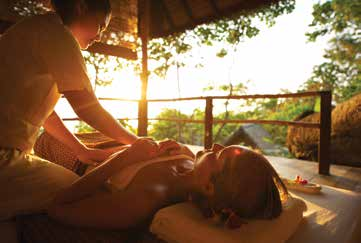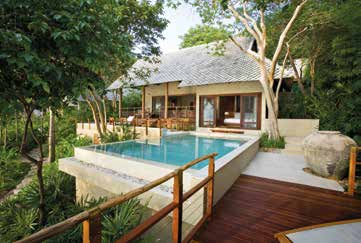 KAMALAYA WELLNESS SANCTUARY & HOLISTIC SPA
Kamalaya Koh Samui is a multi-award-winning wellness sanctuary and holistic spa, located amid a lush tropical landscape on the southern coast of Koh Samui, Thailand. Founded by John and Karina Stewart in 2005, the resort's holistic wellness experiences integrate healing therapies from East and West, a beautiful natural environment, inspired healthy cuisine and customised wellness programmes ranging from Detoxification to Stress & Burnout, as well as healthy lifestyle, yoga Synergy and Emotional Balance.
Kamalaya is delighted to offer complimentary bonus nights for residents in asia booking a three-night wellness programme:
Stay three/pay two; valid in combination with any three-night wellness programme, as listed below:
• Introduction to Detox is ideal for people new to detoxification
and cleansing. A great starting point for many health goals, this
programme features healthy cuisine and holistic therapies.
• Relax & Renew is designed for those who need to step back from
their busy lives, recover and find balance in a gentle wellness
holiday. Therapies from diverse healing traditions will replenish energy
levels and boost immunity.
• Personal Yoga Synergy includes private one-on-one sessions and
complementary treatments, tailored to the individual's level of
experience.
Whatever your health goals are, Kamalaya will be happy to advise on any of the above packages to complete your wellness experience and support you on your personal journey. Please contact reservations@kamalaya.com for further information and bookings. Offer valid from May 1 until October 31, 2016. Packages are not suitable for children under 16. offer is subject to availability.
Kamalaya Wellness Sanctuary & Holistic Spa 102/9 Moo 3, Laem Set Road, Na-Muang Koh Samui, Suratthani 84140 Thailand Tel: (66) 77 429 800 Fax: (66) 77 429 899 Email: reservations@kamalaya.com www.kamalaya.com
HUA HIN, THAILAND

THE BARAI SPA AND RESIDENTIAL SUITES
THE BARAI is an award-winning destination spa with 18 remarkable treatment rooms and eight exclusive residential spa suites located on more than 4.5 acres of serene beach adjacent to Hyatt Regency Hua Hin.
Created as a true sanctuary, echoing the beauty and purpose of ancient Khmer aquifers, THE BARAI is an enchanting escape from the frenetic outside world where one can embark on a personal wellness journey, surrounded by grand structural beauty, in a deeply healing environment through our holistic approach that treats the whole person: body, mind and spirit.
Returning to the true definition of spa, treatments are centred around water and the spa is designed with this essential element in mind, playing a significant role in THE BARAI experience. The water symbolises the source of life, a place to replenish, rejuvenate and heal.
THE BARAI features an extensive range of relaxing treatments that draw inspiration from traditional Thai rituals along with the best and most innovative western therapies. Each of our treatment rooms features a private outdoor soaking pool, rain shower, Thai daybed enclave for traditional Thai treatments and a private changing room.
Not only does THE BARAI offer a full selection of signature spa treatments, it will soon introduce five innovative lifestyle programmes, each designed to create lasting improvements to your health and well-being.
The Barai Suites offer guests luxurious and comfortable residential spa accommodation where guests will truly enjoy the personalised service, from arrival to departure, from their Suite Butler and the Hyatt Touch.
THE BARAI 91 Hua Hin – Khao Takiap Road Hua Hin, Prachuap Khiri Khan 77110, Thailand Tel: (66) 3251 1234 Fax: (66) 3252 1233 Email: huahin.regency@hyatt.com www.thebarai.com
BANGKOK, THAILAND

LE SPA WITH L'OCCITANE
Pure Escapism
ESCAPE THE EVERYDAY with signature treatments and massage rituals at Le Spa with L'Occitane. at our award-winning spa, retreat into your private sanctuary for moments of pure indulgence and relaxation. Using premium L'Occitane products infused with the fragrance of lavender, our professional spa therapists transport you to a world of total relaxation with the ultimate pampering experience.
Feel your tension slip away with Immortelle Secret to Brightness using a vitamin c-enriched formula and bellis perennis for a radiant complexion; the Golden Siamese Massage with its authentic Thai techniques to ease aching muscles and gold leaf to provide oxygen to delicate skin; and the revitalising Four Teas Elixir Body Scrub. From half-day spa indulgences and Local Favorites to 30-minute desserts, Male on the Go, and Magnifique Kids treatments, Le Spa with L'Occitane is a well-being experience that leaves you feeling rejuvenated.
Le Spa with L'Occitane now offers pre-Wedding day head to Toe pampering and Wedded Bliss spa packages designed to leave you feeling refreshed and radiant on your big day. conference delegates can also unwind after a long meeting or event with our after-work Rejuvenation spa package or Stress-relieving coffee Break Massage.
The winner of 'World Luxury Spa award 2014' and '2015 country Finalist for Best Luxury hotel Spa', Le Spa with L'Occitane is the first sanctuary of well-being to combine French-Mediterranean spa philosophies with Thailand's healing arts.
Escape the everyday with Le Spa with L'Occitane.Located on the ninth floor of the Sofitel Bangkok Sukhumvit.To book your award-winning personal spa journey at Le Spa with L'Occitane, please call (66) 2126 9655 or email le.spa.bangkok@sofitel.com for reservations.
Sofitel Bangkok Sukhumvit 189 Sukhumvit Road Klongtoey Nua Wattana, Bangkok 10110 Thailand Tel: (66) 2126 9655 Fax: (66) 2126 9998 Email: le.spa.bangkok@sofitel.com www.sofitel-bangkok-sukhumvit.com