Borneo conjures up images of lush tropical rainforests, exotic wildlife and the infamous headhunters of days gone by.
Borneo conjures up images of lush tropical rainforests, exotic wildlife and the infamous headhunters of days gone by.
SUPERYACHTS ON A JOURNEY around the amazing country of Borneo are rewarded with an exquisite glimpse into a land of rich diversity with much of the same beauty and wildlife that existed hundreds of years ago.
Interest throughout the world is growing as word spreads of the superyacht cruising areas of Malaysia on the north to western coasts. Borneo and Sabah offer some of the most spectacular and beautiful waters, islands and mainland attractions in Southeast Asia.
One of the most diverse cruising playgrounds in the world, yachting in Borneo is now even more attractive following the official announcement: "North Borneo & East Coast Borneo and Southern Philippines are now considered completely safe and peaceful for visiting yachts."
These areas are now deemed safe based on the new JWC insurance underwriter's committee issuance of the updated JWLA 022 bulletin as of December 10, 2015 (superseding JWLA 021).
The island of Borneo lies east of Peninsular Malaysia with the two East Malaysian states of Sarawak and Sabah and the independent state of Brunei nestled between. Sarawak is home to many indigenous hill tribes and Sabah is more mountainous and the home of Mount Kinabalu, at 4,100 metres the highest mountain in Southeast Asia.
Of the countries represented in Borneo; Indonesia to the south, Brunei in the middle, and the Malaysian states of Sarawak and Sabah to the north, a voyage to Borneo with a focus on Sabah is highly recommended – and also awards the most hassle-free itinerary.
The coasts of Sarawak and Sabah offer a much quieter scene than the well-travelled and documented cruising grounds of the west coast of Peninsular Malaysia. These lesser-known coasts feature some of the most spectacular and beautiful waters, islands and mainland attractions in Southeast Asia.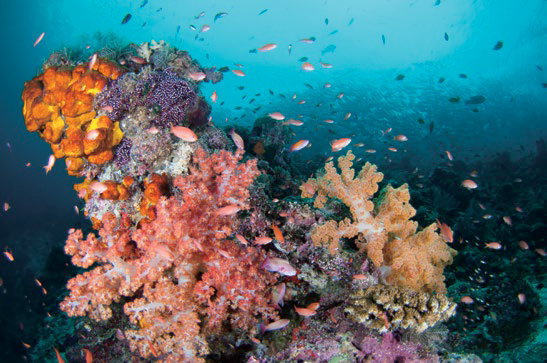 Yacht Owners and Captains are helping to spread the word that special permission by insurance underwriters to operate a vessel in these areas is no longer required. Vessels no longer need to seek special approval from insurance underwriters to enter, operate and stopover at any port listed in these areas. As well, they no longer have to pay additional and costly premiums for this purpose.
Asia Pacific Superyachts agents view this news as a strong statement in recognising these areas are now considered safe.
Owners and Captains are discovering a safe and peaceful ESSCOM Sabah security zone cruising paradise within this spectacular coral triangle zone. "The region is making huge strides in its work force as well as expanding its facilities for major refit work and should certainly be considered if you are cruising the region at the time. There is so much for superyachts in adventure, beauty and discovery amongst the islands in Malaysia and Borneo," reports Captain Charlie Dwyer, who heads up APS Langkawi in Malaysia.
Checking in at Kota Kinabalu (KK), the capital city of Sabah, there are many anchorages around the area along with good facilities at the main KK marina Sutera Harbour when berthing overnight.
Kota Kinabalu is an ideal hub to then explore the interior of Sabah, where visitors can option to view or climb Mt Kinabalu and visit some of the land attractions. Exploring land areas you will find virgin rainforests, conservation areas, waterfalls, canyons, exotic wildlife, flora and fauna and a myriad of adventure and eco-tourism activities; all accessible as a day or overnight excursion from your yacht.
Tunku Abdul Rahman National Park is made up of several islands only 15 minutes by boat from Sabah and offers many dive sites suitable for certified beginner to experienced divers. The park combines the delights of crystal clear waters, stunning tropical islands and mainland coastal bays with extraordinarily diverse mainland beauty.
"Borneo cruising – all the fantastic cruising experiences of Asia with great facilities and none of the hassles," says Captain Raymond Heer of MY Andiamo about his recent journey. Other visiting superyachts – some undergoing successful refit work in Southeast Asia – have been: MY Lady Kenara, SY Naos, SY Vivid, SY Queen of Andaman, MY Sinbad, SY Obsession, MY Karima and MY CV-9.
A once-in-a-lifetime opportunity while in Borneo is a private visit (arranged by your yacht agent) to the Sepilok Orang-Utan Rehabilitation Centre & Sanctuary's infant nursery and rehabilitation facility along the Kinabatangan River. Viewing orphan primates is a fascinating experience and the scenery along the river is rich in wildlife.
Famed Pygmy Elephants are a wonderful sight and the Kinabatangan River is the only place to view the playful Proboscis Monkeys. Near the sanctuary, guests can visit a traditional English teahouse for a tea break at the top of a hill overlooking Sandakan Town and the waterfront – a relic in itself of bygone colonial days.
Among the outstanding yachting locations to cruise is Lankayan, a tiny jewel-shaped island located on the northeast coast of Sabah and part of the Sugud Islands Marine Conservation Area. Surrounded by blue-green waters and coral reefs, it is one of Sabah's top diving spots (others include Sipadan and Layang-Yang). The jungle interior and interesting diving attracts divers and non-divers, with 14 dive sites offering magnificent displays of marine life.
Enormous whale sharks are regularly sighted between March and May and the island is a nesting site for green and hawksbill turtles. If timed right, you can experience the spectacle of baby turtles being released back into the sea. Lankayan is a privately owned resort island with group turtle conservation and protection efforts. Leatherback turtles are sighted frequently on beaches as they lay their eggs. Night turtle watch activities can be pre-arranged and as well as interesting diving sites for underwater exploration. APS superyacht agency reports it is best to anchorage overnight at the west side of the island during a stopover.
Cruising to the internationally famous island of Sipadan, lying five degrees north of the equator in the Sulawesi Sea (Celebes Sea), is an island thickly forested and surrounded by sandy beaches. Living corals growing on top of an extinct undersea volcano form the oceanic island. Situated in the Indo-Pacific basin, Sipadan is a small 12-hectare land mass 35km south of Semporna in the southeast coast of Sabah.
The geographic position of Sipadan puts it in the centre of the richest marine habitat in the world, the heart of the Indo-Pacific basin. The island is a spot of green rising from a seabed in an ocean of pure blue off the east coast of Sabah, Borneo.
More than 3,000 species of fish and hundreds of coral species have been classified in this richest of ecosystems. The diversity and abundance of marine life gives the island its reputation of being known as one of the world's top five most exclusive and renowned dive destinations. Hugely diverse and beautiful, there are 12 popular dive sites to explore on the mushroom-shaped island.
Thousands of species of fish and hundreds of species of living corals exist there due to the richness and uniqueness of the island's habitat. Declared a natural sanctuary as early as 1933, Sipadan is a turtle and shark haven – home to green turtles, hawksbill, white-tip sharks, reef sharks and black-tip sharks.
The Borneo destination can handle yachts up to 100m and most superyachts launch trips to the islands from Kota Kinabalu. Once checked into Malaysia, the cruising permits are processed. Fuelling is also best done in Kota Kinabalu, which has the most competitive fuel price in this region.
It's not necessary to stop at any ports along the way; however, for duty-free alcohol a stopover in Labuan, south of Kota Kinabalu, is recommended. Labuan is a duty-free port so a stop is worthwhile for stocking up on alcohol/beer and good quality wine.
Borneo and Sabah's cruising grounds offer incredible adventures and memorable experiences.
www.asia-pacific-superyachts.com
www.visitborneo.com
www.sarawaktourism.com
www.sabahtourism.com
www.suteraharbour.com
www.wildlife.sabah.gov.my
www.sipadan.com
www.actionasia.com