What we're all talking about this month.
What we're all talking about this month.
2013
October 23
Kate proudly presents her son for christening.
August 20
Kate, William, baby George and their pup Lupo pose at the home of Carole and Michael Middleton.
2014
April 20
The excited parents introduce George to a bilby at Sydney's Taronga Zoo.
December 13
Prince George confidently poses on the steps of Kensington Palace at 16 months.
2015
June 6
George with his brand new baby sister Charlotte in 2015.
June 14
Kate attempts to keep George from running riot at a polo match.
July 5
George celebrating his baby sister Charlotte's christening with the family.
2016
April 26
George meets then-US president Barack Obama in the drawing room of Kensington Palace.
Mid-July
Playing at the family home in Kensington Palace, aged three.
2017
May 20
Looking adorable as a page boy at his aunt Pippa Middleton's wedding.
September 7
William clasps his son's hand on his first day of school.
2018
April 24
George and Charlotte on their way to meet their new baby brother Louie at St Mary's Hospital.
PRINCE GEORGE
The Cutest Royal Big Brother
His younger sister Charlotte may have stolen the show at Harry and Meghan's May wedding, but this month, it's all about adorable Prince George. The cutie turns five on July 22
Ask Prince William or Duchess Catherine about their firstborn, and you're likely to get a rueful smile – it's very clear that their firstborn is one rambunctious royal.
Even in George's infancy, Wills admitted to getting very little sleep thanks to his baby's powerful lungs. And as he grows up, George is becoming a real boys' boy.
First he was obsessed with helicopters just like the ones his daddy flies, but now Prince William has revealed George wants to be a policeman when he grows up. "He is obsessed by the police – cars, toys, everything." Palace insiders confirm that the Prince takes a more active hands-on approach with George than with Charlotte, to help make him ready for his eventual role as the British monarch.
"Wills adores all his children – and he's besotted by his newest born – but it's George who will be the king one day, and so William is determined to make sure he's fully prepared for it," reveals one source.
Queen For A Day
We know Princess Di and Kate Middleton are style icons, but judging from recent red carpet showings, Queen Mary, Queen Victoria and even Queen Elizabeth II have provided wardrobe inspiration
1 Queen Mary 1867-1953
2 Keira Knightley's low bun adds an air of regality to her ethereal Valentino gown.
3 Fan Bingbing looks poised in a portraitcollar Georges Hobeika Couture design.
4 Dripping in sequins and jewels, Salma Hayek's Gucci gown takes the crown.
5 Leave it to Margot Robbie to give the trend a modern spin in Chanel Couture.
6 Looking elegant, Millie Bobby Brown stuns in a Dolce & Gabbana confection.
7 Wearing Alexander McQueen, Emily Blunt looks like a modern-day Cinderella.
Marry Me!
Forget a famous wedding singer, these celebs are licensed to officiate your wedding and pronounce you man and wife
Benedict Cumberbatch
In July 2013, Benedict officiated the wedding of his university pal Rob Rinder (he's Judge Rinder in the British version of US show Judge Judy) in Ibiza. Rob was Benedict's best man when he married Sophie Hunter in 2015.
Tom Hanks
The actor married actress Allison Williams and Ricky Van Veen in 2015. The two are family friends of Tom's wife Rita Wilson, and wanted her to do it, but Tom already had his officiant licence, so he did the job instead.
Adele
The English singer officiated the wedding of her friend, comedian-and-chat show host Alan Carr last January. She hosted and performed the ceremony in her Los Angeles home.
Sir Ian McKellen
They played Magneto and Professor X in the earlier X-Men films, but McKellen and Sir Patrick Stewart are best friends in real life, too. In fact, Sir Ian officiated Stewart's nuptials to third wife Sunny Ozell in 2013.
Jonah Hill
Remember when Maroon 5's Adam Levine married Victoria's Secret model Behati Prinsloo in 2014? The ceremony was officiated by funnyman Jonah who is Adam's best friend.
Emma Stone
Not only did this adorable actress play matchmaker for her publicist Holly Shakoor and director Ruben Fleischer, she also officiated the 2012 ceremony after they asked her to do so. Pretty apt, don't you think?
Life Is A Box Of Chocolates
It's World Chocolate Day on July 7, and these celebs share the same weakness when it comes to the sweet treat.
1. Blake Lively As if being married to Ryan Reynolds isn't sweet enough, the actress once confessed that chocolate makes her day. "I can't start my day without a cup of hot milk chocolate or finish without crunching a few dark chocolate squares. It's good for my morale."
2. Kylie Minogue The petite Aussie singer revealed her dirty little (chocolate) secret when she said in an interview, "I have dark chocolate every day."
3. Britney Spears The singer was asked in an interview what her favourite food was and she adamantly stated, "Chocolate. Definitely chocolate. A lot of chocolate."
4. Jennifer Lopez Jenny from the block once used the hashtag #myweakness when tweeting about chocolate. Along with a photo of chocolate cake, JLo added the caption, "Should I or shouldn't I??????" She succumbed to temptation as she soon followed up with, "Yikes… lol… all gone… :)"
5. Beyoncé When she lost her baby weight after having daughter Blue Ivy in 2012, the singer celebrated the end of months of eating lettuce by telling the crowd at her concert, "Now tonight I'm gonna get chocolatewasted!"
Hannah's Turn
Taiwanese actress-model Hannah Quinliven appears in Skyscraper on July 12, opposite Dwayne Johnson. You probably know she's Mrs Jay Chou, but did you also know:
Her daughter Hathaway has her dad's musical genes She's been playing the toy piano since she was four months old. Proud father Jay showed her playing it in the video for his song, "Lover From The Past", which he wrote for her.
She's a toughie When filming Smart Chase: Fire & Earth, Hannah had wanted to do a fight scene in which she had to be repeatedly kicked in the stomach, but co-star Simon Yam told her to get a body double for it. Thankfully she did so, as she didn't yet know that she was pregnant with her son Romeo at the time.
Hannah and Jay got married at Selby Abbey in Yorkshire, England The ceremony on January 17, 2015, was followed by a reception in Taipei the next month, and another reception in Australia the following month.
She's no diva Hannah and Jay were spotted on Spanish budget airline Vueling while travelling in Europe last year.
Sing-Along To A BA!
To celebrate the release of Mamma Mia! Here We Go Again, we rank our all-time favourite ABBA songs.
Mamma Mia!
Get yourself in the mood for the musicalmovie by jiving to this upbeat tune. It's so chirpy, one hardly realises it's actually a song about being cheated on (gasp!).
Money, Money, Money
When you're nearing payday and running low on cash, singing this to yourself will help ease the stress.
Knowing Me, Knowing You
Perfect for karaoke night with your best friends, especially if one of them has just been through a breakup.
Dancing Queen
Best for a night out with the girls, whether you're celebrating a special occasion or trying to get your mind off things. After all, nobody can resist singing and dancing along when this tune is played.
The Winner Takes It All
When you're going through a tough week and need some inspiration to pull you through.
Honey Honey


Add some spice to your relationship by belting out this tune to your man every now and then. We know it's cheesy, but it's also super catchy!
The Real Superwoman
We'll admit it: We're obsessed with Amal Clooney, and really, can you blame us? She is a worldrespected barrister, a red carpet style icon, and a mum. We break down her blend of charisma, nerve and talent that makes her a true superwoman.
JUSTICE FIGHTER
A celebrated human rights lawyer, Amal fights for justice for the downtrodden.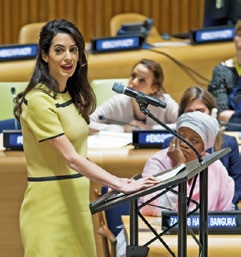 Addressing the United Nations, Amal pushes forward her fight against ISIS-related injustices.
Above: She takes on the role of a protector for her clients. Below: Her sense of confidence and conviction is an example to us all.
STYLE QUEEN
Never one to shy away from a bold look, Amal works off-duty and red carpet looks with ease.
1 Seen in a feminine red dress, Amal knows how to mix business with pleasure with her wardrobe choices.
2 Attending ths year's Met Gala in an edgy Richard Quinn design.
3 Amal knows the value of a nononsense suit.
4 Taking a demure turn in a flouncy mini dress.
COUPLE GO ALS
Amal and husband George Clooney never fail to arrive in elegant style.
Left: Amal and George made a regal entrance at the wedding of Prince Harry and Meghan Markle in Windsor. Right: The Clooneys looking glam for a party.
COMPILED BY: AARON KOK & BALVINDER SANDHU/ PHOTOS: 123RF.COM, TPG NEWS & MARIO TESTINO