This is a home where everything has a specific placement. Homeowner Mads tells LYNN TAN that to keep things tidy, it is important to design for what you need, based on what you have.
Mads has always had an interest in creating videos. She started by documenting her journey as a first-time mum, sharing videos of her new-born daughter on Youtube. As she gained more confidence and became more comfortable in front of the camera, she wanted to reach out to a wider audience and started uploading videos of her house tours, DIY projects and home hacks.
"It really started to take off just over a year ago, after my first house tour video went viral. After that, I also did a series of videos focusing on individual rooms," she recalls. What began as a hobby has now grown into a preoccupation, with her having a Youtube channel with a sizeable following.
The self-confessed nerd loves anything revolving around the home and technology, and such topics are the focus of her videos. They showcase how she has transformed the five-room apartment that she shares with her husband, Jia Wei, a relationship manager at a bank, and their two-year-old toddler, as well as ongoing home improvement projects that she personally undertakes.
The homemaker is also a handyman extraordinaire. She recently single-handedly wallpapered her timber main door and glass wardrobe doors, despite expecting a second child. "After having lived in this flat for over four years, I was tired of the brown main door and green-tinted glass wardrobe doors and decided to give them a makeover. I ordered two rolls of black and white wallpaper from Taobao through Ezbuy and simply got right down to it," she says.
She also installed her own built-in soap dispenser for the kitchen sink, which involved some tricky drilling through anthracite using a diamond drill bit. "I like to have everything neat and wellintegrated for a clutter-free appearance," she reveals.
Indeed, everything in her home has a designated place - from kitchen appliances and laundry baskets, to her daughter's stroller and even remote controls. This is apparent the minute you enter the home, which sports a black and white theme across the walls and floors, right down to the laundry baskets and storage containers. This meticulous adherence to the colour palette reflects Mads' fixed stance on keeping to a set scheme.
The kitchen epitomises this "I am very proud of my kitchen because I managed to conceal everything," she says with a beam. The full-height cabinets, hob, oven, counter and sink on one side were built before the couple moved in. The cabinets on the wall opposite were added only later.
Mads prefers not to have any appliances on the kitchen counter with unsightly wires hanging from sockets, so this later addition allows her to put appliances away after use. "I measured the various appliances and containers and took them into consideration when designing the new cabinets to ensure that everything will fit nicely," she points out. One word of advice to homeowners: "If you are not sure as to what you want or need, move in and live with the basics first then add or modify when you have a better idea later on."
In a service area such as the yard, practical requirements should always take precedence. Here, Mads installed cabinets that not only provide functional worktops for sorting laundry, but also ensure that everything from the washing machine to mops and the laundry basket can be neatly stowed away in designated compartments. There is even a slot for the robot vacuum cleaner. Sockets built into the cabinet above means that there are no exposed wires, even as the vacuum cleaner is being charged.
The living and dining room is a simple, minimalist affair. Apart from an L-shaped sofa, a built-in TV console and a custom-made dining island, the rest of the space is deliberately kept void of any furniture, with just one striking black and white print on the wall. Mads visited many furniture showrooms to get a feel as to what the ideal dimensions of the island should be, before drawing it up and getting it fabricated by a contractor.
"It was important that I got the size right - how high it should be, how deep the recesses needed to be in order not to bump our knees when seated, the height of the stools to go with it, and so on," she elaborates.
She even went to the extent of ensuring that the island, sofa, TV feature wall and the bedroom wall are perfectly aligned. Storage below the island serves more than just a functional purpose; it also conceals unsightly stool legs from the living room to create a more aesthetically pleasing view. The master bedroom has a continuation of the same black and white theme and everything is discreetly built-in or tucked away. There is no stray wire or multi-plug lying around. The master bathroom light was recently replaced with a smart system, allowing the homeowners to switch it on or off via an app.
This is just one of many smart features around the home, all of which Mads installed herself using components procured online. She is able to control any infra-red appliance via the app and it is an expandable network to which individual hubs can be linked. "A smart home doesn't have to be expensive," she says.
Even after more than four years, Mads finds the home very liveable and she believes that the key lies in its functional elements, which she maintains consistently neat and clutter-free. She says: "It may not be the nicest-looking home around, but it is definitely one of the most practical." www.youtube.com/madsncakes 
ABOVE
Instead of a table, Mads customised a counter island with storage space beneath.
RIGHT
Bold and simple lines help to draw the eye across the room, making it feel bigger.
OPPOSITE
By doing away with unnecessary furniture and accessories, the homeowner is able to channel her limited budget to essential items instead.
WHO LIVES HERE
A couple and their two-year-old daughter HOME A five-room BTO apartment in Yishun SIZE 1,216 sq ft
REDO YOUR DOOR
Mads shares how she transformed the look of her old door by using materials that cost less than $50.
1. I wanted a black door to match my home's colour scheme but the door is in such a good condition, it would have been a waste to change it. So I explored my options of painting it or covering with wallpaper. And it worked out!
2. I measured the door and purchased a roll of adhesive wallpaper (around $30 on Ezbuy) that covers the entire width of the door.
3. I start by pasting it from the top, and smoothing it down. When completed, fold the sides and cut in the middle.
4. Prick any bubbles with a safety pin and smooth out the wallpaper. You won't notice any holes after. You can take a look at the entire process on www.youtube.com/madsncakes.
FAR LEFT

A specific space is dedicated to every item in the kitchen.
LEFT
The determined homeowner searched for items in black, white or clear, in order to maintain the monochrome look.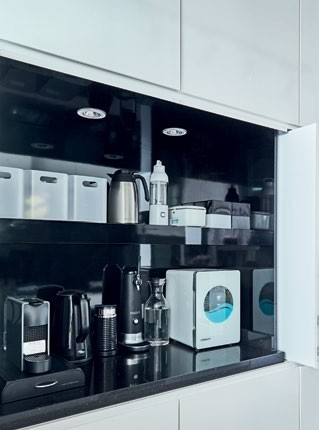 MINIMALIST ON A BUDGET
Here are Mads' top six tips on getting the look without breaking the bank.
1. Stick to a theme and colour swatch when designing your home. This helps you to buy stuff that matches. Be patient when you can't find the colours you need. I'm sure it will show up somewhere! 
2. Think about your daily needs; what do you do and use every day? I built my home based on how I wanted to display and store things. For example, I have a utility cabinet for dry mops and pails, instead of putting them in the bathroom. I also measured all my kitchen appliances and designed storage spaces according to the height and width of each appliance. For the daily stuff like water, coffee and snacks, I have another cabinet within the built-in countertop, so I can conceal this area after I've poured a drink.
3. I installed a lot of lights in the house, about four in each area, so it is well lit. The lights are from Taobao, because they have newer designs at affordable prices. I used Ezbuy to ship them over by sea. In total, I spent about $500-600 on lighting. 
4. I put a lot of thought into concealing plugs and wires. There are no wires hanging in the open. I built the sockets in the cabinet to contain the mess. It's easier to plan this part before starting any carpentry work.
5. For my dining table, I couldn't find a large table with storage, so I engaged my carpenter to build a counter for me according to my specifications. It cost around $2,000. I also added a solid surface so it is more durable than the usual laminates. Below the table, I have storage for stationery, files and documents.
6. For the flooring, I opted for unconventional black vinyl ($5.50/psf), because I didn't want to see dirt or hair which would be very conspicuous on white flooring.
PHOTOGRAPHY DARREN CHANG ART DIRECTION KRISTY QUAH