Black can evoke a sense of mystery, and also invite a sensuous ambience into an intimate space. The common misconception about using black in homes is that it will make spaces look small and claustrophobic. To bust this myth, we look at ways to design a black bathroom and examine how lighting, texture and accessories can create a bold and stylish haven you want to unwind and relax in.
First things first
When designing a darkcoloured bathroom, it is important to know what to expect. Designer Yeo See Wee of Wee Studio shares that dust and water marks are more visible in a darkcoloured space, so dive into the design idea only if frequent maintenance and cleaning is something you're willing to manage. 
STORAGE TIPS
Choose black doors for the vanity, and complement them with dark-coloured organiser baskets to store supplies neatly while still ensuring they are conveniently accessible.
Avoid conventional stainless steel wall-mounted shelves and baskets for your shampoo bottles. Instead, keep to a clean, minimalist look and customise a sleek recessed ledge on the wall with the help of a tiling specialist, or design a streamlined stainless steel black powdercoated ledge.
Wall mirror cabinets are some of the most convenient and useful ways to store items in your bathroom: at eye level, yet hidden from view when closed.
DECOR TIPS
Mark Bickerstaffe, director of new product development for kitchen and bath at American bath ware brand Kohler, says: "The secret to sophistication for a black bathroom is layering with different textures, including matte, glossy, satin and other elements in dark colours, to keep it from looking overbearing."
Dress the space by sprucing it up with decor accessories like candles, hand soaps, and diffusers in sleek bottles. A trick to make sure they don't look out of place – set them on accent trays or dishes. Of course, these scents and fragrances can also help elevate the ambience and mood in the bathroom setting.
Plants can brighten and give life to any space.
Add hanging pendant lamps at the corner of the vanity. The soft glow from the light helps add to the sensuous ambience. They're also great night lights when nature calls in the wee hours.
Choose standout accessories like Toto's Luminist vessel basin that comes with LED lighting. A Red Dot Design Award winner, this unconventional hybrid epoxy resin basin lights up from beneath to create an eyecatching ring of light that makes the basin look as if it's floating, especially when placed on a black countertop!
Incorporate unexpected surprises in the bathroom, like a grid metal stand where you can clip photos and leave notes. This adds character and a personal touch too!
If you can't make a decision from the limited design options you have for black WCs, stick to a conventional white one and pair it with a white washbasin, for a balanced look. Black shower sets, faucets and accessories, including towel rails and toilet roll holders, can be chosen to complement the overall look.
To lend your bathroom that hotel-style vibe, go for plush white towels.
Scents to Perk the Senses
Keep foul smells out and bring in that calm, relaxing vibe with this range of fragrances that don't just smell great, but look good too! Terry Jacobsen, founder of craft fragrance design concept Oo La Lab, says that fragrances with deep bases, like those with ingredients such as cedarwood, sandalwood and musk, are popular options for bathrooms. For those who prefer a sweeter scent, adding a touch of vanilla bean would work too. Of course, Oo La Lab also offers customisation of fragrances, so you can get something absolutely unique for your home.
POST-POO DROPS (100ML), $39, FROM AESOP
A truly apt product name, Aesop's botanical bathroom deodoriser effectively neutralises isagreeable smells using citrusy, refreshing aromas with notes of botanicals including ylang ylang and rose geranium. A few drops in water, and the product instantly emulsifies to allow easy dispersal of the scents.
DIPTYQUE HOURGLASS DIFFUSER (75ML), $240, FROM ESCENTIALS
An atypically designed diffuser, this hourglass-shaped fragrance product makes spaces smell and look great! Especially ideal for scenting small spaces, it comes in a variety of aroma blends including orange blossom, ginger and fig tree. 
VUUDH PHUKET DIFFUSER, $178, FROM HARNN
Bring the spa-like feel into your bathroom easily by scenting it with aromas that instantly calm your senses, such as Harnn's Lemongrass and Lavender essential oil. Lemongrass' sweet floral scent brings balance to the mind, while lavender can help ease stress and anxiety. Housed in clear, minimalist yet artistic vases, Vuudh Phuket diffusers make great accessories on the bathroom countertop.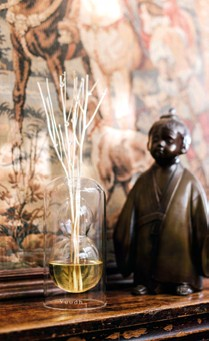 CIRE TRUDON ABD EL KADER CANDLE, $130, FROM ESCENTIALS
If you like green scents of fresh mint combined with fruity notes, Cire Trudon Abd el Kader candle is your cup of tea. It has head notes that offer whiffs of apple, blackcurrant bud, clove, ginger, lemon and spearmint; and heart notes and base notes that smell of jasmine and vanilla respectively. This fragrance is a great pick-me-up.
STRESS AWAY ESSENTIAL OIL, $66.46, YOUNG LIVING
For a truly relaxing experience in the bathroom, experts from aromatherapy speciality store Young Living advise applying a few drops of Stress Away essential oil on the inside of the toilet roll to keep the bathroom smelling refreshing. A concoction of copaiba, lime, cedarwood, vanilla, ocotea and lavender, this blend is a balanced aroma of both tropical and citrus notes.
Matched in Black
ACCESSORISE WITH CLASSY, BLACK SANITARYWARE THAT WILL ENSURE YOU SATISFY BOTH FUNCTION AND STYLE IN YOUR BATHROOM.
SOKA GRAND BATH FROM APAISER
Unlike conventional bathtubs, Apaiser's Soka Grand bathtub comes with a shallow tray that has storage compartments to enhance practicality. It's made with a patented material from the brand – Apaiser marble. The non-porous reclaimed marble lends the bath its function and style. The bathtub's ergonomic and linear design comes in 12 colour options, including black.
STARCK ORGANIC FAUCET FROM AXOR
Accessorise with sanitaryware like the fluidly designed Axor Starck Organic faucet by renowned French designer Philippe Starck. Iconic and artistic, the statementmaking silhouette will lend a quirky touch to your countertop.
POPLIN BATHROOM CABINET FROM KOHLER
This Shaker-style cabinetry adds an accent with its unique options of handles that will pop in a dark-hued space. The sleek frameless construction of its soft-close doors and deep drawers makes this piece a stylish storage solution to have. Catalysed conversion varnish provides a durable moistureresistant finish that's perfect for bathroom settings.
GESSI 316 WASHBASIN FROM GESSI
Complete the look of your black bathroom with the Gessi 316 countertop basin that's super sleek. Made of stainless steel, the black metal brushed finish adds to its sophistication and elegance.
SILESTONE CARBONO FROM COSENTINO
Consider materials with stain-resistant and non-porous properties, as this space is often wet and humid. One option is Silestone. It combines natural quartz and raw materials great for use on surfaces, as they are durable and easy to maintain. For a darkcoloured space, choose Carbono from Silestone Platinum series, with a polished sheen for a touch of opulence.
Tricks to deal with exposed pipes
Coating with black paint is probably the quickest and easiest way to seamlessly "hide" the exposed pipes that run across walls. Alternatively, Sherlynn Low, founder of Millimeters Studio, suggests roping the plumber in during the renovation process. This way, you can ensure the pipes are running in the most aesthetically pleasing manner – along the corners and less obvious areas.
If you have no way to conceal them, accentuate them! Gary Ong, co-founder of Charlton Design, suggests using preserved reindeer moss to add some greenery and lend an organic look.
Alternatively, coat the pipes with copper-effect or even marble-effect paint, in order to get the rustic or luxe appeal. 
design FORMWERKZ ARCHITECTS text DOMENICA TAN