Your favourite household herbs are perfect partners for desserts too.
Your favourite household herbs are perfect partners for desserts too.
The delicate aroma of rosemary in shortbread is an absolute winner. Perfect with a cuppa – don't knock it till you try it!
This pretty herb not only makes a beautiful cake decoration – add lemon thyme to panna cotta for a distinctive flavour kick.
A favourite in Asian stir-fries for its strong fragrance, add this aromatic herb to vanilla ice-cream for a delicious summery twist.
This readily available herb gives your desserts a fresh lift. Ideal for heavier cakes, in chocolate mousse or infused in a syrup for fruit.
Christy Turlington
What's In My Fridge?
"A well-rounded assortment of healthy choices with plenty of leafy greens. I stay hydrated with coconut water and almond milk." The supermodel shares more about health, work and family on page 166.
Coffee Lovers, Try This!
Put leftover black coffee into ice trays and freeze. Then add the ice cubes to a freshly brewed cup of mocha or latte for an extra kick! Instant coffee works well with this. We tried it out in a cup of the new OLDTOWN White Coffee 3 in 1 Mocha, and it hits the right spot on a hot, sunny day.
OLDTOWN White Coffee 3 in 1 Mocha, $6.80 (pack of 15 sachets), is available in leading supermarkets.
3 Things Mum Will Love
All Domestic Diva mums will appreciate these.
Baking Whiz
If mum has always dreamt of being a patissier, the Magimix Le Patissier will be her trusted kitchen partner to help her create yummy bakes for friends and family. At $1,398, from www.magimix.sg.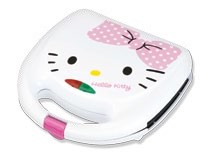 Kawaii Bread
This will tug at the heartstrings of Hello Kitty fans, and it makes a perfect gift if your mum is a fan too! Cornell Hello Kitty Sandwich Maker, $59.90, is available at major electronic stores.
High-tech Coffee
Java-loving mum will love how the new Prodigio by Nespresso can prepare her cuppa remotely, via access of a smartphone app – how nifty! From $398, available at Nespresso boutiques.