Use these expert tips to add warmth to any part of your home with flowers.
Use these expert tips to add warmth to any part of your home with flowers.
Getting a simple bouquet is mostly the norm, so why not go a step further by using your own creativity? Joanne Lim from June Floral art School shares some tips and tricks to keep in mind when decorating your home with vivacious blooms:
Mixing N' Matching
While selecting a variety of flowers, ensure there is a balance of focal flowers like lillies or roses and filler flowers and foliage like aster or gypsophila, all colour coordinated and selected to suit the overall feel of the room or occasion.
Choosing a different base medium like vases can switch up the overall look of any floral arrangement. You could even go a little crazy and add a potted plant to make an arrangement unique.
Simple Splurges
Carnations are very affordable flowers and the overall effect of the arrangement will look unique with design elements created by using steel grass with hypericum berries and onion leaves. Add more panache by making use of accessories with good design execution, common flowers can look very premium and classy.
Party Planning 
Choosing a table centrepiece that adds a little drama to your room can be attained by keeping it simple with bold colours and making use of flower elements such as lines (vertical or horizontal) to create an illusion that makes the space look bigger.
You could even play with gender specific arrangements like protea or Birds of Paradise for a bachelor party or opt for feminine arrangements for a baby shower like hydrangea or peonies.
Climate Control
Kenya roses, gerberas, carnations, hypericum berries are very suitable for Singapore's climate. The elegant potted phaleanopsis can last for up to a month with proper care.
Long Lasting
Unwrap flowers from the packaging and transfer them to a vase with sufficient water. Trim the stems every second day and spritz the fauna with water to increase hydration.
Keep the blooms away from heat-emitting appliances and even ethylene-emitting fruits like apples that produce gases which cause the flowers to mature faster.
SURPRISE MUM
This Mother's Day, present Mum with a bespoke bouquet – here are five ideas to help you get started.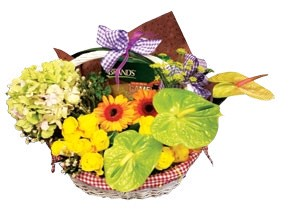 To learn to create your own bouquets, sign up for classes at the june floral art school.
They have a two-hour trial class ($50) where the students will get to either create a hand bouquet or table top arrangement and get to keep their final creations! Contact info@junefloral.Com or log on to www.Junefloral.com for more details.