Check out what's new in stores this month.
Check out what's new in stores this month.
FRESH FROM THE OCEAN
Get your boost of Omega-3, proteins and essential minerals from this canned mackerel you can easily serve in salads, stir-fries or as a standalone dish. New Moon Jack Mackerel in Tomato Sauce features premium quality wild Chilean Jack Mackerel from the South Pacific Ocean. 100 percent natural, tasty and succulent, its larger size and delectable texture set it apart from the mackerel species from other countries as the catch is kept alive on the vessel until it reaches shore for canning, thus ensuring optimal freshness and nutrients of the fish. It's also trans-fat free and Halal certified.
www.NewMoon.com.sg
SPICK AND SPAN
Make sweeping by hand a thing of the past with the efficient Ergorapido PowerPro vacuum cleaner which picks up even the finest dust while polishing your hardwood floors at the same time. Its PowerPro roller removes 99 per cent of large particles on the first pass while its optimised suction offers six times better crevice pick-up, making it a breeze to clear out those tricky edges and tight corners. Lightweight and easy to manoeuvre, choose from three colours: Soft Sand, Soft Pink and Titan Blue. 
www.electrolux.com.sg
WASHING UP MADE EASY
Let Fisher & Paykel's Dishdrawer do the washing for you. Engineered with an innovative configuration, this handy helper is ergonomically designed in a drawer format for convenience. Well positioned at bench height, loading and unloading is easy and requires minimal effort. Armed with six programmes and three options, the Dishdrawer lets you match the wash programme to the exact load in each drawer, ensuring a faster and more hygienic wash while minimising water and energy usage.
www.fisherpaykel.com
HEALTHY CHOICE
If you love rice, why not choose a healthier variety with Naturel Organic Brown GABA and Riceberry Rice? Cholesterol-free and gluten-free, this fragrant rice contains 80 per cent organic germinated brown rice (GABA) and 20 per cent organic riceberry rice that have been harvested from Sisaket in Northeast Thailand. Just one serving (150 g) of this tasty rice with its signature nutty flavour and al-dente texture supplies 300 per cent of your daily wholegrain requirements.
www.lamsoongroup.com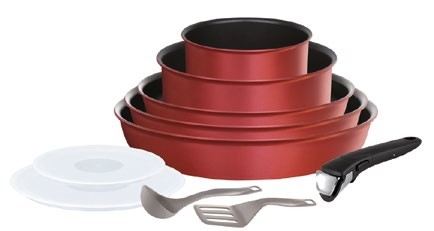 SERVE, STACK AND STORE
With space being a premium in any kitchen, Tefal's Ingenio Range of cookware features removable handles and helps you save up to 50 per cent of space in the cupboard or oven. With a single click, put on or take off the handle effortlessly from your frying pan, wok or saucepan. Its versatility also means you can cook and serve food from stovetop to tabletop without having to transfer your culinary creations into a separate serving dish.
www.tefal.com.sg
CHILL OUT
Help food maintain its freshness and quality with the Electrolux 620L NutriFresh Inverter French Door Fridge. It comes with TwinTech Cooling technology to maintain optimum temperature and humidity levels. Store fruit and greens in the TasteLock crisper while the FlexFresh Drawer offers convertible storage space for everything from cheese and wine to meats and frozen items. Its UltraChill feature – with 2 C Perfect Storage – also keeps meats, fish and seafood for longer without deep freezing.