Centuries-old Ruinart invites British artist David Shrigley to share his artistic interpretation of the Champagne house.
THE SOUND OF WINE
"When making art on the subject of production, one must make several visits to the Champagne region. One must visit the crayeres chalk quarries in the city of Reims, where this purported beverage of the gods is aged, the vineyards, and the manufacturing facilities. One must ask questions of the people who work there and listen very carefully to what they say. Most importantly, one must drink some champagne." 
The worlds of art and wine have always been closely intertwined – whether it's about artists finding inspiration at the bottom of a bottle, bottles being the subject of a painting, or artwork on bottles.
For Ruinart, the very first Champagne producer ever, this relationship goes beyond artwork on a label. Every year, it invites an international contemporary artist to live and breathe Champagne, and share his or her vision of the 291-year-old maison in an ensemble of artworks.
For 2020, the enviable task fell to British artist David Shrigley, best known for his subversive wit and eyebrow-raising works such as Really Good, a brass sculpture of an elongated thumb installed on Trafalgar Square's Fourth Plinth.
Flushed with some of France's most esteemed bubbly, the 51-year-old Shrigley interpreted Ruinart's artistry and processes through 42 artworks comprising sculptures and a series of 36 playful drawings and acrylics — collectively titled Unconventional Bubbles – executed in the artist's signature irreverent style.
Here are some of our favourites. 
PEERING INTO THE PITS
The chalk quarries and pits under the Champagne city of Reims maintain a temperature of 11 to 12 deg C all year round, making it the perfect place to age bottles of Champagne. 
THE VALUE OF AGE
It's a waiting game when it comes to the best bubbly, which partially explains the price it commands. Before being released to the public, the house's non-vintage expressions age for about three years. Its Dom Ruinart prestige cuvees sit for about a decade.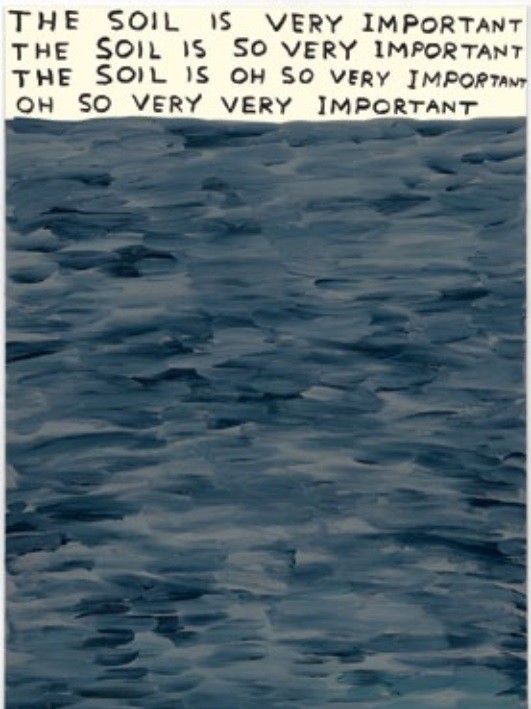 SALT OF THE EARTH
Champagne's limestone soil plays a huge role in the success of the region's wines. Composed mostly of chalk, it allows plant roots to dig deep while providing good drainage and contributing to the characteristic high acidity, intensity, and minerality of Champagne. 
PLAYING FOOTY
With roughly three million bottles produced a year, it is unlikely that Ruinart still crushes the grapes by feet. However, this time-honoured practice – still done in small wineries – has sparked Shrigley's imagination. 
Text Weets Goh