Rosewood CEO Sonia Cheng bears out her belief that she knows exactly what today's luxury travellers want in a hotel – by building places that she herself will stay in.
Rosewood CEO Sonia Cheng bears out her belief that she knows exactly what today's luxury travellers want in a hotel – by building places that she herself will stay in.
When Sonia Cheng visits Singapore, she often stays at Capella on Sentosa. The newly refurbished Raffles Hotel is also on her list for upcoming trips. However, the 38-year-old chief executive officer of the Rosewood Hotel Group very professionally demurs from commenting on her visits. Instead, she lobs this rejoinder: "Come and stay at the Rosewood Hong Kong. I'll show you what six stars is."
Bold words indeed, but if there is any hotelier who can promise this – and deliver – it would be Cheng. Since she assumed her role as Rosewood's CEO in 2011, following her family's acquisition of the American hotel brand, she has been reinventing it for her generation of luxury travellers by refurbishing existing locations and opening new properties like a game of Monopoly. The group currently operates 27 hotels in 15 countries, with another 20 hotels slated to launch globally over the next five years. Included in its portfolio is The Carlyle in New York and Hotel de Crillon in Paris.
The Rosewood Hong Kong, which opened in March, is located at the former Regent Hong Kong hotel within the New World Centre complex owned by her multi-billionaire property developer family. This flagship is just one of five hotels she has launched this year. Two weeks after Rosewood Hong Kong opened, the group opened its Bangkok property, located in the city's prime business and retail district of Ploenchit. By the year's end, Rosewood Yangon and Guangzhou will also be up and running. 
"I want to create the most formidable brand out there, for people to see Rosewood as a top of the mind luxury brand. I want it to be a brand that is irreplaceable and so unique it is not easy for others to follow its innovative, unique ideas," Cheng declares, speaking to The Peak at Rosewood Bangkok in September, during the hotel's "housewarming" party. 
Over the past two years, her hotels have won a string of awards. Seven hotels received five-star rankings on The Forbes Travel Guide 2019 while two made it on Travel+Leisure's 2019 It List for top and best new hotels.
ROSEWOOD PHNOM PENH
Chef Nak at her Phnom Penh villa where she hosts private dinners.
Hip and Happening
Cheng, a Harvard graduate who majored in applied mathematics, has a clear vision of the type of customers she wants Rosewood to cater to – herself.
"Millennials want to be with like-minded individuals, in a place they feel connected to and that friends in their circle will visit. A hotel should be positioned as a destination in a city, by having a must-visit bar or restaurant and has to be so carefully curated so that it's interesting just to be there. It is not about how much money you spend anymore or being extravagant; it is about the experience," she declares. 
To keep her finger on the pulse of what's trending, the frequent flyer makes it a point to check out the latest retail and luxury concepts wherever she goes. Integrated, experiential retail stores, like Gucci's concept store in Soho, New York City, which has cool touches like 3D-video display and a screening room, often strike her fancy.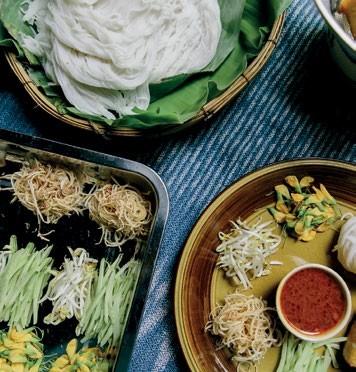 ROSEWOOD PHNOM PENH
Her most popular dishes are available at the hotel's Brasserie Louis.
She says: "In New York, a restaurant that is intertwined with a flower shop and retail space inspires you to think about restaurants differently. The hotel and retail industry used to be very silo-based but the rise of the sharing economy shows that people like to be in a community. I think hotel, retail, luxury brands and even workspaces are interconnecting now and blurring the lines."
She challenges her team to find ways to incorporate these inspirations into their various developments. For instance, to get to Lennon's, the 30th storey speakeasy bar in Rosewood Bangkok, guests first enter a foyer that looks like a home recording studio the moment they step out of the lift. They are encouraged to browse the 6,000 strong vinyl record collection (also available for purchase) and to pick out their favourites which they can request the DJ to spin in the bar, while taking in the panoramic view of Bangkok's glittering skyscrapers. In keeping with the nostalgic theme, the drinks menu revives classic libations such as the Alexander, Tuxedo and versions of the martini that are handcrafted with rare vintage spirits dating from the 1940s to the 1970s.
ROSEWOOD BANGKOK
Guest rooms are designed to to feel like residences.
A sense of place
One of the brand's cornerstones in offering "experiences" is through the way it interprets its tagline "a sense of place". In Bangkok, the hotel connects directly to the city's convenient sky bridge system to allow easy access to nearby malls and office buildings while in Yangon, the building is decorated with paintings by local artists. 
Over in Phuket, the hotel's Thai seafood restaurant, Ta Khai, is helmed by a husband and wife duo who were plucked from obscurity as cooks operating from beach stalls, because the team was wowed by their food. The restaurant has since garnered a Michelin Plate in the Michelin Guide.
Hotel, retail, luxury brands and even workspaces are interconnecting now and blurring the lines.
– Sonia Cheng
It helps that Cheng has a unique approach to picking hotel locations, besides the usual big cities or key destinations. She says: "We choose locations that we believe are a little less obvious but are beautiful and have heritage, like Luang Prabang. This helps to build personality so that we are not just a city or resort hotel group. We are diverse." 
Such places are already infused with local character that travellers are excited to explore. For example, in Phnom Penh, the hotel works closely with local culinary superstar Rotanak Ros, better known as chef Nak, who has just launched 10 of her most popular Cambodian dishes at Rosewood's in-house Brasserie Louis. It can also help guests snag highly coveted spots for private dinners and cooking lessons at the chef's Khmer villa in the outskirts of Phnom Penh.
In the coming years, Rosewood hotels will be opening in Sao Paulo, Costa Rica, Antigua, Hawaii, Scotland and various cities in China including Chengdu and Ningbo.
ROSEWOOD BANGKOK
Speakeasy bar Lennon's on the 30th floor plays guests' choices of vinyl.
Home away from Home
At the Rosewood Bangkok, the 159 rooms are designed to feel like residences, with books, small objets d'art and fresh botanicals artfully scattered around the space for one to browse and admire. Then, there are the indulgent amenities, like Dyson hairdryers and two different types of Frette dressing robes, complete with matching slippers, which feels like something a hostess with the mostest would leave out for guests.
All this is deliberate, says Cheng, and inspired by her 2011 visit to the original Rosewood Mansion on Turtle Creek in Dallas, Texas. She says: "From the get-go, it was supposed to be a home. The service is very personable and it is almost like the staff are hosts welcoming family and friends. That is the feeling and culture of Rosewood. You spend the day here and you don't want to leave, that's the ecosystem that I want to create."
Now that she has created the hotel of her dreams, it is no wonder that in recent years, the mother-of-four has taken to combining business trips with vacation time, by taking her family to various Rosewood locations around the world. This year, they've been to New York City as well as Santa Barbara and Menlo Park in California. In the works is a trip to their property in Los Cabos, Mexico. 
Cheng, who has been known to reply to business emails even while on maternity leave, is not about to slow down. "I'm always 'on' and it's hard to really separate work and life, but in a way I think it is efficient."
She says: "We are a brand that I don't ever want to stand still. We need to be at the forefront and thinking a step ahead of what guests are looking out for."
PHOTOS COURTESY OF ROSEWOOD HOTEL GROUP