From The Editor's Desk.
And that means constantly evolving to cater to your needs, whether it's trying to motivate you with the latest fitness gadget, or giving you the juicy lowdown on a trendy diet.
This issue - our last print issue - is all about the movers and shakers in the fitness world. Read about the top Shape Fit Girl 2019 finalists and Shape Fit Girl 2019 winner, Ng Hui Ru. In person, Hui Ru (who works as a wellness coach) is so positive, genuine and easygoing, that it'd be almost impossible for you to walk away without considering making a healthy change in your lifestyle - no matter how small. A strong believer of fitness as a sustainable lifelong journey, she promises: "Once you're with me, I'll never stop coaching you."
To the loyal readers of Shape, thank you for supporting us over the last 15 years. Much as we enjoy producing quality print content, the time has come for us to go fully digital. Head to shape.com.sg, where we pull out all the stops to bring you the timeliest and most relevant content you care about.
FITNESS Get inspired by workouts, exercise tips, how-to articles and research-based advice on how to keep fit and strong.
WEIGHT LOSS Be clued in on the big words in weight management, such as calories, carbs, fats, metabolism, body type and muscle mass.
HEALTH Glean expert advice on how to live healthier through topics on sleep, mindfulness, stress management, disease prevention and more.
FOOD Gain insights on all things related to healthy eating, including recipes, meal or snack ideas, diet and nutrition tips, and making healthier food choices.
LIFESTYLE Lead a balanced, active life with savvy recommendations in beauty, style, travel, career and relationships.
EVENTS & PROMOS Tune into our fitness and wellness events, such as Shape Run and Shape Yoga, as well as enticing giveaways.
Stay with us on shape.com.sg, Facebook (@ ShapeSingapore) and Instagram (@ShapeSingapore).
#StayinShape.
LOVE,
Connect with us on facebook & instagram Shapesingapore
ILLUSTRATION 123RF.COM
---
TEAM SHAPE IN ACTION...
These Shape Fit Girl 2019 finalists are all inspiring in their own right. Find out more about them on pg 15. 
We had a blast shooting with Shape Fit Girl 2019 winner and cover girl, Ng Hui Ru. Read about her on pg 20.
The best spa is the kind that makes you want to linger around, as Estelle experienced at ESPA, Resorts World Sentosa. Learn about their Sleep Ritual on pg 31. 
---
SHAPE BUZZ
Follow us on social media for exclusive behind-the-scenes sneak peeks, the latest health, fitness, food and beauty scoops... and more! 
facebook: www.facebook.com/shapesingapore 
 instagram: www.instagram.com/shapesingapore
No matter what your fitness goals are, we are with you every step of the way. 
We picked up useful foam rolling and active stretching techniques at TFX's RegenX class. 
This protein-packed salmon and tuna soba bowl from Two Bakers is one of our favourite café food.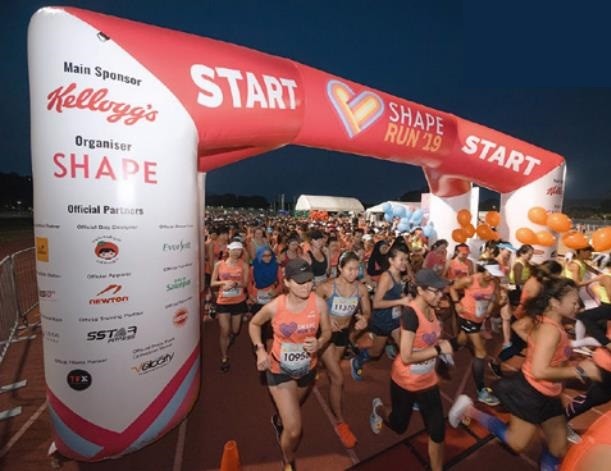 Thank you for running the world with us at Shape Run 2019! 
The choice is in your hands.